Rostock
Rostock
is the largest city in the
German
state of
Mecklenburg-Western Pomerania
, though not its capital. It is a hub for
Baltic Sea ferries
, Germany's largest port for cruise ships by number of boardings and pleasant enough for a longer stay mostly due to its
Hanseatic
heritage.
Understand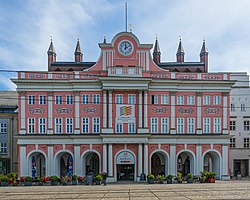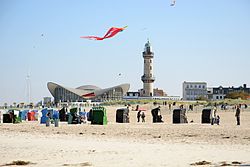 Rostock is near the Baltic Sea and to protect its fishing and access rights it annexed Warnemünde (named for being the mouth of the river Warnow), a port area to the north. Rostock was an important member of the
Hanseatic League
, and one of the most important ports of the GDR (East Germany). Until the collapse of the East German economy in 1989/90 Rostock was a major center for shipbuilding and a few shipyards still remain, despite their economic woes.
Get in
By plane
Or you can fly to
Hamburg
(
HAM
) or Berlin (SXF,TXL) and travel by train to Rostock.

By train
By car
From Hamburg take the motorway A1 to Lübeck and from there take the A20 to Rostock. It's a 1½-hour trip. If starting in Berlin you have to drive along the A24 in the direction of Hamburg until the A19 is crossing the motorway. Following the A19 you reach Rostock. It's a trip of 2½ hours.

By bus
There are numerous domestic and international bus connections to Rostock; operators include: Flixbus. There are two bus stops: one at the ferry terminal, and one at Dierkower Kreuz which is a transfer point between buses and trams in the northeast of Rostock.

By boat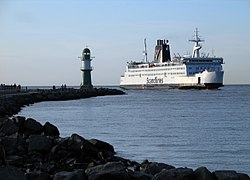 Rostock is one of the hubs for Baltic Sea ferries in Germany. And the busiest German port for cruises.
There is a ferry from Gedser in Denmark every second hour with Scandlines. This connection covers a rather short stretch on the sea and has been suggested as an alternative to the Fehmarn Belt fixed link that is being built to link Putgarden and Rødby. Prior to European (and German) partition, there were also railway ferries along this route, but they have been moved to the aforementioned line between Fehmarn and Lolland in the 1950s and 1960s and didn't return with the fall of the Iron Curtain.
Ferry from Trelleborg in Sweden up to 6 departures per day with Stena Line or TT-Line.
Ferry from Helsinki in Finland twice a week with Finnlines.
From the ferry terminal, you need to take a series of buses to go to the center of Rostock. You can also try to head for the Rostock-North S-Bahn (train) station, about 1 km away from the terminal. Therefore you may get stuck at the ferry port certain days when the bus services are low or if you can't find the train station. A taxi ride downtown will cost you around €20.
The passenger terminal in Warnemünde is used by cruise ships. It can be reached easily by train (10 minutes), by boat (1 hour) or taxi from central Rostock. All trains from Warnemünde stop in Rostock. The train station is an easy three minute walk north along the dock.

By bicycle
The Berlin-Copenhagen Cycle Route passes through Rostock.

Get around
By public transport
Public transport (bus, tram, ferry, train, etc.) in Rostock is part of the
Verkehrsverbund Warnow (VVW)
, the traffic association which provides a common ticketing and integrated transport system in the surrounding area.
Rostock features a good inner-city tramway system. A
bus system
serves other locations.
The following tickets are available for transportation within the fare zone of Rostock (which includes Warnemünde):
Single ticket: adults €2.30, reduced €1.70
Single ticket (ferry): adults €1.50, reduced €1.00
Single ticket (bicycle): €1.70
Day ticket: adults €6.00, reduced €3.90
Day ticket (bicycle): €3.70
Day ticket (groups): €16.00 for up to 5 people
Single tickets can be used for a one-way trip and you can switch between modes of transportation. Day tickets are valid until 03:00 the next day.
See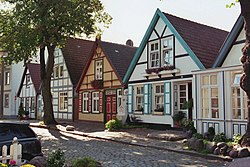 Warnemünde beachVisit the sandy 3-km beach at Warnemünde in the north. Go swimming there, if the weather is warm enough.

PetrikirchePetrikirche boasts the tallest tower of the three remaining churches within the old town. The church itself can be visited for free (open daily, mind the Sunday service 11:00-12:00), but there is a small admission fee for the tower (€3, €2 reduced fee, family ticket €6). Climbing the steep spiral stairs is fun and a good exercise! There is also a barrier-free option: The parish has had the original bell shaft replaced by a lift which brings you up to the lower of the 2 platforms. Both offer good views over town, river and harbour. Many guided tours of Rostock also start in front of the church. The parish has installed what is probably the only free public toilet in the old town (although it might be a nice idea to put some coins into the collection column inside the church), also barrier-free and accessible from the outside, to the left of the main entrance.

address: 18059 Rostock, Barnstorfer Ring

Warnemünde LighthouseBuilt in 1897 and still in use. The view from the high tower provides an impressive view of the Baltic Sea and nearby Rostock region.

The TeapotAnother famous landmark of the Warnemünde beach. It has a curved roof and is an interesting example of East German architecture.

An old canal area in Warnemünde boast restaurants, pubs, and a fish market.

St. Mary's Church RostockThe greatest church of Rostock, a huge brick Gothic church, built from the 13th-15th century with an astronomical clock of 1472 and fine historical altars.
Do
Stadthalle RostockThe Stadthalle Rostock has many shows and music events.

Hansa RostockThe local professional soccer club.

KTVThe Kröpeliner-Tor-Vorstadt (KTV, "Kröpelin Gate Suburb") was the first part of Rostock built outside the medieval city walls, in the 2nd half of the 19th century. It was designed to house workers flocking to the newly industrialised town. Today's KTV is one of the most popular residential areas, especially with students and artists. It is here that you will find the highest density of bars, cafes and small shops selling handicraft or organic food. To get to KTV from Rostock's main shopping street (Kröpeliner Straße), follow it all the way to the west, passing Kröpelin Gate and crossing the tram lines. Everything in front of you now is already part of KTV. Check out the Doberaner Platz, where most tram lines stop, where the best Döner Kebab is sold, and where everyone seems to meet before a pub crawl with friends.

StadtmauerWhile much of Rostock's fortifications were removed on the "sea"side (towards the river Warnow), a large part of the city wall remains on the "land" side and is certainly worth a visit. You will encounter 3 remaining gates, Kröpeliner Tor, Steintor (stone gate) and the oldest, Kuhtor (cow gate). Guided tours (some of them by a guide dressed up as a medieval night-watchman) are available and recommended for anyone interested in the history of the town. They can be booked under the stated link or in the tourist office. For the "night-watchman" tour, it is also possible to simply turn up at Petrikirche at 20:00 if you're not with a large group, but the tour will then be in German only.

Watch the sunset in the harbourTake some drinks and food down and watch time pass by - as well as sailing boats, rowing boats, and plenty of seagulls. If it's herring season, the quay at the Silos will be full of fishermen. If you're not into bring-your-own, there is a number of restaurants and bars along the quay, from German, Italian and Greek to Spanish cuisine. The Irish Pub is also in the Silos. Between the theatre and Latino bar "Besitos", you will find plenty of young people playing "Kubb", at least during summer. Why not try it out yourself? If you ask nicely, you are sure to be allowed a shot. Or buy your own wooden kit at the games store "Wupatki", Rungestraße 17. BTW: This part of the harbour is usually called "Strand" (beach) by locals, even if there is no sand within sight.

Golf courses
Learn
Buy
Rostock has a few so called border shops that are dedicated to selling consumer goods to tourists from Denmark and Sweden. The border shops are probably the best place in Germany to find candy, soda, cider, beer, liquor and other things produced in Denmark and Sweden at lower prices than in their home market. This is due to the lower excise taxes in Germany, even though the gap is closing in. The deposit-refund systems in the three EU-countries are not compatible, so a proforma export declaration must be submitted and photo-ID must be presented when buying beverages that normally have a deposit paid in Germany. These deposit-refund exempt beverages are only permitted for export to Denmark and Sweden and will not be sold to Germans.
MarketsThere are several markets throughout the week in Rostock and the surrounding area.
Eat
Drink
Bars and pubs
address: Tiergartenallee 6

The Trotzenburg is brewing their own beer.

Alex

address: Neuer Markt 17

Bar and restaurant with a relaxed atmosphere.
Clubs
Sleep
Budget
phone: +49 381 25299980

address: Doberaner Straße 96

For bed linen they charge €2 once per stay. Breakfast is available for €4, coffee, beer and soft drinks are available for €1. There is free internet, a great kitchen with a dishwasher, microwave, oven, stove and fridge. Bathroom facilities are very good. There is a TV, DVD and VCR downstairs as well as a bunch of board games, books and a dart board. The staff are very friendly and helpful and the place is clean, tidy and modern.

phone: +49 381 4443858

address: Beginenberg 25-26

Situated in a beautiful old Town House in the Old Town of Rostock just around the corner from the medieval Steintor. Fee of €2.50 for bed linen. Though the hostel is in the very city center - the Neuer Markt is two minutes by foot - it is really quiet there. It has a very nice common room, where breakfast (€4) is served as well, with two free internet PCs, a flatscreen, a stereo and a projector. In the fully equipped kitchen you can cook or just store your beverages in the fridge. The 8-bed dormitories are very spacious due to the very high ceilings, which even have stucco. The owners and all employees are quite young, easy going and very helpful.

phone: +49 381 12765433

address: Doberaner Str. 21

Bed linen and wifi are included. Dorms are 6 to 12 beds, with mixed gender and female only options. There is a fully equipped kitchen and at Peter Weiss Haus one can also get affordable lunch and dinner (about €5). There are concerts and parties on most weekends, and a cool and affordable beer garden right beside. Both subraum hostel and the beer garden are run by a cooperative.
Mid-range
phone: +49 381 8775618

address: August-Bebel-Straße 49 b

Beautiful terrasse, nice people and good ambiance. €5 for breakfast. €1 for internet access. No wifi.
Splurge
phone: +49 381 50400

address: Am Yachthafen 1

A luxury hotel with yacht harbour next to Warnemünde.
Go next