Rottingdean
Rottingdean
is on the south coast of
England
. Although on the coast this was a farming village rather than a fishing one. But it was not disconnected from the sea as it used to be known as the
smugglers' village.
It was the home of the writer, Rudyard Kipling, and of his uncle, the painter Edward Burne-Jones.
Get in

Buses along the coast from Brighton run every 5 to 10 minutes. The walk from Brighton Palace pier will take about 1 1/2 hours, either along the undercliff or along the cliff top. You can start this walk from Brighton Marina. At Ovingdean gap there is a small cafe by the beach that will be open if it is sunny.

Get around
A small village, easy to walk around.

See
The village pond

Kipling gardenswith the "pig face" stone on the wall of Rudyard Kipling's old house. The local tradition is to place a finger on the nose and twirl around three times making a wish.

Prospect Cottage and Aubrey CottageThese were the homes in Rottingdean of Sir Edward Burne-Jones, one of the Pre-Raphaelites and famous for his paintings and stained glass work.

St Margaret's ChurchMuch visited church, mainly to view the stained glass windows by Burne-Jones, who is buried in the graveyard. The church is constructed in flint. An almost exact replica was built at the Forest Lawn Memorial Park in Glendale, California.

Beacon WindmillA restored black, wooden windmill that dates back to 1802

Tudor Cottages and Tudor Closejust north of the church. Neither consist of original Tudor buildings although they were based on houses and barns from that period. Tudor Close, in particular, looks a bit like something from a Disney cartoon. The houses are private but you can have a quick peer through the gate leading to the seven houses, now converted to apartments.

St. Dunstan's(This is the large hospital-like building you see on the coast just before Rottingdean). St Dunstan's provides support and accommodation to blinded British servicemen. The most notable recent resident was Henry Allingham, who was briefly considered to be the oldest man in the world until his death in 2009.
Do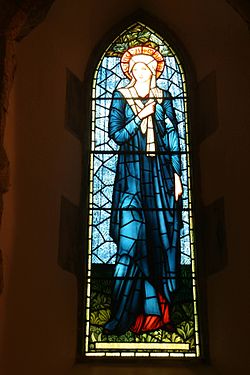 There is a pebble beach which is nice in the summer. Boxing Day is a traditional village day with inter pub football, tug of war, races, etc. The whole village closes about 6.30pm that day mostly drunk.
Buy
You can go along the chalk cliff beach and look for fossils in the geodes that you will find on the beach.

Eat
Thai,Chinese and Indian restaurants. A chippy (fish and chip shop), once frequented by John Major a former British Prime Minister. Try The Coach House, The Victoria or The Plough public houses for food.
Drink
Five pubs in addition to those above the Black Horse and White Horse Hotel.
Sleep
phone: +44 1273 300301

address: Marine Drive, High Street