Rourkela
Rourkela
is the main center of trade in the district Sundergarh and for
Odisha
(formerly known as Orissa).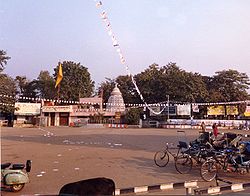 Understand
Close to Rourkela, lie many scenic places including
Khandadhar Waterfall
, which boasts to be the highest waterfall of its kind in the whole of eastern India. Apart from that Vedavyas, the confluence of two rivers Sankh and Koel, is only few miles from the main city, which is believed to be the abode of Vedavyasa, the great poet, who created the grandeur epic Mahabharat.
Get in
By plane
The nearest public airport is at Ranchi (IXR) which is 250 km away from Rourkela. You can reach from there by bus or rail.
Although Rourkela has its own airstrip which is generally used by the dignitaries of SAIL.

By rail
Rourkela is well connected to most parts of the country by superfast trains. It takes around 7 hr by train from Bhubaneswar.Also you can reach here from Kolkata which takes 6 hr. The prominent trains from Bhubaneshwar are Tapaswini Express, Garib Rath, Utkal express. The trains connecting to Kolkata are Sambaleswari Express, Gyaneswari Express, Gitanjali Express, Azadhind, Ahmedabad Howrah Express and Mumbai-Howrah Mail. The cost for both fares is around ₹400.
By road: you can get to rourkela from bhubaneshwar by luxury buses for a cost of ₹300-400. Also the roadway is quite good from the state capital.

Get around
Getting around is very easy with shared autos and very cheap buses.The auto is now the most popular form of transportation cuz it is quite cheap. Also hired Ambassadors, Tata Sumos, etc., are available for sight-seeing the tourist spots in and around rourkela.

See
74 feet 9 inch height hanuman statue.
Hanuman Vatika, VedVyas Temple, Vaisnodevi Mandir on Hills, Hill top (Sec -20), Koel River, IG Park (the main attraction is musical fountain - a must-see), Deer Park, Jubilee Park.
Bhalulata (40 km from Rourkela), Blue stone (80 km), Jaraikela, Mandira Dam (a good picnic spot).
Khandadhar WaterfallThis is the highest waterfall of Odisha and among the highest of India. Khandadhar means the edge of a sword . The fall looks like a hanging sword from a distance. The water falls from a height of . Pauri Bhuiyas are the tribal who inhabit the place . The folklore says, Goddess Kankala Devi ate everything that comes across her . Be it soil, trees or stones. Pauri Bhuiyas placed her on a rock, which she ate as well. A hole was created on that rock and the water started falling from that hole. The falling water resembles a sword, hence came the name Khandadhar.
Do

The best time to go to Rourkela is in winter.There are various clubs which organises exibhitions, festivals, competition held during that time. This beautiful city becomes more beautiful that time. Second best time is during Durga Puja in the month of September - October,where one can enjoy the rich festival at that time.

Buy
Aam Bagan - Well known market of Rourkela. It is also known as Ispat Market.
Traffic Market - for fruits and vegetables
Eat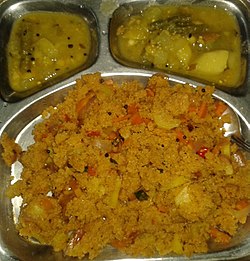 You can have a dinner at Mayfair hotel which has a multicusine restaurant serving Indian, Chinese, Continental and also have a joint called Super Max which serves South Indian Food.Madhuban is a must go place to have food and specially famous for its rolls and Frankies.
Nottee at Radhika Hotel is a good family restaurant.
7 AM on 11th June is a pure vegetarian restaurant.
Must try pani-puri (called Gup-chup) from sector 18 (old book store row).
Try pizza at Pizza Den which is above the Max Bakery.
Drink
You can hang out at Cafe Coffee Day in the evening.

Sleep
Deepti Hotel

address: Ring Road,Rourkela

Hotel Shyam & Brindaban

address: Main Road, Taxi stand

address: Panposh road
Go next
Bhubaneswar - about 340 km away by Road. Direct train is also available
Jharsuguda - about 130 km away from Rourkela
Khandadhar Falls - about 104 km away from Rourkela