Rovaniemi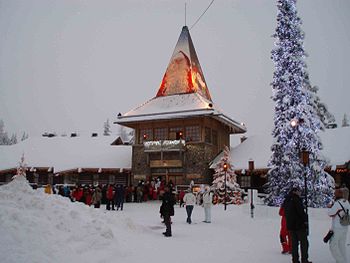 Rovaniemi
is the capital of
Finnish Lapland
.
Understand

Rovaniemi, the business centre of Finnish Lapland since the 19th century, was razed to the ground by the Germans in the final days of World War II with only a handful of buildings left standing. Rebuilding after the war and economic development over the ensuing decades have left much of the city a featureless expanse of concrete blocks, regardless of Alvar Aalto's famous reindeer antler city plan (try to recognize it if arriving by plane). Rovaniemi became a city in 1960, and in 2006 it merged with the surrounding rural municipality.
Most tourists come because of Rovaniemi's central position for transportation, because of its location at the Arctic Circle or to see Father Christmas, but there are several sights worth a visit.
Because of its central location and status, Rovaniemi has become a center of education in Finnish Lapland. There are as many as 10 000 university and university of applied sciences level students living in Rovaniemi. Compared to the number of inhabitants living in the old city area (pre-2006), as many as one in three or four people are students. During summers this shows as a large drop in the number of people vacating the city.
The river Kemijoki, notable for being the longest river in Finland, runs next to the city center. On the west side of the river there is a large hill called Ounasvaara.

Get in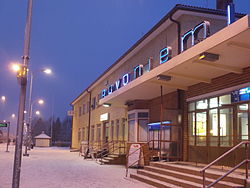 By plane
Rovaniemi AirportThe largest airport in northern Finland. Most of the flights go south to Helsinki, served by Finnair and Norwegian Air Shuttle. Air fares are sometimes cheaper than corresponding train connections. There are also seasonal charter and scheduled flight from international destinations, mostly in the UK.
Taxi cabs are readily available at the airport, but are costly.
Airport Taxi Rovaniemi
provides minibus shuttle service between the airport and city centre hotels, fare €7 per person one way. The service is available for every departing and arriving scheduled flight. Local bus service (
Line 8
) is even cheaper (€3.9), but slower, and is of use only for some flights.
Most long-distance buses towards the north (e.g. Pyhä-Luosto, Sodankylä, Saariselkä and Ivalo) stop at the airport, but timetables may not be ideal if arriving by plane.
By train
Rovaniemi is the terminus of most trains from the south. The line extends only a little further north-east to
Kemijärvi
. The journey from Helsinki takes 9–12 hours and is reasonably comfortable in a sleeper. You can also take your car with you. The railway station is next to the city centre and is within an easy walking distance – you facing north when you exit the station, and the city centre is to your right, to the north-east. Most of the long-distance buses stop here as well.
From
Russia
you can either go via Helsinki or take the train to
Kandalaksha
on the Murmansk railway and continue by bus.
By bus
Coming by bus from the south is relatively cheap but requires about 14 hours of sitting.
Gold Line
and possibly other companies operate daily night buses to Rovaniemi from Helsinki via Helsinki-Vantaa Airport. Timetables and tickets available through
Matkahuolto
. There's also a seasonal
Onnibus
connection, not listed by Matkahuolto.
There are connections to
Tromsø
,
Alta
and
Vadsø
in Norway, at least in summertime. For travellers from Russia, there's a twice-weekly cross-border service with
Kandalaksha
(Finnish:
Kantalahti
).
The bus station is in the centre, a few hundred metres from the railway station.
By car
Rovaniemi is an important road hub in Finnish Lapland. Some of the most important roads are:
Get around
The core of the city is small (a radius of about one kilometre), i.e. everything there is easily reached by walking. Some attractions located farther away might require other forms of transportation.
Local transportation is provided by private bus companies. Information about local buses can be found
here
. You can use
route planner
to seek local bus routes between given locations and addresses. Local transport is more frequent during daytime of weekdays of school years and less frequent during weekends, summer time, evening and night time.
The
Rollaattori
city guide, a must for younger or younger-minded travellers, is sold at locations including railway station's restaurant, Suomalainen kirjakauppa bookstore, City Hall and Roifoto. Created by a few locals who got tired of existing brochures and decided to make their own, the Rollaattori guide lists places which are popular among locals but not mentioned in guidebooks or official Rovaniemi city guides.
See
Most tourists come to Rovaniemi for precisely one thing: Santa.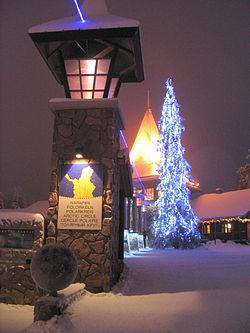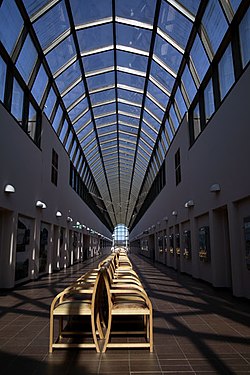 Santa Claus Village8 km north of Rovaniemi and right on the old computed place of the Arctic Circle (now computed to be 2 km north), is a tourist trap if there ever was one – but few tourists can miss the chance to meet Santa himself. Apart from meeting the man, there are also other attractions like small-scale sledding hills for kids, the Santa Claus post office with special stamps and souvenir shops. The village hosts also several safari companies that organize various activities. During dark times the village has nicely lit ice sculptures. Bus number 8 goes from town to the village.

SantaparkUnderground amusement park within walking distance from Santa Claus Village.

Administrative and Cultural CentreThe rebuilding of Rovaniemi after World War II was largely planned by famous Finnish architect Alvar Aalto – particularly its reindeer antler layout. He also designed the Administrative and Cultural Centre which includes the Lappia Hall (culture and congress centre), public library and city hall.

phone: +358 16 322-3260

address: Pohjoisranta 4

One of the best museums and science centres in Finland, focusing on life in the Arctic regions through the ages. Lockers available. Cold in winter time.

phone: +358 20-564-7820

address: Ounasjoentie 6

Those attracted by northern forests will want to visit Pilke, where exhibitions describe sustainable use of northern forests and diverse yields, forest products and commodities. Same day re-entry free of charge, lockers available.

Lutheran churchBuilt 1950, near the administrative centre. Famous for its considerable large fresco "Spring of the Life" by professor Lennart Segerstråle. The fresco uses elements of Lapland in Biblical context (for example there are no lambs but reindeer). There is nice park by the pool Kirkkolampi right next to the church.

Orthodox church

address: Ounasvaarantie 16

A small Orthodox church is on the other side of Kemijoki river.

address: Lapinkävijäntie 4

Art, music and events. Art museum collection consists mostly of modern Finnish art. Home of the Chamber Orchestra of Lapland.

Jätkänkynttilä bridgeOne of the most important symbols of Rovaniemi. It runs over the Kemijoki close the northern end of the city center. Bridge has a high pylon with bright yellow light on top.

Log Train TerminalMight be worth of seeing during dark times, as the cranes that lift the logs have lights on their arms. Climb to the opposite hill and sit on the fence for a nice view.

German Soldier CemeteryConstructed of large stone blocks and located virtually in the middle of nowhere it might be of interest to some. During autumn one can eat berries on the way.

HiidenkirnutFourteen giants kettles (hiidenkirnut), including three very deep ones, can be found from Sukulanrakka slopes near the island of Rautiosaari.

Auttiköngäs16 metres waterfall and old forest. Bus stop at the road, parking area 1 km farther. 50 m steep trail for wheelchairs (assistance needed) to a hut with view to the rapids, 3.5 km nature trail through varying terrain, with campfire sites; reserve plenty of time.

The famous midnight sun, when the sun doesn't set at all, is seen between June 6th and July 7th. The night sky is luminous from May until mid August. At wintertime auroras are seen on most nights if the sky is clear.
Do
Various
Arctic safari
companies, many of which are on the west bank of the river, can arrange all sorts of cold and snowy activities like
snowmobile safaris
,
husky sledding
and
reindeer sledding
. Most of the tour operators have summer activities available too.
In summertime you may hike on the marked routes around Ounasvaara's forests. Interestingly there are some rocky areas, which are ancient shores from the time of ice age, still visible by these routes. Prepare to face mosquitoes in the forest... From the top of the hill you'll find great views to the forests, hills and swamps outside the city. The city centre is not very easy to see from the top, however a short walk to the Belvedere viewing tower provides an excellent panorama.
In summer there is a small sand beach next to the camping area on the Ounasvaara side of the Kemijoki. Swimming close to the shore is safe but because of the dangerously strong stream, do not even consider to swim across the river!
There are a few places that offer bicycle rentals in town, including Hostel Cafe Koti and the Lauri guesthouse. The Tourist Information Center can provide up-to-date information.
Arctic Circle National Hiking AreaHiking area with much infrastructure, such as lean-to shelters. There are three trail heads with parking areas. Coaches to Kemijärvi or Sodankylä stop at Lake Vikajärvi, near one of them. Two nature trails (200 m and 1.5 km) are suitable for wheelchairs and prams, the longer with assistance or motor. There are also longer or more demanding nature trails, as well as marked hiking trails, the longest, Olkkajärvi Hiking Trail of 12 km each way, requiring some hiking skills, suitable footwear and possibly equipment for an overnight stay.

Kalliosalmi–Olkkajärvi canoe route64 km canoe route. The last 23 km section, through the Arctic Circle hiking area, is the most demanding. Earlier on the route services are scarce.
Festivals and events
Buy
SampokeskusShopping centre, main entrance on Lordi Square

RinteenkulmaShopping centre, main entrance next to Scandic hotel

RevontuliShopping centre, next to Rinteenkulma, main entrance above highway E75

Marttiini factory outletOffers the famous knives.
Eat
A traditional meal is sautéed reindeer (
poronkäristys
), consisting of reindeer meat cut in slices and stewed on a frying pan with butter and water. A "bowl" of mashed potatoes is made on the plate and filled with stewed meat. This is garnished with lingonberry jam and slices of pickled cucumber. It's worth trying out once at least - you should be able to find this dish in most restaurants around town.
Budget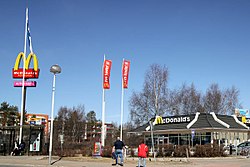 University canteens offer cheap alternatives (€2.50–5 per meal for students, subsidized by the state; €7 for guests), but the meals are served only around noon.
RotkoUniversity canteen opposite the railway station.

Railway station restaurantThe restaurant at the railway station is not bad or expensive either. Ask for student pizzas.

Golden Rax Pizza BuffetSelf-service all-you-can-eat-and-drink pizzas, chicken wings, lasagne etc.

Ciao Ciao

address: Maakuntakatu 29

Serves good kebab & pizza. Try the kebab roll! (Rullakebab).

Meidän Kebab

address: Koskikatu 9

Haruno Pizza & Kebab

address: Korkalonkatu 27

McDonalds

address: Poromiehentie 3

Open 24 hr. Supposed to be the world's northernmost McD, but that's wrong as McD in Murmansk (Russia) is more north.

phone: +358 44 2376113

address: Valtakatu 33

Indian and Nepalese restaurant with a good range of meat and vegetarian dishes. Very good value buffet M-Th lunchtime for €9.50, including soup, coffee and mangolassi.

address: Lapinkävijäntie 3

Grill.
On the main central square (former Sampoaukio, now Lordi aukio) there is often a fisherman selling freshly caught and pan-fried vendace (muikku), a small freshwater whitefish.
Mid-range
phone: +358 20 1234695

address: Koskikatu 4

Traditional Lappish dishes, French cooking and one of the best bars in town.

phone: +358 40 1769969

address: Rovakatu 14

Excellent baked goods and lunch. Very fresh ingredients and all made on site including baked goods.

phone: +358 400 315 099

address: Toukolantie 49, Hirvas

A well-hidden restaurant with comfortable atmosphere and a short but very good menu featuring reindeer, moose, and salmon.
Drink
DorisNext door to the Restaurant Fransmanni, next to all the safari companies. Fashionable crowd, safari guides, hotel guests and high school students.

Kahvila Kauppayhtiö

phone: +358 16 3422422

address: Valtakatu 24

Sandwich shop, ice cream, milkshakes, sushi restaurant and bar. Its slogan is "the café where everything is for sale".

phone: +358 16 317 230

address: Koskikatu 5

Notable rock-ish beerhouse, located opposite to the safari company offices near the river.

address: Valtakatu 19

Two-room night club popular among students, famous for its Beach Party in February. Occasional live acts. safari guides and a bit more older crowd.

ZoomitCafé and bar in Hotel Santa Claus
Sleep
Budget
Mid-range
phone: +358 16 606000

address: Koskikatu 23

phone: +358 16 3300111

address: Pekankatu 9

In the heart of Rovaniemi, next to Sampokeskus shopping mall and Lordi's Square.

phone: +358 16 333600

address: Valtakatu 23

Mid-priced hotel, centrally located.

phone: +358 16 3561513

address: Tähtikuja 2

Hotel-like accommodation in cabins in Santa Claus Village, Arctic Circle.

Lapland City Apartments

address: Varies

Small but comfortable apartment close to the town centre, including fridge, oven, microwave, shower, television and optional internet. Booked through booking.com. prices may vary if shared.
Splurge
phone: +358 16 321321

address: Korkalonkatu 29

phone: +358 16-33711

address: Pohjanpuistikko 2

Four-star downtown hotel with saunas and swimming pool.
Connect
The Hotel Santa Claus has a laptop in the lobby, meant for guests, where anyone can sit at the computer and use the Internet for free.
There is Internet access via Wi-Fi in the main library, and using their computers is possible but might require a reservation, ask at the desk.
Free Wi-Fi access is available in the 'trendy' coffee shop Kauppayhtiö, and the 'authentic Lapland' Pub Tupsu, and the Arktikum.

Go next