Rugova Mountains
The
Rugova Mountains
are in the north-western part of
Kosovo
. It is a region within "Bjeshkët e Nemuna" (the Cursed Mountains), also known as the Albanian Alps. It was proclaimed a national park in 2013.
The Rugova Mountains are ranked 45 th in winter sports by the International Ski Federation. People also hike, mountaineer, paraglide, and have picnics in the area.
There are many caves, waterfalls, glacial lakes, high peaks and tunnels in Rugova. The highest peak is Hajla (2,403 m), with Volujaku almost as tall. There is a panorama of
Peja
from the top of "Qafa e Qyqes" (Cuchoo's Neck). Guri i Kuq (1,522 m) also offers tremendous panoramas.
Understand
Rugova is 93 km from
Pristina
. It covers a territory of 20,330 ha. The Lumbardhi River splits the mountain in half, creating a valley and a canyon (Rugova Gorge).
85% of the territory is covered by forests, 15% by pasture. The terrain is rugged with limestones and bluff slopes and deep-narrow erosive gorges. Mountain sites are with a slope of 15°-30° but occasionally they reach 45°-90°. The terrain is composed of various forms of numerous karst such as caves, natural tunnels, waterfalls, glacial lakes etc.
The region of Rugova is divided into 13 villages (Shtupeqi i Vogël, Shtupeqi i Madh, Reka e Allagës, Drelaj, Pepiq, Malaj, Kuqishtë, Dugaivë, Haxhaj, Stankaj, Bogë, Shkrel dhe Koshutan) and five small neighbourhoods (Llaz, Bellopaq, Pecaj, Ujëmirë, Dreshaj). These villages are 2–7 km apart.
History
Landscape
Flora and fauna
Flora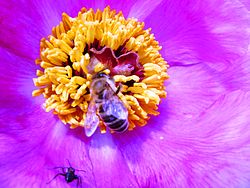 Rugova region is characterized by a multitude of habitats such as meadows, pastures, bushes and shrubs, forests, foothills, holes, slopes, streams, gorges, river water, pond water, caves, karst pits, half-wet properties, almost dry properties and limestone, acids with red, purple and black colours, coastlines and valleys, massive rocks and shed stones.
This variety of habitats indicates high diversity of vegetation. Rugova's region vegetation is present as in central Europe altitudes, but it also grows plants that are characteristic of Balkans or only for this region. Rugova region distinguishes four areas of plants (beech, oaks, coniferous forests and alpine pastures):
Beech zone: This area lies at the height of 800-1000 m and it is quite rich. It mainly occupies the lower part of the region and is represented by dudi, ahu, and qarri. One can also find Mëllëza, Krekëza, Frashëri, etc. Herbaceous vegetation consists of clover, violet, vicia, flokëzi, melilotus, zhabinat, etc.
Oak zone: This zone lies above the beech zone at the height of 1000-1600 m, but it can be found in lower areas too. It is a generally degraded forest, where a massive cut for use as coal and heat is seen. This forest is young, with thin and tall trees, and in shrub forms too. The oaks form a strong shadow; therefore, low vegetation is rare and favours the growth of fungi.
Coniferous zone: In the upper part of the beech you can find Rrobulli that reaches the height of up to 2,200 m altitude, making it the highest limit of tree vegetation. These forests are composed of black pine, white spruce, black spruce, etc. Coniferous forests are dense, while the plant cover is composed of xerophyte vegetation that favours funghi growth. Perennial herbs are: pteridophyte, strawberries, blueberries, blackberries, etc.
Alpine pasture zone: Characteristic of this zone is the lack of the forest. This zone is mainly formed from herbaceous plants and shrubs.
The types of vegetation are:
Beech forest. 600-1,000 m
Oak Forest. 800-1,000 m
Coniferous forest (Rrobulli). 1,300-2,200 m
Broadleaf forest.
Mediterranean coniferous forest.
Mesophyte herbaceous plants.
Xerophyte herbaceous plants.
Campanula foliosa
is a perennial plant that grows in subalpine meadows and on the foot of forests. In Rugova region this plant can be found in Neqinat.
Phyteuma orbiculare
is a perennial herb of alpine pastures. In Rugova it is found in the peak of Rusolia.
Asyneuma trichocalycinum
is a perennial herb of subalpine forests. This plant is also found in Neqinat.
Fauna
Rugova consists of an entirety of habitats that are very suitable for the abundance of living organisms. The region features a rich fauna both in diversity, spread or rare and endangered species. The most common mammals include hedgehogs, moles, shrews, squirrels, rabbits, bats, bears, and ungulates. Common birds include the golden eagle, the rock partridge, the griffon vulture, the European green woodpecker, and the Eurasian sparrowhawk. Several species of trout are found in the streams.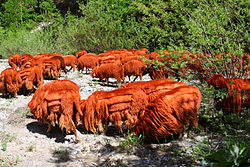 Climate
Rugova has wet continental climate with mountain influence, short and hot summers, but long and harsh winters. Spring is belated and the temperatures change within a day. Sunny hours are not very long. High level of precipitation is a result of clashes between hot/humid tropical and continental climates. Maximum precipitation is in December (372.6 mm), and minimum in July (0.3mm). Annual minimum and maximum are 540.6 mm and 1336 mm, respectively.
Snow is present on the peaks until August, with a depth ranging from 30 cm to 2 m.
Average temperature during springtime fluctuates from 4.4°C – 7.5°C, during summer from 10.6°C – 17.2°C, during fall 5.2°C and in winter from -10°C to 15°C.
Get in
Many important roads pass through Rugova: Shkodra's valley relates Rugova with
Tropoja
and
Shkodra
, Qafa e Çakorrit leads to
Plav
and
Guci
, Qafa e Dasmorëve relates
Rozhaja
and Qafa e Hajlës with Dacaj and Husaj.
Minibuses leave
Peja
at 08:00 (€3). It goes at each village and also came back in Peja. Also there are private taxis that can send a group of 10 persons and bring them back for €50.
Get around
The region of Rugova is divided into 13 villages (Shtupeqi i Vogël, Shtupeqi i Madh, Reka e Allagës, Drelaj, Pepiq, Malaj, Kuqishtë, Dugaivë, Haxhaj, Stankaj, Bogë, Shkrel dhe Koshutan) and five small neighbourhoods (Llaz, Bellopaq, Pecaj, Ujëmirë, Dreshaj). These villages are 2–7 km far from each-other. Roads are partially paved and can be blocked during winter.

See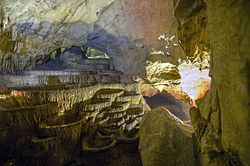 Shpella e MbretëreshësSituated in Rugova Canyon, near the 5 th kilometer. One can go there by via ferrata.

Xhamia e DrelajveSituated in Drelaj village, the first mosques in Rugova Mountains, built on 1915.

Patrikana e PejësSituated in the entrance of Rugova, built in the 13th century, this was the main monument for Serbians in Kosovo. Since 2003 it has been protected by UNESCO, while for more than 300 years it was protected by a Rugovian family, called "vojvoda" meaning "sentry".

Lapidari i heroit kombëtar Jashar HaxhaSituated in the entrance of Drelaj, in honor of Rugova's hero. There are a lot of songs about him in albanian folklore.

LeqinatiIt is the biggest lake in Rugova.

Tri krojetThere is a terrace with some tables and chairs, with waterfall background. Also, there is a source of cold water. It is a most visited point in Rugova Canyon. Part of it is also a tunnel, a place for climbing and in its peak is situated a cave.

Te sharraSituated in entrance of Rugova Canyon, near the Peja's Patriarchate. It gather a lot of visitors in summer. Best part of it is the direct access with the river and a beautiful view of a waterfall.
Do
Due to the historical past, sports in Rugova started developing later than in other countries, although there are sufficient resources. Today Rugova has several
ski areas
(one of them is equipped with a telpher), trails for
hiking
,
parachuting
runway etc. Also
climbing rock
and
mountaineering
are towards development.
Skiing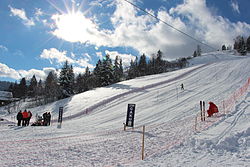 Up to 1974 skiing was a part of mountaineering. Rugova is known as a cradle of skiing in Kosovo and Balkans. "Rusolia" was the first club from which were formed three other groups: "Peja", "Alpi" and "Rugova". "Rusolia" club has participated in the Olympic Games too.
The most advanced track it is placed in Bogë, but it has many favorable tracks in other places too, for example: in Stankaj.
In Bogë we can also find two skiing schools "Dardani" and "Ke Luani".
Mountaineering
Mountaineering presents a recreation and sporting activity which has started in
Peja
in 1928. Mountaineering, unlike Alpinism (hiking), means walking on the ground and climbing in height without any tool until you encounter with difficulties of nature: high craggy rocks. Within the mountaineering group works the rescue group with the consisting of 30-40 people who help in cases of nature disasters.
Mountaineers march in four marching lines:
The southern side of the region (6 streets)
The western and northern side of the region (1 street)
From the centre to north (3 streets)
The northern side (2 streets)
The eastern side (1 street)
Eat
Hotel-Restaurant "Gryka" – Shtupeq i Madh
Restaurant "Mulliri"- Drelaj
Restaurant "Rugova Camp" - Shtupeq i Madh
Guest House " Ariu" - Reka e Allages
Sleep
phone: +383 44 122 406

address: Bogë Village, Rugovë, Peja

Family ecohotel and restaurant with strong Austrian influence. The hotel is situated 1450 m above sea level.

phone: +383 49 286 520

address: Bogë Village, Rugovë, Peja

There are five houses, each of them has a potential for a family.

phone: +383 49 586 740

address: Drelaj Village, Rugovë, Peja

It is an old home renovated, all in traditional way.

phone: +383 44 900 028

address: Bogë Village, Rugovë, Peja

Hotel and restaurant in Bogë. It also offers ski school and ski equipment for rent.

phone: +383 44 328 229, +386 49 328229

address: Bogë Village, Rugovë, Peja

Hotel and restaurant in Bogë. It owns the cableway of ski track. It also offers ski school and ski equipment for rent.

Bjeshka

address: Shtupeqi i Madh, Rugovë, Peja

At the entrance of Shtupeqi i Madh Village, it can be seen from the street. There are 4 houses, each for a family.

Log Cabin

phone: +383 44 746 001, +386 49 110 450 (viber)

address: Shkrel, Rugovë, Peja
Business tourism
Business buildings suit the highlander nature of Rugova Mountains. Besides of the prosperous menu from European tables, they also offer traditional foods. Motels and villas for long stay offer conditions and comfort for a wonderful vacation. Places that contribute more to the development of tourism are:
Hotel-Restaurant "Gryka" – Shtupeq i Madh
Hotel "Rudi" – Bogë
Resort "Berati" – Bogë
Hotel-Restaurant "Ke Luani"-Bogë.
Neighborhood "Hani" - Shtupeq i Madh
Eko Hotel "Magra Austria"-Bogë
Villas "Kodra" –Bogë
Hotel "Rugova Relax" – Bogë
Each from the aforementioned places has its particulars that in one way or another attracts visitors. Thus, for example Gryka possesses two bears, Mulliri is the most antique restaurant built on the foundations of a mill, Magra Austria is provided with an internal pool and some other restaurants and hotels enable riding (horsemanship) and such activities that correspond to Rugova`s nature.
Household tourism
This tourism is represented from 6 home-hotels which offer place to stay as a guest house and where better than in any other place tourists set to know local traditions and the life of residents there. This tourism is developed from these resorts:
Villa Husaj, Shkrel - 1700m - +383 44 746 001
Shqiponja, Drelaj
Lagjja e Kaprojve, Reken e Allages
Hajla Hut, Pepaj
Llazi i Ujkut, Pepaj
Sali Jaha, Malaj
Ariu, Hokaj
Camping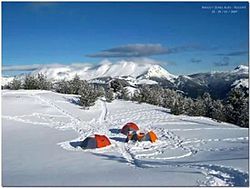 Backcountry
Stay safe
Area is quite safe. Ask for help local villagers if in any trouble.

Go next