Ruka
Ruka
is a ski resort and village near
Kuusamo
in the
Oulu
province of northern
Finland
.
Rukatunturi's highest point is 492 meters. The longest run in the mountain is 1,300 meters. In winter Ruka is the place to be for people who love winter sports. In summer time Ruka welcomes people to enjoy the beautiful nature, for example as a base for hiking the
Karhunkierros
trail or shorter hikes in the Ruka area.
Understand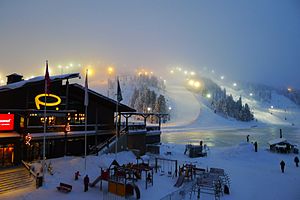 Ruka is part of the Kuusamo municipality, with the centre
Kuusamo
some 23 km to the south.
phone: +358 8 860-0250

address: Rukatunturintie 9

The official tourist information of Ruka.
Get in
The best way to get to Ruka is to fly to Kuusamo and take the airport bus to Ruka. If you travel by train from southern Finland, the nearest train stations are in
Oulu
,
Rovaniemi
and
Kemijärvi
; also
Kajaani
may be an option. From there, take a bus to Kuusamo. You can bring your car on some of the trains. Driving from destinations in southern Finland will take around 10 hours.
Get around
The new Ruka Pedestrian Village was finished in November 2010. You can now walk to the slopes from the hotels without any crossings. Also Talvijärvi is close to the slopes. Accommodations can be some 5 km away, more suitable for those coming for cross-country skiing or other activities.

See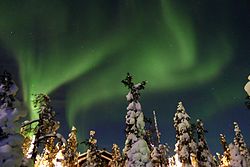 The views of Valtavaara are well-known. Also the views from Juhannuskallio and from Konttainen are very nice. You can also enjoy the views from Rukatunturi. In Juhannuskallio there are also caves, the biggest known as Pirunkirkko ("Devil's church").
Fell Konttainen407 meters, about half a kilometre from Karhunkierros Trail

Fell Pyhävaara461 meters, you need a special license to get there.

Fell Rukatunturi500 meters, Karhunkierros Trail starts from here.

Fell Valtavaara491 meters, Surmankuru gorge (40 meters) is located here, on the north side.
Do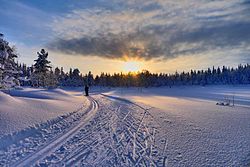 In winter the ski resort offers is the main things to do in Ruka. There is also a large
cross-country skiing
route network (90 km). In summer the beautiful nature provides a lot to do, e.g. visiting
Valtavaara-Pyhävaara Nature Reserve
.
phone: +358 8 860-0235

address: Rukakyläntie 8

The place to buy ski passes for the Ruka slopes.

phone: +358 400-101-605

address: Rukakylätie 17

Children´s equipment, alpine skiing, carving, snowboarding, telemarking, cross country skiing, helmets, goggles; Halti outdoor wear.

phone: +358 400-101-610

address: Jussinkuja 5

The Rental Shop of Eastern Ruka.

Ski School Ruka

phone: +358 400-101-635

address: Rukakyläntie 17

Private lessons and lessons for groups. Alpine, snowboarding, cross-country skiing, telemark and adaptive skiing.

Saarua–Valtavaara–Saarua skiing trail10 km demanding classic and freestyle cross country skiing trail. No lights. Campfire shelter at Valtavaara. Connects to other cross-country skiing trails in the area.
phone: +358 40-834-6814

Legendary 80 km hiking trail to and through Oulanka National Park. The other end of the trail is at Karhunkierros visitor centre in Hautajärvi or e.g. at Kuntakkivaara. Being popular and well maintained the trail is suited also for less experienced hikers, but map and basic survival skills are needed and the terrain is hilly. The suspension bridges are not suited for dogs. There are eight open wilderness huts along the trail, free but often crowded in season (and due to the popularity of the trail, latecomers' rights are not always respected). In summer basic food can be bought each other day with normal speed. It is recommended that water be had at service points or treated (boiled) before drinking. There is an ultra running competition along the trail (83 km) yearly in May (winner times: men 8:20, women 10:30). There are also shorter versions of Karhunkierros, 18–31 km. From Hautajärvi the UKK trail continues 260 km via the Sallatunturi area, Tuntsa Wilderness Area and Tulppio all the way to Urho Kekkonen National Park.

Valtavaara-Pyhävaara Nature ReserveVersatile area with barren cliff, spruce forests and marshy depressions, mostly higher than the surroundings, with Valtavaara reaching 492 m. The local mix of northern and southern species is unique in Finland and the area is popular among birdwatchers. Staying on the trails is recommended, both for safety and to protect threatened plant species. Picking berries and edible mushrooms is allowed. Camping and campfires allowed only at designated sites, the latter not during wildfire warning periods and always only with due care. Taking samples or damaging flora, fauna or rocks is forbidden as usual in nature reserves. Fishing is restricted. Horseback and bike riding is allowed at certain routes.

*

Juhannuskallio Trail300 m trail to the top of Juhannuskallio.

*

Valtavaaran huiputusCircle trail to the top of Valtavaara (along the Karhunkieros trail) and back to Ruka.

*

Trail of the red-flanked bluetail1.5 km trail around the lake Konttaisjärvi through old spruce forest, at the foot of Konttainen. This is one of the places west of Ural where you can get to see the bird that gave name to the trail, popular among British birdwatchers. It sings in June, which makes it easier to spot. The trail can be combined with a stretch of Karhunkierros to the Suolampi shelter or with a climb of Konttainen.

*

Pyhän jyssäys6 km trail to the top of Pikku-Pyhävaara, where there is a hut and a campfire site.
Programme services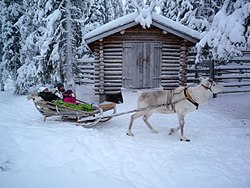 Buy
K-Market Ruka

phone: +358 8 868-1910

address: Rukanriutta 3

Groceries store in Ruka.

S-Market Ruka

phone: +358 10-763-3222

address: Rukanriutta 7

Another groceries store in Ruka.

K-Market Rukankylä

address: Rukankyläntie 8

A small groceries store on in the Ruka Pedestrian Village.

Shopping Center Kumpare

phone: +358 8 860-0250

address: Rukakyläntie 8

Here you can find the Ruka info, Internet terminals, WLAN, groceries store, Alko (liquor store), souvenir shops, gym, child park etc.

phone: +358 400-101-615

address: Rukatunturintie 13

Here you can find high-quality equipment and clothing for winter sports.

Riipisen Wild Game and Souvenir Shop

phone: +358 40-166-2340

address: Rukakyläntie 8

This is the place to buy your game souvenirs.
Eat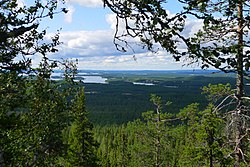 phone: +358 40-199-1100

address: Hiihtostadioinintie 1

Cozy restaurant with views to the lake Talvijärvi.
phone: +358 8-868-1483

address: Rukantunturintie 1

Gourmet restaurant. Offers local cuisine.
Pizzerias
phone: +358 440-337-607

address: Rukatunturintie 11

Peaceful dining and good service. There are pizzas, salads, wines and other drinks on the menu.

Pizzeria Ruka

phone: +358 8-868-1445

address: Kelorinne

Pizzeria offers speacial pizzas like salmon and reindeer.
Drink
phone: +358 8-859-10

address: Rukakyläntie 15

Over 2500 songs to choose from! Also DJ and music from 80s, 90s, today's hits and Finnhits.

phone: +358 10-271-0555

address: Safaritalo

After safari parties until the morning, karaoke and a big glassed terrace. Lots of different kinds of events.
Sleep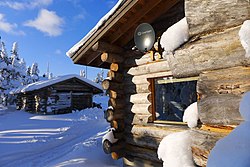 There are many commercial lodgings: hotel rooms, apartments and cabins. In the Valtavaara Nature reserve and along the Karhunkierros trail there are lean-to shelters and campfire sites where you can camp overnight for free (and also open wilderness huts farther along Karhunkierros).
phone: +358 8 860-0300

address: Rukatunturintie 9
Ski-Inn RukaSuites

phone: +358 8 860-0300

address: Rukakyläntie 8

RukaSuites apartments are located in the village of Ruka. They are in walking distance from the slopes. Apartments are made specially for skiers.

Ski-Inn Aurinkorinne

phone: +358 8 860-0290

address: Hiihtokouluntie 16–18

Apartments are located 400 meters from RukaVillage. The nearest slope Talvijärvi is right next to the apartments.

Ski-Inn Hotel RukaVillage

phone: +358 8 860-0300

address: Rukakyläntie 6

Especially for skiing travellers. Each room has cooking facilities.

MastonAitio Cabins

phone: +358 8 860-0300

address: Rinnekyläntie 3

Cabins are great for active families. Kids ski area and a rope tow lift is located near the cabins.
Connect
Postal code: 93830 Rukatunturi or 93825 Rukatunturi, the latter a special code used by most businesses in the village.

Go next