Rurrenabaque
Rurrenabaque
(or simply
Rurre
) is a small town (population 15,000) in the
Beni Department
on the banks of the Río Beni in the
Bolivia
Amazon Basin.
Understand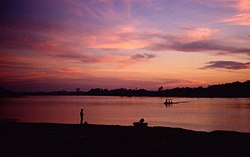 Trips to the jungle in the nearby
Madidi National Park
and pampas are the main attraction of Rurrenabaque.
Get in
By bus
There are two bus terminals. The new one (terminal nuevo) is out of town (a 25-min walk; or take a motorbike for Bs. 7) and serves bigger destinations (reachable by buses) like La Paz and Riberalta. The old terminal (terminal antigua) is inside the town (easily reachable on foot) and is for smaller destinations (only shared taxis) like Reyes, Yucumo, San Borja, San Ignacio de Moxos, even Trinidad. Coming from Trinidad or San Ignacio de Moxos, it is best to interchange in Yucumo. When taking a motobike or tuk-tuk to the new terminal, please tell them you mean the new terminal (not the old).
There are daily buses to and from
La Paz
. The journey takes 14-16 hr in the dry season and cost Bs. 80. The fastest and most convenient buses to La Paz leave at 21:00 and arrive before lunch. You can break the trip in
Coroico
, which is only 10-12 hr away, by getting off at Yolosita and continuing by shared minivan. On a part of the road from La Paz to Coroico, a highway was opened at the end of 2006, and the old 'death road' is now only for bikers. The new road only avoids a part of the 'death road' or Yungas Road. From Coroico (Yolosita) to Caranavi is another 2-3 hr on the death road, with the roadside canyon just a few hundred feet deep instead of a few hundred metres.
By plane
A tarmac strip outside town is the main airport. In case it's flooded companies use the landing strip at
Reyes
, about 45 min away. There are daily connections to
La Paz
, but cancellations are common, especially in the rainy season. To get to the town center from the airport, take a mototaxi (or tuk-tuk - very good with backpack). It's quite a long walk on foot.
The airline Amazonas (operates numerous daily flights) has ticket office in Rurrenabaque town center.
A stunning flight (take off from very high in El Alto, fly over the mountains, and see them change to the tropics) from La Paz with Amaszonas (http://www.amaszonas.com/, +591 3 8922472) takes 30 min and costs 670 Bs. Santa Cruz s/n, is slightly pricier with Bs. 664, but has several flights daily.
Get around
The town is small, you can do mostly on foot, but mototaxis and tuk-tuks are available to reach more remote places (i.e. new bus station and airport - out of town) or when you are loaded.
To get to San Buenaventura across the Río Beni take one of the water taxis at Calle Santa Cruz for Bs. 1.50.
There are two offices on Avaroa offering jeep services to nearby towns and even La Paz (US$25 and only 12 hr).

See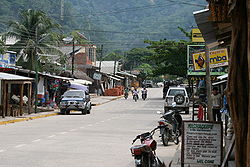 Butterfly Pool Mirador

Dirreción Municipal de Turismo

address: Avaroa y Vaca Diez
Do
If you're in Rurrenabaque, you're most likely for a jungle or pampa tour. Still, there are some other nice activities that will take your time, as well as some events.
Tours
There are about 20 tour companies offering jungle and pampas trips, the main attractions around Rurrenabaque. Reference price for a person/day may be Bs. 600. Nevertheless it's possible to bargain, either in a travel agency in La Paz or directly in Rurrenabaque. The best time to visit is in the dry (and high) season when most wildlife is attracted to the river for water, the walking trails are less muddy and there are fewer mosquitoes.
Choosing who to go with is not easy as most offers sounds more or less the same, and much is up to the guide, cooker and boat driver that happens to work during your tour. A piece of good advice is to choose one of the community based options such as
San Miguel del Bala
,
Berraco del Madidi
(), Chalalán, and Mapajo, all in the rain forest. As you stay in one of these community based eco-lodges you are sure to do true eco-tourism and at the same time help the indigenous people to survive economically and culturally, and to protect the natural resources where they live.
Tourists say it's possible to contact an eco-lodge and organize a tour with them directly, skipping an agency.
Jungle Tours
It's possible to stay between one and 30 days in the jungle. Mostly tours have lodging facilities along the Beni and Tuichi Rivers, but you can also go for a trekking and camp in the jungle. Good guides can tell you about the properties of the different plants and trees and let you taste some of the fruits. To spot wildlife you have to be lucky, most of the animals prefer to stay hidden in the dense forest. A night walk to reveal the nocturnal life is the best chance to see some. Tour prices usually don't include park entrance (Bs. 80) and a fee to stay in a community (Bs. 50). For a perfect combination of culture and nature stay in one of the community based eco-lodges, such as
Berraco del Madidi
(Quechua-Tacanas),
San Miguel del Bala
(Tacanas),
Chalalán
(Quechua-Tacanas; oldest, more pricey but high quality) or
Mapajo
(Tsiman-Mosetén).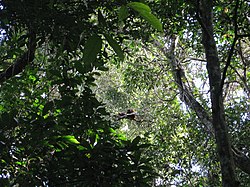 If you're interested in seeing conservation work first hand, check out Serere Sanctuary (3 hours by boat down the Beni river), a private reserve operated by
Madidi Travel
. The team behind it was instrumental in establishing Madidi National Park in the 1990s. They're now using Serere as a strategic point for establishing legally protected zones to the north to save the rainforest from the same fate faced by Madidi 20 years ago. Madidi Travel opened the 4000 hectare park in 2003, to allow visitors to appreciate the restored biodiversity, while generating income for their conservation work to continue. Before the reserve was opened an extensive rehabilitation project was carried out involving: reforestation and the recovering of lakes from invasion plants, the creation of infrastructure to support sustainable tourism, agroforestry, and reintroduction of rescued animals. Now the group works with the neighboring indigenous community to ensure the continued protection of Serere, and community lands, from on-going threats such as logging and hunting. As a result of their conservation efforts, abundant fauna (monkeys being the most popular) can be found in Serere, including endangered species such as jaguars, black caymans, anacondas, and many varieties of birds. Touristic operations at Serere are maintained at a small scale, there are eight lodges which house an average of 15 – 20 tourists, and guides handle a maximum of six tourists to minimize their impact. Madidi Travel also accepts volunteers for short or long term stays, to assist within a variety of aspects of their operations, or specific projects. Tours are 400 Bs. person/day; 5 days option is recommended.
Pampas tours
For watching wildlife opt for a pampas tour. Among animals you might see are six different species of crocodilian (more species than any other region in the world is home to), including the giant black caiman. There are turtles, all three species of anaconda, pink dolphins, capybaras, monkeys, giant ant-eaters, porcupines, toucans, blue and yellow macaws, and even jaguars. A number of native guides in the Pampas region are known for their snake-wrangling skills, and will catch poisonous snakes barehanded while on an excursion. Bird watchers are attracted equally to the Pampas and the Jungle, whereas entomologists tend to prefer the jungle tours, which offer a better selection of insect life, most notably butterflies.
One of the unique experiences to be had in the Pampas region is swimming with pink river dolphins. The dolphins are very sociable, and will often approach the sound of a motorboat, eager to interact with the people. Because the water is darkly stained and impenetrable by sight, many people experience anxiety when touched by the dolphins, because they can't be seen underwater. For most, however, it is a thrilling experience. The dolphins greatly enjoy interacting with humans, and will each behave according to its own unique personality. Some are very gentle, and others enjoy the reactions they elicit by gently nipping a toe, or forcefully splashing the water directly behind a person.
The pampas tours have become very popular and touristy during the high season and have the potential to cause damage to the wild life in the small river Rio Yacuma. The tours are usually done by motor boats that can cause fatal injuries to pink river dolphins. Competent and ethical guides will know which sections of the river be extra careful in. Also, you should make sure that your guide is not showing you pre-trapped animals kept in inhumane living conditions, or letting anybody wearing sunscreen or repellent touch the animals.
Other activities
Climb up to La Cruz, the cross southeast of town for a rewarding view of Rurrenabaque and Río Beni.

Balneario El AmbiaboCool down in the swimming pool.

Zipline / Canopy tourYou can speed through the canopy on a steel cable. Longest run is 620 meters.

El Chocolatal Golf Eco-ResortJungle horse back riding, 9-hole golf course, disc golf. A paradise 15 min outside of town.
Events
Fiesta de Rurre

Anniversary of Rurrenabaque

The day of La Virgen de Candelaria
Buy
There are at least 2 ATMs accepting foreign cards: Banco Unio and Banco Fie, both on Comercio. But like everywhere, don´t count to much on the machines because they sometimes run out of money or only give out small amounts. Prodem (commercio s/n) gives cash advances on Visa and Mastercard credit cards with 5% commission.
There are several places to change dollars. Moskkito also change euros and claim they have the best rates in town.

Eat
In the Mercado Municipal (Avaroa) there are several comedors and jugerias for cheap food and fruit juices.
Restaurant Tacuara, Avaroa y Santa Cruz, has good deal dishes. The menu includes pizza, pasta, meat dishes and fast-food. It serves big portions of lasagne and it's also a good place for breakfast.
Restaurant Camila's, Santa Cruz s/n, serves pastas, pizzas, Mexican food meat dishes and fastfood, mainly to foreigners.
Restaurant La Cabaña, Santa Cruz s/n, has tasty meat and fish dishes with sunset views over the Río Beni.
Sala de fiesta, Cl. Beni (San Buenaventura), for cheap lunches. It's popular with the locals, television and loud music is included in the price
Café Pachamama, cosy restaurant run by a British/Israeli couple just past the main square. Pachamamas serves tasty sandwiches, salads, tortillas etc, and has an excellent cocktail list and happy hour (19:00-21:00). The DVD rooms are good quality and there are over 500 DVDs to choose from. Upstairs is a pool room, with a balcony over looking the road complete with hammocks. They have a book exchange and a music `exchange` - just bring in your iPod and ask. Easily the best café in town.
Butterfly Restaurant, Gourmet national and international food in the jungle, complete menu and bar, healthy and freshest ingredients, bilingual and friendly attention, now attending in the swimming pool Butterfly Mirador.
Café Pirana, just up the road from Camila's, has good coffee, great fresh croissants that taste almost French, and a nice space for relaxing. Only open during the day.
Restaurant Stephani and Juliano at Hotel Swimming pool Ambaibo. Fantastic Tunisian food! Cook creates French, Italian and Arab cuisine. Main courses round Bs. 50-70

Juliano's

address: central Rurrabaque

Great restaurant with really friendly staff, and high quality food for good prices. You can get a discount ticket from Aerolineas Amazonas. Highly recommended steak.

Panaderia Paris

address: Avaroa, between Santa Cruz and Vaca Diez

Fresh bread, pastries, juices and coffee. Packed with locals and tourists. Open Monday to Saturday.

Luz de Mar

address: Calle Avaroa

Nice and friendly restaurant, you can eat big and tasty salad (35 Bs.) and drink mate de coca.

Paititi

address: corner of av. Commercio and cl. Vaca Diez

Good restaurant, close to Madidi Travel. Nice staff.
Drink
Junglebar Moskkito, In a new location on Calle vaca diez, with bar, food, three pool tables, two dart boards and a large cd collection. Happy hour from 19:00-21:00. But it's only happy hour for some drinks and still is average prices. It is open every day from 15:00, 45" TV set connected to cable TV for all sports and others at request. Accepts credit cards, travelers' checks, US dollars, euros, pounds. Rather expensive.
Butterfly Pub, calle Comercio. Five stars service and great deal like happy hour every night from 19:00-20:00, complete bar menu, bilingual and friendly attention.

Monkey´s Bar

address: Avaroa s/n.

This restaurant/bar used to be called Pizzaria Italiana and is still listed in Lonley Planet as such. They serve great Pizzas as well as a wide selection of fish, meat, pasta, and vegetarian dishes. There is also pool tables, dart boards and satellite tv, showing all major sporting events and more. Bilingual staff with happy hour from 19:00-21:00 every day
Sleep
Hostel El Curichal

address: Calle Commercio

Nice staff, swimming pool, bar, garden.
Hostal Oriental, on the main plaza. Rates (Bs. 100 single, Bs. 150 double in Apr 2012) include breakfast, rooms are comfortable and very clean, showers hot,and there's a nice central area to relax on a hammock while you wait to see if your plane will ever actually leave town. Free WiFi, also in the rooms.
Hostal Touristico Santa Ana, Avaroa s/n. Clean rooms, friendly service and some lofty courtyard. There is also a pleasant hammocking area. Bathrooms (some with hot showers) are shared.

phone: +591 -3-8922039

Rooms with private bathroom and hot shower, and rooms with common bathroom. Hammocks, breakfast, garage.

phone: +591 -3-8922127

A tourist complex with bungalows that provide utmost in confort and privacy. Bugalows with 1,2,3 or 4 bedroom with terrace, cable TV and minibar. Bungalows are finely finished with Amazon details, where your mind and body find peace.
Cope
There are a number of laundry services in Rurrenabaque, none of which are particularly recommended. (Lavanderia Number One has previously been recommended as being friendly, but they are known to have miscoloured their customers' clothes.)
There are around 10 establishments offering internet facilities in the town, all of which charge Bs. 8 for a fairly slow connection (chat clients and Skype
can
be used however).
Immigration office - Migracion

address: Calle Arce

Specialized for the tourists, you can get your 30 days prolongation without a queue!
Stay safe
Be aware of the guides - there have been many incidents of theft and physical abuse on the pampas and jungle tours. Some of them are professional thieves and liars. Do not lend or give anyone money - there will be no way of getting it back. They usually invent a story about ill family members that need medication or something similar to make the Gringos feel guilty. Single girls beware of "nice" guides - they spend one night with you and find a way of squeezing out the money.

Go next