Rustavi
Rustavi
is a city in the
Kartli region
of
Georgia
.
Understand
Rustavi (რუსთავი) is a post-Soviet upcoming city of 121,786 people. With a new town square, a theatre in the process of being renovated, things are happening in this former industrial town. Only 25 minutes from
Tbilisi
, packed full of Soviet architecture, surrounded by abandoned factories, derelict Soviet-era parks, and dusty hills, it's something different.
The local steel mill is working at a fraction of its former Soviet production capacity. However, a big income comes from the local car market, which is the biggest one for used cars in the southern Caucasus. It is located on the western side of the Tbilisi-Baku highway.
Get in
By bus
There are loads of marshrutkas going to Rustavi. A marshrutka ride between Tbilisi and Rustavi costs 1.50 lari (Mar. '19). From Tbilisi, marshrutkas load at the Station Square (Sadguris moedani) metro station and also at the Politeknikuri metro station. They will all have a sign reading რუსთავი (Rustavi) in their windshield. Marshrutka no. 19 (yellow) starts in the Saburtalo (საბურთალო) district and goes straight through the capital to Rustavi.
At Station Square, the Rustavi-bound marshrutkas can be found parked behind the cluster of stores directly in front of the metro entrance/exit.
From Politeknikuri, the Rustavi-bound marshrutkas will be loading just outside the northeast exit of the metro. They will be waiting in the thin parking lot adjacent to the university.
On their way to Rustavi, these marshrutkas will invariably take the main riverside thoroughfare (President Heydar Aliyev Embankment/Gorgasalis St). If you see one coming, just wave at it. It will stop if there's room.
The marshrutkas will run down the main street in Rustavi (Megobroba Street) upon entering town. You will know when you are in Rustavi when you see hundreds of 9-story, Soviet-style apartment buildings absolutely everywhere. Just yell out "Gaacheret" for the driver to let you off. Anywhere is a good place to stop, really.
You'll enter new Rustavi first. Old Rustavi is past a bridge over the river Mtkvari. More is happening in the new part than in the old part.
Marshrutkas from Tbilisi to Rustavi begin their routes early in the morning and run until midnight (at least at the Politeknikuri and Station Square sites).

By train
There are two trains daily to the , 1.5 km north of the town hall square. Also, the Tbilisi-Baku night trains stops in Rustavi, departing Tbilisi at 17:55 in winter.

Get around
Rustavi is easily done by foot. In addition, Rustavi has many marshrutka routes covering the length and breadth of the city. A marshrutka ride has the flat rate of 50 tetri. The #1 and #14 marshrutkas run the main road connecting Old Rustavi and New Rustavi. Make sure there is a sign in the windsheild saying "pirdapir" (პირდაპირ, "direct"), lest you take the super scenic routes.

See
The town square is quite nice, there's a river, and plenty of crumbling apartment buildings to wander past. They are lit up at night, which looks quite nice. Nothing like a paint job. There's a beautiful theatre as well.
Old Rustavi
The main boulevard (Merab Kostava Ave) invites for pleasant strolls.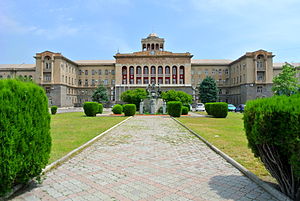 Steel MillTours can be done, though not spontaneous. Use their website to contact them ahead, to let them organise a tour for groups.

The with the newly designed square and the bronze orchestral groups are in the middle of Kostava.
There is a theatre along Niko Pirosmani Street near the city hall.
The is at the corner of Odisharia and Mshenebelta Street.
The lies near the Mtkvari river.
Entrance via the Park of Culture and Rest. There is no entrance near the fort itself.
New Rustavi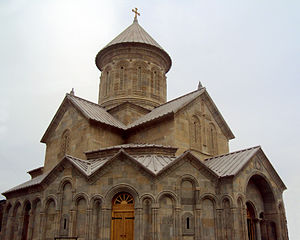 Rustavi Sioni Church

Friendship squareGreat for strolling and coffee.

WWII Memorial

Caucasus Auto Trade CenterAs mentioned before, the biggest in the Caucasus. Probably the best option if you want to explore the region with your own car, though getting into Iran might be difficult. It also inhabits a customs counter where all cars to be imported to Georgia have to be registered.

Rustavi International MotorparkA race track from the 70s that has been renovated recently and supposed to become venue for the F3.
Nearby
Gardabani Managed Nature Reserve3483 hectars and established in 1996. Main protection purpose are the forest groves in this area. Not so touristy yet, with only a few walking tours.
Do
For a Western traveller, the most striking thing about Rustavi is its purely Soviet aesthetic. That said, many Westerners find that the best thing to do is to simply walk around. Rustavi is largely untouched by tourism, so the observer can see Georgian city life in a very pure form.

RustawkalakobaThe city festival of Rustavi.

The Motorpark in the west of the city also contains a training centre. In addition, you can rent motor cross bikes for exploring the surrounding steppe.
Go to the cinema, the theatre, check out a cafe, drink some beer.
Buy
Rustavi has two bazaars in town. There is the old bazaar, located incidentally in Old Rustavi, and there is the new bazaar, located in New Rustavi.
Old Bazaar

New BazaarThe new bazaar is bigger, newer, and cleaner. Ideal to buy vegetables, nuts, cloths, etc.
Eat
What
Rustavi has its fair share of Georgian restaurants tucked inconspicuously all over town. The standard fare of khinkali, khachapuri, lobio, is all available. The prices are generally the same across the board.
Near the city hall there is a branch of the legendary lemonade Laghidze, where you can also get some inexpensive snacks (khachapuri, etc.).
Where
address: კოსტავას 22

Decent Georgian/European/American food with English menu

phone: +995 593840084

address: Alexandre Pushkini 2

Highly recommended by locals and travellers alike, just do not get turned off by the surroundings.

phone: +995 591706225, +995 599990791

address: Red Bridge Highway 23 km

The hotel near the Racing Track also features a delicious restaurant.
Drink
Georgian wine and chacha can be found at almost every restaurant and convenience store around town.
Guda Buda

address: 2 Megobroba St., New Rustavi

A great place to grab a coffee or beer and wireless internet.
Cafe Askili also features a nice café and bar, open until 01:00—see above.

Ghvinos Saxli / Wine HouseA particularly nice establishment to find Georgian spirits. It is owned by an English-speaking Georgian man whose staff is very helpful in picking out a great bottle of Georgian wine or chacha. And the price is right.
Sleep
Rustavi is close enough to Tbilisi that you might find more scenic and comfortable digs there.
phone: +995 341250088

address: Rustavi Megobroba Avenue 32

The main and auspicious hotel in town,

VIP Hotel Rustavi

phone: +995 571800550

address: Iuri Gagarini Street

Modern, clean hotel, in a quiet neighbourhood, but rooms can be a bit noisy. Limited hot water.

Hotel Prestige

phone: +995 593583552

address: 21 Merab Kostava Ave, Old Rustavi

phone: +995 599990791, +995 790330505, +995 591110648

Directly next to the Racing Track. Also offers rooms hourly. https://www.facebook.com/hotel.autobazroba
Go next
David Gareja Monastery Complex – A 6th century cave monastery clinging onto a rocky hillside lying meters away from Azerbaijan, with beautiful frescos. Can be reached by taxis or organized tours, no public transport available from Sighnaghi (only Tbilisi). 50 km from Sighnaghi, a detour along the way to/from Tbilisi.
Azerbaijan – with Ganja being the first and one of the largest cities after the border. Though, the daily Ganja-Tbilisi marshrutka does not go through Rustavi, but Marneuli. Best to catch a ride to the border and another one into Azerbaijan after crossing.
Tbilisi – Getting back to Tbilisi is easy. There are Tbilisi-bound marshrutkas passing down the main street constantly.
To catch one of these marshrutkas, simply stand anywhere along Megobroba Street (Rustavi's main road) and flag one down. Any marshrutka going to Tbilisi will say თბილისი (Tbilisi) on the top on its windshield sign. The best places to catch marshrutkas is from a bus stop, because the marshrutka will slow down significantly, giving you a chance to read the windshield sign.
However, all of these constantly-passing Tbilisi-bound marshrutkas are going to different places in Tbilisi. To know where each Tbilisi-bound marshrutka is going specifically, the details will be listed underneath the word თბილისი (Tbilisi).
The marshrutka going to Politeknikuri (metro) will have a blue and white windshield sign. Underneath the word თბილისი (Tbilisi), it will say აჭარა (Achara).
The marshrutka going to Station Square (metro) will have a Tbilisi metro icon at the bottom with the word სადგურის (Sadguris) next to it.
Other marshrutkas going to Tbilisi will are going to ისანი (Isani), where there is a metro, and there is the rare marshrutka headed to Liberty Squareit will say ვაკე and თავისუპლების on the sign.
Marshrutkas running from Rustavi to Tbilisi begin quite early in the morning, and taper off around 10-11pm.