Rwenzori Mountains National Park
Rwenzori National Park
is in
Western Uganda
.
Understand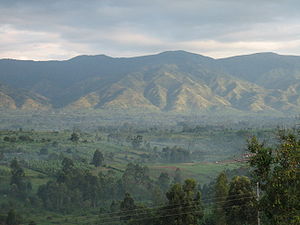 Rwenzori National Park is a mountain range in south-west Uganda bordering the
Democratic Republic of Congo
. It is 120 km (75 mi) long and 48 km (30 mi) wide, covering almost 100 000 ha. The highest peak is Mt. Margherita (5109 m), though Mt. Speke (4980) is the more popular and less daunting climb. The region's glaciers, waterfalls and lakes make it one of Africa's most beautiful alpine areas, according to
UNESCO
. By the end of 2006, its ice cap has retreated from 6.4 km² (2.5 sq mi) a century ago, to less than a 1.28 km² (0.5 sq mi).
History
The area has for political reasons been off limits for long periods. The last couple of years it has been stable, and tourism is picking up, though 500 visitors a year at the great circuit is not exactly mass tourism.
The war in Lord's Resistance Army is of course a concern, but it is less than likely to run into the LRA in the alpine areas of Rwenzori, nor in the Ugandan hillsides in the east.
Landscape, flora and fauna
Up to 2100m is generally inhabited and cultivated, with mixed harvests as bananas, potatoes, yumyums and coffee. (The coffee-enthusiasts can find local coffee beans at the sunday/wednesday morning market in Kilembe.) 2100 - 3000m is forested with heavy underbush, trees rarely exceeding 30meters, and bamboo forests. You may meet monkeys and chimpanzees, elephants and big cats are very rare.
3000-3800m is still forested, but with increasingly distinguished flora, trees with hanging moss. Alpine zone starts from 3800m.
Climate
Rwenzoris are definitely alpine, however equatorial they may be, this is rough. Expect rain in all seasons, and avoid the rainy season (March-June, September-October). It is muddy, wet and windy, and weather changes in minutes.
Although the RMS (see
#Fees and permits
) rent equipment, this is not high quality stuff. Bring your own
warm
sleeping bag, mat, and waterproof, high quality mountaineering clothes. You will need it.
If you go for the less exhilerating community walks from Kilembe, some warm underwear, jacket, and ordinary shoes will do.
Get in
There are three main points of departure.
For the great circuit around the mountains, the starting point is Nyakalengija. This is only operated by RMS. They can arrange transport from Entebbe and Kampala. However, it is just as convenient to arrange yourself. Get to Fort Portal, travel south towards Kasese, where you cans pend the night and get some essentials. From Mubuku, 15 minutes north of Kasese, you can arrange transport past Bugoye power plant to the gate. If you drive, take west at the small, rundown powerstation, and continue the road till the end, safe parking. If you arrive here in the morning, guides, porters and everything will be arranged in a matter of an hour or two (this is the good part of 80% unemployment). But DO bring your own mountaineering equipment. The quality of the guides vary, it is a good idea to get advise from travellers you may meet, though they are not many; about 500 tourists do this walk every year. This Norwegian blog may provide some additional input:
Peder in Uganda
RMS also arranges one-day walks from Port Fortal across the ridge to Bundibugye, far less extreme walking, but you supposedly never really get the feeling of crossing the ridge, forested as it is.
Third alternative is the Rwenzori Community Walks , arranged by Backpackers in Kilembe, 12 km west of Kasese. They arrange one and two-days walk at a fraction of the price, also they run a number of community development projects from the profits. Here you can also arrive in the morning and get everything organized, or make a phone call one day in advance. It is easy to arrange transport from Kasese til Kilembe, there are also a few buses. If you drive, the backpackers is in the far west end of Kilembe, across the scary bridge and half a mile more. Safe parking.
Fees and permits
The park permit fee is USD30 per person per day. However you will need guide, guards, porters and cook. This comes at an additional USD100 per person per day. The 6 day circle tour is fixed at USD780 for foreigners, including equipment and other costs, you should calculate USD950. You may object to this being too much, though this doesn't matter, because the
Rwenzori Mountaineering Services (RMS)
have a monopoly on arranging travels in this area. There is talk of this changing, and it is possible that competing Rwenzori Community Walks will get permission within a few years. Check for updates at their website.
The less exhilarating and less expensive alternative, is to travel with
Rwenzori Community Walks
. They offer one and two day walks in the hills at
USh
15,000 and USh 50,000 respectively. As you walk only at the borders of the park, there is no additional fee
Sleep
Lodging
Camping
Backcountry