São Luiz do Paraitinga
São Luiz do Paraitinga
is a town and municipality in the
Vale do Paraíba
region, in
São Paulo state
. Its historical center, containing hundreds of constructions from the XIX century, is a national heritage site. Located in the middle of
Serra do Mar State Park
, an Atlantic rainforest reserve, the municipality of São Luiz do Paraitinga is also a popular destination for trekking and
rafting
.
Understand
The village of
São Luiz e Santo Antonio do Paraitinga
was founded in 1769 by
bandeirantes
. It did not have any significant economical activity until the second half of the 19th century, when coffee farming started. In 1873, the village was recognized as a city and changed name to São Luiz do Paraitinga.
As much of the Paraíba Valley, São Luiz do Paraitinga never recovered from the decline of coffee farming and became a stagnant - but wonderfully preserved - historical city. Eventually, the city's Carnival and traditional (
caipira
) events turned it into a magnet for both party-goers and those interested in cultural tourism. In 2002, São Luiz do Paraitinga was declared a resort municipality by the São Paulo state government, gaining access to special funding for the development of touristic activities.
In 2010, the city was struck by a flooding of the Paraitinga river, which greatly damaged part of the city's historical heritage. As response, in the same year, the historic center of São Luiz do Paraitinga was declared a national heritage, allowing the city to use federal funding for its reconstruction process.
In 2014, the city's Historical Center was practically entirely reconstructed.
Get in
By car
Access to São Luiz do Paraitinga is possible using Rodovia Osvaldo Cruz (SP-125) which links
Taubaté
to
Ubatuba
. From
São Paulo
or
São José dos Campos
, Taubaté can be reached using Rod. Presidente Dutra (SP-60/BR-116).
By bus
Intercity buses to São Luiz do Paraitinga depart from Taubaté and are operated by
São José
. Buses are not very frequent so it is better to reserve in advance. The bus trip takes about 1 hour and costs R$ 9.70 on weekends (as of June 2013).
Get around
The city center can be easily explored on foot. However, to explore the Serra do Mar State Park, it is necessary to use a car or to hire a tour agency, such as
Paraitinga Turismo
.
See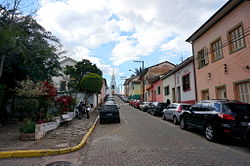 The city of São Luiz do Paraitinga contains 437 constructions declared as heritage. Some of the most remarkable are:
Capela Nossa Senhora das Mercês

address: Ladeira das Mercês

Colonial-style chapel constructed in the end of the 17th century. The current building is a reconstruction as the original one was destroyed in the 2010 flooding.

House of Dr. Oswaldo Cruz

address: R. Oswaldo Cruz

A rammed earth house, constructed 1834, where the famous Brazilian physician Oswaldo Cruz lived.

Largo do Teatro

address: Rua Monsenhor Ignácio Gióia, Centro Histórico

A picturesque spot containing the Nossa Senhora do Rosário church and beautiful colonial-style houses.
Igreja de Nossa Senhora do RosárioGothic-style church constructed in the end of the 19th century.
Praça Oswaldo Cruz

address: Centro Histórico

The main square of the city, where centenary religious festivities occur and containing several historical constructions, including:
Igreja Matriz São Luiz de TolozaThe city's central church was built in the 19th century. The church was practically destroyed in the 2010 flooding, and rebuilt in May 2014.
address: Rua Monsenhor Inácio Giolia

The city's old municipal market, built in 1835, is used for trade of local goods and some of the city's main festivals and cultural festivals.
Do
Ecoutourism
Parapitinga trail

address: Parque Estadual Serra do Mar - Núcleo Santa Virgínia

Medium-difficulty trail, with 5700 m and taking about 4 hours round-trip. In the trail it is possible to observe three waterfalls and a view of the valley of the Parapitinga river.

Pedra do Corcovado trail

address: Parque Estadual Serra do Mar - Núcleo Santa Virgínia

The Corcovado rock is the main attraction of Núcleo Santa Virgínia, providing a fantastic view of the sea. To access it, however, it is necessary to pass through a high difficulty trail that takes 8 hours round-trip.

address: Estrada do Pinga km 2,5 - Catucaba

As the name says, it is a trail that passes through 7 waterfalls, containing also a panoramc view. It is located in a private property (the pousada) Refúgio das Sete Cachoeiras, where the trail must be booked. It has medium difficulty and takes about 4 hours round-trip.
Events
São Luiz do Paraitinga offers a practically year-round agenda of traditional
caipira
cultural events.
Festival de MarchinhasHappening in second half of January, it is a festival and a competition of locally composed Marchinhas (a traditional Brazilian music genre).

Carnaval de MarchinhasHappening in the first half of February, it is the city's largest and most famous event. The crowds fill up the streets of the Historic Center and of the Catuçaba district, with Marchinhas being the dominant music.

Holy weekThe city's traditional Easter celebrations happen in the second week of April, from Friday to Sunday. The celebrations include an open-air passion play, a night procession around the city's historic center, the Malhação de Judas party and the crowning of Our Lady of Aparecida.

Festa do divinoFirst half of May. The city's most important religious event and one of the oldest caipira traditions of the state. It consists of diverse religious celebrations, musical and dance performances, typical food (including the pastel de farinha and the afogado), and plays with the city's pair of giant dolls, João Paulino and Maria Angú. The afogado is freely distributed during the celebrations. The money to organize the event is collected by the festeiro ("partygoer") who wanders the municipality for the entire previous year asking for donations.

Corpus ChristSecond half of May. During this day, the citizens decorate their houses using flowers, sawdust, coloured lime and cheap materials, culminating into a religious procession.

Arraiá do Chi Pul PulFirst half of June.

Winter SeasonThe whole month of July.

Caipira Cuisine PartyFirst half of August.

Elpídio dos SantosSecond half of September.

Festa do SaciFirst half of October.

Christmas celebrationsThe whole month of December.
Buy

São Luiz do Paraitinga is a city that takes pride on authenticity, so you won't find shops and markets selling general tourist trinkets. There are a only few handicraft shops, spread in the Historical Center. Check also the fairs at the Municipal Market.

Eat
São Luiz do Paraitinga's trademark dish is the
afogado
(stewed beef with cassava flour). It be tasted at the Municipal Market and at the city's various festivities. A popular snack is the
pastel
with corn flour.
Restaurante Sol Nascente

phone: +55 12 3671-1400

address: Largo das Mercês, 21 - Centro

Combines Japanese with Caipira food.

phone: +55 12 3671-1466

address: R. Cel. Domingues de Castro, 121 - Centro

Caipira food and pizza.
Drink
phone: +55 12 99179-6939

address: Rodovia Oswaldo Cruz, Km 35 - São Luiz do Paraitinga

Producer of the "Mato Dentro" handmade cachaça, that won several national awards.
Sleep
Stay safe

São Luiz do Paraitinga is very safe for tourists. As you will quickly realize by yourself, however, most of the population of the city is relatively poor, so avoid displaying signs of wealth and don't mess up with the locals' affairs.

Go next