São Miguel
São Miguel
is the largest and most populous island of the
Azores
archipelago. Portuguese for Saint Michael, the island is also known by locals as "The Green Island" (Portuguese:
Ilha Verde
). Most visitors arriving to and from the Azores will pass through São Miguel.
Understand
Although the largest of the Azores Islands in area, the vast majority of the island's 138,000 inhabitants live in the capital city of
Ponta Delgada
, which as of 2011 had a population of just under 69,000, with the rest of the population clustered in a handful of cities and towns. Cities are a quaint mix of modern and traditional architecture, with beautiful old churches, windmills, and cobblestone streets existing beside more contemporary development. The rest of the island is a showcase to its spectacular natural landscape, with rolling hills, green forests, picturesque waterfalls and beautiful ocean views. Like most of the Azores, São Miguel has volcanic origins, and the remnants of several dormant volcanic cones create much of the island's scenic attractions, including the twin lakes of the Sete Ciades, Lagoa de Fogo (Fire Lake), and the popular snorkeling islet off the coast of Villa Franca de Campo. The island is geothermically active, especially in the Furnas area; bathing in natural hot springs is a popular activity and traditional meals are cooked in pots inside active vents. Those who enjoy outdoors adventure will love the island's numerous hiking trails and opportunities for kayaking, cycling, canyoning, surfing, and diving. Whale watching is also a popular activity in the summer months, as a diverse range of whale species can be found near the island. Although there are beaches of the black, volcanic, sand variety, most of the coastline is rocky and the surf and currents dangerous so it is not the ideal location for a traditional laid-back island beach vacation. However, for those who love the outdoors and a bit of adventure, São Miguel has a lot to offer.
Cities and towns
is the capital city of São Miguel, the economic heart of the island, and the administrative capital of the Azores region. Containing the island chain's major airport and the only major cruise ship terminal, many visitors to the region pass through Ponta Delgada before continuing to other destinations in the archipelago. The historic center and most tourist attractions are located along the coastal Avenida Infante D. Henrique, which extends from the fort of São Brás in the southwest of the city to Clube Naval and the southeast Marina, and includes Campo de São Francisco, the Igreja Matriz (main church), the "Portas da Cidade" (City Gates) and the new "Portas do Mar" development.
Furnas, the largest parish on the island, is famous for its geothermic activity. Hot springs and geysers are prevalent, and traditional meals are cooked via thermal energy in pots buried in the ground.
Nordeste, the northeastern section of São Miguel, contains many beautiful landscapes. Peppered with mountain peaks, forests, and river valleys, it is a popular spot for canyoning and other outdoor adventures.
Ribeira Grande, the second largest city (pop. 32,112 in 2011), is the gateway to the north and 20 minutes away from Ponta Delgada. It is known for its beautiful historic center, its northern beaches for windsurfing, as well as being one of better access points to Lagoa do Fogo crater lake.
Sete Cidades is a parish covering the western part of the island, including the famous twin crater lakes, Lagoa Azul (Blue Lake) and Lagoa Verde (Green Lake).
Vila Franca de Campo is located on the southern coast of the island, further east than Ponta Delgada. Vila Franca was the original capital city of the Azores before a violent earthquake and subsequent landslide in 1522 destroyed much of the city and forced the capital to relocate to Ponta Delgada. A volcanic crater off the coast created a perfectly circular islet which is a protected nature sanctuary and a popular place for snorkeling. An hourly ferry carries snorkelers to and from the islet.
Get in
The most common entry point to the island is at Ponta Delgada, the island's capital, which is accessible by boat and plane.
By plane
address: 246 South Meadow Road

The main airport for the Azores, named after Pope John Paul II, is only 1.9 km from the center of Ponta Delgada. It has scheduled domestic flights to all islands of the Azores and handles international flights originating in Europe and North America. João Paulo serves as the hub for the inter-island carrier SATA Air Açores and its international affiliate, Azores Airlines.
By boat
The marina at Ponta Delgada also welcomes many yachts and private boats from around the world that make São Miguel a port of call along their trans-Atlantic travels.Visitors arriving by cruise ship will most likely be docked at
Terminal Maritimo
which is only a five minute walk into downtown Ponta Delgada. Some cruise ships dock further out by the breakwater, in which case it is a longer, 20-minute walk. There is seasonal (summer only) inter-island ferry service to São Miguel from Santa Maria in the east and
Terceira
via the ferry service
Atlanticoline
.
Get around
By car
Renting a car is one of the best ways to explore the island. São Miguel is small enough to drive in a day, and there are many areas that can only be accessed by car. Rental cars are available at Ponta Delgada Airport, and there are also rental companies which will pick you up at the airport and allow the car to be returned there. Plan ahead and reserve a vehicle with a rental company prior to your trip to avoid long waits at the agency or having to pick a less-than-ideal car. Note that a vast majority of the cars available for rent have manual transmissions, so brush up on your stick shift skills or select an automatic vehicle specifically when making a reservation.

By taxi
There are taxi services at the airport. As of July 2019, from the airport to Ponto Delgado city center, 3 adults pay 10 euro.

By bus

Bus routes that cover the entire island are probably the quickest, cheapest, and most eco friendly way to get around. There are three lines operated by three different companies. The buses are fairly old, but since distances are short, rides are rarely longer than 90 minutes. They're usually not too crowded and are very clean.
Buses run the main avenue and are conveniently accessible from major sites in Ponta Delgada. In-town bus services are handled by smaller mini-buses with the larger touring buses handling community-to-community travel on the island. Both services are accessible along Avenida D. Infante Henriques and can confuse the unfamiliar traveler. Schedules are available at bus stops and the tourist office.

See
Some of the best sights can be found on foot, and hiking is a popular activity on the island. Trail maps can be found at
Trails Azores
and the phone app,
HikeMe Portugal
is useful for on-the-go navigation.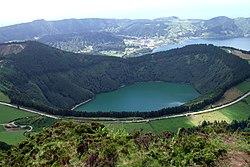 Crater lakes and calderas
Caldeira VelhaThe caldera has rich tropical vegetation and hot springs which flow into bathing pools.

Lagoa da FogoA caldera lake high up in the mountain, part of a nature reserve, known for its dramatic views and white sand beach.

Lagoa das FurnasAn active caldera with steam vents, mud pots, geysers, and hot springs. Locals cook food in earth ovens available in picnic areas

Lagoa das Sete CidadesA set of lakes in a caldera northwest of Ponta Delgada. Steep mountain walls surround the twin lakes, Lagoa Verde and Lagoa Azul. The color of the lakes is explained in a local myth. There is an abandoned hotel nearby (Monte Palace) with nice views of the twin lakes.

Ponta da FerrariaGeologically the youngest part of the island, with therapeutic hot springs that have been used since the 15th century. The best time to visit is at low tide. The water starts warming up approximately two hours before low tide and cools down two hours after. The water reaches temperatures up to 62º C (144 °F) but when mixed with ocean water, it reaches temperatures above 30º C (86 °F), depending on the tide.
Historic buildings and museums
Farol da Ponta do ArnelHistoric and uniquely shaped lighthouse located on a cliff in Nordeste. Amazing views but a steep walk.

Forte de São BrásCoastal Renaissance fortress dating to 1552, now home to a military history museum.

Nossa Senhora da Paz (Hermitage of Our Lady of Peace)Beautiful 18th-century chapel on the hill looking over Vila Franca de Campo.
Do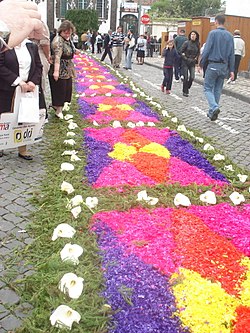 ===Events===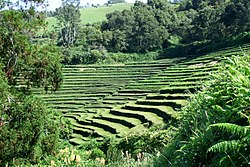 Farm and food tours
Natural hot springs
Outdoor sport
Sleep
phone: +351 962311857

address: Rua Dr. João Francisco de Sousa, 34/38 Ponta Delgada

Furnished in original Victorian style but is fully modernized to create a cozy and clean feel.

phone: +351 296 642 1660

address: Livramento 9500-605 Ponta Delgada

It is right near the ocean and Populo beach. Quinta das Acacias offers cottage style living accommodations in the midst of a well kept flourishing green garden. Each cottage averages an area of 50 m². There are 1- or 2-bedroom units available.

Hotel Talisman

phone: +351 296 629 502

address: Rua Marques da Praia e Monforte 40, Ponta Delgada

In the middle of Ponta Delgata near all tourists attractions and nightlife. This hotel has 53 rooms, 5 suits and includes a restaurant, bar, and esplanade.

phone: +351 296 559076

address: Rua Visconde Botelho numero 4, Lomba do Loução

Casamariadedeus has been a home for many people traveling to the area for 25 years. A comfortable place to stay in a small village and experience village life of times past.
Monte Palace Hotel, R6Q4+H6 Sete Cidades. Very cheap, and quite fancy but a bit run-down.
Stay safe

There is very little crime on the island. Most crimes are drug-related and are generally localized to Ponta Delgada and Ribeira Grande. However, petty theft from vehicles does occur, so it is prudent to lock your car and not leave any valuables in sight, especially when parking at trail heads for an extended hike.
Exercise caution driving as roads are often narrow, with blind curves and steep inclines. Wandering livestock and poor lighting are also potential hazards. Pay close attention to any warning signs regarding inclines and avoid dirt or poorly designated roads that are unfamiliar as their conditions may deteriorate at a point in which it is too late to turn back and can cause serious damage to your vehicle. Some deteriorated roads are populated by thieves looking to pilfer from broken-down vehicles.
On the beaches, watch out for large waves and strong undertoe currents and obey any lifeguards or warning flags which may be present. Unsurprisingly, the Azores, including São Miguel, contain one of the world's largest populations of the venomous Portuguese Man 'o War. The largest concentration of the jellyfish-like creatures appear in the spring, and they can be windswept into sheltered areas. Swimmers should be vigilant for plastic-bottle looking "floats" which may be tinged purple or blue, and be very wary of what lies below the ocean's surface as their tentacles extend an average of 8 feet away from the float, but can be as long as 156 feet. Their tentacles cause an extremely painful sting, even if the Man 'o War is dead. Never touch a Portuguese Man 'o War, even if it is washed up on the shore, and beware of tentacles hidden beneath the sand. If you are stung, do not touch the tentacles but apply ocean water to remove them from the skin. Do not apply fresh cold water and do not urinate on the stung area, as this will cause the sting to worsen. Also do not use an EpiPen as this can cause a dangerous reaction. Soaking the effected area in hot water mixed with Epsom salts is recommended, and if a severe envenomation is observed, such as difficulty breathing, disorientation, dizziness, or extreme pain, seek medical attention immediately.

Go next
Santa Maria
, nicknamed "The Sun Island," is the southeasternmost island in the Azores. With white sand beaches and protected natural tidal pools, Santa Maria is one of the more popular islands for swimming. The small island is a thirty minute flight or a three hour boat ride from Ponta Delgada. Interisland flights can be booked on
SATA Air Açores
.
Atlanticoline
runs seasonal ferry service between Ponta Delgada and Vila do Porto, Santa Maria's marina, during the summer months.
Terceira
, nicknamed "The Lilac Island," is a six hour boat ride or 45-minute flight from Ponta Delgada. Unlike Santa Maria and São Miguel, which are rather spread out, Terceira is part of the Central Group of islands in the archipelago, along with
Pico
,
Faial
,
São Jorge
and Graciosa, which are closer together and easier to travel between.