São Miguel das Missões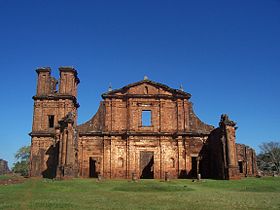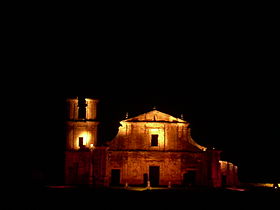 São Miguel das Missões
in a city in the southern
Brazilian
state of
Rio Grande do Sul
. It hosts the remains of one of the
Jesuit Missions of the Guarani
that are listed by UNESCO as a
World Heritage Site
Get in
São Miguel is 485km far from
Porto Alegre
.
By plane
Carrier flights touch down at the airport of nearby city of
Santo Ângelo
. Flights to other states and countries usually change planes at
Porto Alegre
or
São Paulo
.
By bus
Comfortable and air-conditioned executive coaches are available from Porto Alegre and many other cities throughout Rio Grande do Sul state to cities near São Miguel das Missões. Buses generally stop at the bus station in
Santo Ângelo
on the "Viação Ouro e Prata" busline. Schedule from Porto Alegre is found on the Porto Alegre Rodoviária (bus station) site and the Viação Ouro e Prata site .
Buses to São Miguel das Missões are available in the Santo Ângelo bus station.
By car
BR-116 North (Porto Alegre to Canoas)
BR-386 Northwest (Canoas to Tio Hugo)
RS-223/BR-377 West (Tio Hugo to Cruz Alta)
RS-342 (Cruz Alta to Ijuí)
BR-285/RS-342 (Ijuí to São Miguel das Missões)
Come prepared to understand the language of the road in Brazil. Passing, tailgating, speeding and signaling that you may do one of these things may be confusing to first time drivers.
See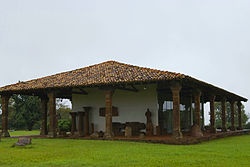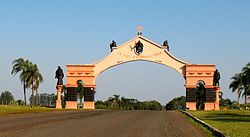 São Miguel Arcanjo archeological site

phone: +55 55 3381-1294

address: R. São Nicolau

Its centerpiece is the Church of St. Michael the Archangel, built in Baroque style, designed by Italian architect Gian Batista Primolli, begun in 1735 and took 10 years to complete, composed of three naves separated by two large archways and five altars with images of saints, coverage was clay tiles supported by wooden beams and, in front, a portico with arches and columns that displayed statues of the 12 apostles. The sandstone blocks were brought from a distance of 20 km. The tower, 25 meters tall, wore a tin rooster and five golden bells. Other highlights include a massive Missionary Cross, built from a single block of stone sandstone, and a 1-ton remaining bell.

Missions MuseumDesigned in 1940 by Lúcio Costa. Inspired by the dwellings of the missionaries. Its veranda is roofed with clay tiles. The museum contains a rich collection of about a hundred sculptures of rare beauty, of sizes ranging from 15 cm to 2.20 m, collected by John Hugo Machado between 1939 and 1940.

The Light and Show Spectacular (Espectáculo de Som e Luz) occurs at dusk and explains the history of the Jesuits, Guarani indians and the Portuguese and Spanish empires in this territory. You can also enjoy the blue starry nights in this remote region of the pampas during the presentation. You may even need a light jacket in the summertime to stay comfortable (remember that summer is from December to February in the southern hemisphere). Shows start for November, December and January: 9:30pm. Show start for February, March, April, August, September and October: 8:00pm. Show start for May, June and July: 7:00pm (wear a coat). Cost: R$5.00, R$2.50 with any domestic or international student ID, R$2.50 for seniors over 60 years of age. Purchase tickets at the archeological site entrance.
Eat
Restaurante , Peixaria e Lancheria - Meu Cantinho

phone: +55 55 9998-1666, +55 55 3381-1025

address: Rua São Nicolau, 824

Aldeia Grill

phone: +55 55 3381-1070, +55 55 9936-3671

address: Av. Antunes Ribas, 1771

Restaurante O Guarani

phone: +55 55 3381-1060

address: Rua Borges do Canto, 1926

Restaurante e Pizzaria Casarão

phone: +55 55 3381-1203

address: Av. Borges do Canto, 1244
Sleep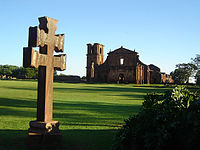 phone: +55 55 3381-2000

address: Rua São Miguel, 664 - Centro

This is the poshest hotel in the city; however, a room of equivalent luxury may run much cheaper in Porto Alegre. It's remote location makes common luxury in the capital city much more expensive here.

phone: +55 51 3225 0693

address: Rua Des. André da Rocha 225

Rustic, but very charming and right next door to the archeological site. Your best bet in São Miguel das Missões.

Hotel Barrichello

phone: +55 55 3381-1272

address: Avenida Borges do Canto, 1555

Slightly smaller rooms, but very clean and new. Rooms are generally cheaper than the other two hotels.