São Paulo/Far East
Far East
is a region of
São Paulo
. With about 2.7 million people, it is the most populous region and the main reduct of São Paulo's working classes, a true "City of Workers". Known as one of the poorest areas of the city, the Far East contains some interesting attractions, including two huge parks and the oldest surviving church of São Paulo.
Understand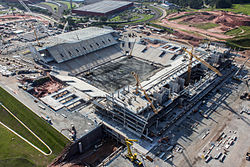 The Far East used to be occupied by farms and industries. During the second half of the 20th century, the fast economic growth of São Paulo attracted a large number of migrants from the Northeast of Brazil, who settled mainly in the city's peripheral areas. The Northeastern migrants and their descendants are now the predominant population in the Far East, although a significant Japanese community, that arrived during the farming era, is still present and remains culturally important to the region.
The Far East is known as a "dormitory city", with a very large population and few opportunities of employment within the region, and unfortunately, with high levels of poverty and crime. However, there is a lot of perspective for the region, due to the fact that Itaquera was chosen to host the opening of the FIFA World Cup 2014. Together with a new stadium, which will become the home of Brazil's 2nd most popular football team, Itaquera is being remodelled to become a new center of services and business in the East. It is yet to be seen what all of these will end up, but there is at least a big hope that in São Paulo, the time of the East has finally arrived.
Get in
By metro and train
The Line 3-Red is the busiest metro line of São Paulo, carrying everyday, along with Line 11-Coral and Line 12-Saphire, hundreds of thousands of workers from the East to the city center. These are the metro and train stations located at each district:
between Penha and Vila Matilde: Penha, Vila Matilde, Guilhermina-Esperança, Patriarca
Artur Alvin: Artur Alvin
Itaquera: Corinthians-Itaquera, Dom Bosco
José Bonifácio: José Bonifácio
Guaianases: Guaianases
Cangaíba: Engenheiro Goulart
Ermelino Matarazzo: USP Leste, Comendador Erlmelino
São Miguel Paulista: São Miguel Paulista
Jardim Helena: Jardim Helena-Vira Mara, Jardim Romano
Itaim Paulista: Itaim Paulista
The Line 15 Monorail connects Line 2-Green (Vila Prudente station) to Jardim Planalto.
By car
Main accesses to the Far East region are
Marginal Tietê
(gives access to Parque Ecológico do Tietê),
Radial Leste
(gives access to the Itaquera district) and
Avenida Aricanduva
(gives access to Parque do Carmo).
Get around
By bicycle
Cycleway Radial Leste
(see
São Paulo main section
) is partly located in this region. The other cicleway is:
Cycleway Várzeas do Tietê

address: Rod. Ayrton Senna, km 12 to km 23

The 11.41-km-long cycleway runs more-or-less in the south shore of the Tietê river, although the river is not visible in some parts. The cycleway is part of Parque Várzeas do Tietê, and it is expected to gain 12.44 km in the coming years. The cicleway gives access to Parque Ecológico do Tietê, Parque Jacuí, and USP Leste (the East campus of University of São Paulo). It also passes through residential areas, mostly lower class.
See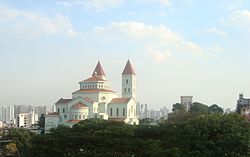 Do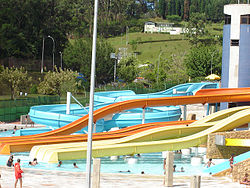 phone: +55 11 2523-9200

address: Avenida Fernando Espírito Santo Alves de Mattos, 1000 - Parque do Carmo

Adjacent to Parque do Carmo, SESC Itaquera is one of the most important cultural, sport and recreation centers of the East. Highlights are the 5,000 square meters waterpark and the forest trails suited for families with kids. As other SESC units, it hosts cultural and musical performances. Note that to use the waterpark, it is necessary to perform a medical exam, which costs R$6 on the spot. Unfortunately, the place is rather dangerous and it is good to mind your bags. It is always good to take your padlocks with you to put your stuff in the available lockers. Also, it is not recommended to use the swimming pool, as the place is often dirty and, sometimes, it is possible to find human feces in the water.

phone: +55 11 2724-2000

address: Avenida Aricanduva, 11500 - Jardim Aricanduva

The largest and most well-known performance venue of the region. Musical presentations are usually from popular Brazilian music styles such as samba, pagode, forró, axé, sertanejo, and funk carioca (a style originary from Rio de Janeiro's favela's) .

address: Avenida David Domingues Ferreira

The amusement park of Itaquera. Inaugurated in 1987 at its current location, the park has roller coaster, little train, electric cars, Viking ship, space ship, terror tunnel, and other fifteen rides. The tragic death of a passenger and serious injury of some others in 2008, prompted the enforcement of security regulations. The park is now considered safe. The entrance is free, rides are paid by buying tickets at booths. There are shooting ranges, bars and other small facilities that are paid in cash. Most of its personnel speaks only Portuguese, as foreign visitors are a very uncommon phenomenon.
Events
Sakura Matsuri

phone: +55 11 6191-0470

address: at Parque do Carmo

Parque do Carmo is the place of São Paulo's most famous cherry blossom festival, a typical Japanese tradition. It happens annually around August. The festival is accompanied by Japanese food and cultural presentations, although the hightlight of the festival is naturally admiring the cherry blossoms.

phone: +55 11 2521-6437

address: R. Professor Hasegawa 1198 - José Bonifácio

The charity bazaar, organized by a Japanese-founded association that takes care of mentally disabled people, is an atypical event, closely resembling a fair in the countryside of the state. It happens, in fact, in a weekend in July in the district of José Bonifácio, which is semirural, despite being in the middle of the Far East region. The bazaar looks like a mix between a Japanese community event (with typical food and presentations), a farmer's market, a handcraft market and a funfair.
Learn
University of São Paulo - East Campus

phone: +55 11 3091-8161

address: R. Arlindo Béttio, 1000 - Cangaíba

The East campus of University of São Paulo contains the School of Arts, Sciences and Humanities (Escola de Artes, Ciencias e Humanidades, commonly abbreviated as EACH), with courses more focused on necessities of local communities and economical development of the region. The campus contains also a large area of regenerating rainforest, which is part of Parque Várzeas do Tietê and can be accessed using the cycleway of same name. At the entrance to the campus there is a railway station called USP Leste, in Line 12 of CPTM (operated by Companhia Paulista de Trens Metropolitanos), from Brás Station to Calmon Viana - Suzano Stations. This service runs frequent trains with interval depending on day and time, but usually not more than thirty minutes, from 04:00 to 00:00. There are also plenty of bus lines. Trains and local buses are integrated into the unified ticketing system of Bilhete Único, with a single travel of an electronic "smart" card allowing three hours of commuting in up to four turnstiles (the railway network and three buses, or else four buses). This campus of the University of São Paulo is in the North-East extremity of Cangaíba District, at the municipal boundary with Guarulhos and not far from the international airport. The campus began activities in 2007.
Buy
Shopping centers
Centro Comercial Leste Aricanduva

phone: +55 11 3444-2000

address: Av. Aricanduva, 5555 - Cidade Lider

The largest shopping mall in Latin America, with 425,000 m² of constructed area. Focused on low to middle class consumers. The commercial center is actually composed of three shopping malls: Shopping Leste Aricanduva (the most frequented one), Auto-Shopping (a true "car shopping mall") and Interlar Aricanduva (household items and furniture). Buses to the commercial center depart from the Carrao, Artur Alvin, Guilhermina and Vila Matilde metro stations. About 577 shops.

phone: +55 11 2040-3635

address: Avenida José Pinheiro Borges, Itaquera

The shopping mall was built in a state-owned area, in order to help bringing economical activity to the region. Its profile is similar to Shopping Leste Aricanduva, focusing on popular shopping options rather than exclusive stores. About 200 shops.

phone: +55 11 4003-7210

address: Rua Dr. João Ribeiro, 304 - Penha

Shopping mall with a more middle class profile, attending mainly the Penha and Vila Matilde districts. About 232 shops.
Individual stores
phone: +55 11 2535-8000

address: Av. Jacú Pêssego, 1685 - José Bonifácio

Probably the largest pet fish store of the city. In the same space, there is a plant market and a small theme park, which gets quite crowded on weekends.
Eat
There is a concentration of bars and restaurants around Parque Tiquatira, a park between Penha and Cangaíba, surrounded by the lanes of Av. Governador Carvalho Pinto.

Drink
The Far East Zone of São Paulo has the highest concentration of immigrant workers coming from the North-East of Brazil. Catering to these "nordestinos" there is a huge amount of traditional bars known as "Casa do Norte", which are often owned and operated by nordestinos as well. Some typical drinks include "açaí na tigela", "caldo de mocotó", "cachaça pinga", and many others, in an environment of Pagode, Forró, Samba, and other Brazilian musical styles, and of people playing "truco" (a card game), "sinuca" (a kind of billiards), domino, or other games. Casas do Norte also often offer traditional foods such as "feijoada" or "zarapatel", sell dry fruits, dry fish or dry meat, and have a very strong tobacco known as "fumo de corda", produced in Arapiraga, Alagoas State. Most customers are men, it is very uncommon to see a woman in a Casa do Norte except when in the company of some of the men. There is always the ubiquitous televisor, on Wednesdays and Sundays invariably offering the transmission of a football match, among the loud yells of the clientele. Casas do Norte are a fine sample of authentic Brazilian atmosphere, unadulterated by tourist adaptations. Therefore, expect almost no one able to speak anything but Portuguese, and rather bad Portuguese at that. Warning: cachaça pinga is a very strong alcoholic beverage that must be tasted with caution. Drinking too much WILL knock down even the most hardened seaman.

Sleep
In spite of being a huge and populous part of São Paulo, there are almost no real hotels, because most residents are middle to low class workers and very few tourists ever bother to visit the area. What is easy to find is "motels", but they are not comparable to European or North American motor hotels. In Brazil the term "motel" is a sort of euphemism that refers to a place of dubious reputation, which rents rooms for some hours, usually for the practice of activities of doubtful morality. Not an accommodation for travellers.
There are a few cheap hotels in the historic centre of Distrito Penha de França, Rua Comendador Cantinho and nearby streets. There is a permanent police post there, at Praça Oito de Septembro, which may be able to inform on the location of some nearby hotels, but the hotel search should be done under daylight because the streets are not safe at night. Besides, small hotels may not have staff attending at night. Instead of a permanent reception desk, each tenant has a key to the hotel entrance and to his own room.
Persons wishing accommodation for some weeks should better find a "pensão" (a kind of boarding house), which is customarily paid for a full month. They may accept a customer for only a week, at a proportionally higher price. These "pensões" are cheap and exist in various locations, usually at the historic centre of districts such as Penha de França, Itaquera, or São Miguel Paulista. Most tenants are Brazilians who work in São Paulo, having migrated from the North-East of the country. Expect loud Sertanejo or Samba music in evenings and week-ends, and a smell of exotic cuisine.
The last option, and the best one for a group, is to rent a house. They can be found for as little as R$ 300 per month, but a decent "sobrado" will cost R$ 500 or 700, water and electricity apart. There are many small "agencias inmobiliarias" (real estate agencies) that can offer a suitable house. A refundable deposit of some months is often required. Or directly with the owner, looking for signs of "aluga-se" (for rent), but the negotiation has to be conducted almost always in Portuguese. Besides, furniture is seldom included.
The Football World Cup of 2014 opened in Itaquera, beside the station, in a huge stadium of new construction. This drastically changed the prospects for accommodation of visitors in the area, with prices rising for the few facilities that exist. However, because of frequent bus and train service to the city centre, most tourists do not need to find lodgings in Itaquera.

Stay safe

The Far East region has a reputation of being dangerous among Paulistanos, but in reality, crime has drastically decreased in recent years, and nowadays, it has pretty much average levels of crime in comparison with the rest of the city.
Still, the region is quite large to be described by average statistics, and pockets of violent crime, as well as areas under the influence of criminal organizations, still exist. São Mateus, Cidade Tiradentes, São Miguel Paulista and Itaim Paulista are known to contain areas like this.
Therefore, if you want really to explore the region, having a local as a guide is advised. This is especially true if you don't speak Portuguese, as finding someone who speaks English may not be easy in the region.
A tourist reaching nightfall while still in the area should not risk to wander aimlessly in the deserted streets. For visitors on a very low budget the best option is probably to take a bus to one of the train stations or to one of the local bus terminals, and thence to the city centre, or a direct bus to the city centre. There are two bus terminals open round the clock and with some night bus service, at intervals of one hour or so.
Terminal A. E. Carvalho, in Estrada do Imperador corner Avenida Águia de Haia, Distrito Itaquera.
Terminal Cidade Tiradentes, in Avenida Naylor de Oliveira corner Rua dos Têxteis, Distrito Cidade Tiradentes.
There are three other local bus terminals in the area (Penha de França, São Mateus, São Miguel Paulista), but they close between 00:00 and 04:00, as it is also the case with the railway stations. The stations and terminals are safe, patrolled by guards. They often contain some snack bar inside and stall vendors at the entrance, though they may be closed from midnight to four Hours. If happening to reach a terminal or station that is closing or already closed, without any more buses or trains to the city centre, just spend the remaining night hours at the entrance, befriending the guards.
It will only be four hours in the worst scenario. Brazilians are helpful people, and realising that You are a foreign visitor and not a local beggar, they will likely allow Your waiting under some protective structure in case of rain. Do not walk away from the guards, as the surrounding streets are often dangerous at night. Once they open the station or terminal, thank them and take the first train or bus bound for the city centre. Do not photograph the facilities or themselves without their permission. They will probably speak only Portuguese.

Connect
In 2012 the Brazilian branch of the Spanish Telefonica bought the Brazilian Vivo, one of the main mobile telephone companies in Brazil. Because of the bad reputation that Telefonica has always had (number one in customer complaints of any company in Brazil), it was decided to drop completely the infamous name "Telefonica" and use the name "Vivo" instead. As "Vivo", therefore, the former Telefonica continues telephone operation of fix land lines, and it has also assumed all the mobile numbers that had belonged to Vivo, but it has closed the few public locutories that existed. By law the company is required to keep in operation public telephone booths, known as "telefones públicos" and popularly as "orelhões", due to their form. Many people lack their own telephones and are forced to use booths. The calls are paid by telephone cards bought at news stands, some bars or shops, some railway stations and bus terminals. There are plenty of telephone booths, but poorly maintained.
For Internet access there are many small LAN houses with a few computers rented for one or more hours, and a shorter number of Internet cafés with better resources. These ones are predominantly in or near shopping centres. Public Internet access is available for free at libraries and at Telecentros that belong to the Local Government, at Infocentros that belong to the State Government, and at some other official institutions such as CEU or Poupa Tempo. This free public service is intended for residents, not for visitors, but in practice they do not really mind to let any person use it, if they have some computer inactive at that moment. However, in their typical Brazilian bureaucratic fashion, all these services will demand to see some identity document of the person wishing to use the computer, and to fill an application form. Even private LAN houses or Internet cafés will request this formality, unheard of in Europe or in North America.
In the general trend to privatisation of services in Brazil, the postal service is operated by the private Correios company, which has several offices in the area (usually in the historical centre of Distritos such as Itaquera or São Miguel Paulista, but not always), and with street post boxes painted in yellow colour. The post boxes can be used for sending letters, post cards, or other postal items of small size, but always with the correct postage or higher. Most of them are collected twice or thrice per week, some are collected daily, except Sundays or holidays. For parcels, printed matter, or other items of bigger size, or in case of not knowing the correct postage for a certain destination, it is necessary or recommended to go to a post office. They have a limited opening time, and they are closed on Sundays or on holidays. Besides, the vast majority of their personnel speaks only Portuguese. Some post offices offer a few minutes of free Internet access, without any bureaucratic requirements.