São Paulo/Far South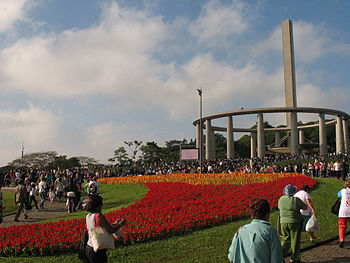 Far South
is a region of
São Paulo
. It is the largest region of the municipality of São Paulo, and although the second most populous, it is by far the least densely populated. A large portion of the region is covered by forest, farms and water (the Guarapiranga and Billings water reservoirs). For a visitor, the Far South offers options that cannot be found anywhere else in the municipality, like doing nautical sports, watching F1 races, meditating in a Messianic temple, visiting indigenous tribes, and even watching the sea on the top of
Serra do Mar
.
The Far South is divided in 12 districts, grouped in 5 subprefectures:
Campo Limpo: Capão Redondo, Campo Limpo, Vila Andrade
M'boi Mirim: Jardim São Luís, Jardim Ângela
Socorro: Socorro, Cidade Dutra, Grajaú
Cidade Ademar: Cidade Ademar, Pedreira
Parelheiros: Parelheiros, Marsilac
Understand
The Far South region corresponds to the peripheric area of the extinguished municipality of Santo Amaro. In the beginning of the 19th century, German immigrants established farms in the region that would become known as Parelheiros. Not much would happen until the beginning of the 20th century, when the Guarapiranga and Billings water reservoirs were constructed with the goal of supplying water to São Paulo. The reservoirs gave the region unmatched beauty and leisure potential in the city. Many attempts to attract wealthy people to live in the area have been made by that time, but they only met partial success.
The real change would happen in the second half of the 20th century, following the industrial and commercial growth of Santo Amaro. Working class suburbs, mostly populated by migrants from the
Northeast of Brazil
, started to form around the water reservoirs. The growth was fast, chaotic, and not followed by proper governamental action. Irregular occupations, destruction of nature areas, pollution of water, and formation of innumerous slums (
favela's
) took place. In contrast with the South Central, which is a predominatly wealthy region with some poor areas, the Far South became a predominantly poor region with pockets of wealth, like the Panamby and Riviera Paulista neighborhoods, respectively in the Vila Andrade ad Jardim São Luís districts. In parallel to that, Japanese immigrants settled in the farms of Parelheiros, where they founded the
Solo Sagrado
of the Church of the World Messianity, one of the region's major attractions.
Efforts to deal with the social and environmental problems of the region are underway. The shores of Guarapiranga and Billings are being gradually turned into public parks, which both protects them from residential occupation and offers additional leisure options to the inhabitants of the region. These parks are, however, controversial among environmentalists, as some of them argue that the primary purpose of the reservoirs is to supply quality water to the city and not provide leisure, with both goals being sometimes at odds with each other. Guarapirange is very popular for nautical sports like sailing, windsurf, wakeboard and rowing, and Billings for fishing.
Parelheiros and Marsilac (which compose 24% of the area of the municipality) are still mostly covered by preserved rainforest, as are known as the
Amazônia Paulistana
. Most of their area is now under protection of environmental laws, and their natural beauty have recently attracted the attention of ecotourism companies.
Get in
By public transport
As one may expect from a large and sparsely populated region, public transport is quite limited in the Far South. Line 9-Emerald is the main rail connection of the region to the rest of the city, and does not go beyond the north of the Grajaú district. The bus network is decent, but not very convenient if you want to visit more than a single place.
These are the metro and train stations located at each district:
Cidade Dutra: Autódromo, Primavera-Interlagos
Grajaú: Grajaú
Vila Andrade: Giovanni Gronchi, Vila das Belezas
Campo Limpo: Campo Limpo
Capão Redondo: Capão Redondo
By car
A car is recommended to seriously explore the surroundings of the Guarapiranga/Billings reservoirs and the
Amazônia Paulistana
. The
Marginal Pinheiros
and the
Corredor Norte-Sul
reach the north of the region. After that, it is necessary to take
Corredor Santo Amaro-Rio Bonito-Parelheiros
, composed by Avs. Atlântica, Sen. Teotônio Vilela and Sadamu Inoue.
Be aware that many roads in Parelheiros and Marsilac are not pavemented, so have a car prepared for that, especially if there is possibility of rain.
By a guided tour
If you don't feel particularly adventurous or don't have much time for planning, it is probably better (and safer) to hire one of the ecotourism agencies that operate in the region. They will typically have transport departing from more central regions of the city.
See
Amazônia Paulistana
The districts of Parelheiros, Marsilac and Grajaú contain three protected nature areas. They are open for ecotourism. Their tourist information center is located at Av. Senador Teotônio Vilela, 8000, phone 11 5925-2736.
APA Capivari-MonosCapivari-Monos is the first municipal Environmental Protection Area (APA) in the city, compromising 251 million m² or 1/6 of the area of the municipality. Located in Parelheiros and Marsilac, it is composed by Atlantic rainforest, farms, and villages. Inside the area, one can find ecological trails, camping and fishing facilities, waterfalls, natural swimming pools, and remnants of the former German occupation. Some of the most interesting features of the APA are:
Cratera de ColôniaA crater 400-m deep and with 3.6 km diameter, created by the impact of a meteor many millions of years ago. The crater now contains the Vargem Grande neighborhood, with 40,000 inhabitants. The best view from the crater is located at lat. -23.869, lon. -46.692, 800 m from Estrada Eng. Marsilac a Barragem.

Indigenous villages of Krukutu and Tenondé-PorãIf you want to know more about the life of native Brazilians without even leaving São Paulo, it is possible by means of a scheduled visit to one of these villages. Call the tourist information center for more information.

Evangelista de Souza stationThe southmost train station of São Paulo, where only cargo trains between Mairinque and Santos pass. Built in 1937, it was in an extremely degraded state during the early 2000s, but it has been restored. Next to the station there is a village in ruins.
APA Bororé-ColôniaA 90-million-m² Environmental Protection Area, which was recently delimited to protect the areas between São Paulo's urban area and Capivari-Monos. Part of the shore of the Billings reservoir is located here. Attractions include Cemitério de Colônia, the oldest private cemetery of São Paulo, built in 1840 by German immigrants, and the ferry boat that goes to the peaceful Bororé island (which, despite its name, is not an island but a peninsula). The area also contain three pictoresque churches from the early XXs: Igreja de Colônia (1910), Igreja Santa Cruz (1898) and Igreja São Sebastião (1910).
Parque Estadual Serra do Mar - Núcleo CurucutuIn the extreme south of São Paulo, at Marsilac, lies a 25-million-m² piece of Parque Estadual Serra do Mar, the largest area of preserved Atlantic rainforest of the country. From there it is possible, on sunny days, to see the sea atop the hill, although getting to this point is certainly a big adventure on its own.
Other
phone: +55 11 5970-1000

address: Av. Prof. Hermann Von Ihering, 6567 - Jardim Casa Grande

The Church of the World Messianity is a Japanese church that constructs their temples in special meditation areas, known as "Sacred places". It is open for visits for people from all religions. The Guarapiranga sacred place has 327,500 m², and besides the temple and sanctuaries, contains a Japanese cultural center, beautiful gardens and a nice view of the Guarapiranga reservoir. It can be reached using the bus "Messiânica" from bus terminal Varginha.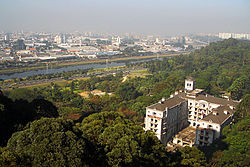 address: Avenida Dona Helena Pereira de Morais, 200 - Panamby

With 138,000 m², it is a relatively small but well-known park in the wealthy neighborhood of Panamby, containing a patch of Atlantic rainforest. In the center of the park lies a mansion built in the XIX century, which was briefly used by the Italian-Brazilian enterpreneur Francisco Matarazzo Pignatari.

Parks at Guarapiranga and Billing reservoirsVarious public parks, and even some public beaches, have or are being constructed around the Guarapiranga and Billings reservoirs. These include Parque Ecológico de Guarapiranga, Parque Municipal de Guarapiranga, Parque da Barragem, Parque Praia do Sol and Parque Cantinho do Céu. They are generally equipped with sport and leisure facilities.

phone: +55 11 5938-0766

address: Rua Rio São Nicolau - Grajaú

An authentic Buddhist temple, constructed by Chinese immigrants.
Do
Go to Guarapiranga or Billings for a boat ride, nautical sports (jet skiing, windsurf, wakeboard, kitesurf), or fishing at one of the various private clubs in the region.
Go trekking at APA Capivari-Monos or Parque Estadual Serra do mar.

phone: +55 11 5666-8822

address: Av. Senador Teotônio Vilela, 261 - Interlagos

The 4.3-km municipal motorsport circuit is used for the F1 Grand Prix, the Stock Car Cup and many other racing competitions.

phone: +55 11 5666-8072

address: Avenida Jacinto Júlio - Interlagos

Next to Autódromo de Interlagos there is a professional level kart track. Reservation must be done 1 month earlier.

address: Avenida Manuel Alves Soares, 1100 - Parque Colonial

Located at the Billings reservoir, the 500,000-m² SESC Interlagos is a major center of recreation, sports and cultural activities in the region. It contains a large green area and swimming pools. Check the website for the schedule of performances and activities.
Events
address: At Autódromo de Interlagos

The region's most important event is undoubtedly the Formula 1 race, that happens yearly at Autódromo de Interlagos. It is the only F1 race of Latin America.

address: At Autódromo de Interlagos

Less important than the F1 Grand Prix, but still extremely important for car racing fans, is the São Paulo Stock Car race. The Stock Car Cup is the most important national racing competition, and happens annually in 9 Brazilian cities.

address: Rua Jackson Pollock - Colônia

In the remote Colônia village, in Parelheiros, happens around July the largest event of the German community in the city. The festival focuses on German food and cultural presentations, but also includes other cultures present in the region, including Native Brazilian, Northeastern Brazilian, Japanese and African. Attracts around 15,000 visitors.
Buy
phone: +55 11 3779-3900

address: Avenida Giovanni Gronchi 5819 - Vila Andrade

Shopping mall in the upscale neighborhood of Panamby. Contains some gourmet restaurants.

phone: +55 11 5510-520

address: Estrada do Campo Limpo, 459 - Campo Limpo

With completely different profile from Shopping Jardim Sul, this shopping mall focuses on the low to middle class public living in Campo Limpo, Capão Redondo, Jardim São Luís, Jardim Ângela and Vila Andrade. About 189 shops.
Eat
phone: +55 11 3747-8100

address: Avenida Giovanni Gronchi, 5819

Traditional burger.

Casuale

phone: +55 11 3744-9444

address: Rua Doutor Fonseca Brasil, 282
Drink
phone: +55 11 5513-6177

address: Rua Canabarro, 13, São Paulo, SP, 05730-150

Enjoy bands showcasing their latest albums on weekends. The bar/restaurant also has outside seating.

Rasta Bar Bier

address: R. Antônio Hélio de Azevedo Marques, 72 (Vila Inglesa), São Paulo, SP, 04653-190
Sleep
phone: +55 11 3749-6788

address: Avenida Giovanni Gronchi, 5201
Stay safe

The Far South was once known as the "Triangle of Death" due to its reputation for violent crime. With a combined effort of the public power and of the local communities, homicides have sharply decreased, probably more than any other part of the city. The Far South, remains, however, being the most violent region of the municipality.
Most crimes are related to internal affairs of local communities, and are unlikely to target a visitor that does not get involved with these affairs. Still, a visitor must keep in mind that many, if not most neighborhoods in the region are extremely poor, and it is not difficult at all to stand out. If you are visiting or passing through these communities, it is better to have the guidance of someone who lives in the region or knows it very well. If you don't know anybody, consider guided tours of trustworthy tourism agencies.