São Paulo/Northwest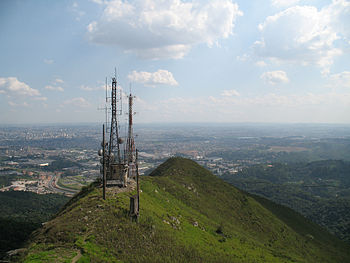 Northwest
is a region of
São Paulo
. It is mostly suburban and residencial (a "Dormitory City") similar to the Far East, with the difference that considerable portions of the region remain rural or unoccupied. Among these portions, we have
Parque Anhanguera
and
Parque Estadual do Jaraguá
, two of the largest and most important nature areas of the city.
The region is divided in 7 districts, grouped into 3 subprefectures:
Perus subprefecture: Perus, Anhanguera
Pirituba subprefecture: Pirituba, São Domingos, Jaraguá
Brasilândia-Freguesia do Ó subprefecture: Brasilândia, Freguesia do Ó
Understand

The first settlers of the Northwest region were explorers (Bandeirantes) searching for gold at Pico do Jaraguá, which they would never find. The first church, Nossa Senhora do Ó, would be raised in 1615 and would give origin to a village that today is the neighborhood of Freguesia do Ó. For a long time, the Northwest would remain as a rural region.
The expansion and economic growth of São Paulo would eventually turn the Northwest into a "Dormitory City", with abundance of residences but few availability of employment. In thas sense, the Northwest is similar to the Far East region, but with more contrast. The part of the region closer to the city center, including Freguesia do Ó and Pirituba, is in the process of real estate valorization and verticalization, with middle class and wealthy neighborhoods becoming predominant. Far from the city center, like in Perus, Jaraguá, Anhanguera and Brasilândia, some extremely poor neighborhoods and villages can be found.
But despite the advance of human occupation, the region has still large unoccupied areas. Three of them have been turned into public parks: Parque Estadual do Jaraguá, Parque Anhanguera, and part of Parque Estadual da Cantareira. The first of them contains Pico do Jaraguá, the highest point of the city and probably the primary reason to visit to region.
Like the Far East, the Northwest is also waiting for something big to happen. In the end of 2011, the municipality announced the construction of a 5 million square meters convention center (more than 3 times the size of Parque Ibirapuera) in the region. Besides spaces for events, this convention center is also expected to contain hotels, leisure areas, and a CBD.

Get in
By public transport
The Northwest is the only region of the city that does not contain metro stations. It is attended by a single surface train line, Line 7-Ruby. These are stations located at each district:
Pirituba: Piqueri, Pirituba, Vila Clarice
Jaraguá: Jaraguá
Perus: Perus
By car
Given that the region is sparse and public transport is somewhat limited, a car is a preferable means of transport to a visitor.
Marginal Tietê
connects the region to the Center, Norheast, Southeast and Far East, and
Marginal Pinheiros
to the West, South Central and Far South.
The
Anhanguera
motorway transverses the region in Southeast to Northwest direction.
See
phone: +55 11 3943-5222

address: Rua Antônio Cardoso Nogueira, 539, Vila Chica Luiza

The immense park, with 5 million square meters, is famous for containing Pico do Jaraguá, a mountain with height of 1,135 meters and the highest point of the city. If you don't feel like walking to the top, you can get there by car using the touristic road. The top of the mountain, besides a fantastic view of the city, also has recreation facilities and a historical fortress erected by explorers looking for gold. The park consists in an area of preserved of Atlantic rainforest, with many ecological trails with varying levels of difficulty.

phone: +55 11 3917-2406

address: Accessible from Anhanguera motorway

This municipal park covers 9.5 million square meters, being thus even larger than Parque Estadual do Jaraguá. Most of the park corresponds to a reforestation area without exhuberant rainforest, making it more attractive for walks, barbecues and picnics than for ecotourism. However, the park contains a surprising diversity of fauna, including ferrets, raccoons, capybaras, and catingueiro deers. The park also contains a 2.7 km cycleway and sport facilities.
Do
Take a walk or bicycle to top of the mountains.

Buy

Unlike all other regions of São Paulo, the Northwest does not contain any large shopping mall, not even in wealthier areas like Pirituba. Street commerce culture is predominant.

Eat
There is a concentration of eateries and restaurants at
Largo Matriz de Nossa Senhora do Ó
(in Freguesia do Ó), a square reminiscent of the city center of small towns in the countryside of São Paulo, containing a church and surrounded by bars and restaurants.
address: Largo Matriz de Nossa Senhora do Ó, 87, Freguesia do Ó

Pizzeria founded in 1939, considered one of the best of the city.
Drink
The
Largo Matriz de Nossa Senhora do Ó
is also where the most popular bars of the region are located.
phone: +55 11 3932-4818

address: Largo Matriz de Nossa Senhora do Ó, 168, Freguesia do Ó

Place famous for its delicious coxinha, a popular Brazilian snack based on chicken, and for its selection of international beers.
Sleep
Given that the region is sparse, it is difficult to find hotels quickly. There are some mid-range options available in Perus and Anhanguera. Due to its scenic beauty there are couple of luxury hotels located as you approach the developed areas.

Stay safe

The region's northern half, composed of Anhanguera, Perus, Jaraguá and Brasilândia, is infamous for violent crime. Homicides are usually related to internal affairs of communities and not likely to target to visitor, but even so, caution and proper guidance to visit neighborhoods in the area is recommended.
The southern and more middle-class half of the region (Pirituba, São Domingos and Freguesia do Ó) is less problematic. Use the guidelines that apply to the rest of São Paulo.