São Roque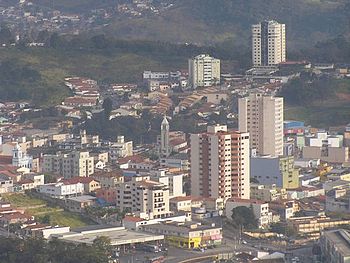 São Roque
is in the
Sorocabana
region of the state of
São Paulo
. Very close to the state capital
São Paulo
, São Roque is a typical Southeastern-Brazilian mountain range town, with tranquil atmosphere and surrounded by beautiful nature. Its main attractions, however, are the local wineries located in the rural area of the municipality.
Get in
SP-270 (Raposo Tavares Highway) — the main thoroughfare, connecting the city with Sorocaba to the west, and with Vargem Grande Paulista, Cotia, and São Paulo to the east. If entering from the Vargem Grande side, a toll booth sits at the São Roque city limits, charging a toll of R$7.20.
SP-280 (Livio Tagliassachi Highway) — intersects BR-374 (Castelo Branco) about 13 km north outside Araçariguama, becoming Rua Santa Quitéria as it enters town.
SP-060 — connects the city with Ibiúna to the south
Get around

São Roque is best explored by car, as the attractions are quite spread out in the municipality. The Estrada do Vinho does not contain sidewalks at several points.

Do
Roteiro do VinhoLocated in the rural area of São Roque, "Roteiro do Vinho" is a tourist route that passes through 10 traditional wineries, most founded by Italian and Portuguese immigrants and located at Estrada do Vinho (Rod. Raposo Tavares km 58.5), about 2.5 km of the São Roque City Center. Besides wineries, it also contains accommodations, restaurants, shops and family-oriented activities. Check the website for maps and opening times of each attraction.

phone: +55 11 4712-3299

address: Estrada da Serrinha

As weird as it may seem, it is a ski park containing a ski track made of plastic. Contains also a smaller track intended for beginners, as well as other activities such as cable car, paintball, bow and arrow, tree climbing, etc. If these do not appeal you, it is still worth a visit on a clear day, as the cable car offers a fabulous view of the city of São Roque and the surrounding region. After all, entrance is free - you pay per individual attraction, although a R$ 68 daily pass is available and parking costs R$ 15. On Fridays, there is a rodízio (all-you-can-eat) dinner including pasta and pizza.
Events
Cherry Blossom Festival

address: Rodovia Bunjiro Nakao (SP 250), Km 48 – Ibiúna Highway – Bairro do Carmo

This 2-day weekend festival attracts large crowds to celebrate the local Japanese immigrant culture with a wide variety of Japanese food, cultural exhibits and performances, and 400 cherry blossom trees in bloom.