Södertörn
Södertörn
is an island in
Sweden
, making up the southern part of
Stockholm County
province, protruding into the Baltic Sea. With many bridges to
Stockholm
's islands and to
Södertälje
, Södertörn is usually perceived as part of mainland Sweden.
Northern Södertörn is a part of Stockholm municipality called
Söderort
. This article covers mainland Södertörn except Stockholm municipality, namely
Botkyrka
,
Haninge
,
Huddinge
,
Nynäshamn
,
Salem
and
Tyresö
. North-eastern Södertörn is part of another municipality called
Nacka
, which is described in our guide to the
Stockholm archipelago
. The municipality of Södertälje, to the west of Södertörn, has its own article on Wikivoyage.
Understand
The landmass of Södertörn is divided from the rest of Sweden by the canals running through
Stockholm
and
Södertälje
, so it is actually an island, although few Swedish people regard it as such.
The land is mostly rural, untouched by the expansion of Stockholm, except suburbs built along the railways to Södertälje and Nynäshamn, two important industrial ports.
Municipalities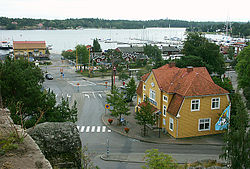 Nynäshamn, a port town with the ferry to Gotland
Botkyrka
Huddinge with Flemingsberg as the major centre
Haninge
Salem
Tyresö
Get in
European route E4
runs together with E20 between Södertälje and Stockholm. Road 73 runs between Stockholm and
Nynäshamn
.
By public transportation
All built-up areas in Södertörn are served by
SL
, Stockholm's public transport company. See
Stockholm County#Public transit
. It is possible to take a bicycle to the train free of charge. Bikes are not allowed in the trains during rush-hours (06:00-09:00 and 15:00-18:00) between Stockholm and Västerhaninge. This is important if you have to catch a ferry in Nynäshamn that leaves in the early evening hours. Choose the first part of the train, because the second often goes only to Västerhaninge.
Some national trains call at
Flemingsberg
.
See
Litografiska museetIn Huddinge displays litographic printing.

Tumba Papermill MuseumThe paper mill in Tumba has a 250-year history of making Swedish banknotes. The exhibitions tell the story of the Bank of Sweden, the world's first central bank, and the first one to issue paper money.

Tyresö slott
Do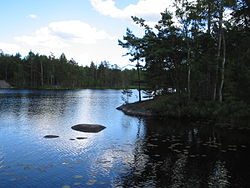 Södertörn contains vast forests and lakes, at close distance to Stockholm, for
fishing
,
hiking
and
camping
, within the
right to access
.
Flottsbrobacken in Huddinge, alpine skiing.

Tyresta National Park20 km south-east of central Stockholm. A part of the park was devastated by a wildfire in 1999. The park management lets it recover naturally.

Bornsjön— For a real wild animal safari close to Stockholm, Bornsjön is the best spot. It is a nature reserve 30 minutes drive south of Stockholm. The natural environment is perfect here for watching mammals like moose, roe deer and wild boar. Stockholm Outback offers tours down to the reserve every evening during the summer. For further information call +46 73-6578708 or visit their homepage .
Buy
Haninge Centrum, the dominant shopping mall of Södertörn.
Eat
As in the rest of Sweden, most suburban centres contain pizza and kebab restaurants.

Drink
Except Stockholm, nightlife in Södertörn is concentrated to Södertälje, Haninge, and Nynäshamn.
Nightlife in Nynäshamn peaks at summer.

Sleep
Nynäs havsbadA four-star waterfront hotel in Nynäshamn.

Häringe PalaceA 17th-century manor, with traces of history back to the Middle Ages.
Learn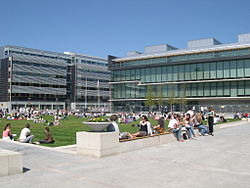 Södertörn University in Flemingsberg.
Cope
There are two emergency hospitals in the area: Södertälje sjukhus in Södertälje, and Karolinska Institutet Huddinge in Flemingsberg.

Go next
From Nynäshamn ferries go to Gotland, a very popular summer destination and Sweden's largest island.
Another more off the beaten track-option from Nynäshamn is to take the boat to the beautiful and isolated national park island of Gotska Sandön.