Sønderborg
Sønderborg
is a town in
South Jutland
,
Denmark
near the Danish-German border on the island of
Als
. The population is 30.000. The towns in the region of Sønderborg are Nordborg (on northern part of the island), Augustenborg, Gråsten, Broager, and Guderup. The population of the region is 77,000.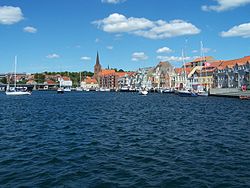 Get in
By Plane
Sønderborg AirportAlsie Express is the only airline serving the airport. As of 2017 there is only a flight to/from Copenhagen Airport, but they plan on introducing seasonal service to Bornholm by July 2018. There is no public transit - not even buses - to or from the airport. You'd have to take a taxi or arrange pickup.
By train
Sønderborg stationThe station is served by Intercity and regional trains, mostly operated by DSB
By car
If driving north on the E45 highway coming from
Germany
, route 8 is the fastest way to get to Sønderborg. If driving south on E45, route 41 is the fastest.
By boat
FynshavTo the east, the connection by ferry to Lolland
Get around
Sønderborg is located not very far from the Danish-German border.
Just south of the border is the German town of
Flensburg
, which is popular among Danes
going to Germany on a one-day trip, often to shop and to buy alcohol and chocolate, which is cheaper in Germany than in Denmark.
Public Transport
From the central bus station (rutebilstation) there are buses run to Dybbøl, Kær, Stenbjergparken, Kløvermarken, Skovparken, Sønderborg Sygehus (Hospital) twice at every hour. One way ticket is 17 DKK and payable onbard, only cash. There is also 10 clip card for 120 DKK, if you plan to travel more frequent. One other thing to note is it that, since it is a small town, buses take off twice an hour (mostly).
Bike
Sønderborg is a very bike friendly city. Almost all roads have separated bike lanes. Hop up on your bike or buy a second hand one and do not suffer in the buses.
See
Dybbøl MølleHistorically significant windmill, now museum

phone: +45 74422539

Historical castle in Sønderborg

phone: +45 65508080

The culture, education, and science park in Sønderborg.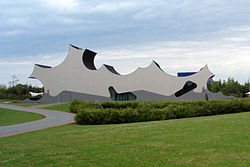 phone: +45 88819500

address: Mads Patent Vej 1, Nordborg

Science and experience park in Nordborg.
Do
Eat
Drink
phone: +45 25 21 66 65

address: Store Rådhusgade 12

phone: +45 74 43 10 12

address: Rådhustorvet 6
Sleep
Hotels
Hostels
phone: +45 7442 3112

address: Kærvej 70

phone: +45 7442 3990

address: Mommarkvej 22
Camping
Go next