Słubice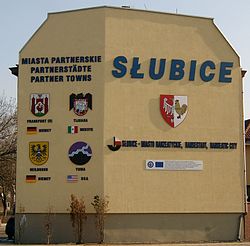 Slubice
is a city in the voivodship of
Lubuskie
in Western
Poland
. It lies directly across the Oder River from the German town of
Frankfurt an der Oder
, and the two cities were actually a single municipality (Słubice was a suburb called Dammvorstadt) until 1945.
As of the 2008 census, the town had a total population of 17,000 (agglomeration 25.000), and is the capital of Słubice County. The name Słubice is a modern Polish version of Zliwitz, a settlement east of the Oder River mentioned in Frankfurt's city charter in 1253.
Get in
Given its proximity to Germany, the town is an important transport hub of the A2 motorway to the German Bundesautobahn 12, part of the European route E30 from Warsaw to Berlin. Słubice is closely linked to its German sister city west of the Oder-Neisse line, and you can walk or drive across the bridge from Germany to Poland and back with minimal trouble. There are no controls of any kind at the border as Poland and Germany are both members of the Schengen agreement.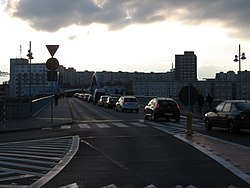 Get around

The town is small enough so you can easily travel by foot to all worthwhile destinations; walking from one side to the other does not take more than twenty minutes. All street signs are in Polish, and only a small number of people (possibly none) seem willing or able to speak either English or German.

See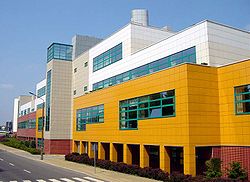 There is a scenic park with its own fountain in the center of town.
Collegium PolonicumA cross-border academic institution which was jointly brought into being and is being maintained by the European University Viadrina and the Adam Mickiewicz University. Its library contains an attractive collection of books, specific to major fields of study and is interesting for readers of the region.

Wikipedia monumentA recently unveiled monument to honor Wikipedia and its volunteer contributors. The 2-metre high sculpture is made of fiber and resin and depicts four people (2 male and 2 female) holding the Wikipedia globe logo.
Do
A five minute walk north of the main bridge brings one to a large Rezerwat przyrody (Nature Reserve), where you can enjoy a beautiful walk through the woods, collect mushrooms, or fish. You can also see the remnants of trenches, now covered with forest growth.

Buy
Germans often cross the border to buy cigarettes here at a somewhat reduced price. There are money changing stands and shops crowded all around the main bridge, so go there to change your money.

Eat
There are several kebab shops scattered throughout the town, as well as a number of finer restaurants. If you don't read Polish, be prepared to guess about what you are ordering.
This is a good place to try out pierogi for super cheap!

Connect
The Internet Cafe Kafejka internetowa is located at Daszyńskiego 1 near the center of town.

Go next
You can easily travel by car from Slubice to
Zielona Góra
(German:
Grünberg
), the capital city of Lubuskie.