Saarbrücken
Saarbrücken
is the capital city of
Saarland
, one of the federal states of
Germany
. At 200 000 inhabitants, it is at the lower end of Germany's long
Großstädte
(large city) list, and is perhaps the least prominent state capital, at least from the tourist's point of view. That said, Saarbrücken has an impressive history of over a 1000 years, with its predecessors dating back to ancient Roman Empire. It does not only possess architectural heritage to prove that, but it is also picturesquely located over the bends of the river Saar, serving as the gateway to this underrated region of Germany.
Understand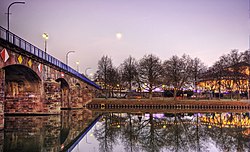 Saarbrücken has been a primarily industrial city since coal extraction started in the first half of the 18th century. The steel industry developed on that base and up to today Saarbrücken has many plants manufacturing various metal products and components. Automotive components in general are another mainstay of the local economy, supplying many of the leading automakers all over Europe. In more recent decades, Saarbrücken has also developed into a robust hub for software production, employing thousands of local workers. For those reasons, Saarbrücken, while not popular as a tourist destination, sees a sizeable business-related visitor traffic, and due to its small size and location in a densely-populated area, it also has one of the proportionally largest commuter workforces, measured tens of thousands of workers.
Get in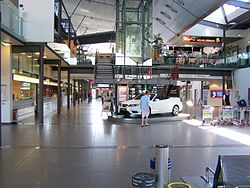 By plane
Saarbrücken Airport
Saarbrücken AirportThis small international airport is located from the city center. Regional bus R10 travels once an hour from the airport to the main railway station and takes 28 minutes. A single ticket costs €2.30.
Apart from flights to holiday destinations, the airport has only four, albeit frequently-operated, connections. The shortest - and most often the cheapest - is the
Luxair
flight to Luxembourg Findel Airport, code-shared with Lufthansa. It is one of Europe's shortest flights, lasting just 30 minutes over just 100 km. The price is accordingly reasonably low. Some of the Luxair planes continue from Saarbrücken to
Hamburg
and
Berlin-Tegel
and back. You can connect to selected European destinations of Luxair from Luxembourg, but there are no options to continue your Luxair flight from Saarbrücken via Berlin or Hamburg on another airline. Luxair, although an affiliate of Lufthansa, is not a Star Alliance member and the Luxembourg airport has no intercontinental connections.
That said, flying to Luxembourg on Luxair or any other airline and travelling the remaning 79 km by bus is perhaps the cheapest way.
Frankfurt Airport
Lufthansa provides a shuttle between Saarbrücken Dudweiler Bus Station and
Frankfurt Airport
, which is their largest hub for European and intercontinental flights. The shuttle is actually bookable as a Lufthansa flight (destination code for Dudweiler Bus Station is SDA), earns Miles&More participants miles and counts as a flight stretch, and can be combined with most Lufthansa flights to/out of Frankfurt. SDA appears as an available destination only when booking directly with Lufthansa. The flight numbers for the bus shuttles are LH348x-LH349x and there are multiple shuttles at different times of the day. The bus journey lasts around 2 hours and costs EUR 27 one way when booked on its own, and as a part of a connecting flight it usually incurs minimal price hike vs. flights to Frankfurt only.
There are direct regional trains to
Frankfurt
that stop at Frankfurt Airport.
Frankfurt-Hahn Airport
The so-called
Frankfurt Hahn Airport
(
HHN
) in Hahn, likewise in Rhineland-Palatinate, is yet another close airport. There are no direct connections from this airport to Saarbrücken. One of the possibilities you have is to take the Airport Shuttle Mosel (RegioLinie 750) from the general bus station 500 meters from the airport to Bullay and switch to the regional train to Saarbrücken.

By car
Autobahn A6, near the France border. About 2 hours from Mannheim.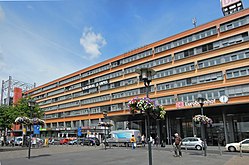 By train
Saarbrücken Central Stationis on the Paris-Frankfurt high-speed route, served by the superfast ICE and TGV trains of Deutsche Bahn and SNCF (French Railways), respectively. There are 5 such trains a day in each direction calling at Saarbrucken, and you can purchase tickets on all of them both from DB and SNCF, as they operate under a mutual ticketing agreement. The journey to Paris is actually shorter (1h50mins) than to Frankfurt (2h30mins).


Frankfurt can also be reached by regular, regional trains, which take not much longer than the ICE (2h50mins), but often aren't any cheaper either. The benefit of those is that there is at least one train per hour, even at nighttime, between Saarbrucken and Frankfurt. Other important difference is that ICEs don't stop at Frankfurt Airport, while the regional trains do.
Other destinations with direct express trains to Saarbrücken include Stuttgart (2.5h), Ulm (3.5h), Munich (4.5h) and Salzburg in Austria (6.5h) and some minor stations on that line. Regional trains calling in Saarbrücken can carry obviously carry you around Saarland, but they also reach out to many cities of Rhineland-Palatinate, as well as Lorraine in France (including Metz). Travelling to other destinations generally requires changing trains in Mannheim, Frankfurt or Paris for long-distance express trains or night trains, or procuring a more intricate combination of small stretches from one of the more minor stations closer to Saarbrücken.

By bus
CFL, Luxembourg's railway company, offers a bus connection between Luxembourg Gare (railway station) and Saarbrücken Busbahnhof (bus terminal). Multiple buses a day are coordinated with trains from Luxembourg to Brussels and from Saarbrücken to Mannheim and Frankfurt, as the other city does not have a direct connection with those destinations - thus the bus bridges the gap in the railway network. One-way ticket costs €9 as of 2014.

By tram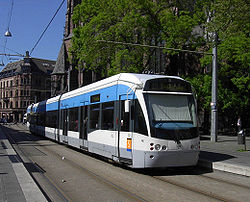 Between Saarbrücken in Germany and Sarreguemines in France, both of which are served by good domestic train connections, you can take a ride on the Saarbahn, a border-crossing tramway which is a part of Saarland's public transportation system. The journey takes approximately 30 minutes and in 2010 the ticket (to be bought at a machine, present also at the station of Sarreguemines) costs €4.60.

Get around
Saarbrücken has a decent
public transport system
. It has city buses and a tram line.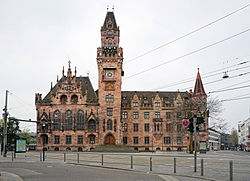 See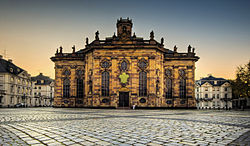 phone: +49 681 52524

address: Am Ludwigsplatz

SchlossplatzThe Baroque Ensemble

phone: +49 681 5061313

address: Schlossplatz 1

phone: +49 681 9964234

address: Am Schlossberg 6

The church holds a museum.
phone: +49 6898 9100100

address: Rathausstraße 75-79, Völklingen

It was one of the most important Ironworks in the world. It was closed in 1986. Now they are the only intact example, in the whole of western Europe and North America, as such they have been included on the UNESCO World Heritage List. There are museum and Multimedia displays bringing the site to life. It also includes a display celebrating a convicted war criminal who used forced labour in the Ironworks during World War II.
Do
Music and Performing Arts
Festivals
Max Ophüls PreisThis film festival takes place end of January and shows a wide range of short, medium and long movies.

PerspectivesGerman-French festival.

Jazz-FestivalA jazz festival organized by Jazz-Syndikat. Usually around November.
Hiking
Urwald vor den Toren der StadtA nature reserve ideal for hiking. Maps are available online. They can also be picked up for free at the tourist information at city hall. One way to get there is to take the tram to stop "Heinrichshaus", which is also marked in the bottom left corner of the map with an "S".
Buy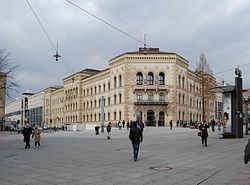 Saarbrücker Bauernmarkt

address: St. Johanner Markt

Farmers market where regional products are sold.

Europa-Galerie

address: Trierer Straße 1

A large shopping centre serving the region. Partially housed in a elegant late 19th-century historic building of Bergwerksdirektion Saarbrücken, the erstwhile mining enterprise. Otherwise less exciting, holding the usual chain stores.
Eat
A Saarlandish specialty is
Schwenker
, a steak prepared on a special grill where the grilling rack is swung by the cook over a fire. It is often served at festivals and
Biergärten
.
Budget
Mid-range
phone: +49 681 374360

address: Nauwieser Str. 19

Comfortable, casual restaurant with nice outside seating and daily specials

address: Straße des 13. Januar 35

phone: +49 681 9066876

address: Berliner Promenade 17-19

Japanese all-you-can-eat restaurant. Maxium stay is 2 hours. You place your orders via tablets.
Splurge
address: Mainzerstr. 95

Hashimoto

address: Cecilienstr. 7

address: Mainzerstr 26

Rizzo

address: Fröschengasse 1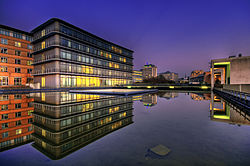 Drink
The main town square (St. Johanner Market) and the Nauwieser Quarter feature many bars and restaurants.
phone: +49 681 936450

address: Am Stiefel 2

Brewpub and restaurant serving local dishes.

Bar Central

address: Nauwieser Str.

The only smoker's café/bar in the inner city.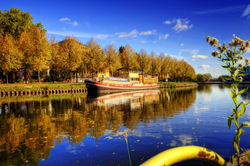 address: Katholisch-Kirch-Str. 1

Small Irish pub with a great selection of (mostly Scottish) whiskies.

phone: +49 681 95812454

address: Mainzer Straße 8

Criminal tearoom (afternoon) & pub (evening). British/Irish beers, on Sundays all-you-can-eat English breakfast.

phone: +49 681 68894101

address: Kappenstraße 9

Pub/restaurant with a big selection of Belgian beers.
Sleep
Go next
Saarschleife (Saar loop) — Take the regional train to Mettlach and then walk for about 5 km along the river upstream. There is also a lookout ("Cloef") which can be reached within about 1 hour from the bottom of the hill. Make sure you are on the left side of the river if you want to reach the lookout (you have to cross the river once when coming from the train station). You can also easily go to the Saar loop by bike from Saarbrücken (60 km one way).
Luxembourg — Easily reachable by bus (direct connection: 1 hour and 30 minutes).
Strasbourg — Easily reachable by regional train (direct connection: 1 hour and 45 minutes).
Trier — Porta Nigra, nice old town center, etc. Easily reachable by regional train (direct connections between 1 and 1.5 hours).
Metz — French city with the modern art gallery Centre Pompidou-Metz, Cathedral, food market, etc. Easily reachable by regional train within about 1 hour (some direct trains are available). Consider the special DB regional train ticket "Saar-Lor-Lux" for the entire trip, especially if you are travelling in a group.
Nancy — A cheap option to go there is to buy a Saar-Lorraine-Tarif ticket (only available at the train station; return tickets can only be bought at the counter).