Saas-Fee
Saas-Fee
is the biggest town in the Saas valley in the
Swiss
canton of
Valais
. The valley is a destination for winter sport, with the slopes in Saas fee being one of the few places in the region where skiing in summer is possible. The Saas valley also offers stunning views of some of Switzerland's tallest mountains, which can be explored through the dense network of hiking paths around the area, including among others the Monte Rosa hiking trail.
Lacking railway access and the famous
Matterhorn
, Saas-Fee sits in the shadow of its neighbour,
Zermatt
. This makes Saas-Fee a quieter alternative, with almost equal offerings in terms of skiing and hiking, but a much less overrun town centre.
There are three other villages in the Saas valley:
Saas-Balen
,
Saas-Grund
and
Saas-Almagell
, which, while still having numerous hotels and sights, are much quieter than Saas-Fee.
Understand
The Visp valley (itself a side valley of the Rhone valley), splits up into two at Stalden: The Matter Valley where the famous
Zermatt
lies to the west and the Saas valley to the east. The outer part of the Saas valley is very narrow and sparsely inhabited, but further up it widens up. This is where the villages of Saas-Balen, Saas-Grund and Saas-Almagell lie. At the southern end of the valley is the Mattmark reservoir. Saas-Fee, the biggest town in the valley, lies on a plateau above Saas-Grund.
Some of the tallest mountains in Switzerland are located in this area and the Saas-Grund ski area boasts a view onto 18 peaks above 4,000 metres. To the west of the valley lies the Mischabel group, with its highest peak Dom (4,545 m) being the tallest massif entirely in Switzerland. To the east is the smaller Weissmies group, with its peak at 4,017 metres altitude. This is what makes the Saas valley a popular holiday destination, with a lot to offer in terms of skiing, mountaineering and hiking.
Tourist office
There is a tourist information office in each village:
Get in
By bus
Coming by
train
, your access point to the Saas valley is most probably
Visp
, unless you are travelling on an EC train which only stops in
Brig
. From either of these a
Post Bus
service runs half-hourly to Saas-Fee. The trip from Visp takes about 50 minutes to Saas-Fee. The in Saas-Fee is located quite central and you should be able to walk to wherever you want to go. Your hotel might also be able to provide transfer on an electrical car for you and your luggage.
You can buy your
ticket
directly from the driver, or have it included in your train ticket. Buses can get crowded during morning and evening peak hours and especially on Friday nights up to three buses can run at the same time from Visp. Note that often express buses are used at those times (which you won't necessarily find on the timetable), so if you are planning on alighting either at Saas-Fee or the main stop at Saas-Grund you can save some time by taking that one instead.
When leaving Saas-Fee, it is possible to
reserve a seat
on the bus. This is usually not necessary, as if there is not enough space on the first bus, they will usually put in an additional bus. You might however have to stand for the 45 minute trip to Visp. The bus can get delayed easily if it is snowing or if there is any problem with the traffic on the way, so if you have a tight connection in Visp, it is better if you take an earlier bus.
If you are staying at any of the
other villages
, be sure to check with your accommodation which bus stop is the closest to your hotel/apartment, as it can make quite a difference. For Saas-Almagell, you will have to change bus at the stop: "Saas-Grund, Post".
By car
If you arrive by car, note that Saas-Fee itself is
car-free
. You will have to leave your car at a big underground and surface at the entrance of the village. Daily
parking charges
are Fr. 19 in winter and Fr. 14 in summer, however if you have the citizens' pass (see infobox), there are reduced rates from the second day onwards. The rest of the valley is accessible by car. As the Saas valley is at a higher altitude the roads can be
snow covered
in winter quite frequently. The roads will usually get cleared quite fast and rarely ever snow chains are required, but if you are not experienced driving on snowy mountain roads you might want to consider taking the bus instead.
Get around
Saas-Fee is quite small and it is easiest to get around by
walking
. The village itself is car free. This does not mean that there is no traffic, and there are scores milk-float-type electric cars roaming the village. Be careful, they are very quiet and hard to notice.
There are a couple of
taxi
companies that run within Saas-Fee, but at a recommended price of Fr. 23 to 30 this is rather pricey for such short distances.
During the main season free
shuttle buses
run to and from the ski lifts on 5 lines. The buses are however really small and it might be easier and faster to just walk.
It is also quite easy to get to the other three villages (Saas-Balen, Saas-Grund and Saas-Almagell) by bus. In winter
ski buses
run from each village to Saas-Fee and back. In summer you have to take the regular half-hourly buses to and from Saas-Balen or Saas-Grund. To get to Saas-Almagell or the Mattmark lake, change bus in Saas-Grund.
See
Citizens' pass
When you check in at your hotel or holiday apartment you might get a printed out card called citizens' pass(port). Not all places provide it (as the hotel has to pay for it), but most do. So if you get it, be sure to hang on to it, as it will give you access to some benefits:
Bus travel within the valley. From Niedergut (just before Saas-Balen) to Saas-Fee and from Saas-Grund to the Mattmark lake.
(Only in summer) Free unlimited cable car rides on all lifts except the Metro Alpin (for which you get a discount).
Discount on ski passes, cross-country ski tickets (half-price), ice skating and sledging passes.
Discount on most other attractions and sights.
Discount at some shops (for instance for ski rental).
Discount on parking in Saas-Fee.
If your hotel doesn't pay the premium for the citizens' pass, you might get something else called visitor card or guest card, which will also give you some very limited discounts.
The main attraction is the great mountain panorama in the Saas valley. There are however also other things to see:
MittelallalinVisit the top of the ski resort at 3456 metres altitude, using the gondolas and the Metro-Alpin train, considered the highest subway in the world. Great views of the Alps on a good day. In winter it can get very cold at the top, so wrap up warm. You can also have a meal in the revolving restaurant at the top (but it's pricey).

phone: +41 27 957 14 75

This museum is housed in the old clergy house, which was built in 1732. It has exhibits on the traditions of the Saas valley as well as the history of the local tourism.

address: Saas-Balen

Quite surprisingly for a town with barely 300 inhabitants, Saas-Balen has two churches. The smaller of the two churches is not in use anymore. This is the third church built in the same spot after the previous two have been destroyed by falling rocks. The current building was erected in 1812 and is known for its architecture, notably its circular shape.
Do
Winter activities
Ski and snowboard This is what the valley and Saas-Fee, in particular, are famous for. The ski areas are generally open from mid-December to just after Easter. The Saas-Fee area has a portion on the glacier which remains open during the summer and only closes during May and June. The smaller Saas-Balen lift is only open as long as there's enough snow.
phone: +41 27 958 11 00

This is quite a huge ski area starting from Saas-Fee itself. From the village, there are 3 cable cars: Alpin Express and Spielboden, which lead to the same connected area and the separated Plattjen. While there are a couple runs for advanced riders (notably at the Plattjen area), most of the slopes are catered towards intermediate skiers and snowboarders. The easier runs can be found either in the village or on Feechatz slope, just above Langfluh. A quick word of warning about this run, it may be a nice run but you have to endure the longest t-bar lift and downloading is also recommended as the runs down are difficult for beginners and get very busy later on in the day. Special passes are available if you only want to use the Plattjien area or the lifts in the village.

phone: +41 27 958 11 00

This area is located lower in the valley in Saas-Grund. It is much smaller than the Saas-Fee area, but still has quite a few good runs. There are two main cable cars, with the upper one reaching 3100 metres altitude. As opposed to Saas-Fee, which is mostly built on a north face, this area gets much more sun, which is good during cold January days, but which makes the snow more slurry during spring.

phone: +41 27 958 11 00

Another alternative with a smaller area.

Saas-Balen ski liftA single small lift in the village of Saas-Balen. If you want to try skiing for, but don't want to buy an expensive day pass for one of the bigger areas, this is perfect.

Terrain parksParks for skiers and snowboarders are available in the ski areas in Saas-Fee (Morenia in winter, Allalin Glacier in Summer) and Saas-Grund. Especially the one in Saas-Fee is quite extensive and is increasingly popular with Snowboard camps.
Sledging It can be quite scary at first, take your time the first run down, as there are some sharp bends, and you really don't want to go over the edge! You can rent a sledge at the gondola station, but it is sometimes cheaper to rent one from one of the sports retail shop, so ask around. Special night sledging events happen regularly during high season on each of the trails.
Hannig, Saas-Fee

phone: +41 27 957 26 15

Kreuzboden. Saas-Grund

phone: +41 27 958 15 80

This trail has two sections. The upper one is overall a bit slower and is, for the most part, separated from skiers. The lower part is shared with skiers and snowboarders but is generally faster and more fun. If you buy the day pass, it may make sense to get out in the middle station and only do the lower part several times over. The slope gets busier with skiers in the late afternoon when everyone is going home, so it makes more sense to go in the morning.

Furggstalden, Saas-Almagell

phone: +41 27 957 14 14
Cross country skiing Only one fairly short trail is available in Saas-Fee itself, but a much longer trail is available down in the valley. Equipment can be rented in some of the sport retail stores in any of the villages. The trail is only open when there is enough snow.
Saas-FeeA rather small trail, right outside the village of Saas-Fee.

Saastal LoipeGoes along the Vispa river from Saas-Balen via Saas-Grund to Saas-Almagell. Entry is possible at any of those villages and anywhere in between. You don't have to buy the day pass beforehand, you pay it directly on the trail when (and if) you happen to cross path with the person responsible for collecting the fee.
Ice skating There is a natural ice rink in Saas-Fee. You can hire skates out from one of the hire shops in the village. Both Saas-Balen and Saas-Almagell have natural ice rinks as well. The only artificial ice rink in the valley is at Saas-Grund.
Hiking
There are many walks you can do, more of course in the summer months than in the winter months. There are many other walking routes including the
Monte Rosa Path
. Ask at the Tourist Office, also the location to buy hiking maps. Most hiking paths have yellow signs indicating the directions and duration.
Chapel TrailThis trail goes from Saas-Grund up to Saas-Fee passing by 15 chapels and shrines each depicting different biblical scenes.

Waldweg BodmenThis trail goes from Saas-Fee down to Saas-Almagell. It is a very broad path through the forest, which is also accessible in winter. Halfway down there is the restaurant Bodmen, a good spot for a pit stop.

Mattmark Reservoir Circular TrailThis leisurely walk takes you around the Mattmark lake, a hydraulic water plant. There is a restaurant at the bus stop with an exhibition on the construction and running for the hydraulic plant. The lake is also a good starting point for many longer hikes. Note that the access road is only open during the summer months and the whole area is off limits during winter due to avalanche risk.

Topic path Alpine Flower TrailA downhill path from Kreuzboden to Saas-Grund. It's a well marked out path which is not too hard, but it's all downhill. On the way there are signboards showing off the local flora which you can see on the side of the trail (depending on the time of the year). The trail also leads through an old shepherd village and there is a small restaurant (Café Triftalp) on the way.
Mountaineering
There are plenty of possible mountain tours and climbs available in the Saas valley at different levels of difficulties. The two official mountain guide associations are where you should ask if you are looking for a local guide:
phone: +41 27 957 44 64

address: Obere Dorfstrasse 53

phone: +41 78 825 82 73

address: Saas-Grund
Other activities
phone: +41 27 957 31 11

An alpine slide (a sort of mechanical toboggan). It is great fun, but expensive. At least do it twice, maybe even three times.

phone: +41 27 958 18 58

A rope park through the forest. There is two courses: one small one just for children and a big one for adults. The highlight certainly is the zip wire run over the canyon and back again.

phone: +41 27 958 50 60

address: Panoramastrasse 1

This indoor pool is not the most glamorous, but it's something to entertain the most stubborn kids!
Buy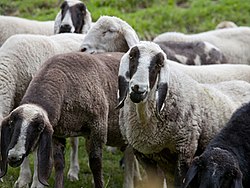 For its size, the number of shops in Saas-Fee is quite high. There are three supermarkets as well as a couple other shops. Overall the price level is quite high, but nowhere near those in the more famous winter resorts like
Zermatt
or
Crans Montana
.
phone: +41 27 958 12 40

address: Bielmattstrasse 7

A cheese shop with a wide selection of cheeses and accessories for cheese dishes.

phone: +41 027 957 25 06

address: Obere Dorfstrasse 40

Store which mostly sells toys, but also has a good selection of souvenirs.
Eat
Saas-Fee
Revolving Restaurant AllalinThis is supposedly the world's highest revolving restaurant.

phone: +41 27 957 20 75

This restaurant lies in the middle of the forest a bit outside of the village. A curiosity at this restaurant is a stable with rabbits and other small animals which can be observed through a glass wall from the restaurant.
Saas-Grund
Restaurant Bodmen

phone: +41 79 174 02 20

address: Unter den Bodmen, Saas-Grund

A restaurant a bit outside of Saas-Grund. Not to be mistaken for Waldhüs Bodmen, which is a different restaurant.

Pizzeria Tenne

phone: +41 27 957 57 57

address: Untere Gasse, Saas-Grund

Great thin crust pizza.
Saas-Balen
phone: +41 27 957 20 29

address: Saas-Balen

You might get sick of the usual offer of Swiss and Italian food after a couple days in the region. This small Indian restaurant is probably the only non-European restaurant in the valley. Also offers some (very limited) vegetarian choices.
Drink
Nightlife choices in the Saas valley are plenty but mostly limited to pubs and après-ski bars.
Popcorn

phone: +41 27 958 50 00

address: Obere Dorfstrasse 6

While this is also a shop and a hotel, it's mainly known for its club and bar.
Sleep
Prices for hotel rooms in Saas-Fee can be rather expensive, but choices are plenty. Usually it is possible to find cheaper accommodation in the form of holiday apartments, especially in the other three villages down in the valley.
phone: +41 27 958 19 00

An upscale hotel in the middle of the village.

Hotel Garni Bergheimat

phone: +41 027 957 30 82

address: Untere Dorfstrasse 4

Supposedly the cheapest hotel in Saas-Fee.

phone: +41 27 958 75 75

Shuttle service available. There is a wellness area with swimming pool, whirlpool, gym and a beauty program.

address: Panoramastrasse 1

This hostel was opened in 2014. It is advertised as being the only youth hostel in the world with its own spa area. The price includes breakfast and access to an indoor pool. The hostel is located at the entrance of the village just next to the bus station.

phone: +41 27 958 1000

address: Lomattenstrasse 7

Most rooms have a balcony that provides views of the surroundings. Wi-Fi is available in the entire hotel free of charge. The rooms and the ambiance are a mixture of traditional Alpine decorations and modern design elements. There are a restaurant and a bar. Buffet breakfast is included in the room rate and half board. 6-course dinner, and a salad and cheese buffet, available as well.
Connect
There is
free wireless Internet access
at some parts of the ski resorts, mostly at stations and restaurants. Some of the public buses also have free WiFi installed. There is also the possibility to rent a wireless modem at the tourist information centres at a price of Fr. 69 per week.
Go next
Continue on to Zermatt, which is in the neighbouring valley. Take the bus in direction Visp until Stalden-Saas, where you can change to the train to Zermatt.
The UNESCO world heritage area Swiss Alps Jungfrau-Aletsch is easily accessible via Visp or Brig. This is the perfect next stop if you haven't gotten enough of mountains and glaciers yet.
For a change and some rather cultural sights, take the bus to Brig, which after a while in the Saas valley will feel like a city.