Sabang (Mindoro)
Sabang
is a small town located on the northeastern coast of
Mindoro Island
,
Philippines
, and administratively part of
Puerto Galera
.
Understand
Sabang is one of the
barangays
(small towns) in the municipality of
Puerto Galera
. Sabang is at the northern terminus of the road from the municipality proper of Puerto Galera, which is a ten minute jeepney drive away. Sabang also consists of the following beaches:
Sabang Beach
Small La Laguna Beach
Big La Laguna Beach
Walking between the three you might not even notice the difference but each has a separate feel and activity level, Sabang Beach being the liveliest. Big Lalaguna Beach is the best for swimming with its clean sand and coral reef with cordoned swimming area prohibited to boats.
Get in
Many travellers will reach Puerto Galera by plane or ferry (see
Puerto_Galera#Get_in
for details), then take a
jeepney
to Sabang. Sabang pier is still closed in 2019. The three available piers are Muelle, Balatero, and Calapan.
By boat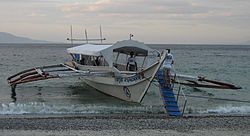 Many foreign tourists arrive on pre-arranged transportation - via an expensive private banca boat arranged by their dive shop/hotel. This usually is at Berberabe port, about 10 minutes south of the Batangas ferry terminal. You also have the option of arriving via a public ferry (from
Batangas
or a number of other islands). At the Batangas pier, ignore all the porters and touts and walk past them to the ticket area where there are several windows where you can buy ferry tickets. White Beach (closest to Balatero port) and Tamaraw Falls are other destinations nearby. Muelle port is closest to Sabang town proper. Buy a round trip ferry ticket to avoid a fully booked ferry on your return. Returning on a Sunday without reserving a ticket can leave you stranded with no options from Muelle or Balatero. You will have to go to Calapan to return to Batangas. To travel around, take a jeepney, trike, or motorcycle to Sabang from your alternative landing place. The ferry service is regular, departing every two hours (with reduced service during the monsoon season).
RORO ()and fastcraft () ferries are the only available modes of public transportation by water. Public wooden-hulled boats were banned in 2018. Emergency equipment, such as life jackets, are on board but supplies may be scarce. The trip between Batangas Port and Mindoro Island (where Puerto Galera is) will take you around 55 minutes by fastcraft and 100 minutes by RORO. Many resorts and some independent companies offer pickup from Manila airport, a ride to Batangas, and a transfer over the water.
The earliest boat back to Batangas leaves Sabang at 5:45 am while the last boat leaves Puerto Galera at 6 pm. Fare is including terminal fee. Note, upon arrival there is a controversial Environmental Users Fee (EUF) of payable by anyone who looks like a foreigner.
By bus
From Manila
Public buses leave from various parts of Manila to the port of Batangas frequently. If you are leaving from the Malate/Ermita part of Manila, you'll want to take a taxi to the Buendia bus station and get the next bus to Batangas.
JAM Liner
is the company of choice for trips from Buendia, but there are other competing companies on this busy route, each having providing different levels of service. Regardless of what bus company you chose, they share a major stopover at the
Batangas City Grand Terminal
, about 10 minutes before the Batangas pier, and the fare costs on an AC bus. There are no bathrooms on JAM buses, but executive class buses by some bus companies (e.g. ALPS, Ceres Transport, Gold Star) do have one. From there, see above for simple arrangements to transfer to a ferry for the trip over.
JAM transit runs hourly buses from their Cubao bus terminal.
An only slightly more expensive and much more convenient alternative from Malate/Ermita is the Sikat bus/ferry, a private service run out of the City State Tower Hotel in Ermita. The bus leaves at 8AM and after arriving in Batangas you are lead to the connecting ferry by a Sikat agent. However this has only one service daily which leaves Manila at 8:30AM.
Whichever bus alternative you take, you'll usually be on the beach in Sabang for lunch.
There are regular vans to
Calapan
from where you can catch a bus to
Roxas
and ferry across to Caticlan, Pasay Island, Boracay.
From Angeles
Public buses leave from Dau bus station in Angeles City for Cubao bus station in Manila, where you can transfer to Batangas. For a hassle-free van and boat combination transfer,
Angeles2Puerto
offer an affordable service leaving 8AM every day (except Wednesday) from Angeles City to Sabang Beach with the return trip departing Sabang at 10AM.
From Puerto Galera downtown
Jeepney
leave Sabang every 20 minutes to Puerto Galera, 5.5k from Sabang, and the same back to Sabang. Fare is one way.
The road is now all paved but there are certainly some broken areas.
The
trikes
parked by Tropicana Hotel are for the trike, whether it is one person or four. There are trikes who drop people off in front of VSB (Victory Sports Bar) who are not allowed to wait around for customers. Just look at them and ask 'Bayan' (means town) and for you are on your way, but you will have to share the ride if he has a chance to pick up more passengers.
A
habal-habal
motorbike taxi to Puerto Galera is . Remember there is no liability insurance here.
Motorbikes can be rented from at depending on the season and your bargaining skills. Boats can also be rented for daily trips. Price and destinations to be negotiated.
Get around
Its mostly walking in narrow streets. In 15min you are in Small Lalaguna and in 20min in Big Lalaguna (to the left side)
If you want to go to Pt. Galera (to the ATM e.g.) take a Tricycle for one way.
A motorcycle or scooter can be hired for around (Scooter) and (dirtbike) per day, cheaper if longer.

See
La Laguna ViewpointAlong the sidewalk that leads between Big La Laguna and Small La Laguna you'll find a narrow path. Follow the path for 20 meters up the stairs and onto the top of a rocky out cropping which has an oddly placed cement pad at the top, as if for a house. From the top of the outcrop, you'll be provided with some lovely views of the surrounding beaches and the surrounding islands.

Lighthouse WalkFollow the road up past the market to the village of Sinandigan and on to the lighthouse where there is a spectacular view of the Verde Island Passage and Luzon to the north, and on a clear day the summit of Mt Halcon to the south. To the east you can see the City of Calapan in the distance and further on the horizon, the island of Marinduque.

White BeachThis beach is better than Sabang. Bancas can be chartered for the 30-60 minute (depending on sea conditions) trip along the coast to a fine stretch of white sand that is popular with locals. While the sand is not powder fine, it is excellent for swimming and has a number of small restaurants, bars and shops, mostly catering to Filipinos. It makes for a good rest day if you starting to find Sabang a little small in between dives. Some might find the large number of ladyboys, or transvestites, on the beach disturbing.

Sabang WebcamIf you want to See Sabang Beach live, there is a website that has three webcam locations for Sabang beaches, one each for Big La Laguna, Small La Laguna and Sabang. The webcam image frequency is once every 30 seconds so you can see the real-time vista, the weather and the people and boats coming and going.

La Laguna beachLocated a short walk around the hillock off the upper edge of Sabang beach, this is a short beach (about 300 metres in length) and yet miraculously further divided into Big La Laguna and Small La Laguna beach. The beach itself is clean, with white sand (unlike the brown sand of Sabang), filled mostly with day tourists, has a few quiet resorts and at least five dive shops as of 2012. It is especially popular with Koreans.
Do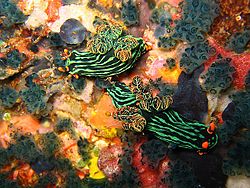 Most visitors to Sabang are attracted by the excellent
SCUBA diving
provided by the protected marine sanctuary. There are a number of dive shops in the area (estimated at around 35) that provide access to a micro (i.e. small life) heaven. The dive sites that feature a large variety of small sea life with the occasional shark or turtle. Several sites are drift dives and often turn into (strong) current dives with the best diving (for coral and small life) being at 18m or 60 feet. Almost all of the dive sites are within a 10 minute boat ride of Sabang which allows you to spend your surface interval on the shore and it also allows most shops to offer as many as four dive trips (single tank) each day. Prices for a single dive are around for a single tank dive, including equipment rental, boat and dive guide, with discounts for more dives and if you have your own equipment.
ABWonderdiveIs a PADI 5 Star Dive Beach Resort owned and operated by Danish couple Alice and Bjørn Askholm located in Small Lalaguna. Offering all level of PADI courses – from entry level up to Dive Master, as well as a wide variety of specialties taught in English, Scandinavian, German, French and Tagalog. Accommodation is in their own nicely appointed rooms or in one of the many resorts nearby.

Action DiversIs a smallish dive shop has been in Small Lalaguba for more than 10 years but is very proud of its high level of customer satisfaction and safety. They generally run 3 dives a day at 9AM, midday and 3PM. Local guides know all the good spots and understands the tides in the Verde Channel. If you contact them they can put together diving and hotel packages to suit your needs.

Asia DiversIs a reputable dive shop that has been around Sabang for over ten years. The divemasters, hailing from Britain, Germany, and Canada, are friendly and dive in smaller groups (usually four divers and one divemaster). They typically run four dives each day, including one night dive, and put together some nice hotel/dive packages with their sister resort, The El Galleon, located adjacent to their dive shop.

Atlantis Dive ResortIs a Five Star PADI Career Development Centers; two of only few dive centers with such a rating in Asia, you will find the highest standard of dive education, first class facilities and world class dive guides.

Big Apple Dive ResortIs the place for all your fun and scuba diving requirements in Puerto Galera. The resort is in the middle of Sabang beach and is central to and within a few minutes walking distance of all the famous nightlife and restaurants. The bar and restaurant are open 24hrs, serving a wide range of food and beverages. With two full size billiard tables in the bar overlooking the bay of Sabang it's a great place to make new friends and enjoy the fun loving atmosphere. A wide range of accommodation to suit all budgets from cottage style fan rooms to luxury air conditioned apartments with standby generators guaranteeing 24hr power. For the sporting fans there is 'Super Sports' Satellite TV showing live sports events from around the world. Fully equipped dive shop adjacent to the best swimming pool in Sabang offering PADI and SSI courses from open water to dive master at competitive rates.

Mermaid Resort and Dive CenterIs a world-class resort offering accommodation, nature tours, and diving services. It has over 30 spacious guest rooms and suites that are newly renovated. The resort offers both international and local cuisine as well as a fully equipped beach-front shop with new and top-of-the-line compressor room.

Frontier ScubaOwned and run by Rick Kirkham an instructor trainer with over 20 years experience diving in Puerto Galera (yet still loves to dive everyday). Frontier Scuba is TDI / SDI 5-Star Instructor Training Facility, one of only a handful in Asia. Packages are arranged including direct private transfers from Manila airport and excellent resort accommodation. Their partner resort have more than 40 rooms all with hot shower, cable TV and airconditioned and are very reasonably priced. One night aircon accommodation in twin share with full meals and three guided boat dives is U$98 per person. The dive center has trained naturalists as guides. Recreational courses are offered from the Discover Scuba 'try dive', PADI Open Water up to Divemaster and SDI courses up to and including the Instructor Course and Exams. The Technical dive center offers nitrox, Advanced Nitrox, Advanced Wreck, Extended Range, Trimix and Advanced trimix courses as well as Technical Instructor courses.

phone: +63 919-379 0811

Very friendly owner Mac and dive masters with over 20 years of experience, teach all PADI courses from beginner to professional level, diving all year around, dive safaris all over the Philippines, specially Apo Island and Coron, new equipment, relaxed, good value, can organise accommodation, located in at-cans resort just behind Papa Fred Steakhouse. Also help you with island hopping, trekking tours, go-kart or mud-kart, shooting range, paint ball shooting, power walking tours around Puerto Galera twice a week, wellness and spa.

Sea Rider Dive Center63 29215885994. The cheapest dive and courses rate in the island with excellent macro & pelagic spotter. Berde island trip and night diving are always part of their daily activities. They arrange accommodation and transportation from Manila Intl airport & Clark Field Pampanga Intl airport to Sabang vice versa. Free intro dive for Non Nitrox Divers. Free boat pick up for public commuters from Sabang pier or Muelle pier to Sea Rider. Free slot for group organizers and commissions awaits!

South Seas DiversFriendly and fluent instructors in Jappanese, Korean, Tagolo, Spanish, and French. PADI courses offered at reasonable rates.

Tech Asia is the technical branch of Asia divers. Run by an extremely experienced and dedicated team, they've been around for pretty much as long as Asia divers have. They can provide trimix and advanced nitrox diving and courses, and also supply essentials for rebreather diving such as sofnalime. They are reasonably priced, with a trimix dive (including gas) coming in under $100 They offer IANTD and GUE courses. The instructors also appreciate supplies of English tea bags, curry powder and Fray Bentos pies!

Puerto Galera Hash House HarriersThe local branch of the Hash House Harriers, an international group with clubs on every continent. All you need is a little taste for adventure combined with an enjoyment of the outdoors, when every Saturday afternoon a mixed group of Filipinos and Foreigners follow trails around some of the finest hashing areas in the country, when you will have the opportunity to see some of its most picturesque locations. You do not have to be super fit; the emphasis is more on enjoying the hash, and go at your own speed. If you would like to join in, meet at Capt'n Greggs Dive Resort on Sabang Beach from 3PM each Saturday. Runs depart at 3:30PM sharp. Cost for first time runners is for men, for women and for children which includes a t-shirt, post-hash drinks and transport. If you are already a member (i.e. you are wearing a hash t-shirt) subtract .

Snorkel at Coral gardenThis can be arranged with any boat operator at Sabang beach. It costs to hire a bangka for the day - usually they take you to a few secluded small beaches on the islands close by, and to snorkel at these places. Coral garden has the best snorkelling in this area - most of the corals are still alive, and the variety of colourful fish is amazing. A warning - the waters sometimes get cool so wearing a thin wet suit is not a bad idea.
Buy
MaxbankThe only ATM in Sabang accepting local and international cards with a 3% commission. In Puerto Galera, the Rural Bank and Allied Bank have ATMs which accept cards on the Megalink and Expressnet networks and at the Allied Bank Visa cards (debit / credit). The nearest banks with international Cirrus/Maestro links are in Calapan or Batangas (including ATMs at Batangas Pier).
The
tourist center
and the Tropicana restaurant do exchange money and traveler cheques as well as doing cash advances on credit cards. The exchange rates are not as good as in Manila, though. Western Union offices are located at the tourist center and at Tuping's Store (eastern end of the beach). Credit cards are not widely accepted in Sabang except at some of the larger dive shops and resorts, so it's best to stock up on cash beforehand.
Eat
The majority of restaurants are clustered in central Sabang. You'll also find restaurants along Big and Small La Laguna attached to the hotels and resorts. Prices are reflect Sabang's standing as a tourist destination, ranging from around for breakfast and for lunch/dinner. Cheap eats can be found at a few local establishments
Hemingway's Bistrot, Certified Angus Beef RestaurantLocated at the West end of Sabang beach. Hemingway's Bistrot featuring traditional German, filipino and international cuisine prepared by Master Butcher Pfannen Fred and Chef Jake.

VesuvioOne of the best wood-fire pizza and coffee in town.

SeaShore ResortTasty filipino style breakfast right on the beach front, comes with the brewed coffee for only. Fast internet and one of the best pork BBQ stick in the area.

Toko's RestaurantLocated at Atlantis Dive Resort. Atlantis also have a resort in Dauin near Dumaguete, and that also has a Toko's.

Full Moon Restaurant - on Small La Laguna Beach, Full Moon serves a wide variety of Asian and International dishes and is popular with visiting divers as well as local expats. Daily specials are on offer as well as an a la carte menu, bar snacks and an extensive wine list. Head chef Manny has worked overseas for many years and can share some of his more colorful anecdotes as well as some great cooking tips!

Sunsplash Resort

phone: +63 9157009193

address: Small LaLaguna Beach

Sunsplash Resort offers breakfast and lunchtime menus with local and international dishes. In the evening at 5PM Sunsplash offers an all you can eat BBQ buffet for , with a selection of BBQ meats, salads, local and international dishes to choose from.

Capn GreggsWith an all wooden decor, and some interesting and punny (all pun intended!) posters on their walls, this second floor sea facing restaurant serves filling meals. Their vegetable curry with rice is especially delectable. It is also among the few restaurants in Sabang that has newspapers for patrons to read.
Drink
There are many bars, cafes and street-side food stalls to ensure that you don't have to search far for something to drink. Cold drinks ranging from fruit milkshakes to soft drinks/soda to alcohol are inexpensive and widely available.
50 Bar - Located at beach front of Atlantis Dive Resort. Relax to the view of Sabang sunset at the 50 Bar down on the beach where you can enjoy a selection of tasty snacks and pizza. The friendly bar staff will serve drinks until kate and entertain you with upbeat atmosphere and your choice of music.
"Eddies" - opened 24/7, recently renovated, try their burgers only.
Marti's Bar - Located in central Sabang, Marti's Bar is proof positive that it's the owner that makes the bar. Popular and inviting, Marti quit after 23 years as an Australian police officer to become the host of one of the friendliest bars in Sabang. For bookworms, an extensive collection of books makes this joint the unofficial book exchange of Sabang.
Floating Bars - Sabang has two floating bars open in the high season to which you can either swim (divers often end their day by ascending to one of them) or stand on the beach and have the bar's boat ferry you across.
Octoclub - Located at the diveshop from Octopus Divers. From 4:00 pm divers and friends come together and have a cold drink and some snacks, talking about diving and listen to fantastic music of the 70s and 80s. Good place to meet new friends.
OK bar - Newly opened karaoke bar.
Rafael's Rare Chords Bar - located at the western end of Sabang Beach (on the way to Small La Laguna) . Small family-run bar popular with resident expats and tourists, open all day but most popular around sunset. Extensive music collection with menu that you can search and make requests. Good views, pool table, chess, TV, newspapers and free WiFi internet connection. Wide range of drinks at happy hour prices all day (SMB bottle ) and cheap home-cooked snack menu.
The Point Bar - located above the Asia Divers dive shop, has a tropical, open-air design that offers 200 degree views of the Sabang and Big La Laguna Bay. It opens in the early afternoon but does not see much action until after the afternoon divers are done. It also gets quiet fairly early as the diver patrons retire to dinner and then return later for more fun. There are drink specials during Happy Hour which runs from 5:30 to 6:30. Food can be ordered from the El Galleon Resort restaurant menu. Famous for their range of devastating shots, the tradition for anyone who's completed a course with Asia divers or tech Asia is to wait until their instructors and course members are in the bar and then ring the large ships bell hung at the end of the bar. Ringing the bell means buying a round of shots for the whole bar, (Although this isn't as expensive as it sounds). You can also win T shirts by drinking a range of different shots. The point bar also has a fantastic BBQ night once a week which is well worth attending.
Girly Bars - November 2015 Sabang has 7 Girly Bars, Coco Lips, Broadway, Hammerhead is upstairs, Venus, Sabang Disco, Philippino Disco Midnight.
Sabang has six "girly bars." You can enjoy a drink while you watch the talent, including featured dancers. The drinks there are substantially more expensive than at regular bars. If you buy one of the girls a "lady's drink," you'll be paying extra again for the privilege of a chat with her. All girls are licensed by the municipality as "maids" but are prostitutes and can be barfined. Be warned, though: local licensing requirements aren't very strict. Some of the girls there may be underage!
The Outsider - November 2015. This place has been closed for over 3 years. It is now called Victory Sports Bar VSB and owned by Neil from England. It is a good place to sit and watch life go by.
Right across the entrance to Tropicana is this cozy bar run by Canadian expat Geno. Beer prices are competitive and the owner entertains customers every night as well as saying hi to passers-by. Breakfast and food are also available.
Castillo's - November 2015. This place has been closed for over 3 years.
This bar and grill is on the fourth and fifth floors of a building right near the Western Union office in Sabang. It has a live band and karaoke and a good view of the beach on the roof. The bar, however, charges a "table fee" of when the band is playing and when karaoke is being run.
Cheap Charlies BarIf you're looking for a bar that offers you a genuine local experience with a western touch then Cheap Charlies is the place to go. It is known for it's cheap drinks, free karaoke and simple but delicious food. If karaoke is not your thing they turn off the karaoke later in the night and turn up the music. Opens at 16:00(4pm) and closes around 5:00(5am or later.) It is located just down the hill from Max Bank, ask any local and they will be happy to show you the way.
Sleep
Sabang Beach
* hotel standard mattresses and air-con as standard, refrigerators and safety boxes are also fitted. Nightly rates are 1500-1800 with discounts available for longer stays.
Reynaldo's

phone: +63 939 2777 169

Budget rooms, some of them with a beach view
Red Coral - This is a small motel that has cheap rooms with kitchen and a view of the water. per night in low season. Right next to the Big Apple Dive Resort.

Sergio's Lodge

phone: +63 915 590 1287

Budget rooms behind Tina's

address: Sabang Beach

A large and rather posh hotel with a roof-garden restaurant that serves local and international cuisines. The hotel is in the form of a castle and the Austrian owner Paul runs the place with his Filipina wife and family. Nice digs except for hot water problems. Bookings can be made via agoda.com.
Small Lalaguna Beach
Big Lalaguna Beach
Longer Term Stays
There are several houses and apartments for rent in and around Sabang including many with beach front locations. Listings for these properties are hard to come by before you arrive; unfortunately, for rent signs and listings are most easily found by walking around.
Go next
Returning to Luzon
The average visitor to Sabang goes back the opposite way he or she came.
To go by public transport, travel to
Batangas
by passenger banca from the station on the beach near Eddies Bar. Other departures are from Puerto Galera (Muelle Pier), Balatero and White Beach. An alternative route to Batangas is via Calapan (one and a half hours jeep ride from Puerto Galera) where there are regular Roro and fast passenger ferry departures for Batangas. This is especially useful in stormy weather or typhoon warnings when ferry service in the Sabang/Puerto Galera area is suspended.
If you came over on the Sikat, you just have to take the ferry/bus trip back to Manila in reverse. The ferry leaves for Batangas at 9:00 or 9:15AM. Just check in 15 minutes before departure at the Sikat booth near Eddies.
Other options include hiring a private banca to take you to Batangas.
Beyond Sabang
Calapan is also the place to head to pick up a bus bound for Roxas (4 hours) where there are regular ferries to Caticlan (
Boracay
)., or if you want to visit Mindoro Occidental and Apo Reef, Abra de Ilog, accessed through the pier at Wawa.