Safranbolu
Safranbolu
is in
Western Black Sea Region
,
Turkey
, though located 50 km inland on the mountains.
Understand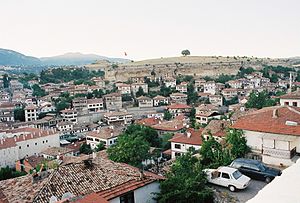 One of the earliest towns in Turkey to realise that preserving the
old town
can actually make money through tourism while the traditional buildings, regarded as unpractical leaky shambles, were being abandoned and knocked down elsewhere, Safranbolu's success story later inspired many others in the surrounding region to polish up their historic districts lucky enough to have kept a level of authencity.
Get in
Buses from Istanbul take about 6 hours and half and cost 30-35 TL. Bus companies like Safran, Metro and Kamil Koç have modern and comfortable fleets with prices ranging from 40-57 TL. Buses from Ankara take around 3 hours and cost 15-20 TL. If you want to go by car from Ankara, it is 220 km.
The nearest train station is in
Karabük
, 10-15 km away. There are daily trains from
Zonguldak
and
Ankara
to Karabuk, which is too slow compared to the buses.
Get around

Dolmuses regularly drive the 2 km between the old town (Çarşı) and the new town center, which is where buses are likely to let you off or pick you up. Once in the old town, everything is reachable by foot. Additionally, some intercity buses might drop you off in the nearby steel down of Karabük. From there you'll have to find a dolmus into Safranbolu.

See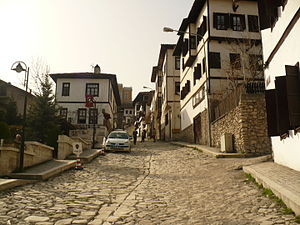 Safranbolu is famous for its Ottoman houses both in Çarşı (old town) and the neighbourhood of Bağlar (literally "orchards"), and qualifies as a
UNESCO World Heritage sight
.
Mencilis (Bulak) Cave which is 3 km from city center, worth to see since it is the 4th biggest cave in Turkey.
Take a look (and a tea?) inside the Cinci Hanı, a massive hotel in the center of the old town. Wandering around the city you will take in much, but to see inside the houses, head to one of the historic homes open to the public. Kaymakamlar Müze Evi is located just above Bastoncu Pansiyon, to the south-east of Cinci Hanı. Keep walking up the hill, and take in some beautiful views at Hıdırlık Tepesi.
Do
Incekaya Su KemeriAn old aqueduct north of Safranbolu past the village of Incekaya. Ask around to get there. There are also some organized tours that go there in the morning.

Yoruk VillageSafranbolu Yoruk village historical village in Turkey. It is 6 km from Safranbolu city town. You can see historical houses in this village
Buy
Traditional table clothes and souvenirs from Arasta Bazaar.

Eat
SafrantatTry their saffron flavored lokum (Turkish delight) in their main factory in Kıranköy, Safranbolu.

Adanadan Dürümce

address: Kaya Erdem Cad. 40

An excellent restaurant featuring the cuisine of southern city of Adana and the southeast on the menu. Kebabs, mushroom (mantar), tasty freshly prepared ayran, and menengiç coffee (made of roasted seeds of turpentine tree, Pistachia terebinthus) are the main specialities.
Sleep
Baglar Saray OtelHas a capacity of 42 rooms and 120 beds. 39 of the rooms have standard quality and 3 of them is suite. Huge bathrooms with full time hot water and a hair drier, a minibar, a phone that is open to the abroad and a television. Safranbolu Baglar Saray Otel shows historical marks and at the same time and it has an unlimited modern service understanding.

Bastoncu Pansiyon & Kafeterya

phone: +90 370 712-34-11

One of the cheaper options in Safranbolu. It is clean and homely, with excellent meals. The owner speaks Japanese and English, and can help you plan your onward trip. Call them for a free pickup from the bus station.

phone: +90 370 712-70-60

address: Baglarbasi Mahallesi, Koyici Meydani Arslanlar Cd., No. 2, Baglar

Nine rooms, all of which have DSL internet connection, cable TV, telephone, and complimentary breakfast.

phone: +90 370 725 13 45

address: Baglarbasi Mahallesi, Degirmenbasi Sokak No. 65, Baglar

A 280-year-old Ottoman Mansion in the orchards with a huge garden and five authentically decorated rooms, all of which have central heating, Wi-Fi internet connection, bathroom and hair drier. Lastly renovated in 2012. Price includes traditional breakfast including a variety of home made jams, pastries,organic fruits and vegetables from the Mansion's garden. Lunch and dinner can be prepared upon request. Owner speaks English. They also offer a free shuttle service from the Safranbolu Bus Terminal.

phone: +90 370 725-46-45

address: Hukumet Sokak 46

Housed in three adjacent mansions all dating back to 18th century.