Saga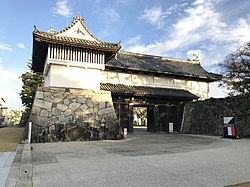 Saga
(佐賀) is the eponymous capital of
Saga prefecture
on the
Japan
island of
Kyushu
. Most travelers seem to pass by on their way to Nagasaki, but the city does have its share of worthwhile sites if you take the time to stop by and explore.
Get in
By plane
Saga Airport is small but has daily flights to
Tokyo
(Haneda) and
Osaka
(Itami). From the city it takes about 30mins by bus and costs ¥600.
Buses also connect
Fukuoka
Airport to Saga (70 minutes, ¥1000). This option to travel via Fukuoka is much more practical for most travelers, because there are a wider variety of connections.
By train
Saga is a stop on the
JR Nagasaki Line.
Limited express train services run from Hakata station in
Fukuoka
twice each hour (usually :02 and :22 past the hour), including the
Kamome
and
Midori
train services. Trains run directly to Saga in about 40 minutes at a cost of ¥2300. It is best to get the return ticket, as it costs the same amount but you save yourself the trouble of having to purchase another ticket to get back to Fukuoka. Even if it is unused, it doesn't hurt to get it as it doesn't cost you any extra.
Local trains from Hakata cost only ¥1080, but you will have to change trains in
Tosu
and the travel time will be about 75 minutes or more, depending on the timing of the connection.
From
Nagasaki
to Saga it takes 75-90 minutes on the limited express (¥3740), or about 2½ hours on the local service (¥2070). From
Sasebo
it is about 65 minutes by limited express (¥2470) or about 100 minutes by local (¥1250).
By car
From
Fukuoka
, simply drive south on Route 263 to reach Saga. From the east and west, the
Nagasaki Expressway
travels directly through the city. Take the exit for Route 263 South to go towards Saga Station and the city center.
By bus
Nishitetsu Bus
operates buses from Nishitetsu Tenjin Bus Terminal (Tenjin Station) in
Fukuoka
. If you're traveling from
Nagoya
or
Osaka
, there are highway buses to Nishitetsu Tenjin Bus Terminal and from there you can transfer to one of the Saga-bound buses.
By boat
Get around
Visitors often come just to visit Saga Castle on their way to other places. For that, you can just walk. There are plenty of other minor sites in the same area. A lot of Saga's sites, such as Furuyu Onsen, its World Heritage Naval port, etc. are best reached by bus or car. All bus routes in the city connect at the bus center, which is adjacent to Saga Station.

See
Saga CastleThe original Saga Castle was built in 1608 by the Lord Nabeshima Naoshige. The castle suffered repeated fires over the centuries before eventually being torn down. One of the gates survived all of this and has been listed as an Important Cultural Property. In 2004 the castle's honmaru palace was rebuilt. It is now the Saga Castle Museum of History. It offers excellent free English audio guides.

Kono ParkKono Park is home to a lovely Japanese garden complete with teahouse called the Kakurin-tei sitting along the central pond. The southern end contains a small amusement park for children.

Saga City History and Folk MuseumA unique museum that features many preserved historic buildings. Visitors can enter the buildings and learn about the families that lived there and in turn learn more about the history of Saga City.

Saga Balloon MuseumA new museum all about hot air balloons and competitions. It has interactive exhibits and a small theatre.

Hizen Provincial Capital Ruins

Chikugo River Lift BridgeThis bridge was part of a train line that is no longer used. Visitors can now walk across it from Saga Prefecture to Fukuoka Prefecture and back. If you arrive at the right time, you may see the middle of the bridge lifted.

phone: +81 95-234-9455

address: 446-1, Hayatsue, Oaza, Kawasoe-machi

During the days when Nagasaki served as the only port open to the outside world, the Saga Domain owned and was in charge of protecting the port. With that, they were the only domain that received information from and about other countries, including discoveries and advancements in science and technology. The naval docks were established in Saga to begin producing Western-style ships and forming Japan's first Western-style navy. The dock here was an important part of Japan's modernization on the shipbuilding and naval front and is inscribed as one of the World Heritage Sites that make up the Sites of Japan's Meiji Industrial Revolution.

Higatayoka ParkA park on the coast of the Ariake Sea where visitors can see native flora and fauna up close and through provided binoculars. Most famous are the mudskippers that hop around on the mudflats, and the shichimensō, a plant that turns deep red in November. It's also a popular spot for birders, as many shorebirds stop here during migration. The park also has a charming Saga-themed playground.

Xu Fu Chojukan Museum and Herb GardenXu Fu came to Japan from China during the Qin Dynasty in order to find an elixer that could make a human immortal. The leader of the Qin wanted desperately to find a way to avoid death. Xu Fu was sent on two missions but he never returned from the second mission and it is said that on that mission he landed in Japan. The museum has information about him and various legends associated with him and outside is an herb garden with over 500 different herbs.

Kyoseki Park

phone: +81 95-264-2818

A large park filled with gigantic boulders, each with its own name and story behind it. Many are in interesting and unique positions. It's a popular place for day-hikers. The trail around the boulders takes about an hour to complete, so it's a nice place to enjoy at your own pace.
Do
Remains of the JR Saga LineTake a bike ride on the converted railway. Bikes can be rented conveniently close to Saga Station. You may need a map to get your way to the entrance of the bike trail, but after that it's a quiet ride southeast under sakura trees, past the remains of old train stations, that leads you straight to Saga's arguably most famous structure, the Chikugo River Lift Bridge.
Buy
Mallage SagaA large shopping mall with many clothing stores and a cinema, just a short walk from Saga Station.
Eat
phone: +81 95-228-4132

The restaurant that is famous for serving Saga beef (saga-gyu) dishes.

Kitajima MaruboloKitajima sells marubolo and other sweets. Marubolo (丸ぼうろ) is a cookie-shaped cake, and is a Saga specialty. These cakes can be found in a number of other tourist locations, as well.
Drink
Cron

address: Saga City-Aikei machi

A cool little sports bar run by a guy called Yuji. Premier League and Champions League are on the big screens. English is spoken, and there is often a foreign presence there. Beer is cheap and the atmosphere is good.
Sleep
phone: +81 95-223-1111

Saga's branch of the upscale Otani Hotel chain.

phone: +81 95-240-0100
Go next