Sagada
Sagada
is a small town in the Mountain Province of
Luzon
,
Philippines
. It is famous for its beautiful caves, hanging coffins, and the serene mountains.
Get in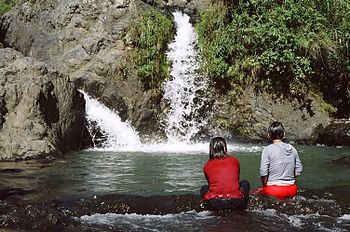 From Baguio: several buses a day, starting at 6AM with several trips until 1PM. The ride on a Lizardo Trans bus takes around 6 hours and costs . If you will be traveling on a Holy Friday, only one bus will travel and it will operate on a first come, first served basis. The way back to Baguio also has a near-hourly connection in the morning by local bus and costs .
From Bontoc: local jeepneys ply this route throughout the day (first one 8:30AM and last one 5PM) for .
From Manila: There's a nightly bus service operated by Coda Lines, leaving at 9PM from Cubao, and arriving around 6:30am. The same bus also passes through Banaue. It costs . They have a booking office in Sagada.
Get around
On foot - explore the beautiful mountains around Sagada. There's a number of sights that can be seen within a 15-20 minute walk from the town center and the tourist office, although the caves can (with good reason) only be explored with the help of a guide.
Jeepney - can be hired.
See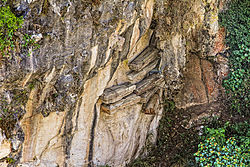 Sagada Popular Sites :The Mission Comp, Kiltepan Rice Terraces, Echo Valley Cliffs and Hanging Coffins, Sumaging (the Big Cave), Bokong and Bomod-ok Waterfalls, Burial Cave, Mount Ampakaw, Underground River, Lake Danum.
Do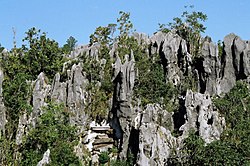 Caving: A 2-3 hour cave connection trip including a visit of the Sumaguing Cave, the burial cave/ Lumiang Cave and the hanging coffins goes for for 1 person, more for an additional person. The group goes in from Burial Cave and comes out from Sumaging cave. Book at the tourist information counter. Prepare to get wet and ziplock all the belongings. Normal caving costs for a group of 1-4 person, for a group of 5, other changes for a larger group.
Hiking: There are lots of opportunities for short and long hikes around the area. Bumud-ok Falls (Big Falls): take a jeep near the Municipio, one heading for Bangaan (), or walk (~2 hours). You do not technically need a guide to go to the big falls, but the small tourist info in Bangaan will make you hire one ( per group). The walk to the falls is along a well-established path through a small traditional village, ~1½ hours total. The village asks for a fee for the development of the path. Make sure to try jumping from the ledge.
Rock Climbing: in Echo Valley, near the hanging coffins. It costs per person including all gear and guide fee. No time limit. Two routes: right one for beginners (5.7ish), left one for intermediates (5.9 or 5.10a); parts are dirty.
White water rafting: White Water rafting is available on the Upper Chico River, typically from July to early January, but that may vary slightly with rainfall. The sections of the river being rafted are downstream from Bontoc, except in unusually high water when rafting above Bontoc is possible. Most sections have numerous class 3 to 3+ rapids and several class 4 rapids. Equipment is international standard and guides are trained by US rafting professionals. Cost ranges from /person depending on group size and section being rafted. Inquire at Sagada Outdoors, in the white commercial building across from the jeepney stop or see www.luzonoutdoors.com.
Buy
Sagada Weaving

address: Nangonogan, Poblacion, Sagada

Store for local and handwoven products are one of the more popular souvenir shops in Sagada. It is one of Sagada's biggest employers and one can visit the weaving looms to view how intricate the weavers go about in producing the handwoven raw materials. Very affordable prices too.

ATMThere are three ATMs: a PDB in the tourist center, at the Sagada Rural Bank (downstairs around the corner) and one at the 3rd floor of the Eduardo Gaudan Longid Center building at the main junction (probably no credit card).
Eat
There are several places along the main road.
Yoghurt House

address: National Highway

A popular and excellent restaurant. They serve meals from breakfast to dinner. Specialties include varied yoghurt dishes and fresh local produce.

Bilig cafe

address: National Highway

Excellent rice meals, pancakes, fantastic coffee, and more. Check out the cool postcards on the ceiling.

Salt & Pepper

phone: +639081774972

address: National Highway

The restaurant has good vegetarian options, Filipino specialties and picnic baskets to take out for a hike! The friendly staff also take orders for late dinner (beyond the curfew hour) and early (before 6AM) breakfast or packed meal. Wifi available. The restaurant also offers tour meal packages for a cheaper price. Contact the number above for inquiries.

St. Joe's Cafe

phone: +639081774972

Inconsistent food, but the sizzling plates are quite good, and the building feels like a ski lodge.

Bana Cafe

phone: +639081774972

address: National Highway

Serves native coffee and excellent breakfasts on a ledge overlooking the valley.
Drink
Many of the guesthouses have an attached bar or restaurant. The city has a late-night curfew and is dark at night, so don't anticipate a night of bar-hopping.
Kimchi Restaurant and BarIn the center of town, when most of the places close down, and the lights go out, this is the only place still open late into the night. Nice music. They close up when people stop drinking. The Korean food is also very good. The owner lived in Korea for 15 years.

Treasure rock resto bar and innOverlooking a hanging coffin or 2 at the end of the main Sagada road before you cross the bridge in the direction of the big cave. Jerry the owner will light you a bonfire while you watch the sun disappear from the front of the bar, and if you're lucky his wife will cook some damn tasty fried chicken too. has no official closing time. Difficult to find, look for the hand-painted sign and climb upwards then to the left for 2 min.
Sleep
George's GuesthouseTry getting the penthouse rooms. You will have a balcony where you can hang out at night, lay out mats to check out the stars, have a cool view of Sagada. The owners are extremely helpful. No wifi.

Masferre Country Inn and RestaurantMasferre Country Inn and restaurant offers hotel-like amenities including a full service restaurant. It also houses the world-renowned photographs of the father Philippine photography, Eduardo Masferre. Wifi.

Residential Lodge: various rooms, no dormitory. cooking facilities, Free coffee & hot or cold water, hot shower, wifi included, lots of info on local area. good views. per person.

Travelers Inn

phone: +63 9-195-171-833

Single/double.

Ganduyan Inn

phone: +63 9-212-738-097

Single/double.

Canaway Resthouse

phone: +63 9-107-092-631

Single/double with hot water bathrooms.

Sagada Homestay

phone: +63 9-197-028-380

Quiet location on a side street up from the center. Nice rooms, views over the valley, a fire pit and wifi.

St Josephs Inn

phone: +63 9-272-360-344

Single/double.

Olahbinan Resthouse

phone: +63 9-284-067-647

Single/double.

Mapiyaaw Sagada Pensione

phone: +63 9-052-164-055

Single/double.

Sagada Guest House

phone: +63 9-189-385-601

Single/double.

Green House

phone: +63 9999037675

Single/double.

Misty Lodge

phone: +63 9261235186

Single/double.

Treasure Rock Inn

phone: +63 9202725881

Single/double.

Davey's Inn

phone: +63 9395061914

Single/double.
Go next
The Rice Terraces at Banaue and en route to Banaue are truly spectacular and not to be missed. The road between Bontoc and Banaue has dramatic mountain scenery, worth sitting on top of the jeepney for.
Bontoc has an interesting museum of Bontoc Igorot culture.
Traveling to Laoag will likely take you a whole day. The limiting factor is a minivan from Bontoc to Cervantes that departs only once in the morning (9 or 9:30AM). The road is extremely scenic. Once in Cervantes, another minivan will take you across the last (and very steep) mountain range before going down to the coast and dropping you off at the coastal highway junction near Tagudin. From there, either wait for the bus directly there, or, better, catch a frequent local minivan to Candon bus station, as it's much more comfortable to wait for the (air-conditioned) bus there, plus you won't miss it because the buses to Laoag stop there for lunch. If you have a couple more days, it makes sense to stop over in Vigan, which is a destination by itself and is 2 hours earlier than Laoag (Laoag-bound buses will stop there, probably before it's dark, if you use this route).