Sagar
Sagar
is a university city in
Madhya Pradesh
.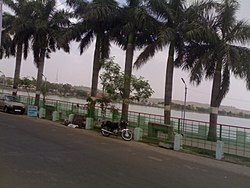 Understand
The city was established as the capital of the Maratha people in 1735, and was later an important site during British rule. Many relics remain from these periods, such as a number of forts. There are also many temples, lakes and waterfalls in the vicinity, which has helped establish the city as an important site on the Indian tourist circuit.

Get in
The city is well connected to other major cities of the country by railway, airway and roadway networks.
Bhopal
(State Capital) is 187 km with a quality Highway built recently.
Bina
(Railway Junction) is also only 75 km by road and is well connected with all Indian Major Cities.
Get around
Sagar is a small city, and it is easy to get around locally within the city by Auto, Rickshaws, and taxis. Auto is the preferred means of commutation as you can get everywhere. Charges are very cheap, but they allows other passengers as well, so be clear while hiring them. Else you have another option in form of Taxis (Not the regular cabs, but kind of Open Minibus) which are also available at regular intervals.

See
Sagar, also called the lake city, is surrounded by the beautiful Lakha Banjara Lake. You can make for boating trips and refreshments. Also, there stands a sacred Hindu temple by the lake, with its own religious importance.
Army Cantonment region and Dr. Harisingh Gour University are considered one of the best universities of central India.
Offering pleasures in traditional shops and village expeditions like
Oil refinery,
visit in Bina, there are few more exotic places like
Rajghat,
maintained as a dam, is a place that captures the most picturesque sunset.
Waterfall having distinct pleasurable effect is the very first and favourite place for tourists and for the same sagar alleges
Rahatgarh Waterfall
with an ecstatic weather.
The city is also surrounded by a beautiful hilly region with attractions like Garhphra Temples, Khimlasa Forts, etc.
Adding to the lot, Varun Smriti Udhyaan, situated approximately 12 km off Jabalpur Road,is an exotic resort. It provides a state of the art Water Park, outdoor activities like picnics, outdoor sports facility for children, great landscape with a few very rare varieties of flowers and fruits.
Official Sagar City Website,
www.sagar.nic.in
Do
In the region, tourists can take boating trips of the city in the beautiful lakes. Year round there are cultural shopping and food festivals organised. The region also gives a good opportunity to take a look at the village life of near-by areas. There are beautiful village area Deori, Khurai, Sahajpur, etc. where you can get a feel for the village life.

Learn
University of Sagar
MP 470003 (campus - gour nagar, civil lines)
sagaruniversity.nic.in
, is the most prestigious and oldest university of the region. The university has a rating of 4 out of 5 stars by the university grants commission. The campus is one of the most attractive in the state.
Buy
Sagar not only has a good range of shops with well known high street outlets, but also small independent shops selling cultural handmade items. The area is well known for its small antique shops and for those who are into hand made cloths.
Don't forget to buy Chironji Ki Barfi for your relatives, Sagar's favourite sweet. It is available on many shops, but the original one for which this became famous was available on Choudhary Misthaan Bhandar, Teen Batti Katra Bazar.
Gujrat namkiin (Gujrat namkiin house) near teen batti.
Maheshwari tea (wholesale and retail tea merchant) bhagwanganj
For cheap cloth and beautiful karachi work sarees, you can visit Gagandeep cloth house in the city market Katra. (you will have to battle the bylanes and the traffic though).
Eat
The city has some very good hotels and restaurants, that cater to the needs of people with wide variety eating habits. Besides small independent food corner sellers, traditional Indian food can also be found.
The famous eating outlets here are the Paradise Hotel, possibly the fanciest hotel in this part. There is Deepali Restaurant for a garden restaurant experience; try the veg. kothe here.
You can also visit Varun Smriti on the outskirts of the town, where you can have a madhya pradesh speciality - "dal-wafla". Varun Smriti also has a fruit orchard, a lovely garden and swings for the young-at-heart.
There is also Brijwasi chat wala on a lane in Civil lines, for clean and tasty "chaat" - the spicy Indian treat for all seasons. Make sure to visit it before 8, his grub gets polished off sooner than you can say "yummy".

Drink
Try the various mocktails and the soda in the Top n Town outlet in Civil Lines.

Sleep
Budget
Mid-range
Ram Saroj Palace

phone: +91 7582 222-222, +91 7582 222-221

address: Mall Godam Road