Sagunto
Sagunto
(Valencian:
Sagunt
) is a city in
Valencia (province)
.
Understand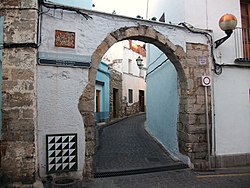 Modern Sagunto is divided into two sections: the modern port with good beaches, and the historic centre, near the original Iberian hilltop fortifications.
The original town was established in the 5th century BCE by the Celtiberians, and eventually developed strong trade relations with nearby Greek and Phoenician colonies. In 219 BCE the city sided with the
Roman Empire
against the Carthaginians and was subjected to the eight-month 'Siege of Saguntum', resulting in Hannibal's capture of the town and becoming Rome's
casus belli
for the Second Punic War. Later the city fell under Roman, then Visigothic, and later Moorish control before finally being conquered by Jaime I of Aragon in the early 13th century. Modern visitors can appreciate remains from each of these periods.
In the early 20th century the port area saw a large population growth due to manufacturing and the steel industry. For visitors the draw here is the excellent beaches.
phone: +34 962 655 859

address: Plaza Cronista Chabret s/n

Offers a range of brochures and maps. For visitors with smartphones, there is a very helpful official multi-lingual app (iOS and Android) which gives detailed information on all tourist sights as well as restaurants and hotels.

Tourist Info Puerto de Sagunto

phone: +34 962 690 402

address: Av Mediterráneo, 67
Get in
phone: +34 902 240 505 (reservations)

address: C/ Vía Férrea, s/n

Long-distance trains connect Sagunto with Barcelona and Valencia. Medium-distance trains connect the city with Valencia, Alicante, Castellón, Segorbe, and Teruel.
From Valencia, Renfe regional train line C6 depart every ½ hour from Estació de València Nord; a round-trip ticket costs €4.70 and the journey lasts about 30 minutes.
Get around
By foot
The easiest way to get around the historic centre of the city is by foot.
By bus
AVSA
operates three bus routes in Sagunto.
Line 1
traverses the historic centre,
Line 2
covers the port area, and
Line 102
, possibly the most useful for travellers, connects the historic centre with the port area and its beaches. A single journey costs €1.45 (no transfers); timetables (in Spanish) can be viewed
here
, and detailed route maps can be viewed
here
.
By taxi
A taxi stand is located in front of the train station.
See
Historic centre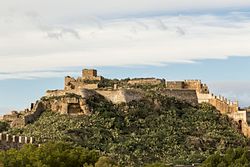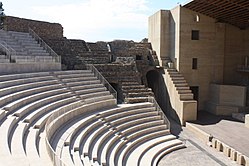 Castell de SaguntThis large hilltop fortification was first established by the Iberians, who famously managed to hold back Carthaginian forces for eight months during the Siege of Saguntum at the beginning of the second Punic War. The fortress was later expanded by the Romans, Visigoths, and Moors, and was last used by French forces during the French occupation at the beginning of the 19th century. It stretches over 1 km along the top of a large hill, and is divided into seven separate precincts. Good views of the town below and of the sea can be had from multiple viewpoints along the outer walls.

Teatre RomàBuilt in the 1st century BCE and carved out of the side of the mountain, this Roman theatre can seat 8000 people. Its recent restoration has not been without controversy, but it is still used today during festivals.

JueriaThis was the Jewish quarter until the expulsion of the Jews from Spain in 1492. Although the synagogue is no longer standing, the streets have been practically unaltered since medieval times. The main entrance through an archway known as the , with other smaller arches demarcating the other entrances. The quarter includes the streets Antigons, Rams (Ramos), Segovia, Vella Sang (Sangre Vieja, the synagogue's former location), Teatre Romà (Teatro Romano), and Pere Cartagena (Pedro Cartagena).

Museu Històric de Sagunt (MUHSAG)

phone: +34 962 617 267

address: C/ Castell, 23

This 14th-century house is now a museum with Iberian and Roman archaeological artifacts, all excavated in Sagunto.

Temple de Diana

address: C/ Sagrari, s/n

Dating from the 5th and 4th centuries BCE, these remains are of the only building that survived Hannibal's siege of Saguntum.

Vía del Pòrtic

address: Plaça Antiga Moreria, 9

Located beneath a residential building, these Roman remains date from the 1st to the 5th centuries CE, and include a road with sidewalks, sewage network.

address: Plaça del Cronista Chabret, 6

The cultural centre hosts temporary exhibits of conteporary art and photography by Valencian and Spanish artists.
Port area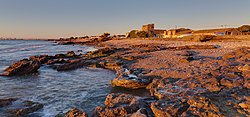 Torre del Grau VellGrau Vell is a small village located just south of the modern port, on the site of the original ancient Iberian and Roman port; a number of ancient shipwrecks have been discovered just offshore here. For visitors the most interesting structure is a small 16th-century fortress, part of a network of coastal forts and towers built to defend against Barbary pirates.
Do
Birdwatching
Marjal dels MorosLiterally 'Moor's Marsh', this protected wetland area is especially good for bird watching, and is critical habitat for several endangered species. There are a number of wooden walkways and bridges, allowing for closer observation.
Beaches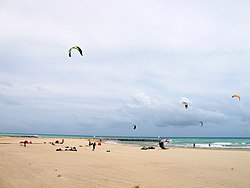 Sagunto has 13km of excellent beaches, including (
Playa del Puerto
), (
Playa de L'Almardá
), (
Playa Corinto
), and (
Playa Malvarrosa
). Between 15 June and 15 September all beaches maintain lifeguard stations, first aid stations, showers, and public toilets. Platja del Port, being closest to the city, has the most facilities but is also the most crowded; Platja de la Malvarosa, being the furthest, is the least developed and also has a nudist section.
Festivals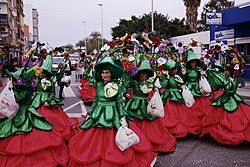 Falles

address: in the old town and the port district

Like its larger neighbour Valencia, Sagunto celebrates Falles with the cridà (opening call of the festivities), the plantà (assembly of the satirical falla monuments to be eventually burnt), l'Ofrena (offering of flowers to the Virgen de los Desamparados), the mascletà (gunpowder demonstrations), fireworks, and finally the cremà (burning of the fallas).

Semana SantaThe tradition of fraternities and processions of penitents in Sagunto goes back five centuries, and has been designated a 'Fiesta of National Touristic Interest' by the Spanish government.
Buy
Mercadillo de Sagunto

address: Plaça del Cronista Chabret and Carrer Horts

A general street market, good for picking up fresh produce and various odds and ends.

Mercadillo de Puerto de Sagunto

address: Plaça del Sol

Another street market.
Eat
phone: +34 962 651 489

address: Carrer Castell, 18

Located in a former medieval palace, this is probably the most well-known restaurant in Sagunto and serves contemporary Valencian cuisine. Reservations can be made online.

phone: +34 962 664 382

address: Carrer Castell, 44

An established French restaurant, with cozy ambiance and friendly service.
Sleep
Camping
phone: +34 962 608 906

address: Carrer del Cigne, s/n

Has spaces for tents, campervans, and caravans, as well as apartments. Facilities include shared toilets and showers, beach bar, fitness centre, and supermarket. Prepaid Wi-Fi available. Pets are permitted for €2.90/night.
Hotels