Saharan Chad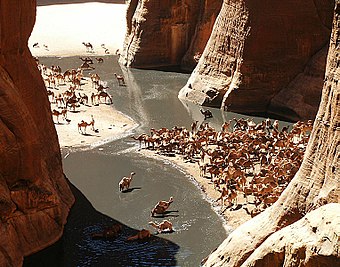 The
Saharan Chad
is the vast region in the north of
Chad
.
Other destinations
— a sandstone plateau in the east of Saharan Chad, impossibly remote, but very beautiful. The natural and cultural landscape of the Ennedi Massif has been inscribed as
Understand
The Saharan region covers roughly the northern third of
Chad
, including Borkou-Ennedi-Tibesti Prefecture along with the northern parts of Kanem, Batha, and Biltine prefectures. Much of this area receives only traces of rain during the entire year. Scattered small oases and occasional wells provide water for a few date palms or small plots of millet and garden crops. In much of the north, the average daily maximum temperature is about 32 °C during January, the coolest month of the year, and a vicious 45 °C during May, the hottest month.