Saimaa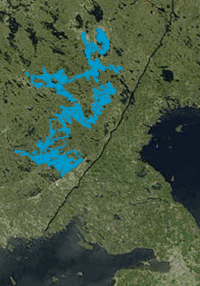 Saimaa
(
Saimen
in Swedish) is a lake in south-eastern
Finland
. At 1,147 km² (443 square miles), it is the largest lake in Finland, and the fifth largest in
Europe
. There are 13 710 islands in Saimaa and the connected waterways.
Cities
likewise in South Karelia
likewise in South Savonia
Other destinations
Understand
The river Vuoksi flows from Saimaa to
Lake Ladoga
. The Saimaa Canal from Lappeenranta to
Vyborg
binds Saimaa to the Gulf of Finland. Other canals bind Saimaa to smaller lakes in the eastern parts of the Finnish lakeland, forming a network of waterways. These waterways are mainly used to transport wood, minerals, metals, pulp and other cargo, but also tourists use the waterways.
The canal was built to connect the Saimaa to the
Baltic Sea
at the dawn of industrialisation. The canal was modernized in the 1960s. Finland pays rent for the Russian parts of the canal. The canal itself connects to the
Gulf of Finland
, on Russian territory, close to
Vyborg
(Finnish:
Viipuri
). The canal is mostly used by cargo ships, but there are also passenger boats operating from Lappeenranta to Vyborg. It is also used by private boats from Finland and abroad.
Talk
Finnish
is talked by the locals. English skills are good as in the rest of Finland.
Swedish
is taught in schools, but results are varied.
Russian
is known in many tourist businesses and shops with tourist shoppers, especially by the Russian border, such as in Lappeenranta.
Get in
See the region and city articles for connections by air, rail, bus and car.
By boat
Saimaa is accessible from the Gulf of Finland (and thus from the oceans) through the
Saimaa Canal
locks.
Get around
By bus and train
By small cruise ship
VIP cruises is one of several companies arranging tours with historic steamers or newer vessels.
By canoe
There are endless archipelagos to explore. The
Kolovesi National Park
and
Linnansaari National Park
are arguably best experienced from a canoe.
By boat
The fairways for larger freighters, with endpoints in
Mikkeli
(Ristiina),
Kuopio
and
Joensuu
, guarantee enough height and depth for any yacht. Past these cities (and in many minor channels) height is restricted to 12 meters; the waterways available by yacht extend to
Iisalmi
in the northwest and
Nurmes
(at Lake Pielinen) in the northeast. The smaller your craft, the more options you have, but even with a big yacht there is enough to explore for weeks or months.
Saimaa is a good sailing destination, but most will choose to use the motor quite a lot, and also some who sail at sea prefer a motorboat here.
The weather forecast for mariners include forecasts for Saimaa. The Saimaa VTS (VHF working channel 9) handles traffic in the main fairways, including distress calls, but 112 is mainly responsible for emergencies in the area. Also channel 16 on marine VHF can be used.
See
The landscape is the main sight. If coming by car, take a rest at some of the places with good views (often marked on road maps but not necessarily obvious when driving). Coming by train, having a map handy can help being alert. And if possible, you should of course get on a cruise of some kind.
One of the two fresh water seal species, the Ringed Seal, lives in Saimaa. The subspecies in Saimaa (Saimaa Ringed Seal, Phoca hispida saimensis, in Finnish: saimaannorppa) is not found elsewhere and is among the most endangered seals in the world, having a total population of only about 400 individuals.
Do
Cruise around the many islands with a sailing boat, motor boat or canoe (see
Boating on the Baltic Sea#Saimaa lake system
).
Rent a cottage at the shore and enjoy! Many cottages have rowing boats or similar for also doing trips.
Take a cruise from
Lappeenranta
to the Saimaa, Saimaa canal or
Vyborg
, Russia, through the canal!
Eat
Kalakukko is vendace and bacon wrapped into rye bread dough and baked for hours on low heat. Delicacy of Savonian origin.
When in Lappeenranta it is good time to try vety or atomi or vetyatomi, the local fast food filled pies available from all grillikioski.
Drink
Stay safe
Stay afloat. Especially in small boats you should follow safe practices.
If swimming at unofficial beaches, watch out for (half) sunken trees and trunks.