Saint-Denis (Île-de-France)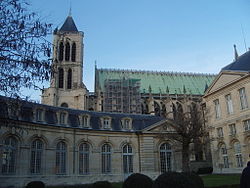 Saint-Denis
is a suburb (
banlieue
) just north of
Paris
.
The martyred saint was said to have been beheaded in Paris, yet miraculously picked up his own head, washed it and walked nearly 10 km north to his future namesake village. In Paris, you can see his headless statue by the main door of Notre Dame and his headless portrait in the mosaic of Sacre Coeur.
The city grew around the Basilica of Saint Denis, where his relics are stored.
Get in
To get to Saint-Denis, take the Métro 13 (light blue) and head north: the terminal is St. Denis Université, but get off one stop before at Basilique de Saint-Denis. No additional fare is required.

Get around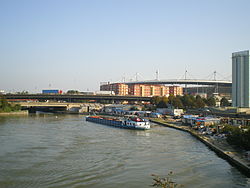 See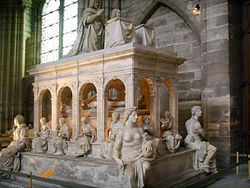 Basilique de Saint-Denis, 2, rue de Strasbourg (Métro Basilique Saint-Denis), +33 1 48 13 14 73. Open daily 10am to 5:15pm. This impressive Gothic church served as a burial place for the French monarchy - from Dagobert I (ruled 629-39) to Louis XVIII (ruled 1814-24) (it includes Louis XVI and Marie-Antoinette). The guided tours provide an impressive overview of French history (available in English, call ahead for tour hours). €7 (€5 reduced rate, museum card accepted). You can also rent a tape and headphones to go on a self-paced tour (€4, €5.50 for two people sharing).

Musée Bouilhet-ChristofleExamples of naturalism, Orientalism, Japonism, Art Nouveau, items produced for the universal expositions, Art Deco, etc., and documents a wide range of techniques including electroplating, enameling, and so forth. It also contains displays on the history of silver production, table settings, and table manners.
Do
Buy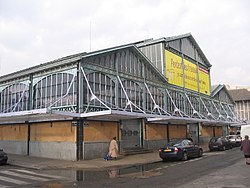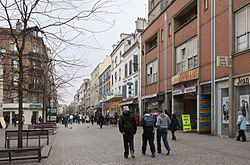 Stay safe
With 150 criminal incidents per 1,000 inhabitants in 2005, Saint-Denis is known as one of the least safe places in France, so avoid getting lost, especially at night.
The areas immediately surrounding the Stade de France have somewhat improved over the last few years, and there is a decent police presence during the day. Otherwise do stay on your guard at night and do not stray away from crowds.