Saint-Maurice
Saint-Maurice
is a cosy small town in
Valais
,
Switzerland
. It looks back on a long history, with the first mention in the year 200 as a Roman outpost. It is famous for its abbey. Its location where the Rhone valley narrows down into a canyon made it an important defence post throughout the history of the town and fortifications from the period of the Second World War and the infamous National Redoubt can still be visited today.
Get in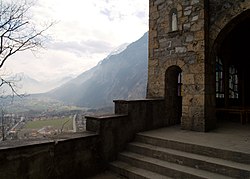 Direct trains with stops at major stations from
Geneva
and
Brig
arrive at Saint-Maurice hourly. Regional trains leave half hourly in direction
Martigny
and
Monthey
.
Saint-Maurice lies directly on the A9 motorway as well as on the regular main road. As the valley narrows down to below 100 metres, all the roads converge here and you are unlikely to miss the town.
See
phone: +41 24 485 10 45

The Fairy's Cave, first tourist cave opened to the public in Switzerland with 504 meter long gallery and 77 meter height waterfall inside.

AbbeyHaving celebrated its 1500th anniversary in 2015, it is said to be the longest-run Catholic monastery in the world. While the monastery itself cannot be visited, the Basilique, the monastery treasure and an archeological site can be visited.

Chapelle Notre Dame du ScexSituated in the in the cliff which dominates the village, open 24 hours. To get there you need to climb around 500 steps.

FortificationsThere are several fortifications from the period of the Second World War and the cold war. They were decommissioned in 1995 and can now be visited.

address: route du Chablais 1
Do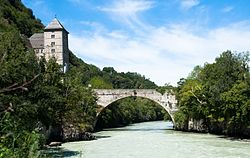 Visit
Lavey Spa & Resort
- thermal baths with two outdoor pools, one indoor pool that maintain a temperature of 32°C to 36°C and are open all year round every day: 9 am – 9 pm, Friday – Saturday: 9 am – 10 pm. Entrance fee for pools only - 16 Euro for 3 hours. The baths are placed 2 km away from the village, it is possible to book a room in the complex.
Eat
During low season the major part of restaurants is closed, the kitchen of those that are open works till 21:00, near Lavey Spa there is a restaurant/pizzeria with flashing sign that is open in the evenings and serves wonderful fondues.
phone: +41 24 485 22 03

address: Avenue d'Agaune 3

Nice restaurant in the middle of town. The daily set menu at Fr. 18 with salad and soup is good value.
Sleep
Hotel La Dent-du-MidiAvenue du Simplon 1, a small family run hotel with marvelous views over the mountains. It is advisable to book apartments on the 3d floor (Nr. 41 and 42). They have two rooms, a big bathroom and a big balcony with a table and chairs.