Saint-Pierre
Saint Pierre
is an island and the capital of
Saint-Pierre and Miquelon
.
Understand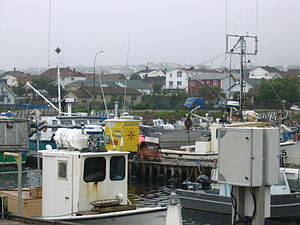 Although it is much smaller than
Miquelon
, it is much more heavily populated (about 5,500). The residents are primarily of Basque, Breton, Normand and Acadian heritage.
There are several small islands near the main island, including
L'Île-aux-Marins
("Island of the Sailors"), which used to be inhabited.
Get in
There are two principal methods of getting to Saint-Pierre: ferry or flight. Everyone arriving in Saint-Pierre must pass through Customs. Passports are required for all travellers.
By plane
Saint-Pierre Airportis a small airport.
Air Saint-Pierre
operates regularly scheduled flights from
Miquelon
and these Canadian cities:
St. John's (Newfoundland)
,
Montréal (Québec)
,
Halifax (Nova Scotia)
.
By ferry
SPM FerriesFerry between Saint-Pierre and Fortune, Newfoundland. The ferry takes approximately 90 minutes depending on weather conditions.
See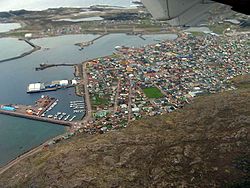 Pointe aux Canons Lighthouse

address: Harbour

A navigational beacon for ships large and small, this automated lighthouse is not open to the general public but is located at the end of an accessible jetty for picture-takers and scenic drawing. When at the lighthouse, look for the upright cannon which dates back to the Crimean War.

Pointe aux Canons Battery

address: Harbour

The Pointe aux Canons Battery (consisting of 5 cannons) is located just before the jetty to the lighthouse on the site of a much older fort that defended the Saint-Pierre & Miquelon islands during the British raids of 1690-1713.

address: Place du Général de Gaulle

The Alsatian style of architecture was brought to Saint-Pierre in the early decades of the 20th century. Shaped like a praying monk, the Saint-Pierre Post Office clock tower looks over the General de Gaulle square.

Cimetière Saint-Pierre

address: Avenue du Commandant Roger Birot

This is Saint-Pierre's fourth cemetery. Located on a gentle slope, thousands of monuments are built above ground in a style unique in North America. The cemetery is open at all times.

Les Salines

address: Harbour

Les Salines fishing stations were built by the Saint-Pierre & Miquelon Government and once housed salt, salted fish and fishing gear. Today, they are used to store artisanal fishing gear. Les Salines are a colourful legacy of the old fishing culture and economic life.

Fronton Zazpiak BatConstructed in 1906, the fronton Zazpiak Bat is a court for playing the traditional Basque sport of pelota. Many residents of Saint-Pierre are of Basque descent.

Cathédrale de Saint-PierreThis former cathedral was rebuilt in a Basque style between 1905-1907, after a major fire which started at the old 1852-era cathedral destroyed much of the town in 1902 . The church tower was rebuilt in 1975 using Alsace sandstone and rhyolite from the island. A change to Catholic diocese boundaries (in which the former Apostolic Vicariate of Îles Saint-Pierre et Miquelon was merged to faraway La Rochelle, France) lost this church its status as a cathedral in March 2018.

Le Square Joffre

address: Rue Borda & Place du Lieutenant Colonel Pigeaud

This small, attractive park contains a granite monument erected in 1964 to honour seamen lost at sea (à nos marins disparus).

La communauté des soeurs de St Joseph de ClunyUntil 1998, the convent's nuns performed nursing and teaching in Saint-Pierre. The convent was built 2004 replacing an earlier structure demolished in 2001.

La Forge Bailly

address: Rue Saint-Jean & Rue du Commerce

This maritime foundary was built in 1879 using French techniques from the Middle Ages.

Le Calvaire

address: Rue du Calvaire

Local artisans carved a large wooden cross with the body of Christ. It was placed on a hill in a small park. There are panaramic views from the park. Ideally, you should approach via Rue Colbert as the cross faces that street.

Le Fort Lorraine

address: Rue du Calvaire & Rue Beaussant

Fort Lorraine was an observation post constructed by the Free French forces after they captured the archipeligo from the Vichy governmnent in 1941. This park offers panaramic views.

Le Monument aux Morts

address: Rue Amiral Muselier

Monument to soldiers from Saint-Pierre who died in Word War I and II. Across the street on the south side behind Musée de l'Arche there a Croix de Lorraine with a plaque inscribed with a speech by Charles de Gaulle.

Débarcadère croisière

address: N1

The cruise dock is more interesting if a ship is docked there. A greeting is painted on the wharf facing the ship saying Bienvenue en France! (Welcome to France!).

Waterfall from Etang Thélot

address: N1

This roadside waterfall is where a creek flows from a pond (Etang Thélot) into the sea.

Zone portuaire

address: N1

While you cannot enter the port zone, from the coastal road N1 you can see any container ship that may be docked at the container wharf. The facility accommodates only one container ship at a time.

Cap à BrossardAt Cap à Brossard one can see waves crashing against a rocky shore. Houses line Route de la Cléopâtre from the town of Saint-Pierre.

Residential streetsThe many residential streets in town are lined with colourfully painted wooden houses. Most of these houses have a distinctive characteristic called a tambour which is a room about the size of a telephone booth to shelter persons at the house entrance. Generally, these tambours are built on the narrow public sidewalk forcing pedestrians to walk on the road. These booths are called tambours (literally drums) because when one knocks on the door within the tambour, there is a drum-like acoustic effect.
Do
phone: +508 41 58 88

address: rue Maitre Georges Lefèvre

Saint-Pierre's newest museum has many religious and medical artifacts from the 19th and 20th centuries. A wonderful exhibit on Prohibition is also highly recommended. Musée Héritage is privately owned and operated.

phone: +508 41 04 35

address: rue du 11 Novembre

The State Museum is operated by the local government of Saint-Pierre & Miquelon and houses the islands archives. Temporary and permanents exhibits showcase the islands' history and culture. Among the many items on display, is the famous guillotine used during the 1889 execution (The Néel Affair - Inspiration for the Widow of St Pierre).

phone: +508 41 25 76

address: Ile Aux Marins

Located on the island of Île-aux-Marins, this museum contains a unique collection related to life on the islands and the fishing industry.
Buy

There are several shops along or near the south ends of Rue du Maréchal Foch and Rue Maître Georges Lefèvre. However, not all shops in Saint-Pierre are clustered at this location. Sometimes a shop is located inconspicuously away from the centre of town.
Shops tend to close for lunch at mid-day (typically 12pm-1:30pm), and this also pertains to the post office and the tourist office.

Eat
There are few restaurants in Saint-Pierre. It is
strongly
encouraged that you make reservations for supper time. Any hotel/B&B or the tourism office can assist you in making reservations.
Sleep
B&B
Pension Bernard & Josette Dodeman

phone: +508 41 30 60

address: 15, rue Paul Bert

3 rooms.

phone: +508 41 31 08

address: 15, rue Beaussant

9 rooms.

Motel Rode

phone: +508 41 37 47

address: 27, rue Beaussant

Apartments. This establishment is not mentioned on the tourist office site, but the owner is still listed in the local telephone book as of June 2017. The price shown here might not be up-to-date.

phone: +508 41 38 67

address: 12, rue des Basques

6 rooms.
External links
Go next