Saint-Tropez
Saint-Tropez
is a town in the
French Riviera
.
Understand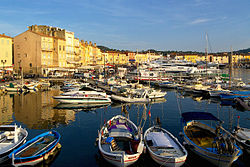 In the 1920s the town attracted some famous French characters, including haute couture superstar Coco Chanel. Later in 1950 it gained an international popularity: director Roger Vadim shot
And God Created Woman
featuring one of the sex symbols of that time — Brigitte Bardot. Since then it has been a hot destination for the rich and famous. But, these days, the town has plenty for everyone.
phone: +33 892 68 48 28 (€0.35⁄min)

address: Quai Jean Jaurès

There is also an Information Point at the Parking du Nouveau Port: Jul Aug Tu–Sa 10:00-18:00
Get in
Cruise ships that visit must anchor or loiter offshore and bring passengers to town by tender.
Entering Saint-Tropez by car is not the smartest thing to do, since the town has very narrow streets and lots of tourists walking in it. There is a large parking at the border of the town, from which it is a ten-minute walk to the center of the town. You can walk on the borders of the sea, where you have a great view at the luxury cruise ships.
A ferry service from
Sainte-Maxime
is operating in season.
You can also take a train from
Nice
to
Saint-Raphaël
and then go to Saint-Tropez with bus 7601 (runs every hour).
Get around

Saint-Tropez is a fairly small town, so it could be easily explored on foot.

See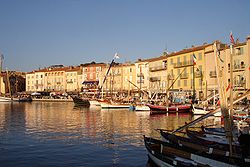 phone: +33 494 566 870

address: 1, Quai de l'Épi

A picturesque harbor with many beautiful yachts is one of the major attractions in the town, where all people meet together: rich and poor, locals and tourists. Typical pastel colored houses with light yellow colored blinds on windows. A round tower of the church of Saint-Tropez can be seen from the harbor and is part of the typical view of the port of Saint-Tropez. On the quay there are also several boutiques, tourist shops, cafes and restaurants.

Place de LicesPeople gather there to play jeux de boules. It is a quite large square with a white sandy ground and more than a hundred year old plane trees. It 's cheerful atmosphere there with lots of bars, cafes and restaurants.

Rue GambettaAn old cobblestoned street.

Place de l'OrmeauA cozy old square in the middle of an artistic boom.

GendarmerieA pretty building of a police station where the Les Gendarmes de Saint-Tropez featuring Louis de Funes was filmed. No visitors are allowed, but still people love to take photos from outside.

Église Notre-Dame-de-l'Assomption de Saint-TropezA lovely little pastel colored church built in 1820 in a perfect harmony with the surrounding buildings.

La Chapelle Sainte-AnneIt was built in the 17th century in acknowledgement of a protection of the town against the plague raging then across the Provence. There are some magnificent views of Saint-Tropez from the top of chapel.

CitadelleA fortress dating from the 16th century is seen above the town. It hosts a naval museum.

phone: +33 4 94 17 84 10

address: 2, rue de l'Annonciade

Near the western end of the main harbor area, L'Annonciade is a riveting collection of post-Impressionist, Fauve and other early 20th century art. Housed in a converted church, the collection includes striking works by Matisse, Dufy, Bonnard and Derain, as well as other early modern masters. The most of the works date between 1890s and 1950s. In addition, the views of the town and harbor from the windows of the museum are quite distinctive.
Do
The "village" is easily walked and enjoyed. The waterfront is crowded with cafes and shops with "elite" offerings. A block or two inland, through narrow streets and alleys, you'll find fewer stores and cafes, quaint and interesting studios, homes and a few historical structures.
You can follow a path towards Baie de Canebiers which goes along the coast - it's an easy walk with many quiet beaches along the way.
Sports
In the first week of July there is an international Polo tournament, which attracts the best polo players from around the world to the Saint-Tropez Polo Club.
Beaches
Pampelonne BeachThe most famous beach of Saint Tropez with some fancy clubs.
Buy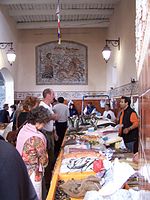 The waterfront is packed with stores offering "elite" goods, and cafes for the "in-crowd" (or naive tourists), all at heady prices. A block or two inland, offerings are often equally good, with slightly more modest prices.
Eat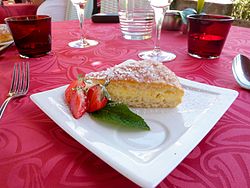 Saint-Tropez is famous for its traditional
tarte tropézienne
(tropezian pie), which is worth of tasting. It was invented by Alexandre Micka in 1955.
Drink
Chateau Minuty Rose Cuvee De L'Oratoire — rose wines are popular in Provence, and this is one of the best.

Sleep
Résidence Maeva Les Marines de GassinIt's in Les Marines de Gassin, 6 km from Gassin. Sits on a private park giving directly onto a sand beach. Has a swimming pool/lagoon. 100 m from the harbour and small shops, 600 m from the shopping centre.
Splurge
Casol Villas FranceLuxury villa rentals with concierge services.

phone: +33 4945 668 00

address: 20 Avenue Paul Signac

One of the most luxurious hotel in town.