Saint John's
Saint John's
is the capital city of
Antigua and Barbuda
. It is on the island of
Antigua
.
Get in
By plane
By cruise ship
Many tourists arrive by cruise ship to spend the day. Most ships dock at large piers that empty into downtown through an open-air shopping mall.
Get around
There are car rentals and many taxi services available.
The local bus service is pretty reliable (ask locals for assistance).
Bike Plus

phone: +1 268 462-2453

address: Independence Dr, St John's
See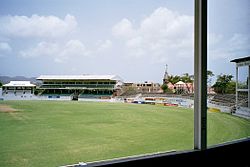 Saint John the Divine CathedralThe Anglican cathedral with its two towers was built in 1681 as a timber construction, rebuilt in stone in 1722, destroyed in 1843 by the great earthquake, rebuilt in 1845-47. Damaged by an earthquake in 1974 and hurricane "Hugo" in 1989, the interior wood construction and paneling of pine wood has proven to be a good protection against earthquakes and hurricanes. The cathedral is built in baroque style with two towers. On the south portal are life-size, iron statues of John the Baptist and John the Evangelist from 1789. The church offers 2,000 worshipers place. It is still damaged.

Fort JamesFoundation stone laying about 1675, today's building stock from 1749, was built together with the on the opposite harbor entrance Fort Barrington for the protection of the port of St. John. Originally designed for a crew of 70 and 36 cannons, the well-preserved walls and 10 cannons can still be visited today. The guns weigh about 2.5 tons, their range should be nearly 2,400 meters.

Government HouseThe official residence of the governor-general, received several visits to the English royal house. It was built ad two separate houses in the 17th century. In 1801, Lord Lavington of Carlisle acquired the house. In 2002, arson caused more damage. At that time, renovations were being carried out and the house was empty.

address: The Old Courthouse

In 1747-1750, the Old Court House was built by American architect Peter Harrison, born in England, using rocks that were broken on the islands of Long Island, Pelican Island and Guiana Island. Also this building was heavily damaged by the earthquakes of 1843 and 1974. It was not restored until the early 1980s. Since 1988, the National Museum of Antigua and Barbuda has been housed here. The State Archives were also temporarily here. Curiosities such as stone artefacts of the Arawak Indians can be found in the museum along with uniforms from the Second World War.
Do
CarnivalAnnual festival from late July to early August.

CricketAntigua's big sport. Played at the Recreation Ground, matches are accompanied by calypso music and mass dancing!
You can also:
Sample local cuisine and drinks.
Mingle with the locals and don't be afraid to ask directions.
Gamble.
Go to one of the many clubs.
Buy
1000 FlowersA good clothes store.
Eat and drink
There are many restaurants in the St. John's area, and bars are littered around the island.
phone: +1 268 480-6985, +1 268 480-6967

address: Redcliffe Street

Café Napoleon

phone: +1 268 562-1820

address: Redcliffe Quay, in the shaded inner courtyard

French cuisine, including baguettes.

Commissioner Grill

phone: +1 268 462-1883

address: Commissioner Alley and Redcliffe Street

Caribbean cuisine.

George Restaurant and Bar

phone: +1 268 562-4866

address: Redcliffe and Market Streets, 1st floor

West Indian cuisine, has a big outdoor area with a view of the ocean.

phone: +1 268 462-2763

address: St. Mary's Street and Jardine Court

Caribbean cuisine

O'Grady's Pub & Bar

phone: +1 268 462-5392

address: Redcliffe and Nevis Streets, 1st floor veranda

Traditional English cuisine.
Sleep
At one of the many hotels or guest houses. For the traveller on a budget try to stay at a local rented apartment or a cheap motel.
phone: +1 268 462-6000

This luxury resort offers suites and villa accommodations, afternoon tea, tennis instruction, beauty and massage services, and wedding facilities.
Go next