Saint John
Saint John
is the second-largest city in the Canadian province of
New Brunswick
, with 68,000 residents (2016). It is in the south of the province on the
Bay of Fundy
.
Understand
Saint John is a city whose population is composed almost entirely of the descendants of Irish immigrants and British loyalists.
Canada
's oldest incorporated city, Saint John's metro population is approximately 125,000 and it routinely plays host to
cruise ships
and individual tourists from all over North America. (To avoid confusion with St. John's (Newfoundland), Saint John is
never
spelled St. John - locals will be very quick to point this out.)
Until 2003, Saint John had a long history of shipbuilding at the city's dry dock, which is one of the largest in the world. Saint John now has fast growing research and information technology sectors, and it has a growing sector of tourism, with over 1.5 million visitors a year and 200,000 cruise ship visitors a year, creating a renaissance in the city's historic downtown (locally known as uptown).
History
Mi'kmaq and Maliseet Aboriginal peoples lived in the region for thousands of years, calling the river
Wolastoq
, before European settlement.
French explorer Samuel de Champlain landed at Saint John Harbour on June 24, 1604 (the feast of St. John the Baptist). This is where the Saint John River gets its name. After over a century of ownership disputes over the land surrounding Saint John between the French and English, the English deported the French colonists in 1755 and constructed Fort Howe above the harbour in 1779.
Saint John, as a major settlement, was established by Loyalist refugees of the American Revolution when two fleets of vessels from Massachusetts, one in the spring and a second in the fall, arrived in the harbour. These refugees wished to remain living under Great Britain and were forced to leave their U.S. homes during the American Revolution.
In 1785, the City of Saint John was formed from the union of Parrtown and Carleton. Over the next century, waves of Irish immigration, namely during the Great Famine via Partridge Island, would fundamentally change the city's demographics and culture.
Climate
Temperatures in Saint John vary by season. In the summertime temperatures can reach a high of 22°C, and in the wintertime they can dip to -15°C. Rain is common in the spring and autumn, but it usually doesn't rain much in the summer. Fog is not uncommon during the summer months. There is the occasional heavy snowfall in the winter; however, snow is usually more abundant the more north you travel away from the Bay of Fundy.
Get in
By car
Driving to Saint John is usually not a hassle, unlike many other cities. However, traffic has been steadily increasing. And for travellers driving from
Fredericton
to Saint John on Highway 7, care is required because of the risk of moose collisions at certain times of year and certain times of the day.
Saint John is 107 km (66 miles) from the
Calais
/
St. Stephen
border between
Canada
and the
United States of America
. Driving distances from major cities are 496 km (310 miles) from
Portland
,
Maine
, 940 km (588 miles) from
Montreal
,
Québec
and 424 km (265 miles) from
Halifax
,
Nova Scotia
.
If you're travelling from southern Nova Scotia, your best bet is to take
Bay Ferries
from
Digby
. There are three crossings daily from mid-June to mid-October, these take 2½ hours on average. During the rest of the year there is at least one crossing daily and they usually take 2 hr 45 min. $37 per adult passenger and $119 for a car (April 2017).
Book online, and check on at the terminal to get your boarding pass when you arrive. Restaurant, cafeteria and wifi on board.
By bus
Maritime Bus
runs from Saint John to
Moncton
or
Fredericton
.
By plane
By train
There is no passenger train to Saint John. Via Rail serves
Moncton
, from which a two-hour bus ride reaches Saint John.
By boat
Saint John also boasts a booming cruise ship industry and has cruise ships enter the city's dock on a regular basis.
Saint John's Market Wharf also provides a convenient if unserviced space within the harbour for pleasure boaters, making it easy for power or sail vessels coming in from the Fundy to berth and enjoy the Uptown shopping or dining. Longer term moorage is not available in the harbour, although it is available several miles up the Saint John River. There are no fuel or marine services at the wharf, and the wharf is used by local fishing boats and by pleasure craft.
Get around
Saint John Transit
buses are available from approximately 6AM to midnight for public transport within the city. Schedules are available on the buses and in information booths throughout the city. Fare is $2.75 for adult passengers; $2.50 for children 6-14, and seniors (April 2017).
Taxi service in Saint John is run on a zone-to-zone basis (no meters). There are several companies available in Saint John for this service.
Diamond Taxi

phone: +1 506 648-8888

University Cab

phone: +1 506 631-1111

Offers student discounts to UNBSJ

Coastal Taxi

phone: +1 506 635-1144

Simonds Taxi

phone: +1 506 696-8294

Royal Taxi:

phone: +1 506 652-5050

Sunrise Taxi

phone: +1 506 638-8888
Some companies accept debit and credit cards in their cabs, but you have to ask for this service as it is not available in all cars. Approximate prices for taxi services in Saint John, based on one person in the taxi and no stops are as follows:
East Side to Uptown or North End: $7-10 (and vice versa)
East Side to West Side: $12-15
North to South End: $8-10
If you are staying outside of the city in Rothesay or the surrounding area, expect to pay above $15. Cab rides to the airport can run in the $20 range. For people who need to make a short stop to pick up cash or something quick, most drivers will charge you an extra buck. But make sure you ask, because they are supposed to charge you for another stop. Some will do this right off the bat if you don't ask. Also, most cab drivers are more than happy to have your repeat business, so if there is someone you like ask for their car number and next time you call you can ask for the same person.
Within the Uptown it is possible to travel on foot between the City Market, Brunswick Square Mall, Market Square, the Canada Games Aquatic Centre, Mercantile Centre and Harbour Station via underground and pedway connections without venturing outside (the "Inside Connection"). This is very useful during the winter. During the rest of the year, Uptown Saint John also offers a very pleasant and fairly accessible walking experience, with clear, well-maintained sidewalks and crosswalks, and fairly straightforward navigation. (Unlike many older cities, Saint John's Uptown is laid out in a simple grid design.)
There are eleven car rental dealerships in the city including an Avis Rent-A-Car at the Saint John Airport.
See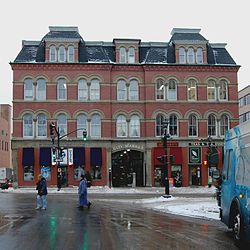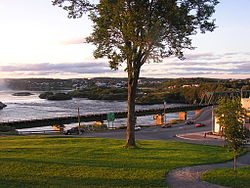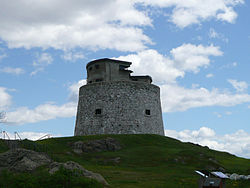 Do
Cherry Brook ZooHome to numerous endangered species and other exotic animals. Lovely natural setting. Great area for interesting walking. Open 364 days per year until dusk. Included is Vanished Kingdom Park featuring life-sized statues of extinct species. Tiger Claws Miniature Gold also located on site along with gift shop and canteen.

The Imperial TheatreA historic theatre features everything from plays to rock concerts.

Harbour PassageHarbour Passage is a red paved walking path that runs from the Boardwalk Uptown to the Old Museum on Douglas Avenue. It's a great walking, biking or skating path in the summertime. While it is well-lit at night, the occasional mugging has been known to happen. Stay in groups at night and you will be fine. Also a great way to make it from Uptown to the North End of the city. Very close to the Holiday Inn Express.
Buy
The City Market uptown is the oldest operating farmers market in Canada, with fruits, vegetables, fresh seafood, Java Moose (a local brewed coffee house with good take-home coffee beans), and on Saturdays, various vendors with foods from around the world. Uptown is also home to hundreds of independent shops with a wide variety of food and merchandise. A stroll down King Street finds stores selling local arts and crafts, while across the street the Brunswick Square Mall offers commercial stores (clothes, shoes, cards, books, music, Laura Secord chocolates). On Germain and Canterbury Streets (both off King Street) independent merchants offer used books, records and international cuisine.
There are eight local shopping centres of varying quality; a few are mere strip malls or have fallen into the "dead maĺl" pattern of discount stores, vacancies or non-retail uses such as telephone call centres. The largest local malls are McAllister Place and East Point Shopping Centre in the east end, or Brunswick Square and Market Square uptown. The city's east side is also home to numerous big-box stores, mostly chains ranging from clothing to hardware to electronics.

Eat
A variety of locations for dining in are available in Market Square. For the more thrifty traveller an eatery is located in Brunswick Square, or try the side aisles of the City Market for fresh salads, sandwiches, and other local fare.
Billy's SeafoodSeafood of all kinds is what you can find at Billy's. Locally owned and operated by Billy. Offers up great seafood dishes with a reasonable price. Look to spend $15-20 per person for supper. This restaurant is a favourite of both locals and cruise tourists, some of whom make the trek from the United States each year to come and sample the tastes!

Alley Gria

address: 126 Prince William Street

Spanish tapas bar. Serves up all kinds of delicious plates for you to share with your friends. Best if more than two people go, that way everyone can order something different. Open in the afternoons and evenings.

phone: +1 506-648-2377

address: 33 Canterbury Street

Thandi's is great for Thai and Indian cuisine. It's a little on the pricier side so expect to spend $25-30 per person for a well-rounded meal (including drinks).

Big Tide Brewing Co.

address: 53 Princess Street

Nice little brew pub with some great microbrewed beer. Everything from IPAs to Hemp Ale. Big Tide offers up some pub favourites. Not too expensive. Expect to spend around $30-40 per couple. Great mixed drinks too!

Lemongrass/Pepper's Pub

address: Brunswick Square

The Lemongrass Restaurant is a great Thai place offering upscale food at a reasonable price. Very good pad thai and "money bags" (appetizer). Pepper's Pub, which is located in the same venue offers up unique pub fare for just about anybody. Thursdays is wing night, offering 1lb of wings for $4. Great sauce selections. Service can be a little slow on this night, but only because the place is jam packed with regulars who flock to Pepper's. They often host "IPN- Indie Pop Night". Great selection of live bands and a heated patio make Lemongrass/Pepper's Pub a great place to eat and drink.

Cora's Breakfast & LunchGreat breakfast, à la Cora! Cora, a Quebec native, began a chain of breakfast restaurants which are now popular all over Atlantic Canada. Impressive fruit plates, delicious crepes and huge portions. Inexpensive. Expect to spend around $30-40 for two, including drinks. Try the crepes of any kind. They're all delicious!

Vito'sWith three locations in the greater Saint John area, this locally owned family restaurant was founded in 1972 by four Greek immigrant brothers and is very popular for pizza and spaghetti. Locations: Rothesay Ave (East) 324 Rothesay Avenue, Saint John, +1 506 634-1300; Hazen Avenue (Uptown) 1 Hazen Avenue Saint John, +1 506 634-3900; Hampton Road (KV) 111 Hampton Road Rothesay, +1 506 847-4400

Urban Deli/Italian By Night

address: King's St.

Urban Deli has fantastic lunches, $10-15. Pulled Piggy and Slaw is highly recommended, as is the Cordon Blu (not on the menu). At night, for expensive, but good Italian eats, Italian By Night is great.

phone: +1 506 674-5287

address: 10 Portland Street

In the Canada's Best Value Inn Fort Howe Plaza. Try the B-Eat the House burger, which is 35 oz of ground beef and trimmings. Eat the whole thing in 45 minutes and it's free. Your photo also goes on their wall.
Drink
Sleep
Finding a place to stay in Saint John shouldn't be a hassle. For those of you who prefer a comfortable stay near everything you could possibly wish to see, try one of the hotels or B&Bs in the uptown. Hotels in Saint John cost on average $120 per night for a single. However, if you are travelling on a budget there are still some comfortable motels around the city.
address: 1 Market Square

On boardwalk, connected to Market Square via underground tunnels.

address: 39 King Street

Uptown, accessible through Brunswick Square.

Canadas Best Value Inn Saint John

phone: +1 506 657-3610

address: 10 Portland Street

Between the North End of Saint John and Uptown, near the highway. Basic hotel, good amenities, dining room on-site. Free Wifi. Pool and hot tub.

Hotel Courtenay Bay

address: 350 Haymarket Square

Older hotel with basic amenities, adequate for single-night stays but could use renovation. On-site restaurant, PJ Billingtons, is good for breakfast but otherwise limited.

Chipman Hill Suites

address: 76 Union Street

Various local B&Bs, all in beautiful heritage buildings in the uptown area.

address: 51 Fashion Drive

Relatively new property with modern amenities, pool, water slide, near east side shopping malls and the highway.
For camping underneath the stars, Rockwood Park or the village of St. Martins are suitable choices.
A few cottages or country inns may be found in the city, with many more in the suburbs and nearby country.
Connect

Internet access is available in several areas within the "Inside Connection", including a convenience store in Market Square and an Internet Cafe located en route between Market Square and Brunswick Square. In addition, many coffee places also offer free wi-fi. Any Java Moose or Starbucks locations will offer this. Also, on King Street in the uptown area, there is UZone which is an internet cafe. They also offer by-the-hour video gaming and LAN gaming.

Stay safe

Saint John is safe compared to most cities; however, it is a good idea to walk on well-lit busy streets after dark and not on darker side streets. Street crime is rare but not unheard of. You are relatively safe in the commercial/retail area of Uptown, where the hotels are located. The South End, also known as, "uptown", can be dangerous in certain areas as well as the north end.

Go next