Saint John (Virgin Islands)
Saint John
is the smallest, but many say the prettiest of the
U.S. Virgin Islands
because of its world-class beaches. Two-thirds of Saint John is
Virgin Islands National Park
.
Cities
There are two main "communities" on the island:
, located on the western side of the island
, located on the southern side of the island. Coral Bay is known to be the more relaxed side of the island.
Understand
History
First settled by Taino natives and then by Carib natives who drove the Arawaks from the island in 1300. Discovered by Columbus on his second voyage to the "new world" and claimed for Spain. Later owned by the Danes, who sold it to the United States in 1917.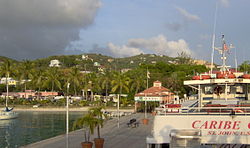 Get in
Ferries are available everyday from St. Thomas, departing from both Charlotte-Amalie and Redhook. The Redhook ferries run every hour from 6AM until 11PM, while Charlotte-Amalie only has 3 trips a day at 10AM, 1PM, and 5:30PM.
Both ferries arrive at the main ferry terminal in Cruz Bay. A taxi line is located next to the terminal, and the Vitran Bus also stops at the terminal.
Customs
It is customary to look all natives in the eyes and greet them with a "Good Morning" in the morning, "Good Afternoon" in the afternoon, and "Good Evening" after 5PM. It is considered to be respectful. It is also frowned upon by the locals for tourist to walk in public without shirts or shorts on. It is also legal to drink in public in the US Virgin Islands but no glass bottles can be brought to National Park beaches.
By plane
Fly into
Saint Thomas'
Cyril E King Airport
(
STT
), and take a taxi to the nearest ferry service (see below).

By boat
Hourly ferry service from Red Hook, Saint Thomas (a 20-minute ride) is available to Cruz Bay, St. John and operates from 6:30AM, then hourly from 7AM - midnight. Ferry service from St. John to St. Thomas runs on the hour from 6AM-11PM. Less frequent ferries travel between Charlotte Amalie, Saint Thomas and Cruz Bay, St. John (a 45-minute ride). Ferries also run to and from Virgin Gorda, Jost Van Dyke, and Anegada (in the British Virgin Islands).

Get around
Renting a car is the best way to see all the beaches and other sites. However, be aware that the terrain is extremely hilly, and you have to drive on the left. If you rent a car, it's a good idea to request a Jeep or other four-wheel-drive vehicle. If you are vacationing near Cruz Bay then using a cab service is an option. Cabs are affordable and plentiful, especially to the north shore beaches. However, if you renting a home outside of Cruz bay or in Coral bay then renting a car is necessary.
The Vitran bus service runs from Cruz Bay over Coral Bay to Salt Pond and back every hour and is a great and affordable ($1 per person) way to cross the island, or to get to any of the numerous hiking trails that start around Centerline Road. However, this bus schedule is very unreliable and should not be a travelers only source of transportation. Hitch hiking is also prevalent on the island.

See
Do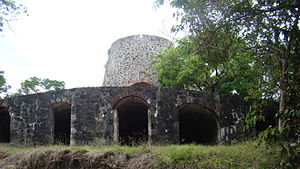 Take a tour by jeep and boat around the island or sit on the white sandy beaches.
Explore the island and stop at the beaches and spend all day snorkeling.
Take a guided kayak tour or snorkeling tour in Coral Bay
Miles of hiking trails criss-cross the entire island. Maps are available from the U.S. Park Service office in Cruz Bay. Ranger guided hikes can also be scheduled for a small fee at the same office.
Visit the Catherineberg Sugar Mill, Annaberg Sugar Plantation, or Cinnamon Bay Sugar Mill ruins.
Travel to Coral Bay and visit other popular beaches such as Salt Pond.
Visit some of the smaller bays like Denis Bay and Little Cinnamon. They can be a treck compared to Trunk Bay but are well worth it when you have a tropical beach to yourself.
Visit the beach at Trunk Bay, rated one of the most beautiful beaches in the world. Great place to Snorkel. The beach facilities include food, drink and showers.
Snorkeling Trip to Henley Cay, located just off of Caneel Bay Resort in the Durloe Channel. This tiny 11 acre cay is part of the Virgin Islands National Park. and is ranked one of the top snorkeling spots on St John, US Virgin Islands.
Learn
The surrounding woods and brush areas are often populated with wildlife. The park has 140 species of birds, 302 species of fish, 7 species of amphibians, 22 species of mammals and 740 species of plants. The only mammal native to St. John is the bat, and the six species are important pollinators of native plants. The island also has many other species of animals that are not native, including deer, goats, sheep, donkeys, cats, dogs, mongoose and pigs.
If you do go hiking on St. John, be cognizant of the some of the islands dangerous plants. Some of these include the Christmas bush which, similar to
poison ivy
, can cause a skin rash and of catch and keep which can cause serious cuts and of the rare but seriously harmful Manchineel tree.
Buy
Currency, its access, and customs considerations are basically the same as for Saint Thomas. Cruz Bay has a few merchants offering jewelry, liquor and souvenirs, but somewhat more genteel than in most cruise ports. For items that benefit from duty-free importation, prices generally rival those in Saint Thomas. (See this topic for Saint Thomas; most advice applies, though St John is seldom overrun by cruise passengers shopping.)
Island shopping ranges from walk-up drink and food shacks to a stylish, tiered, open-air galleria/mall. Most are in or within easy walking distance of the harbor, e.g., the gallery of shops at Mongoose Junction.
address: Cruz Bay

Mongoose Junction is a very popular shopping and dining spot on the shady end of Cruz Bay in a historic stone and mahogany setting joined by shady tropical garden courtyards. Unique and exceptional retail shops, art galleries and a varied selection of dining and bars make Mongoose Junction a great gathering place for island visitors and locals alike.

phone: +1 340 693 7599

Designer jewelry store located in Wharfside Village.
Eat
St. John has more than 35 places to dine, ranging from chic and expensive restaurants to funky beachside food stands. After dark the island comes alive with hotel and villa guests seeking out one of the island's cozy and romantic restaurants.
Budget
Vie's Snack Shack

address: East End, St. John

Vie's Snack Shack is a roadside snack bar with picnic tables, where you can find the best garlic chicken in the world! Vie also sells johnny cakes, conch fritters, and the likes, but the garlic fried chicken is unbelievable! If you are out on the East End of the Island, Vie is a must-try. Just hope you're not scared of a few chicken at your feet! Hi!

phone: +1 340-998-1333

address: Mongoose Junction Plaza

The Tap Room is connect with St John Brewers, and features a surprisingly tasty food menu along with their own brews, as well as cocktails and non-local beers. Air conditioned too. Great for a lazy afternoon when you need to escape the heat and rest after a day of swimming.
Mid-range
Shipwreck LandingLocated just outside Coral Bay on Route 107. The service is fabulous and the specials are worthy of any big city restaurant an unexpected gem and must eat. Closed from August 31, 2012 to early November.

North Shore Deli: Call 340-777-3061 or e-mail at northshoredelistj@gmail.com for advanced orders. Located on the north side of Mongoose Junction on the middle level. On-site prepared deserts and baked breads complemented by a variety of sliced meats, greens and sauces for a wide range of tasty deli sandwiches. Also offers chilled salads of many types, and a wide range of soft drinks, beer and some wines...to enjoy on-site or packaged for take-out.
De Coal Pot: Call 340-714-2625 or www.decoalpot.com for reservations. Located one full block directly east of the passenger ferry dock, then turn right a short distance to 19F South Bay Road. Modest dining room, friendly service and menu that offers generous portions of tasty, authentic Caribbean cuisine at modest prices for lunch and dinner. Complemented by a small bar.
Skinny Legs in Coral Bay offers specialty cheeseburgers, beers and more with a harbor side venue.
Drink
Woody's Seafood SaloonWoody's happy hour is daily, 3PM-6PM. Happy hour is nearing when you hear music from The Blues Brothers, and ends when the theme song from the TV show Rawhide is finished playing.
Sleep
Budget
phone: +1-340-776-6774 and +1-340-998-8388

Built and established in 1966 by the Hall Family. Ocean views all around, complimentary food, honeymoon package and free Wi-Fi available. Kitchenette or kitchen in all suites.
Mid-range
phone: +1-800-268-1038

A St. John Villa villas home for rent that overlooks Tortola, hurricane hole and coral bay.

phone: +1 340-776-6121

An intimate bed and breakfast inn set amongst Danish ruins.

phone: +1 617-429-6182

This villa sits on Gift Hill. Just minutes from beaches, Starfish Market grocery store and water sports. Complete privacy and easy driveway access.

phone: +1-340-776-6774 and +1-340-998-8388

Built and established in 1966 by the Hall Family. Ocean views all around, complimentary food, honeymoon package and free Wi-Fi available. Kitchenette or kitchen in all suites.

Round House

address: East End

Private villa perfect for nature lovers. It houses two-four persons comfortably. Overlooking Haulover Bay. It does not have the fanciest interior compared to some of the more expensive villas on the island. The house provides a 360 degree view through screened walls, with a deck that wraps around the house and overlooks the Bay. The bathroom is modeled after a sugar mill ruin.
Splurge
phone: +1 340 776-6111

A luxury beach resort in the Virgin Islands National Park. Caneel Bay offers meeting and wedding facilities, seven secluded beaches, family and honeymoon vacation packages, and meditation retreats.

Grande Bay Resort & Residence Club

phone: +1 340 693-4668

address: near Wharfside Village

Overlooks Cruz Bay and St. Thomas to the west and the British Virgin Islands to the east. It features fully furnished condominium style guest suites, a rooftop pool and spa, with a short walk to many shops, restaurants and nightlife.
St John villa Great Expectations Hart Bay. One of St John's most popular luxury rental villas. Accommodating large families or groups of couples traveling together with 4 master bedroom suites and 3 guest bedroom suites, private basketball and tennis court, wading and swimming pool, hot tubs, hammocks and sunrise and sunset views.
Stay safe
Crime is not a major problem in St. John. You will find residential villas and locals are very friendly. The usual common-sense precautions are advised, such as locking your doors, not displaying large amounts of cash, jewelry, or cameras (especially at Waterlemon Cay on the North Side of the island) Never use your car as a safe place for your wallet while at the beach. Otherwise, your stay on St. John should be worry-free.
Local information on crime on St John.
Go next