Saint Kitts and Nevis
Saint Kitts
and
Nevis
are a pair of tropical islands in the
Caribbean
, about one-third of the way from
Puerto Rico
to
Trinidad and Tobago
. It is called "The Mother Colony of the West Indies".
Understand
As if it were the custom in the Caribbean, Saint Kitts and Nevis changed hands many times between English and French, which has left it a heritage of cities with names from both countries. Contrariwise, the architecture in the island nation is very British (Victorian style) with driving on the left and especially in downtown Basseterre: Circus Place the reproduction of the 'Berkeley Memorial Clock'.
The islands became an associated state of the United Kingdom with full internal autonomy in 1967. The island of
Anguilla
rebelled and was allowed to secede in 1971. Saint Kitts and Nevis achieved independence in 1983. In 1998, a vote in Nevis on a referendum to separate from Saint Kitts fell short of the two-thirds majority needed.
There are also several ancient British fortifications which have been restored with minutiae and reproducing the tiniest details of original construction. Saint Kitts and Nevis will be called to be developed in the near future, in fact many projects are in progress or completion, notably vast dockings to accommodate the largest liners and cruisers with terminals, loading docks, etc.
What is really remarkable on Saint Kitts and Nevis is the natural aspect. Many tropical birds which one rarely finds elsewhere are present in great concentration in the nature and there are also the famous monkeys which, it is said, were introduced by the pirates. An all new road permits going to the southeast end of Saint Kitts (Turtle Beach) where one feels that a certain febrility in the air will make of this part of the island an appreciated place. Indeed, one has only to take a little adventure in the underwoods with some fruit in hand to see oneself quite soon surrounded by monkeys coming gently to meet one to get fed. For the inhabitants of the islands, on the other hand, the monkeys are not perceived as big a joy, for these pretty little hairy beings plunder the harvest and nose around everywhere they can go.
Climate
Tropical tempered by constant sea breezes; little seasonal temperature variation; rainy season (May to November).
Landscape
With coastlines in the shape of a baseball bat and ball, the two volcanic islands are separated by a three km wide channel called The Narrows; on the southern tip of long, baseball bat-shaped Saint Kitts lies the Great Salt Pond; Nevis Peak sits in the center of its almost circular namesake island and its ball shape complements that of its sister island. The highest point is Mount Liamuiga (Saint Kitts) at 1,156 metres.
Regions
Cities
Get in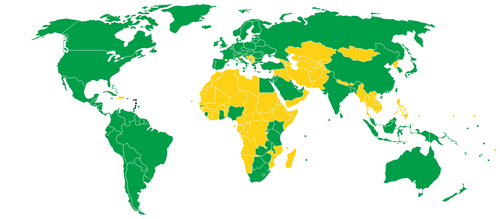 Entry requirements
Citizens of Commonwealth countries, Organization of American States (
except
the Dominican Republic), Puerto Rico, US Virgin Islands and the following countries do not require visas: Austria, Bahrain, Belgium, Denmark, Egypt, Finland, France, Germany, Greece, Iceland, Ireland, Israel, Italy, Jordan, South Korea, Kuwait, Liechtenstein, Monaco, Kingdom of the Netherlands (incl. Aruba, Bonaire, Curaçao, Saba, Sint Eustatius, and Sint Maarten in addition to the Netherlands in Europe), Norway, Oman, Qatar, Saudi Arabia, Spain, Sweden, Taiwan, Turkey, UK and the United Arab Emirates.
Visa applications must be mailed to the Embassy in Washington, D.C. Included in your submission should be the original completed application form (you cannot copy the form and send it), your passport (valid for at least 6 months after visiting Saint Kitts and Nevis, 2 passport-size photographs and the visa fee ($50). You must also include the mailing fee. The normal fee is $5, but if you want express overnight postage, the fee is $15.75.
By plane
Daily flights are available from San Juan, PR on American Eagle, as well as through British Virgin Islands/Tortola. American Airlines flies three times a week from Miami (more flights during the tourist season), twice a week to New York. Delta Air Lines has non stop service to St. Kitts from Atlanta.
From Britain, British Airways has non-stop flights from London Gatwick. These flights are once a week, on Saturdays.
From Canada, there is a non-stop flight from Toronto to St. Kitts beginning in December until April with Air Canada Rouge.
Leeward Islands Air Transport (Antigua, Barbados, Guyana, St. Croix, St. Kitts, St. Thomas, San Juan, Tortola) DHC8-100, 300
By boat
There is a cruise ship terminal as well as a marina for yachts in Basseterre.
Take a catamaran/snorkel excursion with Blue Water Safaris or Leeward Island Charters.
You can also charter a boat with
No Problem Boat Charters
.
For the ferry from St Kitts (Majors Bay) to Nevis (Cades Bay) you can take the Sea Bridge which runs from 8AM till 7PM (
sailing times
).
Get around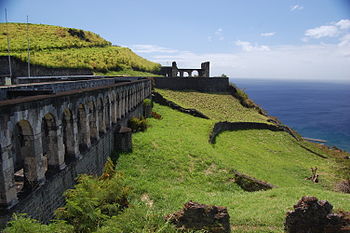 By train
There is a
scenic railway tour
that goes on portions of the narrow gauge railway that was used for the sugar mill. If more than one large cruise ship visits the island, organized train tours can fill the train. The train has double-decker observation cars; the upper level is open with a canopy. Each car has a restroom and bar, and a choir may be on hand to sing Caribbean favorites. If you're new to narrow gauge rail travel, the track has more and tighter bends than a standard gauge railway. This leads to more swaying of the cars and more frequent screeching as the wheels go around curves.
By car
Taxis and buses outnumber those needing them in St. Kitts. Be sure to negotiate upfront the costs of the trip, pay special attention if the fare is in US or EC dollars.
Temporary drivers licences are available, and there are several car rentals agencies.
There are many popular tour guides in St. Kitts that will give you a tour of the island. One such tour guide is Thenford Grey's Island Tours or
Grey's Island Excursions
.
By bus
Micro buses form the public transportation system on the island. These are much cheaper than taxis and can be flagged down while in route. If they are full the driver will flash their lights and proceed on. Service does not generally extend to Frigate Bay or the Southern Peninsula. That is the domain of taxis. Taxis and Buses use the same format of Micro buses, the difference is that taxis have a yellow license plate and start with the letter T and buses have a green one which starts with the letter H. Bus fare varies but in 2005 was EC$1.25-5.00 depending on length of trip.
Talk

The language of Saint Kitts and Nevis is English. However if you have never visited the Caribbean before you may have difficulty understanding the patois, or more correctly the Creole language, spoken by the locals which is based on the English language but to the untrained ear sounds nothing like it.
For example "a-come" means coming "a-knock" means knocking. Most notable is the simplification of use of pronouns as in "I and I" which replaces all other pronouns like she/he, we/my, yours, hers/his and ours. The Caribbean patois has its roots not only in African languages (west, central and Nigerian), standard English, Scottish and Spanish but also Perso-Arabic and Sanskrit. Unusually the end result is not just a language but also a philosophical statement which emphasises the group relationship rather than the personal.

See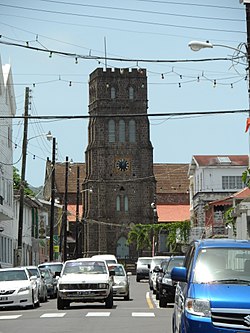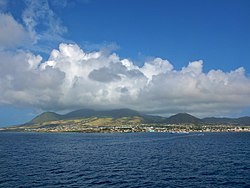 Of course, with an area no larger than 261 km2, Saint Kitts and Nevis has a somewhat limited (but not absent!) array of typical sights. It's hardly a set back for visitors to these two small islands though, as they have all the enchanting natural beauty of the Caribbean.
Its strategic location made Saint Kitts a colonial hotspot and a focus point of European nations in their struggle for power over the West Indies islands. The colonial settlers rapidly expanded sugar plantations and imported African slaves, thus laying the foundations for the islands' colourful culture. Festivities, crafts and other displays of that culture are among the islands' main tourist attractions now, as are the ruins of the many
plantations
. The
Scenic Railway
, travelling on the tracks of the old sugar train railway, is a great way to see the best of them. However, nothing makes the islands' history as tangible as the impressive and well preserved remains of the
Brimstone Hill Fortress
. It's both a national park and a
UNESCO World Heritage
Site and provides some stunning views over the surrounding area and even some nearby islands. Only a few ruins and some cannons remain of
Fort Charles
on Nevis, the fortifications of
Charlestown
.
Basseterre
is a pleasant place and has a view sights, including
St. George's Anglican Church
and
Indepence Square
, once the site of the slave market. The impressive 1894
Old Treasury building
, built as the gateway to
Basseterre
, is an important historic sight but also houses the
National Museum
with expositions on the history, identity and independence of the island.
The islands' countryside is lovely, with panoramic views of green hills covered in rain forest as well as beaches and of course the bright blue sea. The main road circling the island will take you to most points of interests, some great beaches and several villages. The hike up
Mount Liamuiga
, a dormant volcano on St. Kitts and the highest peak of the islands, is particularly popular and worthwhile for the great views from the top.
Diving
Diving sites
are ample and gorgeous, serving both beginning and experienced divers. Of course there's a broad and colourful range of
reefs and sea life
to see, but also
ship wrecks and caves
. For beginners, the
Monkey Shoals
and
Friars Bay Reef
are good and easily reachable sites.
Sandy Point
is a National Marine Park for its beautiful coral heads and magnificent sea life. The
Wreck of River Taw
,
M.V. Talata Wreck
and the more recently sunk
Wreck of the Corinthian
are popular sites.
Turtle Bar
is of course famous for the many turtles that roam the site, but you'll also commonly spot them at
Frigate Bay Reef
. For more experienced divers, the strong currents at
Nags Head
are a nice challenge, and the broad range of fish at
Aquarium
is a good spot.
Do
Buy
Money
The currency of the country is the
East Caribbean dollar
, denoted by the symbol: "
$
" or "
EC$
" (ISO currency code:
XCD
), which is also used by seven other island nations in the Caribbean. The EC dollar is subdivided into 100 cents. It is pegged to the United States dollar at an exchange rate of US$1 = EC$2.70.
Coins circulate in denominations of 1, 2, 5, 10 and 25 cents and 1 dollar. Banknotes circulate in denominations of 10, 20, 50, and 100 dollars.
Shopping
Just in the Sun Boutique, Marriott Resort, Frigate Bay, St. Kitts
Splash Boutique, TDC Mall, Basseterre, St. Kitts.

Island Living35 steps from the anchor on the pier, Charlestown.
See also discussion of this topic under BasseTerre.
Costs
Contrary to the myth that all Caribbean countries are expensive, prices on Nevis are pretty reasonable. Fuel is expensive as it has to be imported but as the island is small you won't be using that much anyway. Many everyday products can be bought at a reasonable price and depending where you go eating out is affordable for most. Fresh food although limited in choice by American and British standards is also reasonably priced.
Eat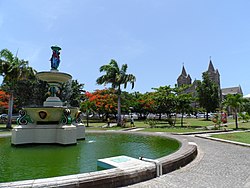 There are many dining options in St. Kitts. Some of the popular restaurants are:
You'll find lots of beach bars located in the Frigate Bay and South East Peninsula.
Drink
Lion's Beach Bar, Cockleshell Beach.

Sunshine's Beach Bar and GrillPinney's Beach on Nevis.

Reggae Beach Bar and Restaurant

address: Cockleshell Bay

phone: +1 869 469-1382

address: Nelson Springs Nevis

Idyllically located on the beach facing St. Kitts with Mt. Nevis in the background. Enveloped by lush gardens. Beach lounge chairs.
Sleep
The St. Kitts Marriott Resort and The Royal Beach Casino

phone: +1 869 466-1200

In the Frigate Bay area of the island. Just a 10-minute drive from the airport and capital city Basseterre. The resort offers 573 rooms and suites. North Frigate Bay Beach, a championship golf course and the largest Vegas-style casino in the Caribbean help provide an excellent vacation experience. The resort also features a revitalizing spa, meeting facilities, the Pirates of St. Kitts Kids Club program, eight restaurants and two lounges.

Ottley's Plantation InnOn an old plantation estate about 7 miles from Basseterre, on the Atlantic side of the island. Offering rooms in the Great House and several cottages around the grounds - some of which come with their own plunge pools. The Royal Palm is the restaurant on the property, built on top of the ruins of the old sugar refinery. They also offer destination wedding packages.

Ocean Terrace InnIs in the Fortlands area of Basseterre, overlooking the main harbor (Port Zante) as well as the Deep Water Port across the bay in Bird Rock. There are several restaurants run by OTI, including the Pool Bar and Grill, Waterfalls, and Fisherman's Wharf across the street (down on the waterfront).

Reggae Beach Bar and Restaurant

address: Cockleshell Bay
Stay safe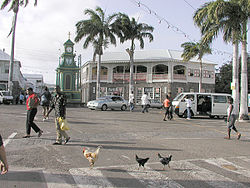 The Mount Liamuiga hiking excursion offered by many cruise ship lines involves some climbing, at times necessitating the scaling of rocks by hand. To reach the last lookout, you have to grab onto a rope and hoist yourself onto a rock ledge and climbing over large fallen trees.
The trails are not marked, and consist of little more than a space between two trees, or two rocks and can be muddy, there is little shelter from the rain, and no toilets.
Saint Kitts and Nevis is unfortunately within the Caribbean
Hurricane Belt
and so all the protocols relating to
hurricane safety
should be followed if you are travelling during hurricane season.
Stay healthy
Respect
It is important when in the city and other public places (airport, downtown, stores) to wear shoes and a shirt. It is a sign of disrespect to be wearing beach attire in the city. Loud public swearing is also looked down upon and you can be fined for it.