Saint Lucia
Saint Lucia
is an island nation in the
Caribbean
. It is called the "Helen of the West Indies". Saint Lucia is a popular destination due to its tropical weather and scenery and its numerous beaches and resorts.
Other tourist attractions include a drive-in volcano and sulphur springs (both in
Soufrière
), the Botanical Gardens, the Majestic twin Peaks "The Pitons", a world heritage site, the rain forests, and Pigeon Island National Park, which is home to Fort Rodney, an old British military base.
The twin Pitons (Gros Piton and Petit Piton) are striking cone-shaped peaks south of Soufriere that are one of the scenic natural highlights of the Caribbean.
Understand
Tourism is vital to Saint Lucia's economy. Its economic importance is expected to continue to increase as the market for bananas becomes more competitive. Tourism tends to be more substantial during the dry season (January to April).
History
Saint Lucia's first known inhabitants were Arawaks, believed to have come from northern South America around 200-400 CE. Numerous archaeological sites on the island have produced specimens of the Arawak's' well-developed pottery. Caribs gradually replaced Arawak's during the period from 800 to 1000 CE.
Europeans first landed on the island in either 1492 or 1502 during Spain's early exploration of the Caribbean. The British failed in their first attempts at colonization in the early 17th century. The island was first settled by the French, who signed a treaty with the local Caribs in 1660. Like the British and Dutch, the French began to develop the island for the cultivation of sugar cane on extensive plantations.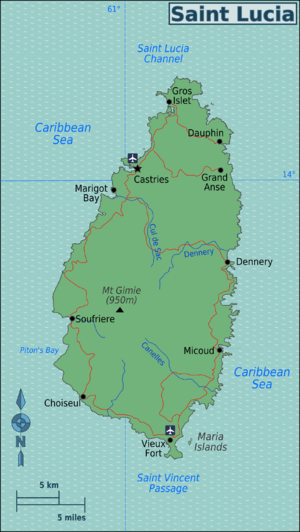 Caribbean conditions were hard, and many slaves died before they lived long enough to have children. The French (and later British) continued to import slaves until the latter nation abolished the trade, and then the legal institution. By that time, people of ethnic African descent greatly outnumbered those of ethnic European background. Following the abolition of slavery, the British brought in many indentured
Indian
labourers to work on the plantations instead, and a significant minority of Saint Lucians are of at least partial Indian descent.
Thereafter Saint Lucia was much contested by the two European powers until the British secured it in 1814. It was part of the British Windward Islands colony. It joined the West Indies Federation (1958–62) when the colony was dissolved. In 1967, Saint Lucia became one of the six members of the West Indies Associated States, with internal self-government. In 1979 it gained full independence.
Climate
Tropical, moderated by northeast trade winds; dry season from January to April, rainy season from May to August; Experiences hurricanes.
Terrain
Volcanic and mountainous with some broad, fertile valleys.
Natural hazards
: volcanic activity.
Highest point
: Mount Gimie 950 m
Cities
Get in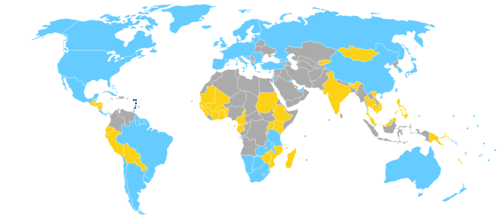 Entry requirements
Citizens of the following countries do not need visas:
Andorra, Antigua and Barbuda, Argentina, Austria, Bahamas, Barbados, Beglium, Belize, Bosnia and Herzegovina, Botswana, Brazil, Brunei, Bulgaria, Canada, Chile, Cuba, Cyprus, Czech Republic, Denmark (includes Faroe Islands and Greenland), Dominica, Estonia, Eswatini, Fiji, Finland, France, Georgia, Germany, Greece, Grenada, Hungary, Iceland, Ireland, Israel, Italy, Jamaica, Japan, Kiribati, South Korea, Kuwait, Latvia, Lesotho, Liechtenstein, Lithuania, Luxembourg, Malawi, Maldives, Malta, Marshall Islands, Mauritius, Mexico, Monaco, Montenegro, Namibia, Nauru, Netherlands, New Zealand, Norway, Panama, Poland, Portugal, Romania, Russia, Saint Kitts and Nevis, Saint Vincent and the Grenadines, Samoa, San Marino, Seychelles, Singapore, Slovakia, Slovenia, Solomon Islands, South Africa, Spain, Sweden, Switzerland, Taiwan, Tanzania, Tonga, Trinidad and Tobago, Turkey, Tuvalu, United Kingdom, United States, Uruguay, Vanuatu, and Zambia.
For dependencies:
The Dutch municipalities of Bonaire, Saba, Sint Eustatius, and the Dutch constituent countries of Aruba, Curaçao, Sint Marteen
The French overseas collectivities of French Polynesia and Saint Martin
The French overseas regions of French Guiana, Guadelope, and Martinique
The British Overseas Territories of Anguilla, Bermuda, Cayman Islands, Gibraltar, Montserrat, Saint Helena, and the Turks and Caicos Islands
All three British Crown Dependencies
Guam and the Northern Mariana Islands.
If your nationality is not mentioned anywhere above, you will need to apply for a visa.
As of the moment, citizens of Haiti do need visas but this is temporary.
Most nationalities pay $50 for a single-entry tourist visa. It lasts 6 weeks, and extensions can sometimes be made at Saint Lucia's immigration department.
You must have a completed application form, passport, 1 passport-size photo, funds to cover your stay, the $50 fee, and an travel ticket for leaving Saint Lucia to get the visa.
Everyone will need a passport except citizens of countries in the OECS. For stays of 6 months or less, citizens of Canada or the USA can enter with any type of national ID card and proof of an onward ticket.
By plane
St. Lucia has two airports,
George FL Charles Airport (SLU

), which is near Castries.

Hewanorra International (UVF

), which is near Vieux Fort.
George FL Charles Airport is closer to many of the all-inclusive resorts, has a modest terminal and runway able to easily support inter-island commercial flights. For less-experienced pilots in high-performance aircraft, the over-water approach and hills on both sides of runway can seem a bit harrowing, but prevailing winds are usually favorable. The airport is right next to Vigie beach, so it's possible to top up your sun tan while you wait for your flight. The terminal is about two miles from downtown Castries, so it is walkable if you do not have much luggage.
Hewanorra is the larger of the two airports in St. Lucia. International flights from Europe and continental North America arrive at this airport. Many of the resorts in the north of St. Lucia require a 1 to 1.5 hour journey by car from Hewanorra. However, the journey north is a good way to see the island except if arriving at night. It is recommended to either have a rental car available or to take a taxi as public transportation is inconsistent throughout the island. Expect to pay 80 to 90 USD for a taxi ride to the Rodney Bay resort area in the north of the island.
More information on both airports can be found on the official website for the St.Lucia
Air and Sea Ports Authority
By boat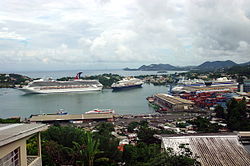 Cruise ships (usually one or two at a time) are frequent visitors to the small, picturesque harbor in
Castries
. An open air mall abuts the main pier and offers "duty free" shops. See "Buy" below. Visiting St. Lucia via a cruise is a popular option for travelers. During cruise season, many attractions throughout the island may be busy due to the volume of visitors from the ships.
Ferries to and from neighbouring islands are available, if rather expensive.
The most extensive official service is operated by
Express des Isles
, which runs services to
Martinique
,
Guadeloupe
, etc. E.g. one way to Martinique is €69 online + EC$ 33 harbour tax payable at ferry terminal.
Channel Shuttles Inc. operate a slightly cheaper ferry service (235 ECD including departure tax) to
Martinique
operating from
Castries
at 10.00 on Wednesday and 15.00 on Thursdays. They can be contacted on 7139701/4518161 or their office can be found in the ferry terminal just outside of
Castries
.
Catamaran rides from
Soufriere
to Rodney Bay are also offered through a local tour company (to be updated).
Get around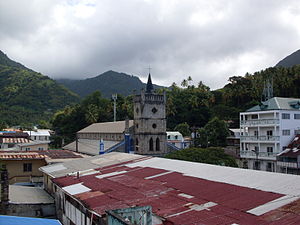 The main way for tourists to get around St. Lucia is by taxi, either arranged by the hotel, taxi agency or individual operators. The tours arranged by resorts are usually the most expensive way to travel but might offer food and drink. Using a local taxi operator to plan your own adventure will be much more affordable. Your hotel staff should provide you with a number of a taxi agency or operator that they use regularly. The prices are generally fixed but you can shop around to get the best rate if given several numbers. Many taxi drivers that run from the resorts to the marketplaces will offer tours of the island for around $145 per van load. Each van will hold between 6 and 12 people.
For the budget travellers or the more adventurous tourists, local buses provide a cheap and fun way of getting around. They are small vans which hold around 10-14 people and vary in quality. They run irregularly, but frequently from rural towns to urban centers, (i.e.
Soufriere
to
Castries
,
Soufriere
to
Vieux Fort
,
Vieux Fort
to
Castries
), each day most travelling to
Castries
in the morning and returning to
Soufriere
late afternoon. They are very affordable and provide a unique experience each time; the vehicle operators often decorate the interiors and play their own music, either a mix of Caribbean flavours or country. If you want to try and take a transport discuss your route and travel time with one of the local staff familiar with the bus system. Many of them likely take a transport to and from work.
Water taxis are a main source of income for many locals and can be a much quicker, convenient and picturesque method of traveling short distances to private beaches or coastal towns. Many water taxi operators in the Town of Soufriere can be found at the jetty. The rates of these drivers are a little high and can be bargained down. There are a few taxi owners who regularly play dominoes and sell drinks near the Hummingbird Hotel and
Soufriere
beach. They can offer a much cheaper rate. From
Soufriere
, you can take a water taxi to Anse Chastenet and Jalousie Beaches.
A helicopter taxi can be taken from Hewannora airport to Vigie airport and is a quick and spectacular way to get to the resorts on the Northern end of the island.
Renting a car is also possible at rates similar to those found in the United States or Canada. Driving is on the left-hand side and drivers require a permit ($12 US for one day, $21 US for 3 months).
Windward Islands - Windward Islands, the yacht charter company, can take care of all charter requirements, from bareboat to crewed in St Lucia (starting Rodney Bay and Marigot Bay), Martinique and St Vincent. Operating from 8 offices (USA, UK, Germany, France, Spain, Switzerland, Caribbean, Monaco).
Talk
; Languages : English (official), French patois
Virtually all residents will be able to converse with travellers in English.

See
The Pitons - Two volcanic plugs arising from the sea created by volcanic activity in the past. They are listed as an UNESCO World Heritage Site and depicted in the national flag.
Pigeon Island nature reserve - just north of Gros Islet, the park has some of the oldest buildings on St. Lucia and affords views across to Martinique.
The green flash, if you're very lucky. This is sometimes seen in the tropics in the last split-second of sunset, when just as the sun vanishes the sky above it is momentarily a brilliant green. Conditions have to be just right: you need a hot calm day, with a clear view out to the sea horizon. Even then, most evenings all you'll get is a false flash, when staring towards the sunset leaves a green after-image on your vision. You'll begin to doubt it exists, but keep watching for it every clear sunset. Once seen, never forgotten.
Do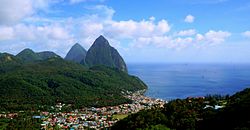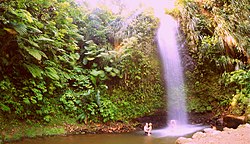 The Sulfur Springs - just south of Soufriere, these hot springs are one of the main attractions on the island. There is a pool that the hot water runs through, so make sure to take your swimming trunks and go for a dip!
Rainforest hikes - there are several official hiking routes on the island. The Ministry of Agriculture Forestry and Fisheries site has links to information about the ones they support.
Climbing the Gros Piton is an achievable goal for most people. The trailhead begins at an elevation of about 600 feet (approx. 180 m) above sea level and requires about two hours of moderate to strenuous hiking to reach the summit of about 2600 feet (approx. 800 m) above sea level. A further 1-and-a-half hours are needed to descend. Guides are required and entrance costs $30 US. Taxis or local buses can be used to reach the trail head.
Snorkeling is popular and a number of beaches are suitable.
SCUBA diving - done at Pigeon Island, one of the island's Historical Landmarks, as well as between The Pitons, a World Heritage Site. (758) 484 3346/ (758) 285 7354.
Ziplining - Several courses are offered throughout the island. The courses in the northern part of the island are more complex and offer views of the rainforests. The course at the Morne Coubaril Estate by Soufriere is simpler and provides a view of the Pitons.
Buy
Money

The currency of the country is the East Caribbean dollar, denoted by the symbol: "$" or "EC$" (ISO currency code: XCD), which is also used by seven other island nations in the Caribbean. The EC dollar is subdivided into 100 cents. It is pegged to the United States dollar at an exchange rate of US$1 = EC$2.70.
Coins circulate in denominations of 1, 2, 5, 10 and 25 cents and 1 dollar. Banknotes circulate in denominations of 5, 10, 20, 50, and 100 dollars.

Shopping
Castries market is a good place to buy gifts as is the JQ Shopping Mall in Rodney Bay. There is also La Place Carenage, a duty free and gift and souvenir outlet located in the main harbour of Castries. There you will find fine jewellery arts and crafts, ideal for gifts.
Supermarkets have quite good prices on rums produced or bottled on the island, e.g., Elements 8, Admiral Rodney, and especially Chairman's Reserve.
Visits by cruise ships over the years have generated a duty free mall (at dockside, Point Seraphine, Castries) with jewelry, souvenirs, art, liquor/rums and other offerings typical for cruise shoppers.
You may also find lower, "duty-Free" prices available across the island in strip malls and resorts. You may need identification as a visitor to qualify for duty-free treatment.

Eat
Local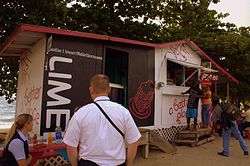 St Lucian food consists mainly of fresh fruit and vegetables, fish and a variety of curry, jerk, rice and stewed dishes. The coal pot is a delicious stew, traditional to native carib cultures and can be found at many local restaurants in Castries, Soufriere and Vieux-Fort. Vegetarian and meat rotis can be found at a number of small local restaurants. Ask any local for the best roti shop and he or she will tell you how to get there. Rotis are usually made fresh in the morning so, if eating a spicy early lunch is of interest, it's highly recommended. Local cuisine is prepared throughout the island so, depending on where you are staying, ask a local if he or she knows someone/somewhere that prepares local food and you will be sure to be welcomed somewhere nearby. Many rum shacks in rural towns also prepare food if given advanced notice. Fish, veggie, chicken and goat meals are very common and usually come with a number of sides including salad, plantain, breadfruit, macaroni, and rice prepared a number of different ways.
For a quick snack, barbeques with chicken and pork can be found in any community on a Friday night. The food is well marinated and spiced. Soak up the sauce with a barbequed or fried bake. Fried chicken and fish can also be found, and are quite delicious.
There are weekly parties and festivals held in various communities throughout the island where you can also sample a range of local foods, including sea food, barbequed meats, salads and drinks. These festivals are filled with dancing, drinks, food and music. Let your hair down, try some cuisine and lime it up. Be sure to ask what is in the pots before you sample the food. For those environmentally conscious, blackfish is porpoise.
Friday night: Anse La Raye "Seafood Friday"
Friday night: Rodney Bay Jump-up
Every Second Saturday: Canaries Creole Pot
Saturday: Dennery (East coast) Fish Fry
International
Rodney Bay is full of people from all over the world and the restaurants reflect the diversity. You can find a variety of cuisines, from East Indian to Italian including local dishes of course, in a small area.
Drink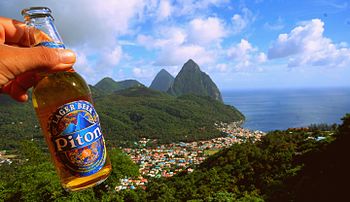 Saint Lucia Distillers produces a variety of rums across a wide price range.
1931 - A super premium series of rum that's produced in limited quantity batches each year
Chairman's Reserve - Premium rum that includes a spiced rum, a white rum, and two dark rums
Crystal Lime - A rum-based lime liqueur
Bounty - A mass market red rum that's commonly drunk on the island
Marigot Bay Liqueurs - Rum-based cream liqueurs. Varieties include coconut and banana
In addition to rums, Piton Lager beer is brewed and bottled on the island and is quite good. It has 5% alcohol by volume, a slightly greater percentage than most American beers but very much in line with many European beers.
Sleep
St. Lucia is home to a huge number of resort hotels as well as small boutique hotels and self-catering villas, condos, and vacation apartments.
address: Rodney Bay, Gros Islet

Good location.

address: Rodney Bay, Gros Islet

Small hotel resort with 37 rooms and a spa.

address: Castries

Self-catering beachfront villas.

address: Marigot Bay

5-room hotel overlooking Marigot Bay.

address: Castries

phone: +1-800-263-4202

address: 177 Seaview Ave

Oasis Marigot is a vacation community nestled on the hillside overlooking Marigot Beach. It offers different types of accommodations to fit a range of budgets. All units enjoy a spectacular view of the bay.

phone: +1 758-456-9000

address: Labrelotte Bay

Mediterranean village-style resort on 55 acres of lush tropical landscaping overlooking picturesque Labrelotte Bay.

phone: +1 758 456-8000

address: Forbidden Beach Soufriere

Beach resort, embraced by the majestic Pitons.

Harbour Lights inn

phone: +1 758-452-3506

address: Castries, City Gate

A cheap guest house just next to the Vigi airport. Rooms include showers and toilet, and A/C rooms are available for extra money. Has Wi-Fi.

Bay Gardens Beach Resort and Spa

phone: +1 758-457-8500

address: Rodney Bay, Gros Islet

4-star Caribbean beach resort located on Reduit Beach.

phone: +1 758-457-8000

address: Rodney Bay, Gros Islet

Medium-sized 3-star property, 5 minutes away from sister property, Bay Gardens Beach Resort.

phone: +1 758-452-8200

address: Rodney Bay, Gros Islet

Cozy, intimate 3-star hotel, voted Best Small Hotel in the Caribbean by Virgin Holidays.

phone: +1 758 457-8670

address: Smugglers Cove Dr

Designed in an elegant Spanish Caribbean style, Cap Maison is a stylish boutique resort.

phone: +1 305-471-6170 (N.A.), +44 20 8741-5333 (UK)

address: Castries

A peaceful resort.

La Panache Ocean View GuesthouseNear Gros Islet, Rodney Bay and the marina yacht harbour, on a hill with a nice view. All apartments are equipped with a basic kitchen, bathrooms and ocean view balconies. High speed wireless Internet access is free.
All-inclusive resorts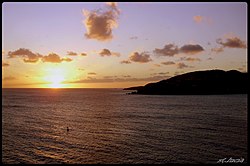 Learn

The island has a rather turbulent history. It's worth taking a "Jungle Safari" around the rainforests, as this also includes much information on the island itself.
There is a marine sanctuary (national park) on one side of the island by the Anse Chastenet resort. Great spot to learn about local marine life & ecology

Stay safe
St Lucia is not an incredibly dangerous place, but rates of homicide, rape, and mugging have increased drastically over the past several years. You should exercise the same caution as you would at home. You should also try to stay in groups and be careful in any secluded area. Muggings at gunpoint while you are in the water have become increasingly popular criminal activities, so make sure to hide your valuables. Pickpockets are in every country - just be careful in crowded areas.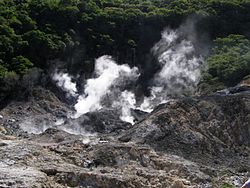 Use of camouflage bags is illegal in Saint Lucia if you're not military personnel. If you show up at the airport with one, it will be confiscated.
Street vendors are decidedly less aggressive than most Caribbean nations. A simple "no thank you" is sufficient.
Some of the locals will offer gifts when you stop however don't be naive - they expect something in return, so either refuse the gift in the first place or be prepared to pay a dollar or 2 for the proffered "gift". These people are very poor and unemployment is high so tourists are often the sole means they have to make some money.
Driving can be fun, but you should be a confident driver as driving is on the left, the roadways can be narrow, steep and in rough condition. A 4x4 or similar high-clearance vehicle is necessary if you decide to venture into the mountains. There's only one main roadway so it is difficult to get lost, but should it happen the locals will help you find your way.
Sexual acts between men are illegal and carry a custodial sentence of up to 10 years, though it is not known how strictly this is enforced. Gay travellers should be safer here than in, for example, Jamaica. However caution is advised and public displays of affection may be met with hostility. There is no law which explicitly forbids lesbianism.
Stay healthy
This island is a series of hills and mountains. The main west coast roadway is the most hair-raising series of winding hair pin turns you have ever seen, particularly between Castries and Soufriere. The east coast roadway is more direct but it still takes approximately 90 minutes to drive from the airport in Hewannora (UVF) to Castries and Gros Islet in the north. In preparation for the shuttle, people who are staying in the north and are prone to motion sickness, should bring Dramamine and take it immediately upon arrival at Hewannora Airport.
Tap water
is safe to drink, however bottled water is widely available for those who desire it.
Respect
All beaches on St. Lucia are open to the public.
Nude sunbathing is illegal in St. Lucia.