Saint Paul
Saint Paul
(or
St. Paul
) is the capital city and the second largest city of the US state of
Minnesota
. Along with the slightly larger
Minneapolis
it forms the urban core of the
Twin Cities
region, the third largest metropolis in the
Midwest
.
Understand
Geography
Saint Paul is in the Upper Midwest along the
Mississippi River
, just east and downstream of its sister city Minneapolis. Its location near the head of navigation on the Mississippi River led to its historical development as a transportation hub for freight from the west and to the east and south. The geologically recent Mississippi River is a prominent feature of the landscape, traversing the city from the upscale riverside homes in Highland Park to the undevelopable floodlands near the junction with the Minnesota River, through the historic downtown riverboat landings and railroad infrastructure, the Mississippi River is the defining feature of Saint Paul.
Climate
Winters in Saint Paul can be very cold, summer is often warm to hot and frequently humid, snowfall is common in the winter and thunderstorms with heavy rainfall occur during the spring, summer and autumn. If you are not fond of the cold, May-October would be the best time to visit Saint Paul. Downtown Saint Paul has a skyway system to allow you to escape the elements in bad weather, although it isn't nearly as extensive as the one in downtown Minneapolis.
Visitor information
Get in
By plane
Minneapolis-Saint Paul International Airport (MSP

) is just outside the southwest corner of the city. It is a major hub for Delta Air Lines and also a hub for local discount carrier Sun Country Airlines. Metro Transit provides bus service between the airport (at Terminal 1) and downtown Saint Paul on Route 54, which runs along West 7th Street. The bus comes by every 15 minutes on weekdays and Saturdays, every 20 minutes on Sundays, and the trip time from the airport to downtown is roughly 20 minutes. If your flight arrives at Terminal 2, take the light rail (free fare between terminals) one stop north to Terminal 1 and transfer to the bus. Taxi fare from the airport to downtown is around $31-38.
By train or bus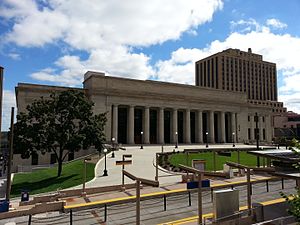 is the hub for inter-city train and bus services in Saint Paul.
By car
Interstate 35E and Interstate 94 travel through Saint Paul. US 52 also is a freeway connecting Saint Paul to the southern suburbs.
Get around
By public transit
phone: +1 612 373-3333
Operator of the public transit system in the Twin Cities.
METRO Light Rail. The Green Line runs from downtown Saint Paul to downtown Minneapolis. The line starts at Union Depot and runs down 4th Street and Cedar Street, goes past the State Capitol, and then runs west down University Avenue through the Frogtown and Midway areas before reaching the city of Minneapolis. Trains run every 10 minutes during much of the day, with service being reduced to every 15 minutes later in the evening, and then just hourly during the overnight hours.
Bus. Bus service in Saint Paul has improved in recent times, even if it doesn't quite match up to services in Minneapolis. The 54 runs fairly often between downtown Saint Paul and the airport via West 7th Street. The A Line runs frequently along Snelling Avenue and Ford Parkway. The A Line is also different from the other bus lines in town in that fares are paid before boarding the bus; each stop has a ticket machine (cash and credit cards accepted, no change given) and a Go-To card validator.
Pass options
Unlimited ride passes are available in 1-day, 7-day, and 31-day formats. Stored value passes (pay-per-ride) are also available. Day passes are $6 and can be purchased
online
, at a Metro Transit Store, from a bus driver, or a ticket machine at any light rail station or A Line bus stop. 7-day ($24) and 31-day ($65-120) passes must be loaded on a
Go-To card
, which can be purchased online, at a Metro Transit Store, or participating Metro Transit sales outlets. Stored value passes can be loaded on a Go-To card in increments of $10 (up to $400). Once in possession of a Go-To card, reloading it with new unlimited ride passes or stored value is easy and can be done online, at Metro Transit stores and outlets, or at light rail ticket machines.
See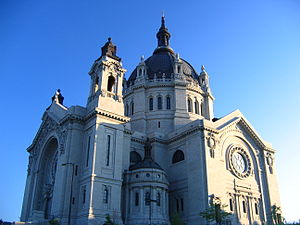 phone: +1 651 225-6001

address: 10 W 7th St

At Minnesota Children's Museum, kids will have a blast discovering an exciting, immersive world that arouses their curiosity, increases their understanding, and ignites an appreciation for learning. Each of the Museum's seven galleries is uniquely designed to provide a hands-on, stimulating environment for children six months to 10 years old. Roving "funstigators" engage kids in fun and interactive smart play as they blow bubbles, toss balls, play with finger puppets, and provide a variety of stimulating play experiences for children of all ages.

Minnesota Museum of American Art

phone: +1 651 797-4057

address: 332 N Robert St

The address above is for the MMAA Project Space, a small gallery in Lowertown with rotating exhibits; the MMAA also hosts temporary exhibitions at other venues around the Twin Cities and greater Minnesota. A more permanent location for the museum is in the works. The MMAA is committed to representing the great cultural, racial, socioeconomic and regional diversity of American art and artists – past, present, and emerging.

Summit AvenueNoted for its historic mansions. This neighborhood is also remarkable in its connection to the writer F. Scott Fitzgerald, who was born in Saint Paul.

phone: +1 651 297-2555

address: 240 Summit Ave

Tour the 1891 mansion of the famous railroad tycoon.

Grand AvenueRuns parallel to Summit one block to the south. Noted for its multitudes of shops, although chain stores are increasing their presence at an alarming rate.

phone: +1 651 296-2881

address: 75 Dr Martin Luther King Jr Blvd

The headquarters of the Minnesota state government, completed in 1905 (construction started in 1896). This is the third building to serve as the state capitol—the first two are no longer standing—and it features the second-largest unsupported marble dome in the world, only bested by the dome of St. Peter's Basilica, which the Minnesota Capitol dome was partially modeled on.

Como Zoo and Marjorie McNeely Conservatory

phone: +1 651 487-8200

address: 1225 Estabrook Dr

phone: +1 651 224-1191

address: 215 S Wabasha St

Tour these sandstone caves, which had been home to gangsters and speakeasies in the 1920s.

phone: +1 651 292-3233

address: 75 W 5th St

Built as a post office and a federal courthouse, this historical building now houses galleries and exhibits.

phone: +1 651 221-9444

address: 120 W Kellogg Blvd

The Science Museum overlooks the Mississippi River and has a permanent exhibit devoted to the river. The museum also has a dinosaur fossils gallery and an experiment gallery with various hands-on activities. The collections gallery includes several quack medical devices from the now-defunct Museum of Questionable Medical Devices.

phone: +1 651 259-3000

address: 345 W Kellogg Blvd

The state of Minnesota's main history museum, operated by the Minnesota Historical Society. Permanent and rotating exhibits on view.

phone: +1 651 228-0263

address: 193 Pennsylvania Ave E

An old railroad roundhouse where historic locomotives and rolling stock come for restoration and maintenance. Also offers train rides.

phone: +1 651 228-1766

address: 239 Selby Ave

Serves as co-cathedral for the Archdiocese of Saint Paul and Minneapolis along with the Basilica of Saint Mary.

phone: +1 612 626-9660

address: 2088 Larpenteur Ave W

Natural history museum with a collection of animal and plant specimens from around the world. Also hosts Minnesota's only planetarium.
Do
Music and performing arts
Wabasha Street Caves

phone: +1 651 224-1191

address: 215 S Wabasha St

Hosts a swing night every Thursday complete with big band and crowded dance floor. Every Thursday from 7PM-10PM, lessons begin at 6:15PM. $7 at the door, cash only.
Festivals
Sporting events
Cinema
phone: +1 651 698-3344

address: 1830 Grand Ave

Two-screen cinema.

phone: +1 651 698-3085

address: 760 Cleveland Ave S

Two-screen cinema.
Learn
Buy
Eat
Drink
Sleep
Budget
phone: +1 651 771-5566

address: 1739 Old Hudson Rd

Free wireless internet, fitness center, and coin-operated laundry.
Mid-range
Splurge
Connect
Telephones
Saint Paul and the eastern suburbs of the Twin Cities are in the
651
area code. From 651, it is not necessary to dial a 1 before the area code when calling numbers in the
612
(Minneapolis, Richfield, St. Anthony, the airport, and the University of Minnesota-Twin Cities campus),
763
(northwest suburbs), or
952
(southwest suburbs) area codes.
Internet
There are no Internet cafes in Saint Paul. Most coffeehouses offer free wi-fi to paying customers, but very few will have Internet terminals.
phone: +1 651 266-7000

address: 90 W 4th St

Unlimited free wi-fi if you have your own computer. The Internet workstations are free to access for two hours.
Cope
Go next