Saint Petersburg/North
The
Northern Part
of
St. Petersburg
is the area north of the Bolshaya Nevka river, which is its boundary with the
Petrograd Side
to the south. There are some moderately notable landmarks scattered across it, such as the Academy of Forestry with its park, Military Medical Acedemy, Polytechnical University and Buddhist Datsan, particularly in the quarters closer to the central boroughs, but otherwise there is little to see here. It is mostly an urban commuter area of monotonous and often ugly Soviet-era apartment blocks.
The area closer to the
Center
, bordered by Neva and Bolshaya Nevka, extending approximately to Chyornaya Rechka and Kushelevka stations in the north, and somewhat into Polyustrovo in the north-east, is a historical region of Saint-Petersburg and still known as "Vyborg side" (Выборгская сторона). That is where most sights of Petersburg's North are concentrated. Toward southeast connected with the very little visited
Right Bank
area. - Official administrative divisions of Saint Petersburg/North are the
Kurortny District
(Курортный) what is on far Northwest and connected to east with the
Vyborgsky District
(Выборгский район) and toward Southeast with the
Primorsky District
(Приморский район). More to the East is the
Kalininsky District
(Калининский район). And the easternmost part of this area is
Krasnogvardeysky District
(Красногвардейский район).
Get in
By train
By metro
The northern termini of metro lines 1, 2 and 5 are in this part of the city.
There are eight metro stations in this area belonging to Line 1:

:
Ploschad Lenina
(Площадь Ленина)

:
Vyborgskaya
(Выборгская),

:
Lesnaya
(Лесная),

:
Ploschad Muzhestva
(Площадь Мужества),

:
Polytekhnicheskaya
(Политехническая),

:
Akademicheskaya
(Академическая),

:
Grazhdansky Prospekt
(Гражданский проспект) and

:
Devyatkino
(Девяткино).
Six stations of Line 2 are located here:

:
Chyornaya Rechka
(Чёрная речка),

:
Pionerskaya
(Пионерская),

:
Udelnaya
(Удельная),

:
Ozerki
(Озерки),

:
Prospekt Prosvecheniya
(Проспект Просвещения) and

:
Parnas
(Парнас) as well as two stations of Line 5:

:
Staraya Derevnya
(Старая Деревня) and

:
Komendantsky Prospekt
(Комендантский проспект).
See
Vyborg Side
Lenin Ploschad
Apartman and laundry building

address: street Academika Lebedev (ул. Академика Лебедева), 4. corp. 2,3

built in 1893.

Kitchen Wing of the Military Paramedic School Building

address: Street Academician Lebedev , 4 (yard)

Built in 1805-1806.

Building of Military medical assistant school

address: Street Academika Lebedev, 4

Built in 1805-1809.
Church of St. Nicholas

address: Street Academika Lebedev (ул. Академика Лебедева), 37а

Built in 1911
Bolshoy Sampsoniyevskiy prospekt
Cathedral of Sampson the HospitableBuilt in Baroque style in 1728-1740. The entire cathedral complex harmoniously painted light blue. Cathedral is a single storey building on a belt rubble basement of flaky plates with limestone plinth and brick. Bulbous dome of the cathedral, closely-assembled on a single drum, located in the center of the roof, giving the cathedral a few quirky and unconventional form.

Belfrybuilt in the Baroque style at the same time to the cathedral in 1728-1740. Bell tower is divided into three tiers. The lower tier has two lateral extensions, and therefore becomes wider the other top two. In the middle tier has an arched doorway and driveway. The second and third tiers are decorated with pilasters.

ChapelBuilt in Baroque style in 1909

Forged Iron Fence with a gateConstructed in 1909

Grave Monument1885.
Sampson gardenLocated on the site of the old cathedral cemetery. In the park stay a monument to the first builders of St. Petersburg.
Monument to Peter I.

address: Bolshoy Sampsoniyevskiy prospekt ~34

1909.
A bust monument to Smolyachkova F.A.

address: Bolshoy Sampsoniyevskiy prospekt (сквер на Бол.Сампсониевском пр.) ~42

Who was a pioneer of sniper movement. 1968.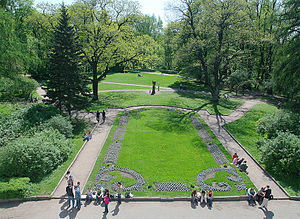 Main building

address: Institutskii Pereulok (Институтский пер.), 5/1

By A.D.Nellingerom and I.F.Lukini architects were built four separate academic corps in 1826-1833. In the years 1838-1840 the four separate buildings were rebuilt and concatenated into a single, which survived until today.
*

Forestry Museum

address: Institutskii Pereulok (Институтский пер.), 5

*

Borodin herbarium

address: Institutskii Pereulok (Институтский пер.), 5

*

address: Institutskii Pereulok (Институтский пер.), 5/1

Corps 2

address: Institutskii Pereulok (Институтский пер.), 5/2

Built in the 1900s. Brick Building with elements of wooden architecture.

Small Building

address: Institutskii Pereulok (Институтский пер.), 5/10

Built in 1832-1834. Wood. Architect A.D.Nellinger.

Hospital with pharmacy

address: Institutskii Pereulok (Институтский пер.), 5/7

Built in 1883-1885. Brick and wooden building built in the eclectic style.

1st corps Assistant or outbuilding?

address: Institutskii Pereulok (Институтский пер.), 5

Built in 1900-1903. A red brick building built in Art Nouveau style.

Former Water TowerThe brick Tower was built in 1907-1909. - It reaches a height of 30m and was initially assumed that the tower will be used to supply the Institute with artesian water, but the water quality was poor, and rebuilt for a meteorological observatory.
Forestry University ParkDeveloped in 1827-1830. - In the park are 6 beautiful ponds with canals, these artificially dug in the 19th century. One of them,-the most famous,- is the Jordan Pond (Иорданский пруд), what used for religious procession.
Monument to the Heroes of the October Revolution1953

Granite stele1988

Bunkers from the time of the Great Patriotic War

Neva River embankments and Neva Bay
Liteyny Bridge

address: Liteynyy prospekt

This is the second permanent bridge across the Neva river in Saint Petersburg, Russia. It connects Liteyny Prospekt with Vyborgsky district. The bridge's length is 396 meters, the width is 34m. At the vicinity of the Liteyny Bridge, the Neva river reaches the maximum depth of 24m. -
Sampson bridge

address: Finlyandskiy prospekt

Former Freedom bridge (мост Свобо́ды, 1918—1993 ) and Vyborgskiy Bridge ( Вы́боргский мост, 19th cent.) - Connects the right bank of the Neva River and the Petrograd island through Bolshoy Neva, linking Vyborg and Petrograd districts of St. Petersburg. The length 215m (193m), width of the bridge 27.7m. This is a metal girder five-span bridge.
Building Complex of the Community Hospital of Sisters of Charity of St.George

address: Pirogovskaya embankment, 7

1889-1892
ME Karra sugar factory
address: Pirogovskaya embankment, 13
D. Lebedev Forestry factory, Mansion and management office
address: Pirogovskaya embankment, 17
"Ludvig Nobel" mechanical factory, Mansion and management office

address: Pirogovskaya embankment, 19

Built in 1873-1874, 1902-1903
Former Camaraderie Sampsonievskaya Cotton Manufactory

address: Fokine (ул. Фокина), 3

Built in 1914. In 2007 rebuilt in Art Nouveau style to Lancaster Court Hotel
Grenaderskiy Bridge

address: Grenaderskiy

built in 1971-1974. One of the three bridges across the Bolshaya Neva River, connecting Petrograd and Viborg side.

Cotton Manufactory of K.V. Gerhard

address: Vyborg Embankment, 39-41

Built in 1880, 1888
Former Cotton Manufactory "Nevka"

address: Vyborg Embankment, 49

1949. Industrial architecture's Monument. Now it is a Business Center
Vyborg (Mykolaiv) cotton-spinning manufactory. "Voronin, Lyutsh and Chesher" JSC

address: Vyborg Embankment, 51-53

Built in 1899, 1907


Arsenal Embankment
Main Building with garden of the Mikhailovsky Military Artillery University

address: Arsenal naberezhnaya (Арсенальная набережная), 15

1829, 1893-1900

Descent to Neva near Lenin Square

Remains of Prison Complex No.1 "Kresty"

address: Arsenal naberezhnaya (Арсенальная набережная), 7
Entrance and Guards Apartmans

address: Arsenal naberezhnaya, 7

1884-1889

Alexander Nevsky Church

address: Arsenal naberezhnaya, 7

1884-1889
Prisoner's housing
address: Arsenal naberezhnaya, 7
Lesnoy
A historical part of the Vyborgsky District. The nearest metro station is

:
Udelnaya
(Удельная). - Geographical boundaries: in the north - Manchesterskaya street (Манчестерская улица); in the east - Prospekt Toreza (проспект Тореза) and street Karbysheva; in the south - Novorossiyskaya street (Новороссийская улица), in the west - Prospekt Engels (проспект Энгельса).
Silver garden pondLandscaped park, erected in 1865 on the territory of the Lesnoy (Forest) district. - Here is "The memory of my childhood" Sculpture (2002).
Kushelevka
Monument of the Blockade breadMade in 1998. A girl squeezes tightly in his hands a piece of bread, warming him and trying not to drop away.
Geophysical Museum

phone: +7 812 297-4390

address: Street Karbysheva (Карбышева ул.), 7
Sosnovka
Historic district north of Viborgsky area.
address: Northern Avenue/Severnyy prospekt(Северный проспект)

Area 302 hektar.
Monument of "Airfield of Sosnovka"

phone: +7 812 510-60-59

address: Zhaka Dyuklo Street (ул. Жака Дюкло),

Military cemetery of Sosnovka

Park 'Chansyn'

address: at the corner of Prospekt Svetlanovsky and Prospekt Toreza.

This is a wooden sculpture of mythical Korean spirits
Tserkov' Derzhavnoy ikony Bozhiyey Materi
address: Prospekt Kultury (просп. Культуры), 4/3


The main building, Historical-Technical Museum of Sankt-Petersburg State Technical University

ParkThere is Memorial students, faculty and staff, who died during the Great Patriotic War. Made in 1967; - The memorial "Well of Life"

Intercession Churchbuilt in 1913-1914. Dome (single tower) church

Former Bathbuilt in 1902, now is an office building

Kolomyagy
Church of Saint PanteleimonThe church was founded in 1870 as part of project to provide St.Petersburg with one of its first - and largest - psychiatric hospitals and as a personal gesture of thanksgiving on the part of the Tsarevitch Alexander (later Tsar Alexander III), to mark his recovery from serious illness.
Designed by the architect I.V. Strom, church and hospital were consecrated on October 23rd 1871, in the presence of the Tsarevitch: a church in the rustic style with golden domes facing a complex of wooden pavilions surrounded by shady trees.
The icon of its patron saint was brought to the church from the Monastery of St. Panteleimon on Mount Athos and remained there until the church was closed in 1929. St.Pantaleimon, a martyr of the first century AD had been educated as a physician and "treated all those who turned to him without charge, healing them in the name of Jesus Christ."
The hospital's fees of around 500 roubles per annum limited its use to the nobility, clergy and merchant classes. Initially designed to accommodate 110 patients, by the end of the 19th century their number had increased to 350. A number of buildings from the original hospital complex still surround the church. An enlarged psychiatric hospital on a separate site was built in 1885 and has been rebuilt and extended into the present day.
The church was closed in 1929 and was used as a storeroom. It became subject to decay until its restoration after being returned to the Church in 1990. The cross was raised on the restored church in June 2006 and in the following year a monument to Alexander III, destroyed in 1936, was restored to its site in front of the church.

Bust monument to Emperor Alexander IIIMade in 1895, renovated 2007

A pavilion for 'quiet noble titles'Wooden Architecture. built in 1870-1871

Pavilion for 'quiet simple title'?Wooden Architecture. Built in 1870-1871

Pavilion for thirty pensioner - womenThis is a wooden architecture, built in 1874

The powerhouse1886-1887

House of Retirements for '48 male patients'1892-1895

Central laundry1899-1900

House of Retirements for 60 female patients1899-1900

An individual building1901

Building for female patients (Freylinsky)1903-1906

Building for female patients (Officers)1903-1906

Ozerki - Shuvalovo
Ozerki (Russian: Озерки) is a village in Razmetelevskoye Settlement Municipal Formation of Vsevolozhsky District. Vsevolozhsky District (Russian: Все́воложский райо́н) is an administrative and municipal district (raion), one of the seventeen in Leningrad Oblast. How the district name suggests, its main attraction is the water. The landscape of Surroundings and the Suzdal Lakes are a favorite holiday destination of St. Petersburg residents in all seasons. In Ozerki were built mostly one-story wooden private houses with homestead gardens. In the twenty-first century, the former village-like buildings are replaced by typical 'Soviet Union style', faceless buildings, which are lined with neighboring areas. Greens blooming gardens replaced deaf and high brick fences "cottages-locks".
Poklonnaya GoraThe highest point of the North Saint Petersburg, which offers a beautiful view of the surrounding gardens and parks, regions and blue expanse of water Suzdal Lakes .
Pargolovo
Pargolovo (Russian: Парголово, Karelian: Parkola, Finnish: Parkala) is a municipal settlement in the Vyborgsky District of Saint Petersburg. Here was former a city named 'Nienschanz'(Ниеншанц). Until the 1700s, this area was inhabited by Finnish peoples, they founded here a settlement on the banks of the river Starozhilovki. These times remind - 'the Finnish lake' (Финское озеро), what is the name of one of the lakes on the outskirts of Pargolovo. The Finnish lake former name was Finn Lake (Чухонским озеро). The local population in this settlement differ from other part of Saint Petersburg, in their customs and behavior. Until 1997, it was the city's northern suburb. Pargolovo was a family seat of the junior line of the Counts Shuvalov, starting with Peter Ivanovich Shuvalov who received the
Pargolovo manor
from Empress Elizabeth in 1746. His Baroque palace was rebuilt by Stepan Krichinsky (1874-1923) as a Neoclassical villa for the estate's last owner, Count Illarion Ivanovich Vorontsov-Dashkov. A smaller palace, designed by Harald Julius von Bosse, dates from the mid-19th century. - Just west of Pargolovo lies the
Northern Cemetery
, the second largest in Saint Petersburg. It was established in 1874. Notable burials include Georgy Gapon (1906), a Russian Orthodox priest and a popular working class leader; - Vasily Vereshchagin (1909), one of the most famous Russian war artists; - Vladimir Propp (1970), a Soviet formalist scholar who analyzed the basic plot components of Russian folk tales; - Mikhail Artamonov (1972),a Soviet historian and archaeologist, who came to be recognized as the founding father of modern Khazar studies; - Alexander Belov (1978), a Soviet basketball player; - Sergey Filippov (1990), a Soviet film and theatre actor.
Half Millenium Memorial Stone

address: Vyborg highway (Vyborgskoye shosse)

A granite stone. Made for 500th Anniversary of the founding of the city.
Worship cross, Peter & Paul Church

address: Ulitsa Vologdyna

This was built in 1831-1839, in Pseudo-Gothic style

Big PalaceExtant building of the palace built 1912-1914 years on the site burned down the palace of the second half of the XIX century

Kitchen houseAttached outbuilding to the western part of the Grand Palace in the 1760s

Small Palace, White HouseThis was built in the 1830s rebuilt later in 1860s-1900s;

V.P.Vologdinu

address: Ulitsa Vologdyna

Soviet scientist in the field of high technology,
Pond Hat Napoleon
address: Shuvalovsky Park
"Sealed envelope" Meadow1910s. - Before the Small Palace located meadow with five fir trees - four at the corners and fifth in the center, that is shaped like an envelope

Tuff ArchThis is a ruins of a brick arch built in 1863. Arch got its name on the material facing arch (tuff) which was lined with masonry. That had a distinct echo.

Stable yardbuilt in 1907

Home of gardener1910

Fence

Old Parnassus Mount

Stone staircase

New Parnassus MountThis is an artificial hill height of 63 m. South of its are two artificial reservoirs: Napoleon's Hat and Napoleon's Shirt.

Cold Bath RuinsBuilt in 1912

Stone Memorial1908-1916

Tomb of AdolfBuilt in 1830s.

Granite bridgeEarly 20th century.

Finnish (Finn) lake and Hill of Adolfova

address: Ulitsa Nekrasova

This is a lake with an island on the edge of the park and with a small hill

Yellow Dacha1900-1902
Church of St. Joasaph of Belgorod
address: (Парголово, улица Ленина), 6
Piskaryovka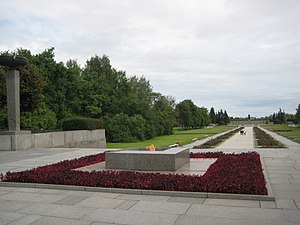 Northern Primorskaya
Church Serafyma Sarovskovo


Bell tower and sacristy1900-1901 by Architect Teplov V.K.
Komendantskiy aerodrome
A historic district in the northwestern part of the city. First mentioned in 1700s. In the first and second World War, here was a military airfield. - Getting here take

: (Московско-Петроградская линия) to Pyonerskaia («Пионерская») Station
Matsievich Garden

address: Street Aerodromnaya (Аэродромная ул.,13)
Lakhta
Historical quarter (former independent town) and one of the oldest settlements on the shores of the Gulf of Finland.
The first mention of a small village dates from the beginning of the XVI century. Translated from the Finnish Lahti - bay word. Peter I. often stopped here, His Lahti's residence, called "near Oaks" («Ближние Дубки»). The Palace stood near to the Bayshore, and behind the palace there was a garden with greenhouses. From the Lahti to north adjoins the largest green area of ​​the city - the Yuntolovsky Reserve (Юнтоловский заказник). Getting here: from the Finlandskaya Station take an eleektrichka toward Kirovsko-Vyborg and get off at Platform 'Lahta'(«Лахта»). - Or go to

: Chernaya Rechka Stn. further by Bus 211. - From

:Staraya Derevhnya («Старая деревня») take a bus 110,120, 216.
Yuntolovsky ReserveProtected Areas area of ​​976.8 hectares.

Bay of Lahta Lake

Church of St. Peter, the Apostle remains
Olgino
Olgino (Russian: О́льгино) is a historical area in Lakhta-Olgino Municipal Okrug, located south-west of the area of Lakhta and east of Lisy Nos. Foremer it was a prosperous dacha village. Part of the hip Rublyovka or Rublevka (the Russian Beverly Hills), where are residences of many Government officials and successful businesspeople. Real estate prices there are some of the highest in the world. - Get in: take an electric train toward Sestroretsk directions from the Finland Station to the platform "Olgino". Or from

: Chyornaya Rechka (Чёрная речка) take bus 211. Or from

: Staraya Derevnya (Старая Деревня) take bus 110, 120, 216
Former dacha of Lenin
Former dacha of Stalin
Summer residence of Nikita Khrushchev
Summer residence of Mikhail Gorbachev
Putin's and Medvedev's residences

Peter PondThere is a huge granite boulder, which served as the base of the monument to Peter I 'The Bronze Horseman' what is the symbol of St. Petersburg.

Former country estate of Count A.V.Stenbok-Fermora

address: Lakhtinskiy Prospekt (Лахтинский пр.), 104

This is a two-story stone mansion built in the 1890s.
Lisy Nos
Do
phone: +7 812 5421460

address: St. Commissioner Smirnova (ул. Комиссара Смирнова), 12

Big theater hall, small or concert hall, library, rentable Cafe «Zakulisnoe» (Кафе «Закулисное») for events
Buy
Eat
Sleep
phone: +7 812 7184048

address: ul. Мarshala Tukhachevskogo (улица Маршала Тухачевского), 27/2