Saint Petersburg (Florida)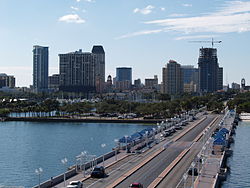 Saint Petersburg
is located at the base of the
Tampa Bay
peninsula in Pinellas County,
Florida
, and enjoys a more subdued social atmosphere than its larger cousin,
Tampa
. The city has tried to characterize the downtown as an arts and entertainments destination and you will find no shortage of arts and crafts stores, galleries, & museums along with cafes and boutique food shops all within a couple blocks of the Tampa Bay waterfront.
Understand
With water on three sides of the city, St. Pete is a superb location for fishing, sailing, and wandering beaches.
Saint Petersburg was founded by John C. Williams from Detroit, Michigan, who purchased the land in 1876. The town began with the help of Peter Demens, who was instrumental in bringing a railroad connection there in 1888. Saint Petersburg was named after the Saint Petersburg in Russia, the birthplace of Peter Demens. A local legend says that John C. Williams and Peter Demens flipped a coin to see who would have the honor of naming the city. Peter Demens won and named the city after his birthplace, while John C. Williams named the first hotel after his birthplace, Detroit. The Detroit Hotel still exists downtown, but it was converted into condos in 2002.
The city publishes the free "Downtown St.Petersburg Guide & Map" booklet, updated each season, that contains maps, trolley routes, and listings for hundreds of museums, events, restaurants, & hotels along with coupons. You can find the guide in dispensers throughout downtown and in many businesses.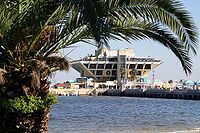 A pier has been at the center of the St. Petersburg waterfront for over a decade. In 1973, a 4-story building in the shape of an inverted pyramid was constructed at the end of the existing pier and became a city icon for the next four decades. However, the rest of the pier structure dated to 1926 and required an increasing amount of money for repairs. In 2010, the city decided that the money needed to repair the pier and give it an additional 20 years of usable life was too much and that, instead, the pier would be entirely replaced. The inverted pyramid closed to the public on the night of May 31, 2013 and is expected to be demolished later in the year. The approach to the building will remain open for public use until then. The replacement design chosen by the city council is a modern metal-clad pedestrian walkway and amphitheater in the shape of a loop, , expected to be opened in late 2014 or 2015. However, city residents have tried to force a vote on the replacement design and thrown up several legal challenges, which may significantly delay the construction/opening of a replacement.
Get in
By plane
Saint Petersburg-Clearwater International Airport (PIE

), is served mostly by budget airlines and used for private aviation. It is a hub for Allegiant Air which flies to about two dozen small airports throughout the Midwest & Northeast. Sunwing Airlines to Toronto; Sun Country Airlines to Gulfport-Biloxi.

Tampa International Airport (TPA

), has a much wider selection of airlines and more frequent arrivals and departures and is just 10mi (16km) across the bay. TIA can be reached by taking I-275 across the Howard Frankland bridge and taking the first exit, State Road 60/Veterans Expwy, north.

Albert Whitted AirportIt is used for general aviation and features in the annual Honda Grand Prix during which the runway and taxiways are part of the course.
By train
While Saint Petersburg has no railway station on its own, nearby
Tampa
is served by
Amtrak
via its
Silver Service
between
Miami
and
New York City
. A thruway bus service is available, arriving at Corner of US 19 and 110 Ave near Pinellas Park Square Shopping Center.
By car
The primary route in and out of the city is Interstate 275. I-275 runs north to Tampa and connects with Interstate 4 (Orlando, East Coast) and Interstate 75. I-275 runs south over the Sunshine Skyway Bridge to Bradenton and connects with Interstate 75 heading south to Sarasota, Ft.Meyers, Naples, and South Florida.
By bus
Greyhound Bus Lines
has a stop at 180 Dr Martin Luther King Jr St N St. Phone number: +1 727-898-1496. You can walk four blocks south to catch the Central Avenue trolley to the beach or east towards the pier.
Get around
By bus
Pinellas Suncoast Transit Authority
, the county-wide bus system called PSTA. Their phone number is: +1 727 540-1900. The buses run daily from 6AM-8PM Sun-Thurs and 6AM-midnight Fri & Sat. The price is $2 per ride. Daily unlimited-ride cards are available on board for $4.50. The PSTA bus system can transport you all over St. Petersburg and to other towns in Pinellas County. They also allow small domestic animals as long as they are in carriers.
By trolley
There are
trolley-styled buses
, on two separate lines:
The city-run Downtown Looper makes a loop around downtown and connects rides with most destinations between 5th Avenue N-6th Avenue S and east of 5th Street N/S. Fare is just 50¢ for adults & youth; 25¢ for seniors (65+), disabled, & Medicare cardholders; and free for children 5 and under. The fare is paid every time you board with no free transfers.
The PSTA-run Central Avenue Shuttle runs along Central Avenue and also connects to the Pier, Williams Park, and St.Pete Beach. The fare is free between The Pier and Baywalk, 50¢ between Baywalk & Grand Central Station, and $2 west of Grand Central Station. Seniors (65+), disabled, & Medicare cardholders travel for half price (25¢ or $1) and children 5 and under are free. When the trolley is traveling west, you pay when you exit. When the trolley is traveling east, you pay when you board. GO Cards are accepted on this line.
The two lines connect at (no free transfers): Baywalk & The Pier. Connections with PSTA bus routes are available at Grand Central Station & Williams Park. The city also runs a free "Baseball Shuttle" between downtown parking garages and Tropicana Field for certain games where large crowds are expected.
By car
There are over 25,000 available public parking spaces in St. Petersburg. Metered parking spaces along streets in downtown and at parking lots along the bay. There are also several public parking garages in downtown. As of October 2011, the rates along the Pier are $0.75/hr.
Rental Cars are available from:
Dollar Rent A Car. 5005 Gulf Boulevard, St Pete Beach, FL - +1 727 367-3779
Enterprise Rent A Car. 297 75Th Ave, St Petersburg, FL - +1 727 363-3801
Payless Car Rental. 2350 34th Street North, St Petersburg, FL - +1 727 321-6352(Corporate office only)
Best Buy Car Rentals. 8440 Bay Pines Blvd, Saint Petersburg, FL - +1 727 209-1828
Avis Rent A Car. 5300 Gulf Boulevard, St Pete Beach, FL - +1 727 367-2847
Hertz Rent A Car. 333 1st Street South, St Petersburg, FL - +1 727 823-5895
By taxi
Town Taxi. +1 727 525-5700, 5205 Haines Rd N, St Petersburg, FL
Independent Taxi. +1 727 327-3444, 5656 66th St N, St Petersburg, FL
St Pete Taxi Incorporated. +1 727 327-3600, St Petersburg, FL
Suncoast Yellow Cab. +1 727 821-7777, 1213 Arlington Ave N, St Petersburg, FL
Pronto Cab. +1 727 823-3995, 920 19th Ave S, St Petersburg, FL
Blue Star Cab. +1 727 327-4104, 1311 22nd St S, St Petersburg, FL
By bicycle
The Pinellas Trail starts in downtown and runs the entire length of Pinellas County.
See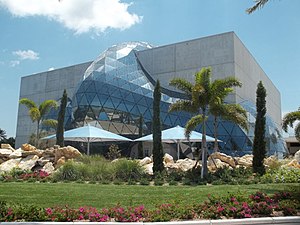 Do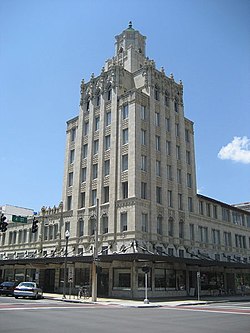 Circus McGurkis"A celebration of love, community and the power of nonviolence to change the world." Sponsored by the Quakers, this distinctly local event has been celebrated for over 30 years. Circus McGurkis is held the last Saturday of October, bringing together social and political activists, local businesses, and members of the community in a bazaar-like atmosphere of peace and friendship.

Gulfport Art WalkLocal artists show and sell their wares, with refreshments and dining for the community.

Saint Petersburg Times Festival of ReadingA celebration of reading hosted at Eckerd College annually in November. Acclaimed authors, journalists, and critics join in panels and give talks while children enjoy theater, storytelling, and games.

First FridayOn the first Friday of every month there is a Street party on Central Ave. from 2nd to 3rd St. 5:30PM to 10PM. It is free and usually has live music.

Central Avenue's Monthly Gallery Walk – Second Saturday of every month. Extended evening hours at participating galleries throughout downtown, 5:30PM to 9PM. See and acquire some of the area's finest art; meet gallery owners and artists.

Jannus LandingBuilt in 1888 Jannus Landing is the oldest outdoor concert venue in Florida. Some of the largest bands come to play the small venue because of its unique look and feel.

Tampa Bay SegsOffers the opportunity to see Saint Petersburg on a Segway Human Transporter. Tour covers at all of the highlights in St. Pete. Tour begins in Baywalk.

The SundialIncludes places to enjoy the areas fine dining, shopping and entertainment

Gulf BeachesBeautiful sandy beaches from Fort DeSoto Beach to St. Pete Beach to Clearwater. All beaches are a short 10-15 minutes west of the city of St. Pete.

phone: +41 44 500 50 10

The customer can fly the Aero L-39 Albatros Jet fighter itself under close watch of the pilot.

address: 6800 Sunshine Skyway Lane

Daily dolphin watching / snorkeling trips to Egmont Key Island, a magnificent island and a Florida state park, just a few miles offshore at the mouth of Tampa Bay, accessible only by boat.

phone: +1-727-647-1538

address: 400 Second Avenue N.E. Slip 46

This tour boat accommodates 40 people. Dolphin sighting is guaranteed. The 90-minute boat tour takes your south from the St. Petersburg Pier area along Tampa Bay. You get to see dolphins, the city skyline, landmarks and upscale housing along the coast.
Sports
Tampa Bay RaysA Major League Baseball team in the American League East. They play at Tropicana Field west of downtown.

Tampa Bay Rowdies are a soccer team in the second-tier North American Soccer League; they identify with the original iteration of the team, which was one of the most popular American pro soccer teams in the 1970s and 1980s. They play at Al Lang Field (Progress Energy Park) in downtown.
The Honda Grand Prix of St. Petersburg takes place on a course running through downtown. Its start/finish line and main grandstand are located on the main runway at Albert Whitted Airport. A portion of the course is named in memory of Dan Wheldon, an IndyCar driver and St. Petersburg resident who won the race in 2005. The 2013 race will take place on March 24.
Buy
phone: +1 727 897-9699

address: 400 Beach Drive

Includes a chocolate shop, a gallery & dining. 1 block north of Parkshore Plaza.

Agora

phone: +1 727 895-6419

address: 915 Central Ave

Visit Agora on Central Ave for Indian & Chinese furniture, lighting, incense, jewelry & more that you probably won't find anywhere else. Everything is unique & is a great buy if you're in a spending kind of mood but don't want to blow the bank account.

phone: +1 727 822-6252

address: 1575 4th St. N

Wide variety of home interior accessories, plus gifts and mementos. Open M-Sa 10-6.

Bernies & Son Jewelers

phone: +1 727 823-2000

address: 154 Beach Dr. NE

Voted Tampa Bay's Favorite Jeweler in "St. Pete Times" poll. 33 years of offering St. Petersburg estate as well as unique one-of-a-kind handmade custom jewelry. Quality repairs & personalized service.

phone: +1 727 820-0344

address: 1545 4th St. N

Italian linens for bed, bath and table. Beautiful objets d'art. Candles and body products by Dayna Decker and Lampe Berger. Open M-Sa, 10-6.

The Florida Craftsman

phone: +1 727 821-7931

address: 501 Central Ave

The gallery offers fine craft for collectors of traditional materials & innovative designs in clay, wood, fiber, glass & jewelry. This statewide organization features exhibitions of regional, national & emerging artists.

Haslam's Bookstore

phone: +1 727 822-8616

address: 2025 Central Ave

Florida's largest bookstore with over 300,000 books. A large selection in nearly every category and many old and/or collectible sets. Their prices are high for used books and many of the new books are previous (5+ year old) editions in new condition (i.e. 8-10 year old travel guides in new condition sold for their retail price). Nonetheless, with the huge selection, you should be able to make many interesting finds.

address: 13040 Gandy Blvd.

Fresh seafood market, steamed blue crabs, boat rentals, bait & tackle, Marina on Tampa Bay

address: Al Lang Stadium parking lot

Fresh fruits and vegetables, arts and crafts, hot/cold food, live entertainment, and other vendors. Open from Early October to Late May.

Shapiro's Gallery of Contemporary Arts

phone: +1 727 894-2111

address: 300 Beach Drive NE

Shapiro's is a 3,000 sf gallery on Beach Drive and features jewelry, clay, glass, wood, metal and Judaica. Mobiles, kaleidoscopes and outdoor art for the patio and garden.

phone: +1 727 896-5400

address: 111 2nd Ave NE

Huge selection of fashion jewelry, handbags, evening bags, luggage, dog accessories, etc. From trendy to traditional. Champagne toast every weekend.

phone: +1 727 894-2422

address: 1441 Central Ave.

Rugs, lamps, mirrors, tiles, ceramics, fountains, mosaic tables, Moroccan and Mediterranean furniture. Now doing Moroccan catering. Located opposite Tropicana Field.

Moonfish Bay Gallery & Artist Studio

phone: +1 727 742-2903

address: 218 150th Avenue, Madeira Beach

Fine Art the Beach! Gallery features rotating exhibitions of mostly Florida artists and is also the studio of artist Deborah Dabinet. You are likely to find just about any type of work depending on the show – oils, acrylics, sculpture, etchings, block prints, glass, silk paintings, and lots more.
Eat
Budget
El Cap's Burgers and Sandwiches.

address: 3500 4th St N

A local legacy. Cap's is wallpapered with awards for Best Burger from every conceivable publication. Excellent sandwiches, family friendly, popular with local sports fans.

Central Cafe & Organics.

address: 243 Central Av

Tasty healthy lunches and dinners. Many vegetarian options, in addition to tuna and chicken dishes.

phone: +1 727 571-EVOS

address: 2631 4th Street North

A chain that offers healthier alternatives to most fast-food joints, Evos offers healthy burgers, wraps, shakes and "air fries" in a fun, friendly environment. Everything is either hormone free or organic and there are plenty of choices for vegetarians and vegans.

address: 2909 22nd Avenue N

Extensive deli, delicious meats and sandwiches, prepared meals, soups, salads - all very reasonably priced. Coffee/espresso bar, extensive wine cellar with selections from all over the world. Nice craft brewed and imported beer selection too. Eat in or take out. Just off of I-275 on 22nd Ave N.
Mid-range
address: 260 1st AVENUE SOUTH

#100. Next to Regions Bank. Open from lunch to late night, the atmosphere sets the mood for the stimulating yet charmingly straight forward International dishes. 2-4-1 Drink Specials and Tapas Specials Everyday.

The Moon Under Water

phone: +1 727 896-6160

address: 332 Beach Dr. NE

"The Moon" is a delightful Tavern with warm mahogany finishings, working fireplace and wood floors creating a friendly and unique atmosphere. Spectacular views from the covered verandah overlook Straub Park and the Vinoy basin. Menu features a variety of Indian cuisine, traditional English plates, American favourites and excellent curries. Great fish & chips. Over 15 import beers on tap!
The King and I restaurant, Central Ave. between 4th and 5th St N. Great sushi and thai. You won't be disappointed with their sushi special (menu on the board, behind the sushi chef station). Thai food is excellent too! Also Open Sunday for dinner - it is very difficult to find a restaurant open on Sunday in St. Pete's downtown area.
Splurge
To be classified
Hurricane's Restaurant. Seafood restaurant & bar overlooking beaches on the Gulf of Mexico. Located at the southern end of Passegrille. Can be very busy around sunset. Get there early if you want to dine before they convert the restaurant to a nightclub.
Ted Peters Famous Smoked Fish. Bring in your fresh catch and have them smoke it for you, or have a bite of theirs, with a side of their famous German Potato Salad. Located 1350 Pasadena Ave., South Pasadena.
Asia Grille and Bangkok 9 are just a few of the Thai restaurants found in the downtown section of Central Avenue.

address: 5402 Gulfport Blvd

Gulfport. Excellent Cuban food in a restored old St. Petersburg home. The lechon and the butterfly shrimp are can't-miss menu items.

Amelita's Spanish Cuban CafeThe owner grew up in Ybor City back in the 50s & 60s and patterned the restaurant after the small Cafes of that era. Nothing fancy, just a large portion of great tasting food, a friendly atmosphere, and moderate prices.

address: 17814 Gulf Boulevard, Redington Shores

Highly acclaimed, considered one of the best seafood restaurants in the area.

Lucky Star Chinese Restaurant

address: 4175 66th St N, St Petersburg, FL

The most authentic Chinese food available in the Tampa/St. Petersburg area. This restaurant serves up authentic Cantonese style food - with a special emphasis on freshness and authenticity.

Central Avenue Oyster Bar

phone: +1 727 897-9728

address: 249 Central Avenue

Not just oysters! Fresh seafood, steaks, chicken and pasta dishes cooked to perfection.

Ceviche Tapas Bar and Restaurant

phone: +1 727 209-2299

address: 10 Beach Drive

Voted Best Restaurant in Tampa Bay. Original Spanish recipes from Northern Spain. The most unique dining experience in the area! Over 100 hot & cold tapas available with an incredible wine list. Live music Tu-Su.

Chiang Mai Thailand Restaurant

phone: +1 727 895-4851

address: 1100 Central Avenue

Authentic Thai food!

Durty Nelly's Irish Pub

phone: +1 727 823-3878

address: 149 1st Ave N

Durty Nelly's is a friendly Irish tavern that offers a full liquor bar as well as a wide variety of beers. Pool, game machines, live music and Karaoke keep you entertained.

Fresco's Waterfront Bistro

phone: +1 727 894-4429

address: 300 2nd Ave NE

St. Pete Times food critic Chris Sherman says, "As delicious as the view. seafood, pasta & chops with imagination." Enjoy New World & Gulf Coast Cuisine, downtown's only waterfront fine dining experience. Sat & Sun brunch. Happy hour every day. Award-winning wine list.

phone: +1 727 896-3800

address: 217 Central Ave

This historic & unique restaurant offers the best value downtown! Fresh local seafood, produce, tapas, pasta dishes & more. Full liquor bar, scrumptious homemade flourless chocolate cake & seating under the banyan tree. Live jazz Fri & Sat nights.

Parkshore Grill

phone: +1 727 896-DINE

address: 300 Beach Drive NE

Superb contemporary cuisine on Downtown St. Pete's waterfront. Sidewalk dining overlooks the beautiful Vinoy Yacht Basin. Savor fresh seafood, salads, paninis & burgers for lunch or enjoy dinner of lobster, filets, king crab or sumptuous chef-prepared meals.

phone: +1 727 527-8728

address: 4912 4th St. N

Ceviche, Cerveza, Sangria.Just 5 minutes north of downtown, "the" place for regional Mexican & Southwest cuisine. Fresh steaks and seafood served in a casual upscale atmosphere. Lunch and Dinner daily. Sunday Brunch. Beer & wine.

St Pete Brasserie

phone: +1 727 823-3700

address: 539 Central Ave

Classic French cuisine, affordable to all. Prix Fixe menu just $19 nightly, 5-6:30PM. Full bar, drink checks 1/2 price & $5 appetizers during happy hour, 5-7PM.

400 Beach Seafood and Tap House

phone: +1 727 896-2400

address: 400 Beach Drive

Downtown's newest restaurant! Fresh seafood daily, Raw Bar, indoor/outdoor seating, lunch & dinner; Sunday brunch. 24 beers on tap, 48 wines by the glass, full liquor bar. Banquet/meeting rooms & private dining rooms available. Sports on 12 flat screens. www.400BeachSeafood.com.

phone: +1 727 379-4567

address: 400 Beach Drive

Offering fine chocolates, cupcakes, muffins, ice cream, coffees, teas, wines, champagnes, flowers, and gifts. Bistro type seating overlooking Beach Drive and the waterfront.
Drink
There are many small bars on the beaches to the west side of the peninsula and scattered throughout the area.
Downtown bars of choice include:
Mastry's, The Independent (local favorite), The Green Room, Limey's Pub, Pelican, Fortunato's (after dark), The Rare Olive, Baywalk (various spots), Moon Under Water
Bars
Gay Clubs
Georgie's Alibi

address: 300 31rst St N

Local Favorite, drag shows/food/dance floor. Very Popular Thursday nights.

Detour

address: 2609 Central Ave

Dance and drag bar. Nice patio.
Sporters Biker Bar, ML King St and 2nd Ave N. Levi/Leather crowd.

Lucky Star Lounge

address: 2800 Central Ave

Small neighborhood bar.

Club Nautico

address: 4900 66th St N

Drag bar.

Hideaway/Haymarket

address: 8300 4th St N

Side by side lesbian and mens bars in the north end of town.
A Taste of Wine 241 Central Ave. Wine bar with a good selection, open evenings, also serves light eats.

Oar House bar & Liquor store,

address: 4807 22nd Avenue South, St. Petersburg

fun neighborhood bar, karoke on W-Fr_Sun free bingo and buffet on Wednesdays @545PM with Bingo Bitch Rick. M-S 9AM - 2AM Su 1PM - 2AM see www.myspace.com/oarhousestpete

Pepperz lounge & Liquor store

address: 4918 22nd avenue south, Gulfport FL 33707

Fun neighborhood bar, sister bar to OarHouse,Thursday nites are underwear night, Fridays are dance night with DJ-M, Saturday night is Show nite with Hostess Bobby York and special guests, showtimes 10PM and 1130PM, Best Drink Prices in Town! M-Sa 2PM - 2AM Su 2PM- Midnight see www.myspace.com/pepperzbar
Sleep
Several beach front and cityside hotels, from chain to locally owned & operated. The Spring Break period of March-April is typically the peak time for rates and crowds. The St. Pete area gets its share of Spring Breakers but many seem to flock to other parts of the state.
Other beachfront communities have their own motel/hotel areas as well.
St. Pete Beach
, Sand Key,
Clearwater
, Madeira Beach, Redington Beach, Redington Shores, John's Pass, and several other communities are in Pinellas County and located along the beach. There is also the city of Pinellas Park.
Travellers might find deals at many hotel/motel locations along 34th Street in St. Pete. This is U.S. 19. These are inland hotels but are just a short drive to the beaches or the city.
These hotel locations are in downtown St. Petersburg and despite not being within walking distance from beaches, they are walking distance to many museums, restaurants and shops.
Hilton St. Petersburg Bayfront

address: 333 1st St S, Saint Petersburg, Florida, 33701-4342, USA

The Beach Drive Inn Bed and Breakfast, 532 Beach Drive NE, St. Petersburg, Florida 33701, +1 727-822-2244, From I-275 take I-375 toward waterfront, Exit onto 4th Avenue North and left on Beach Drive.
These resort/hotel locations offer travellers lodging directly on St. Pete Beach. Walk right out of the hotel onto the white sandy beach; room views of the Gulf of Mexico and plenty of nearby entertainment.
Stay safe

Statistically, Saint Petersburg is a safe community. Like any city, there are parts to avoid, but the majority of St. Pete is a modern city full of nice people and hospitable places. Cities that are tourist attractions are also attractions to those that prey on tourists.

Cope

The weather is warm year round here with highs typically in the 60s and 70s in the winter and 80s and 90s in the summer. Summers are very hot and humid. Sometimes when it rains in St. Pete, it literally pours!
The hurricane season runs through summer and fall with the peak of the season in September. It has been many years since St. Pete has been directly hit by a hurricane.
Being on a peninsula, the city is surrounded on three sides by water. There are also three very long bridges that access the area, the Sunshine Skyway rises to a height of 17 stories above the Tampa Bay. The Howard Frankland Bridge and the Gandy Bridge are much lower rise as bridges grow. If a person fears long bridges, they should be prepared to deal with this aspect of the area.

Go next
The port of Tampa is the launchpoint of Caribbean and other cruises. The port is now limited to smaller (relatively speaking) cruise ships since many of the largest vessels on the Caribbean cannot navigate under the Sunshine Skyway Bridge (approximately 17 stories high) to enter the bay.
St. Petersburg is about 90 minutes west from
Orlando
and the various theme parks near Orlando like
Disney World
and Universal Studios. Three hours northeast from St. Petersburg is
Daytona Beach
and
Cape Canaveral
.