Sajama National Park
Sajama National Park
is in
Oruro
departement of
Bolivia
.
Understand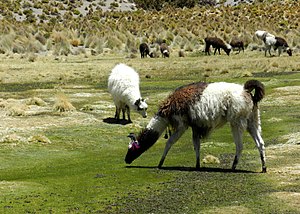 Sajama is a picturesque national park that offers impressive landscapes like around
San Pedro de Atacama
, the Altiplano
Potosí
region and the other natural sights around Uyuni. In addition, Sajama puts a focus on hiking and mountain climbing, whereas the other sites emphasis more on mass tourism using 4WDs.
If you ever just wanted to hike straight into the plains along the
Salar de Uyuni
tour, this is the place to do so. The Sajama National Park can be described as the perfect combination of hiking and meditation. Hiking through the plains of the Sajama National Park one is often surprised how quiet nature can be with often barely a sound for kilometres, except for maybe you footsteps. But it also offers properly guided climbs of the impressive surrounding volcanoes and mountains.
Sajama does not experience masses of tourists like in other areas of Bolivia and is still hidden with exceptional flora and fauna, vast hiking opportunities, high altitude trekking, and of course mountain climbing. meditation,
History
The park was already founded in 1939.
Landscape
The landscape is similar to the Lagunas and Altiplanos at the Chilean and Bolivian border near
San Pedro de Atacama
. Also, the highest peak of Bolivia can be found here, Nevado Sajama throning over the park. Generally, the altitude in the park ranges from 4,200-6,500 m, with the Sajama village at 4,240 m and regular non-guided trails up to 5,000 and 5,600 m.
Flora and fauna
The most popular animals of the park include viscachas, lamas, vicuñas, alpacas, horned coots. But you can also find armadillos, bears, Andean cats, pumas, condors, pink flamingos, hummingbirds, rheas, and others here.
Climate
Except for November to March, temperatures during the night are generally below 0°C. During the day with the sun temperatures reach between 15°C-30°C, latter especially in summer. Nevertheless, many people choose to come here in July and August, which is high season in the park.
Get in
Nowadays most tourists take the notorious minibus from Patacamaya into Sajama, because all guide books have the same information. But there are many more ways to get to Sajama, mostly using regional vans (called
servis
) listed in the following. Mostly you might want to get dropped at the from where you can take one of the many vehicles that go into the village (Bs. 5 or hitch-hike), or just hike the 10 km.
From Tambo Quemado
Tambo Quemado is the Bolivian border town to Chile. Many vans from either
Oruro
or Patacamaya will call at the . Or you might arrive from Chile here.
Transport to/from Sajama village can be arranged for Bs. 10. Or you just hike the 15 km straight through the plain, which is what you came here for anyhow.
From Oruro
Even though less emphasis is put onto coming in from
Oruro
here, it might actually be the more convenient place to head from towards Sajama, since it is a large and central city. And visiting Sajama using both transfer locations, Oruro and Patacamaya, on your way north or south, this wonderful national park does not lie so much off the touristy grid anymore as one might believe.
There are four vans per day between Oruro and Tambo Quemado. All go at the same time in either direction: 06:00, 10:00, 14:00, 18:00. They take 3 hr for the 270 km, and cost Bs. 45. You might bargain them down by Bs. 5 for getting dropped at the Sajama Junction, which is a little before Tambo Quemado.
In Oruro
the vans leave in the far southwest of the city at the ring road right next to the roundabout leading south out of the city.
From Patacamaya
Like Oruro, also Patacamaya is on the main route between La Paz and all other southern and south-eastern cities. It is just not a great place to stay for a night or arrive in the middle of a (mostly very) cold night.
There is one daily direct minibus from Patacamaya around noon, but it is already there at 11:00 and will leave when full. It returns at 05:30 from Sajama. The price is Bs. 30, one way. On the way back to Patacamaya, if there are enough tourists in the bus, the driver will often offer to go even to La Paz for a little extra money. However, note that the regular price for minibuses from Patacamaya to La Paz is Bs. 10.
Also, there are frequent vans (every 30-60 min between 05:00-20:00) that travel between Patacamaya () and Tambo Quemado. They can drop you off at the Sajama Junction. The vans are Bs. 30 to Tambo Quemado, but you might be able to settle at Bs. 25 for just the Sajama Junction. (Just tell them Bs. 25 and if they do not agree, just do not enter the car. They will beg down as soon as they have enough people and want to leave. But just ask once more to be sure.)
Otherwise, the La Paz-Arica buses, which also go by Patacamaya and the Sajama Junctiom, should be passing by the same point as the vans in Patacamaya between 06:30-08:00 in the morning. They leave between 05:30 and 06:30 from La Paz. They should not be more than Bs. 20. If they will not settle for this price just tell them there are other Arica buses coming and the servis is just Bs. 25.
Patacamaya Sajama: 190 km, 2 hr.
From La Paz
Just take any transport from La Paz going south, either to Patacamaya or any other southern city. There should also be direct (mini)bus that solely go to Patacamaya, probably from El Alto Bus Station. Get off in Patacamaya (minibus Bs. 10, van/servic Bs. 15). This might be along the highway, which goes around Patacamaya. So, check the map how to get from there to the junction in Patacamaya towards Sajama/Chile (GPS see above, where the vans start) or the Capitol Restaurant. From there you take the vans or the minibus, respectively—see above.
Taking the morning buses for Arica (05:30-06:30) is probably the most convenient way. They should not be more than Bs. 40—bargain hard. Or just arrive 30 min before they leave and board the one that gives you the best price—ask around!
From the south
Likewise, if you do not choose the
Oruro option
, any bus from the south(east) going towards La Paz can drop you at Patacamaya. Often, this will be a night bus, so make sure, you do not get dropped in the middle of the night and have to wait for hours before the first vans go at 05:00.
From Arica
Sajama is conveniently located at the gateway from Arica into Bolivia. Buses from
Arica
leave at around 15:00, and you can get off either in Tambo Quemado or just a few kilometers further at the Sajama Junction after you have crossed the border into Bolivia. Unlike
Lauca National Park
in Chile, which does not really offer a convenient way to explore its sights due to missing accommodation options and visiting time restrictions, Sajama is also the name of the village where you can stay and explore the surrounding national park conveniently.
Fees and permits
The is about 1 km from the Sajama Junction. It opens at 08:00. Bs. 100.

Get around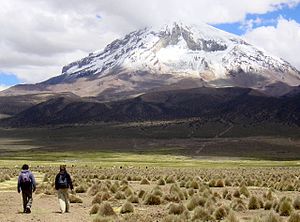 On foot and navigation
I came here for the hiking and mountain climbing, so walking will probably be your preferred choice. Don't bother so much about trails, instead the most direkt route is probably the best, especially when going or coming back hiking. The lamas and alpacas walk everywhere, so why shouldn't you. Just make sure, you know where to cross the main river floating through the valley.
Outside of town, there are many hiking trails and tracks used by the locals, which you can use to do the surrounding sights and proposed treks—consult
OpenStreetMap
, which is used by many mobile Apps like
OsmAnd
(complex with many add-ons) and
MAPS.ME
(easy but limited).
By taxi
Hiring a taxi (even though no official ones exist, just locals with car) is convenient if you are short on time or fitness, or the place is really far away, like Tambo Quemado.
See
Horned coots (animal)

address: Laguna Sora Pata

Laguna Sora Pata offers this rare and protected species of ducks with their surprisingly large nests on the lagoon. Quite picturesque with the snow covered large mountain in the back. If you follow the trek further northeast, shortly after the end of the lagoon you can regularly see large amounts of viscachas.

Laguna Huayna KhotaA great place to see birds like the Andean avocet, the Andean lapwing, the horned coot, the ruddy duck, the cattle egret, the Puna teal, or the yellow-billed pintail.

Laguna IslaNice and calm waters with lamas feeding in front of the picturesque mountain ranges. Great for some shots with the camera.
Do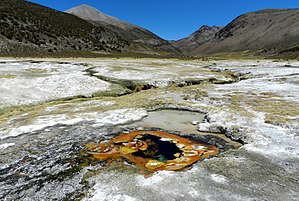 Geyser and hot spring fieldSurprisingly versatile with hot pools, geysers and mud pools. It also has some little and free and natural pools you can soak in—just select a place in the river that has reasonably much space and is hot enough. But also, check out you map app to find them. The very first pool is already great for a dip. (Control the heat of pool with rock near small waterfall, which blocks the water to the geyser. You can help making the pool bigger & deeper, namely where the water is calm and the hot geysers are. Maybe even bring a shovel, but do not tell the locals about this secret place, or it will be gone soon. Allow for enough cool water to flow by outside of the pool. And watch out, the soil can be very hot.)

Private hot spring(s)Quite expensive, considering the hot spring along the Salar de Uyuni tour is just Bs. 6. There are other (private) hot springs nearby, try or . From the latter a trail north leads to two more hot springs, which be might be for free.

Termales Donia TheodoraA little cheaper and free if the lady is not there. So, go early or late (coming from the Tres Lagunas Trail), or just be lucky (e.g. in off-season).
Hiking, trekking and mountain climbing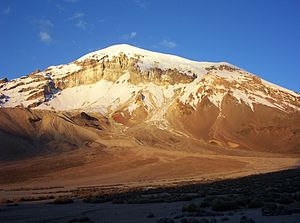 The following mountains and treks can be done without a guide and if you are reasonably fit.
Hike the plainsThe plains and rolling hills of the Sajama National Park are great if you just wanted to hike and relax or meditate without an actual destination. Just pick a direction and hike for hours, exploring the amazing surroundings or any hill that looks like it would provide a proper view. This can also be a great way of getting into and out of Sajama from the highway.

Mt. Quewiña (4,550 m)This is the little hill right east of Sajama village. You can see the trail clearly, which goes straight up the hill. But only do it if you are not going to do Mt. Huisalla right next to it north, which has much better views.

Mt. Huisalla (5,053 m)This medium-difficult peak provides amazing views of Nevado Sajama, Sajama village and the surrounding plains. Due to the high altitude it can be a day trek, the higher you get, the harder it will become to progress. Take your time! There is a trail that goes almost straight up from the village, or you choose the longer one that circles the mountain to the east and then offers a less exhausting final trek at the end.

Tres Lagunas Trail (41 km)The trail takes 8-12 hr, but add 1-2 hr for the geysers, hot pools and local fauna. Highlights are the many animals along the way, especially near and around the three lagoons: Casiri Macho, Sora Pata and Chiar Kkota. Many people do it in 1 day, but 2 days is possible if you have a proper tent and warm sleeping bag. There are marked camp sites along the trail, but generally many opportunities exist. The trail can easily be done without guide, but it is better go in a group if you are not a regular hiker. The trail actually enters Chilean territory, but only for about 3-5 km, after which you will return to Bolivia. If you stay on the trail and do not enter further into Chile, this is not an issue. The trail is well visible most of the time, but you should bring GPS and a proper map to take the right turns and trails.
Cerro Chiar Kkota (5,452 m)In case you are taking your time with the Tres Lagunas Trail and camp overnight, you might in addition consider this interesting and exciting side-tour with magnificent views of the Lagunas, into the Sajama valley as well as Nevado Sajama itself. Allow for an extra day and night to conquer this mountain, but camping near the Laguna Chiar Kkota is very picturesque and convenient at the same time. In winter, the trail can be impassible.
Base Camp Trail (5,680 m)If you want to hit the height but without a guide, try hiking up to the base camp of Nevado Sajama. In winter, the trail might be impassable with regular boots due to snow and ice, but in summer it is definitely possible. Again, take you time and start the descend early enough—it gets dark at 18:00.
For the following treks you will need a guide and proper equipment. Sometimes, transport via 4WD is necessary.
Mt. Parinacota (6,348 m)A day hike with guide that starts at 01:30 at night, so you reach the top right before sunset. Transport via 4WD is necessary and provided with a tour. There is actually trails from both the Chilean and Bolivian side, so you might meet some people heading up from the Chilean side to the top of this peak separated by the border.

Mt. Pomerape (6,282 m)Even though lower, this one is more difficult than Parinacota.

Nevado Sajama (6,542 m)A volcano whose peak is the highest point in Bolivia and guided 2-3 day mountain climb with overnighting at the Campo Alto at 5,680 m.
Buy
There are a few little stores in town where you can basic supplies and food for cooking. But do not expect a large supply of fruits and vegetables like in the cities. You are often better off relying on the cooking skills of the local "restaurants".
In addition, you can find local handicraft and artesanal clothes.
Eat
Most accommodations in town also provide proper lunch and dinner, even though usually the regular Bolivian dishes. Walk around to find the ones open or still with your place.

Sleep
Camping
Camping is possible pretty much everywhere and due to the rolling hills many flat areas to put up a tent can be found. But note that it gets very (freezing) cold at night, below 0°C from March. So, be prepared.
Lodging
Sajama village offers numerous budget accommodation of varying comfort, but the amount of options should guarantee a good price—easily from Bs. 40.
phone: +591 73256216, +591 74025268

They have mud style houses which are quite comfortable on the inside. The doors do not protect much against the cold, but the blankets are thick. Operated by a nice Bolivian couple, Carmen and Francisco. It gets more and more popular (especially with French), so you might want to call ahead in high season. Also, the offer proper dinner for Bs. 20, and breakfast for Bs. 10-15. Francisco is also a mountain guide offering tours and equipment, but compare prices (!), some travellers were shocked when they learnt about the price.
Cope
Always take your rubbish and even that of other people along the trail—just the trail, roads are useless because they are frequented by non-caring Bolivians. Hiking in the park is free and possible without a guide (unlike
Torotoro National Park
). But if the park is going to be messed up, it will probably soon be converted to a guide-only version. So, let's keep that gem clean.