Sakai (Fukui)
Sakai City
(坂井市) is in
Fukui Prefecture
.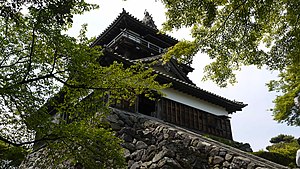 Understand
Sakai City was re-organized in 2006 to incorporate the towns of Harue, Maruoka, and Mikuni.

See
Maruoka CastleThe oldest castle keep (or donjon) in Japan. Built in 1576. It's a great place for the hanami festival (or cherry blossom viewing). It is called the Mist Castle because of to the legend that whenever an enemy approaches the castle, a thick mist appears and hides it. See also Japanese castles.

Tojimbo Cliffs

Echizen Bamboo Doll VillageBamboo dolls are a famous local craft. Here there is a museum of some of the best works, as well as shops where you can purchase bamboo dolls. They also offer "make your own" experiences.
==Do==
Go next