Salamanca
Salamanca
is a town of around 150,000 inhabitants in western central
Spain
. It is the capital of
Salamanca
province, which is itself part of the autonomous region of
Castile and Leon (Spanish: Castilla y León)
. The Romanesque, Gothic, Moorish, Renaissance and Baroque monuments in Salamanca's historic centre were added to the
UNESCO world heritage list
in 1988.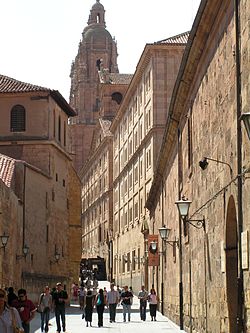 Understand

The city lies by the Tormes river on a plateau and is considered to be one of the most spectacular Renaissance cities in Europe. The buildings are constructed of sandstone mined from the nearby Villamayor quarry, and, as the sun begins to set, they glow gold, orange and pink. It is this radiant quality of the stones that has given Salamanca the nickname La Dorada, the golden city.
In 1218, Alfonso X of León (Alfonso the Wise) founded the university - one of the first in the world. In 1254, Pope Alexander IV called it "one of the four leading lights of the world".
In 2002 Salamanca was the European Capital of Culture.

Get in
By plane
The nearest practical airport is Madrid Barajas (MAD), some 200 km east. It's well connected domestically, within Europe and to the Gulf States and Americas.
Salamanca Matacan airport (SLM), 15 km east of town, has only occasional summer flights, eg to Mallorca by
Air Nostrum
.
Iberia and travel search engines may also show flights from "SAJ". But that's actually a bus, operated by Avanza, running from Salamanca bus station to Madrid Barajas Terminal 4.
By train
AVE trains link Salamanca with Madrid Chamartin every couple of hours, taking little over 90 min, via Segovia. There are also direct Interregio trains taking over two hours via Avila and El Escorial, and connecting trains via Valladolid which also stop in Segovia.
An overnight train connects Salamanca with Coimbra and Lisbon (7-8 hours). Reaching northwest Spain (e.g. Leon, Santiago or Vigo) will involve back-tracking to Segovia.
Interregio trains may also stop at Salamanca La Alamedilla station, 500 m southwest. So that's just 500 m to the centre, 10 minutes walk if your bags are light.
Salamanca railway station

address: Paseo de la Estación

Small but modern, with a couple of cafes and a car-rental office. There are no left luggage facilities. From the street outside, Bus 1 runs to the old centre, Bus 11 skirts it west along Paseo de San Vicente to the hospital & university medical campus.
By bus
Avanza
buses run hourly from Madrid South station, on Avenida Méndez Álvaro 83. Expresses take 2 hr 30 min (€24), slower buses over 3 hr (€17). They also run direct every two hours from Madrid Barajas Airport Terminal 1 via Terminal 4, taking 2 hr 30 min, €27.
Avanza buses also run via Avila to Valladolid (6 per day, 90 min, €10) and Segovia (4 per day, 3 hours, €15).
Alsa
run buses to Santiago (2 per day, 6 hours, €50), Gijon (5 per day, 6 hours, €26), and Seville (6 per day, 7 hours, €37).
Salamanca bus station
is 1 km northwest of the city centre, corner of Ave de Filiberto Villalobos and Calle Pena de Francia. There's left luggage facilities here, and several eating places in the adjacent streets.
By car
Good fast Autovias (with toll) link Salamanca east to Avila (100 km) and Madrid (205 km) via A50; south to Caceres (235 km) and Seville via A66; northeast to Valladolid (115 km) via A62; north to Zamora and Leon via A66; and west into Portugal via A62.
Get around
The city is not too big to see on foot, especially the main attractions, which are all quite close to one another. For slightly longer journeys there are taxis, and numerous bus routes - tickets are cheap, and you can buy them directly from the driver on board. Salamanca
city bus 1
can take you between the train station and Plaza Poeta Iglesias, which is right next to Plaza Mayor.
If you do need a taxi, you can find a few taxi ranks around the city. However, one can also use the app called Pide Taxi to call on a cab. Passengers pay with cash at the conclusion of the ride.
See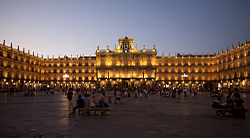 Plaza MayorIt is a large elegant square, bustling with cafés and restaurants (notably pricier than in the nearby streets). Plaques of monarchs and nobility gaze down upon the square.

New & Old CathedralsThe two buildings are joined and you enter via the New Cathedral, built 16th-18th century. Outside, note the fine Puerta de Ramos, not entirely Renaissance as among the saints are an astronaut and an imp clutching an ice-cream cone. The interior is a baroque/Churrigeuresque creation, with fine ceilings, choir and main chapel. An internal door leads down into the Old Cathedral, 12th century and mostly Romanesque, with many frescoes.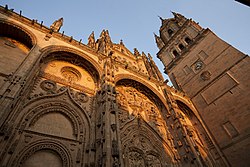 University

address: Calle de los Libreros

The extensive university, constituted in 1254, has departments and campuses across the city but the area to visit is the old core of it close to the cathedrals. Admire the elaborate facade: kudos comes to those who can spot the frog unaided. Richly appointed rooms within, highlights being the library, the grand staircase, and the Hall of Fray Luis de Leon.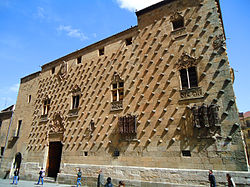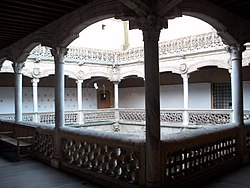 The House of Shells (La Casa de las Conchas)It was built 1493-1517 by a University professor who was also a Knight of the Order of Santiago de Compostela. The facade is studded with 350 sandstone shells, symbol of Santiago (St James) and the pilgrimage. Inside is now a public library.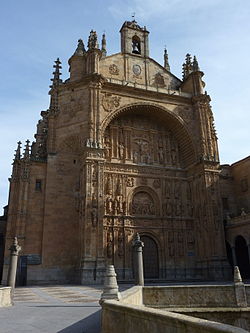 Convento de San EstebanDominican monastery with striking facade, and impressive church interior, with good exhibition on of missionaries in the New World. It's off the tourist beat so you may well have it to yourself.

Roman BridgeAt the southern foot of town, this bridge spans the River Tormes. Dating from 89 AD, this bridge was an important part of the Roman silver route, which ran from Mérida to Astorga. From here you also see what's left of the city walls, on the bluff overlooking the river.

There's also a Modern Art Museum here, with Art Nouveau and Art Deco well represented.
Do
The fiesta of the Virgen de la Vega takes place from the 8th to the 21st of September.
Watch football: the local team is Unionistas de Salamanca, formed in 2013 after the demise of the previous club. They play in Tercera División, the fourth tier of Spanish football. Their home ground is Pistas del Helmántico, a 3000-capacity stadium 3 km north of city centre.
Across the Roman bridge is a small park and play area. You may be able to hire paddle boats and canoes here, if the river flow is not too low or too high.
Learn
The combination of Castile-Leon's reputation for pure Spanish and Salamanca's reputation of learning, due to its venerable university, means that there are lots of language schools in the city that cater to those who wish to immerse themselves and learn Spanish in Spain.
Universidad de Salamanca: Cursos Internacionales
Don Quijote Spanish school in Salamanca is a great school where you can take 4-6 hours of courses a day. All courses including beginner courses are taught entirely in Spanish.
Linguaschools Salamanca is a great and friendly Spanish school, located in the very centre of Salamanca a minute walk from the popular Plaza Mayor. Spanish is taught in small classes.
Buy
Shopping is a large part of life in Salamanca. Traditional family owned stores mix with many national and international retailers throughout the city. Calle Toro, which begins at the northwest corner of the Plaza Mayor, in particular has many options for shoppers.
The city also boasts a mall (
centro commercial
) called
El Tormes
which offers variety of stores and restaurants. However a car, bus or taxi ride is needed to access it. There is also the large department store chain El Corte Inglés located on Calle María Auxiliadora.
Most stores open around 10:00, close for two or three hours during lunch time (14:00) and remain open until 21:00. Almost all stores, including grocery stores, are closed on Sundays. There are a few convenience stores, known as 24 hour stores, which never close.
Every Sunday an out-door market, known as the Rastro, erects where locals and tourists alike shop for assorted products: clothes, jackets, hats, bags, jewelry, watches, perfumes, colognes, and other accessories. The Rastro is located on Av. de la Aldehuela, about 3 km west of Plaza Mayor, roughly a 20-minute walk.
Eat
Lunch is Spain's big meal of the day, and Salamanca abides by that rule religiously. This means that restaurants will have their best food and their biggest portions anywhere from 13:00-15:00.
Dinner usually happens from 20:00-23:00, and isn't really a meal as such.
In spite of the many restaurants open at dinner time (with a full menu), one of the traditional Spanish habits is to eat
tapas
with friends over a glass of wine, which consists of regional appetizers served at bars, restaurants, and cafeterías. In Salamanca there's no definitive guide to
tapa-ing
, instead, try to stroll around the center of the town and try different places and, who knows, meet new friends.
Locals gather slightly north of city center for their nightly tapas on a street named Van Dyck. The tapas here are generally of a higher quality and a lower price of those found near the plaza. Almost every street out from the center will have at least one small bar, and many of them will serve tapas. The price difference between having or not a tapa with your drink is negligible (around €2 for each beer/wine and tapa, €0.20-30 less only the beer) so go on a try them!
Popular tapas are any sort of roasted pork parts: ribs (costilla), sausage (chorizo), ham (jamon), bacon (panceta) or face (jeta). Try the "pincho moruno", a brochette of pork pieces marinated in paprika and garlic. A local speciality (if you find it appealing) is "chanfaina" a spicy rice dish with liver and/or blood that is served in many bars as a tapa on Sundays.
In the summer most restaurants set tables outside for both lunch and dinner. Be forewarned that with the privilege of sitting outside you often get charged a euro or two extra per person.
Salamanca is atop the small portion of Spain where you can purchase
jamon iberia
(Iberian ham). This expensive pork is very rich, very expensive and in the opinion of most Salamancans the most delicious thing there is to eat.
Vegetarians will have to work a little bit to find food.
Tortilla de patata
is always a safe bet (a frittata-type thing with potato and egg) but it can get old after a while. Meat (especially pork) finds its way into a majority of dishes here. When you're asking waiters if a dish does not have meat (
carne
), make sure you specify that you don't want chicken (
pollo
) or fish (
pescado
) either.
Mesón Las Conchas

address: Calle Rua Mayor 16

Good traditional meaty fare.
Other restaurants include:
El Bardo Junto, Calle Compania 8
El Triton, Paseo de Canalejas 28
Bambú, Calle de Prior 4
Momo, Calle San Pablo 13
Vegetarian and vegan options
Salamanca Magenta Cafe & Bar

phone: +34 923 05 91 69

address: Calle Caleros, 10, 37001 Salamanca, Spain

Vegan and vegetarian counter service style restaurant.

El Laurel

phone: +34 923 26 06 01

address: Calle San Pablo, 49, 37008 Salamanca, Spain

Many vegetarian options based on local cuisine and a few vegan options.

El Rastrel Etic Café

phone: +34 923 60 70 00

address: Calle Grillo, 21, 37001 Salamanca, Spain

student hangout with cheap beer, wine and vegan bar food

Vinodiario

phone: +34 923 61 49 25

address: Plaza Basilios, 1, 37001 Salamanca, Spain

Plenty of vegetarian options tucked along with lots of meat dishes and the waitstaff understand vegetarians. Seating indoors as well as outdoors. Very popular so reservations recommended.
Drink

Innumerable bars and nightclubs, all central, include: Camelot (not Sundays), Puerto de Chus, Submarino, Moderno, Cum Laude, Daniel's, Chupiteria, Paniagua, Potemkin (Th-Sa), Capitan Haddock (not Sundays), Posada de las Animas (not M), and Niebla/Mist.

Sleep
Book well in advance if you hope to stay in Salamanca during Easter (
Semana Santa
) or during the
fiesta
of the
Virgen de la Vega
.
Budget
phone: +34 923 218 166

address: Plaza Mayor 10

Very central, good value for money.

Albergue Juvenil

phone: +34 923 269 141

address: C/ Escoto 13-15

Nice youth hostel to find some travel mates. Bad common room, but a nice atmosphere in the 20-bed dorm.
Mid-range
Hotel Secotel Artheus Carmelitas

phone: +34 923 212 500

address: P Carmelitas, 67

Great 4-star hotel, with decent prices (breakfast is not included), good location

phone: +34 923 993 900

address: Plaza del Ángel, 5

4-star hotel in the center of Salamanca.

phone: +34 923 261 818

address: San Pablo, 58-64 5

Central 4-star hotel with restaurant, bar & meeting rooms.
There is another 4-star NH hotel nearby, "Puerta de la Catedral".
Splurge
phone: +34 923 218 482

address: Paseo de Rector Esperabe 10

Beautiful 4-star in centre

phone: +34 923 192 082

address: C/ Teso de la Feria, 2

4-star parador with excellent restaurant, gym, pool, views of old town. Lego-like modern building, its architect would perhaps claim it was an artistic response to the two cathedral towers across the river, but very spacious & comfortable within. Free guest parking.
Stay safe

Salamanca is considered to be one of the safest cities in Spain. Violent crime is for the most part unheard of. As with the rest of Spain, you should be aware of pickpockets, but they are less common in Salamanca than in the bigger cities.

Cope

While the streets are filled with international tourists and students from countries around the world most locals do not speak English. It is not uncommon to find even the hotel staff in Salamanca only able to speak Spanish to you. With that said, the locals are used to people butchering their language and are willing to be patient with you.
Salamancans (Salmantinos in Spanish) are very schedule oriented. They wake up, work, eat, shop and sleep at around the same time every day. Almost all stores close at exactly 14:00 for a few hours so the staff can lunch. This can be hard for outsiders to adjust to but it's something you have to deal with for however long you are in town.

Go next
The must-see centres to the east are
Ávila
and
Segovia
.
To the south, Béjar is a small town noted for its walls, "El Bosque" gardens, and bullfighting arena. It's also a jumping-off point for the Sierras further south, for hiking and wildlife. Historic villages here include Hoyos del Espino, Piedrahita, Barco de Ávila and Arevalo.