Salatiga
Salatiga
is a town in
Central Java
,
Indonesia
. It is known for its cool weather and the Merbabu volcano. It is also the site of the annual
Festival Mata Air
, a festival highlighting the importance of sustainable use of Central Java's water resources.
Understand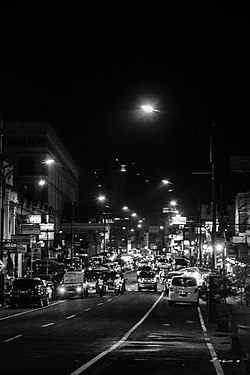 Salatiga was designated as a town in 1917 by the Dutch East Indies government. It was called
De Schoonste Stad van Midden-Java
(the most beautiful town in Central Java) because it sits at the foot of Mount Merbabu and Mount Telomoyo. Because of the cool weather, the Dutch settled at the area and built luxurious houses along the Diponegoro Street. Salatiga is one of the most tolerant cities in Indonesia, with students from many parts of the country studying at the Satya Wacana Christian University.
Get in
By bus
There are frequent buses from
Yogyakarta
,
Solo
and
Semarang
as well as the "travel" services, mini-buses that will pick you up and drop you off.
It takes around an hour from Solo or Semarang, and around three hours from Yogyakarta. Bus operators that serve the Semarang to Solo route include Rajawali, Safari, Taruna, and Ismo. Ask the bus driver's assistant (the person who checks your ticket on board the bus) to wake you up or let you know when you get to Salatiga. The bus station is the in the southern part of the town.
By car
Salatiga is located at the main road that connects Semarang and Solo. If you come from Semarang through the Semarang–Solo Toll Road, take the Bawen exit as the Tingkir exit is too far south from the town center.
Get around
By angkota
There are some
angkota
(mini-van) public transport lines which are numbered. The minibus number 5 will take you from the southern town border to the Plaza Taman Sari. Unfortunately, no public transport is allowed to go through the main "market" road (i.e. Jalan Jenderal Sudirman) because it is so crowded, however the market and shops along this street are within a walking distance from the minibus routes. A single ride costs Rp3,000 for adults and Rp2,000 for students.
By ride-hailing apps
Using your smartphone, you can now easily hail a
GoJek
or
Grab
in Salatiga. It is worth investing in a local SIM card with data so you can use the apps. Because the maps used in the app are not always reliable, drivers tend to call you shortly after they accept the job, to get more precise information. It is helpful to have enough Indonesian language skills to tell them exactly where you are waiting, to be able to describe a useful landmark, and what colour clothes you are wearing.
See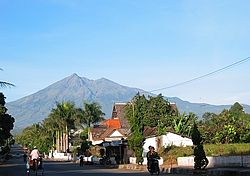 Merbabu, an inactive volcano which is more than 3000 m high. Most people will head to nearby
Kopeng
which is about 20 minutes away by car.
Lapangan PancasilaYou might be able to visit a night market or a carnival at certain times.
Do
Salatiga is a small town, therefore there are not many attractions around.
phone: +62 298 325498, +62 298 316648, +62 298 316650

address: Jl Hasanudin Km.4

You can camp, swim at the swimming pool with the beautiful view of the town and Lake Rawa Pening, and take a field trip of the coffee, tea and clove plantations, as well as a dairy farm. You can learn how to plant crops, make organic fertilizers, and get milk from cows.

Atlantic Dreamland

address: Jl Soekarno Hatta No.303

Atlantic Dreamland is an amusement park that offers attractions like water boom, water toys, bom-bom car, softplay, flying fox, circular track, mini coaster, carousel, water roller, 4D theater, and ATV.

phone: +62 815 4235-5473

address: Tegalwaton, Tengaran

Horse riding school, where the horses live outside all year round in herds, eat locally-available grasses and hay, go barefoot, and are ridden without bit, spurs or other means of force.
Buy
Although Salatiga has a relatively large market (fresh market and clothes shops in one large area), it is not special and not geared to tourists. There is a small shopping center, "Plaza Taman Sari", near the clock tower roundabout, between Jl Diponegoro and Jl Sudirman.
phone: +62 815 7549-2003, +62 857 2979-1945

address: Jl Kota Baru II No. 150, Blotongan

Artisan textiles created with natural dyes. Leaves are pinned onto the cloth, and then simmered to leave an imprint of the leaf on the cloth, in shades of strong purple, and soft greens, yellows, browns and pinks. Call first, this is a home-based industry.

phone: +62 815 4251-4956

address: Jl Kenanga, Randuacir, Argomulyo

Sapu Upcycle is part of a community of artists and activists that upcycles waste materials into valuable products. They work with bus and truck inner tubes, canvas from former army tents, shipping container webbing straps and circuit boards from mobile phones to make bags, wallets, pouches and jewellery.
Eat
Eateries are spread out around the town. Those around the university tend to be cheap.
Mie Bandung (Jalan Pemotongan) serves good chicken noodles (though salty) and "nasi tim" (soft steamed rice with chicken and soy sauce topping). In 2009 they cost below Rp10,000.
Tuntang (one of Salatiga's neighbouring districts) is close to the Rawa Pening lake, where you can find a group of
lesehan
grilled fish traditional restaurants. These restaurants have small gazebos where you can eat sitting on the floor.
Lesehan
means "sitting cross-legged on the floor.
Biztro

phone: +62 851 0018-1694

address: Jl Bima No.3/8, Dukuh, Sidomukti

A long menu of pizza, pasta, Mexican, steak, chicken, Chinese and Indonesian dishes, but the kitchen seems to cope. Friendly service, and a choice of 'spaces' to sit in, including the garden.

Waroeng Joglo Bu Rini

phone: +62 298 328733

address: Jl Mawar No.5B

A restaurant with a view of rice fields and Mount Merbabu, offering traditional dishes, especially ribs.

Sitinggil Muncul - Javanese Restaurant

phone: +6287700214777

address: Jalan Raya Muncul 2 KM 7

Traditional Javanese farm to table cuisine in our traditional Javanese restaurant suitable for in-house and external guests. Event space available with a rice field and mountain view (Telomoyo, Merbabu and everything in between), for a minimum of 15 guests. Choice of venues to sit including 150-year old traditional Javanese house, garden and 6-person lesehan-style (low table) Joglo. Fresh, eco-orientated, authentic rural Central Java.
Drink

Non-alcoholic drinks are served in most small eating places and medium to large restaurants. They tend to be sweet. The "es campur" (literally "mixed ice") consists of tape (sweet fermented cassava), pearl balls, black "cincau" cubes, agar-agar, sometimes with mung beans, served with syrup, crushed ice and sweetened condensed milk.

Sleep
Budget
Plaza Salatiga Hotel – in the centre of the town. It is not immediately obvious from the main road (Jalan Jenderal Sudirman) but located inside an "enclave" of shop houses. From Rp 100,000, you will get a room with a fan and hot water, including breakfast.

Ngawen Indah Hotel

Sitinggil Muncul - village accommodation

phone: +6287700214777

address: Jalan Raya Muncul no.2 KM 7

Sitinggil is in a modern Central Javanese village, just up from Rawa Pening lake. Famous for natural water springs, it's a thriving agricultural hub, backed by ricefields and mountains (Telomoyo to Merbabu and everything in between).

The property has a 150yr old traditional Javanese home, with a casual farm-to-table lunchtime restaurant, and simple rooms for guests (shared bathrooms). There is also a campsite (hot water shower), eco-huts in the jungle out the back, and a modern house to the side that sleeps up to 8.

Guests who love Sitinggil appreciate the bustling village, witnessing Javanese Muslim culture, cycling around the lake, trekking the hundreds of trails out the back, relaxing in the evenings with a campfire, fresh simple Javanese cuisine, and sightseeing. 15mins from Salatiga or Ambarawa, not far from Bukit Cinta or rarely visited Candi Dukuh, the Java Man museum, Solo and Semarang is just over an hour away (new toll road is spectacular).

Opposite our property is a public swimming pool and kids water park, fed from local springs and chemical-free. Large markets full of very local produce are a walk away, as are good warungs for evening meals (or alternatively, guests can pre-order from our restaurant).
Mid-range
Splurge
phone: +62 298 312222, +62 298 315050

address: Jl Jend. Sudirman No.335

phone: +62 298 328500

address: Jl Jendral Sudirman No.2

A 4-star hotel with a swimming pool.

phone: +62 298 316654

address: Jl Magersari, Ringinawe, Tegalrejo
Learn
Satya Wacana Christian UniversityThe largest university in Salatiga and one of the best private universities in Indonesia. Offers courses in Bahasa Indonesia, of varying lengths up to about three months, featuring homestays and cultural activities.
Stay safe
Hospitals
phone: +62 298 324074

address: Jl. Osamaliki No.19

phone: +62 298 326130

address: Jl. Hasanuddin No. 806
Connect
The area code for Salatiga is 0298.

Go next
Kopeng is about 15-20 mins by car to the southwest of Salatiga. From Kopeng, continue to Magelang, the nearest large town to the Borobudur temple, the largest Buddhist temple in the world.
Ambarawa is a small town with a railway museum, 15-20 mins by car northwest of Salatiga.
Surakarta, one of the two centers of Javanese culture (Yogyakarta is the other) is one hour by car to the southeast of Salatiga.