Salem (Oregon)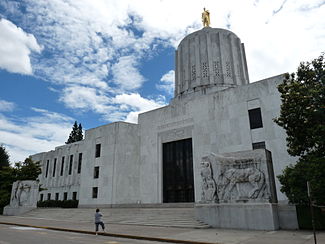 Salem
, the capital of
Oregon
, is located in the
Willamette Valley
between
Portland
and
Eugene
.
Salem was established in the early 1800s as a farming community. The town grew during the years of the
California
gold rush. Salem became the capital of Oregon in 1851 after it was moved from
Oregon City
. The capital was then briefly moved to
Corvallis
in 1855, but in that same year was permanently moved back to Salem. The first two Oregon State Capitol buildings tragically burned down. The third and current building was completed in 1938, complete with its distinctive gold-plated pioneer statue, the "Gold Man," perched atop.
Besides being the seat of state government, Salem is also a major agricultural center in one of the most fertile regions in the world.
Understand
Salemites are often defensive about the sleepy reputation the city has, often being overshadowed by its hipster rivals,
Portland
and
Eugene
. But lately its citizens have begun to realize the value of what their city offers: an interesting and walkable downtown with a waterfront park, a serious arts scene, and a central location in the
Willamette Valley
that combines the amenities of a city with the accessibility of a town. Salem shares a city boundary with its neighbor to the north, Keizer, largely a residential community.
Visitor information
phone: +1 503-581-4325

address: 388 State St., Ste. 100

Free WiFi
Get in
By car
Salem is located in the mid-Willamette Valley, about halfway between
Portland
to the north and
Eugene
to the south; it's about a one-hour drive from either city on
Interstate 5
. If you are coming from east of the Cascades, Hwy. 22 will take you right into Salem.
By train
The Amtrak train station is at the located SE of the Willamette Univsity at 500 13th Ave SE and is served by:
Amtrak Cascades... runs twice daily between Portland & Eugene via Oregon City, Salem & Albany and 4x daily from Portland to Seattle and twice daily from Seattle to Vancouver BC. Additional services from Seattle to Vancouver and from Portland to Eugene are provided on the Oregon Point Bus (Amtrak Thruway) (See Below under By bus).
Amtrak Coast Starlight makes an once daily trip in each direction between Seattle and Los Angeles along the same route with the same stops as the Amtrak Cascades (except Tukwila, Vancouver WA & Oregon City) between Seattle and Eugene, OR. The train continues south from Eugene with additional stops in Chemult (nearest train station to Bend) and Klamath Falls before crossing into California (or arriving into Eugene going northbound).
By bus
The bus station for Greyhound and Oregon Point is the same as Amtrak trains at the at 500 13th Ave SE (see above), while the central bus station for
Cherriots & Cherriots Regional
is at Chemeketa St between High St & Church St behind the building at 555 Court St NE, a couple blocks NW of the state capitol complex in downtown. Take any Cherriots bus (Rt #8 or 18) going north along 13 Ave NE to get to the downtown transfer station from the Salem Station:
phone: +1 503 362-2428

address: Salem Station at 500 13th St SE

Greyhound travels primarily on Interstate 5 between Portland and Sacramento through Salem, Corvallis, Eugene, Roseburg, Grants Pass, Medford, Weed, Redding, Red Bluff, Chico and/or Marysville. Passengers transfer buses in Portland, Sacramento or Medford, to get to additional cities.:

Cascades Point (Oregon Point)/Amtrak Cascades Thruway

phone: +1 541-484-4100

address: Salem Station at 500 13th St SE

Operates the Amtrak (Cascades) Thruway route between Portland, Oregon City, Woodburn, Salem, Albany and Eugene. Buses stop at both the University of Oregon and the Amtrak station in Eugene. They only make southbound pick up stops and northbound drop off stops in Oregon City. Tickets are available at the Amtrak ticket counters at the Salem Station or through independent agents, and are not sold by drivers.

phone: +1 503 588-2424

address: (Downtown Transit Center) 555 Court St NE

Cherriots operate local buses in and around Salem and Keizer. The Cherriots Regional (formerly CARTS) operates express buses from downtown Salem to the surrounding cities and towns in rural Marion County and the neighboring Polk and Clackamas Counties:
1x Salem-Wilsonville co-operated by both Cherriots and SMART as an express bus to/from Wilsonville (nearest point to the Portland Metropolitan area) via I-5 . Passengers transfer to the WES Train to continue up towards Beaverton via Tualatin and Tigard west of Portland or SMART 2X bus to Barbur Transit Center in southwest Portland from Wilsonville for onward connections to Tri Met buses.
10x Salem-Woodburn goes up to Woodburn along Hwy 99E. Passengers can transfer to Woodburn Transit to get around locally by bus in Woodburn or continue north towards Oregon City via Canby on Canby Area Transit (CAT) Rt #99 at the Woodburn Bi-Mart. Faster way to get to the Portland Metro Area is by 1x bus, Oregon Point, Greyhound or Amtrak (See Above).
20x Salem-Silverton-Mt Angel ... in north Marion County along SR-213 & 214.
30x Salem-Santiam Salem, Turner, Slayton & Mill City at foothills of the Cascades.
40x Polk County Express One of two routes to Dallas in Polk County, only the route detours south towards Monmouth.
50x Dallas Express Goes straight out to Dallas on Hwy 22. The other option is to take is the 40x (see above) which detours down towards Monmouth.
phone: +1 541 903-0724

address: (Bus stop) Holiday Inn at 3301 Market St NE

Goes north to Portland via I-5 and east to Bend through Sisters along SR-22/US Hwy 20. Passengers can transfer other buses in Portland and Bend.
phone: +1 503-474-4910

address: West Salem Transit Center, along Cornucopia St NW at Glen Creek Rd NW

Connects West Salem to McMinnville via Amity. Yamhill Transit Area operates (local) buses in/around McMinnville and to Newberg, Amity, Carlton, Dayton, Dundee, Lafayette, Sheridan & Willamena in Yamhill County. The #17 bus connects West Salem Transit Center to the Downtown Transit Center while the #16 bus pass along Wallace Rd in front of Roth's. Bus #16 does not stop into W Salem Transit Center behind Roth's.
Tillamook Transportation District Rt 60x & 70x

phone: +1 503 815-8283

address: Bay 's', Cherriots Downtown Transit Center

The 70x goes out to Grand Ronde on weekdays only, while the 60x bus goes out to Lincoln City via Grand Ronde thrice daily.
By plane
address: 2990 25th St SE

The airport is available for general aviation and private VIP flights. It had previously hosted commercial flights which means the facilities are large enough to accommodate larger jet aircraft. There are car rental offices and restaurants in the terminal building (administration offices) available for travelers alighting by air and a stop for Groome Transportation outside the terminal building for shuttle connections to Portland International Airport in Portland.
The nearest airport for commercial airline services is at
Portland International Airport
(
PDX
), an hour's drive from the north. To get to Salem from Portland Airport, follow I-205 south to its connection to I-5 in Tualatin and continue on I-5 south.

Get around
By bicycle
Salem has a fairly flat terrain, especially towards the north and east parts of the city, making bicycling easy. Bike routes are not as well marked, however, as in some Oregon cities. The farmland surrounding Salem is wonderful cycling country.
By car
The area's roads are designed more or less around a grid system, where most roads are numbered based on their distance from the city center. Addresses also conform to the numbering of the roads around them. Nearly all streets run with the compass directions. State Street go east and west through downtown, divides northeast from southeast which encompasses most of the city. The addresses on the west side of the Willamette River, in west Salem are mostly in the "Northwest" part of town. The Dallas-Salem Hwy (SR-22), west of the Willamette River divides the NW from the South.
Parking for automobiles in the downtown core is free for visitors and shoppers. There is a two-hour maximum for street parking, but three large parking structures are available for all-day parking. Once you have disposed of your car, downtown is very walkable.
By bus
The
Cherriots
bus system is city wide taking you from the suburbs to downtown and into
Keizer
, Oregon, and has central transit center in downtown Salem where all the buses arrive and depart. They also have express buses going further out to Wilsonville (1X)(nearest point towards Portland), Woodburn (10X), Dallas(40X,50X) and Santiam at the edge of the Cascades (30x).
See
Museums & historical attractions
Gilbert House Children`s Museum

phone: +1 503-371-3631

address: 116 Marion St NE

Perfect for the younger kids, mostly preschool to about 13 years old. A hands on fun learning center housed in charming turn of century buildings and decor.

phone: +1 503-363-4714

address: 600 Mission St SE

Built just after the settler arrived from the Oregon Trail, this historic old homestead now houses the art of Salem's finest artists. In the summer you can wander through the fragrant Rose Garden and take a hike on a popular trail with the lunch crowd from nearby businesses.

Friends of Historic Deepwood Estate

phone: +1 503-363-1825

address: 1116 Mission St SE

Marion County Historical Society Museum

phone: +1 503-364-2128

address: 260 12th St

Mission Mill Museum

phone: +1 503-585-7012

address: 1313 Mill St

The museum is housed in the former Thomas Kay Woolen Mill. Also, some of the oldest residences in the state, dating from the 1840s and 50s, have been moved to the grounds.

phone: +1 971-599-1674

address: 2600 Center St NE

On the grounds of the Oregon State Hospital, this fascinating museum has displays recounting the history of the institution. It also has a section on the film One Flew Over the Cuckoo's Nest, which was filmed in a now-demolished part of the hospital with the participation of many of the staff and patients. The museum's hours are limited, so check its website for times you can visit.

phone: +1 503-393-2424

address: 3995 Brooklake Rd NE

One of the largest museums of tractors, steam engines, and antiques farm equipment in the world. To add more interest they have implemented a truck and street car museum where you can catch a ride on an antique streetcar. "Annual Steamup" in Jul-Aug.

phone: +1 503-370-6855

address: 700 State St
Do
phone: +1 971 701-6573

address: state fairgrounds @ 2320 17th St NE

Throughout the year there are different rodeos, swap meets, exhibitions, concerts, holiday bazaars and other events held at the state fairgrounds. The state fairgrounds is also the same location for the Marion County Fair which happens in the first week in July. See the event calendar at https://oregonstateexpo.org/

Salem Skate Park

address: downtown's Marion Square Park

This skate park has two bowls that are connected by a snake. There is also a secondary skate area, called the "streetscape," which has plenty of grind space and ramps. The skate park is open to skates, skateboards, BMX bikes, and more.

Bush's Pasture ParkA 90.5-acre urban public park and botanical garden located just south of the downtown area. The park is a historical site and contains many trails, playgrounds, tennis courts, picnic areas, gardens, and orchards. Willamette University has its football, track and field, and baseball stadium located in the park. Also home of the Salem Soap Box Derby.

Balloon Flying Service of Oregon, Inc.

address: 323 Marietta St. SE

Cottonwood Lakes Golf Center

phone: +1 503-364-3673

address: 3225 River Rd S

phone: +1 503-371-4242

address: 8462 Enchanted Way, Turner

A land of fairy tales where you walk through Medieval castles, down wooden sidewalks in the Wild West, or meet a ghost in the haunted mansion. This small theme park has rides for kids and adults with an Alpine Rollercoaster, bumper cars, trains and more. In one of their many restaurants is a gorgeous water show with colorful lights bouncing off streams of water.

address: 116 Mission St NE

Sits along the Willamette River in the historic downtown area of Salem. Kids will enjoy the huge hand-carved carousel, considered one of the best carousels in the U.S. Willamette Queen Sternwheeler is popular for lunch and dinner cruises with good stories about the settlers. Expansion plans and bicycle rentals are being worked out.

address: 2200 Minto Island Rd SE

This large, 898.9 acre natural park includes open and wooded areas with many trails for walking, jogging, biking, and roller blading.

phone: +1 503-393-1172

address: 10991 Wheatland Rd NE

The park occupies land where the first mission for American Indians was founded in 1834 by the Reverend Jason Lee. Members of the Methodist Mission were later active in the formation of Oregon government. A monument is located in the park providing information on this settlement. The original mission buildings are represented by framed outlines called ghost structures. A landing for the Wheatland Ferry the first to carry the covered wagon across the Willamette River in 1844 -- is in the park. Lots of trails for hiking and biking. Civil War re-enactment over the 4th of July.
Buy
phone: +1 503-585-1338

address: 831 Lancaster Dr

phone: +1 503-364-0495

address: 401 Center Street NE

A unique mall in the heart of downtown with sky bridges linking sections.

Woodburn Company StoresFifteen minutes north of Salem in the town of Woodburn, this large and attractive outlet mall is especially popular during the holiday shopping season.
Eat
Salem is not known for its expensive, fine dining, but that doesn't mean you can't find a good meal without breaking the bank. Besides the listings below, there are several fine Mexican restaurants in town, reflecting the city's growing Hispanic population.
phone: +1 503-779-1660

address: 291 Liberty St SE

Northwest ingredients with fresh seasonal seafood, artfully presented salads and choice of steaks served nightly.

Best Little Roadhouse

phone: +1 503-365-7225

address: 1145 Commercial St SE

For Salem, it actually has some ambiance. Try the Caesar salad with fresh grilled Northwest Salmon, Tri Tip sandwiches or salad. Mini golf course just outside the building.

Brick Bar and Broiler

phone: +1 503-375-0959

address: 105 Liberty St NE

Very popular with the college students, you will find it busy on weekend nights. The food is good here although it can get a little smokey from the bar.

Busick Court Restaurant

phone: +1 503-370-8107

address: 250 Court St NE

The place to stop for breakfast or lunch if you are in downtown Salem. The Banana-Nut Stuffed French Toast was the starter selection for Rachel Ray's visit to Salem on "$40 a Day". Just to sip the special blend of coffee and read a paper is a treat in this quaint storefront restaurant.

DaVinci Ristorante

phone: +1 503-399-1413

It has Italian food, including the Pork Tenderloin Italian herbs. Also they make their own pizza in a beautiful stone oven. When you sit down they bring you fresh made warm foccacia. Popular with the martini crowd for happy hour drinks.

Gerry Frank's Konditorei

phone: +1 503-585-7070

address: 310 Kearney St SE

Try the Champagne cake with raspberry filling, quiche or sun dried tomatoes with asparagus. They have a good deal with their soup and half sandwich or quiche and a slice of cake for about $8.

Marco Polo Global Restaurant

phone: +1 503-364-4833

address: 210 Liberty St SE #150

Excellent, moderately priced variety of Asian food. Vegetarian selections available, also spicy (and non) dishes.

Rudy's at Salem Golf Club

phone: +1 503-399-0449

address: 2025 Golf Course Rd S

Situated on a beautiful golf course in an old manor house it's a relaxing and enticing restaurant. They bring in prime corn fed beef and has an in-house butcher so you get the freshest and best cuts of meat. Popular on Sunday morning with Caramelized French Toast and omelets.

phone: +1 503-378-9180

address: 1244 State St

A popular restaurant in the city, it is visited frequently by both students and government workers. Known for its French toast, it serves breakfast and lunch seven days a week and is located just east of the capitol and Willamette University.

phone: +1 503-930-4285

address: 140 17th St NE

A tiny, yet very busy place for breakfast and lunch, this restaurant takes no reservations, has long line out the door, and is totally worth the wait.
Sleep
Bed & breakfast
Hotels and motels
Salem has many moderately priced accommodations, which are located outside the downtown core. The exception is the Phoenix Grand, which is somewhat more pricey, but puts you in the center of the city.
City Center Motel

phone: +1 503-364-0121

address: 510 Liberty St SE

Crossland

phone: +1 503-363-7557

address: 3535 Fisher Rd NE

phone: +1 503-540-7800

address: 201 Liberty St SE

Red Lion Hotel

phone: +1 503-370-7888

address: 3301 Market St NE

Shilo Inn Salem Suites

phone: +1 503-581-4001

address: 3304 Market St. NE
Go next