Salento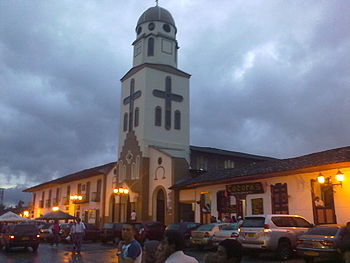 Salento
is a sleepy little town in Quindío department, in the
Zona Cafetera
region of
Colombia
. On weekends and holidays, the town is flooded by tourists from
Armenia
and
Pereira
.
Get in
There are two bus companies that go to Salento: Expreso Alcala and Cootracir. They both arrive and leave at carrera 2 between calle 4 and 5.
Armenia
There are buses from 5:30AM to 8PM every 20 minutes (COP$4,200, 45 min).
There might also be Willys jeeps that take to you Armenia.
Pereira
Leaving from the main bus terminal in Pereira (COP$6,500, 1 hr)
Monday to Friday: 6:30AM, 8:40AM, 11:15AM, 1:30OM, 4:30PM, 6:30PM
Weekends and holidays: 6:30AM, every hour between 7:30AM to 6:30PM
If you miss the last bus to Salento, the cheapest option is a bus to Circasia and then a taxi from Circasia to Salento for COP$20,000 (taxi company on the main square of Circasia).
If you're coming from Pereira then Bus Company Flota Occidental will drop you off in Circasia.
If you need to return to Pereira or Armenia, last service is at 6PM from the main square.
Get around
Hike
Mototaxi: There is one person, Alexis, who carries people around the town and farms in a Mototaxi (Colombia's version of a Rickshaw). Prices vary, but the mototaxi accommodates up to 3 adult people for the same price. Many people in town know the driver and even have his phone number at hand. +57 4-727-2141, 317-467-7735, 300-785-6349
Do
Visit one of the many Organic Coffee Fincas that are in the area (take carrera 5, opposite direction to the Mirador).
Visit the Mirador - the lookout point. It´s supposed to be one of the best views in Colombia. (Ask in Plantation House for the location of a house with an even better view)
Eat Trucha - Trucha is a fish abundant in the region. You can find a plate of Trucha with rice and other sides for COP$10,000 to 20,000, depending on the restaurant and the manner of cooking. Restaurants around the main plaza or "Centro" typically offer Trucha. You can also go to a fish farm and buy or catch your own. However, this may become more expensive.
Play Tejo - drinking, throwing metal weights and gun-powder!
Further afield - Butterfly house in Calarca or the Guadua (Bamboo research Centre) or even the very touristy National Coffee Park.
If you really want something different try pig racing at Panaca.
Salento´s fiesta is typically the first week of January. Salento transforms from a sleepy little village to party central.

CicloSalento

phone: +57 318 872 9714

Decent mountain bikes are available for hire here, from COP$8,000 for an hour to COP$35,000 for a full day. There are a whole range of trails around the area, providing something for everyone from relative beginners to those who want something a bit more technical. Some of the trails afford some spectacular views across the area and the coffee plantations.
Hike or horseback ride into the Valle de Cocora, one of the most striking landscapes in Colombia. To get there, take a Willys in the main square (COP$4,000, every hour, takes 30 min)

Bar DanubioTake a beer at Bar Danubio with the local people, always friendly and open to meet new people.
Buy
Banco Agraro de Colombia and Bancolombia have an ATM each on the main plaza.
Plenty of local artisans in Salento. Specialities include jewelry, candles and guadua artisania (the local bamboo).

Eat
El Rincón de Lucy (on calle 2 between Carrera 4&5) has cheap but rich set lunches for COO$10,000.

Bar Camino RealA very nice, artisty place with a small but delicious menu. It is highly recommended for dinner or coffee or drink after dark. There is even a fireplace with benches to sit around.

phone: +57 300 7355679

address: Cra 6 # 6-14

Excellent, cozy coffee house, with - obviously - locally grown coffee. The cappuccinos are especially great, and the chocolate cake is incredible. If you like to chill out in a comfy bar, this is the place to be.

Pueblito Montañero

address: Calle 5 5-51

Traditional Patacón con Trucha (Trout with a kind of Fried Banana), Set lunches (As for the "Menú del día", cheap option for lunch), Other types of typical food.
Drink
Weekends - anywhere round the main square - all the bars have beer tents set up.
For something different, there's a Tejo bar two blocks from the main square (normally only open at weekends).

Bar Danubio

address: Carrera 6

This place has a long history, for over 100 years it has remained practically the same. You can even see the owner, a 93-year-old man, who sits every day at the table close to the entrance and is still in charge of the Bar. A great place to have a beer or a coffe, with traditional music and meet local people. The Bar is equipped as well with Pool and Billiard tables.
Sleep
Estrella Sin Fronteras

phone: +57 311 383 3210

Run by Colombian man named Ruben Escobar.

phone: +57 312 868 1808

address: Carrera 5 # 10-11

Quiet place 500 m away from the town center. Spacious, couches and hammocks, outside space, computer. Quality breakfast served from 7 to 10, free coffee and tea available all day long. Tourists advice.

Finca de Don Elias

address: 4 Km on the way to the Palestina vereda

Don Elias is the owner of a coffee plantation. It offers only one bedroom that fits up to 4-5 people, with clean facilities and a private bathroom. Price is COP$15,000 per person per night. Don Elias offers coffee tours in Spanish for COP$5,000 per person, with a cup of truly homemade coffee (from grain to cup) at the end. Ask around Salento for Alexis, the gentleman with the mototaxi, and he can take you there for COP$8,000 (up to three people for this price). You can always just go to Don Elias' plantation for the coffee tour, which is COP$5,000.

phone: +57 6 7593 794

address: Calle 5 No. 4-06

A quiet place, not yet discovered by the backpacker crowd. Run by a friendly Spanish-Colombian team, this hostel provides cozy, wooden floor rooms with clean bathrooms and steaming hot showers. The owners have good knowledge about the region. Breakfast is included and is, for once, not a synonym for cheap cereals or eggs and arepa.

Hostal La Casona de Lili

address: Calle Real 3-45

Warm welcomes. Colombian owned. Great tourist advice. Free coffee.

phone: +57 314 850 55 43

address: cra. 7, 6-45

Hostal Tralala Salento is in a typical Paisa house that has been completely renovated up to modern standards. There is room for 21 guests in 5 double rooms, a dorm for 3, and a dorm for 8 persons. Has two well equipped kitchens, a garden with sun terrace, a TV lounge with lots of quality DVDs and showers with steaming hot water. The beds have quality mattresses, soft pillows, white linen and comfortable duvets. All guests get a towel and there are personal lockers in the dorm. The atmosphere is warm and personal.

phone: +57 316 29 61 890

address: Via Palestina km 1.5

Finca that is located 1.5km outside of Salento. This place breaths quietness amidst slopes of farmland. The hostel is beautifully decorated, has a cozy living room with couches and the owner has an excellent music selection playing through the old speakers. There is also a large movie and book (English and Spanish) selection. Call the owner on his cellphone for a pick-up from Salento or let them pay the Jeep (COP$6,000 from the main square) when you first arrive there.

phone: +57 315 4097039 (Spanish), +57 316 2852603 (English)

address: Calle 7 #1-04

Nice hostels with big gardens - one dormitory style, one with private rooms. The hostels offer kitchen use, fireplace, free coffee, laundry facilities, bookswap, mountain bike rental and have good trekking maps of the nearby parque Los Nevados and a map of Salento showing restaurants, supermarkets, etc.

Yambolombia

phone: +57 301 296 01 01

3 km on the way to la Finca de Don Elias this colorful, Columbian run hostel has a spacy dorm with 5 beds and two private rooms, a quiet surrounding and wonderful views. Dorm COP$18,000, private COP$26,000.
Go next
Don't miss Valle de Cocora. Here grows Colombia's national symbol, the 60 metre high waxpalms (palma de cera). Every day trucks or jeeps (also called "Willies") go from the plaza Salento to the valley at 7:30AM, 9:30AM and 11:30AM and go back regularly until 6PM (more in weekends), cost is COP$3,800 each way. People who miss these trucks, can sometimes find room on the jeeps leaving the local elementary school at 2PM, bringing students back to their fincas. Likewise, tourists have the option of paying COP$24,000 for jeeps that leave whenever they want. Once at the park, there is a nice halfday hike up to finca Acaima through the cloudforest and back through the valley. The scenery is quite exotic and beautiful due to the wax palms and lovely jungle plants.
The nearby Parque Natural Nacional Los Nevados provide ample trekking opportunity. The way of life in the fincas in the park hasn't changed the last 200 years. Most of the fincas in the park offer food and beds for a bargain price.