Salo
For the Italian town, see Salò.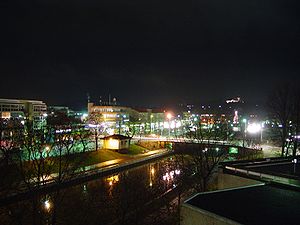 Salo
is a city of about 55000 inhabitants in
Finland Proper
, perhaps best known for the Nokia mobile phones.
Understand
Salo has existed as a centre of rural commerce since at least the 16th century. It became a market town in 1887 and a town 1960. Much of the surrounding countryside, including
Halikko
,
Kiikala
,
Kisko
,
Kuusjoki
,
Muurla
,
Perniö
,
Pertteli
,
Suomusjärvi
,
Särkisalo
and
Uskela
, is now incorporated in the same municipality.
There has been electronics production in Salo since the 1920s. The success of the communications company Nokia in the 1990s made it flourish. This was where phones were assembled, to the extent production was not abroad, to have production near development. Bad times for Nokia have been bad times for the city; 2012 Nokia laid down its Nokia factory and 2015 Microsoft laid down the development facilities.
Get in
By train
All
trains
between
Helsinki
and
Turku
stop in Salo,
By bus
The normal express ("pika") Turku–Salo–Helsinki buses stop in Salo, but not the special express ("express") Turku–Helsinki ones. There are also regional buses to Turku and a few "regular" buses between Turku and Helsinki via Salo. This means some buses once or twice an hour most of the day, every two hours for some time in the night.
By car
Salo is located close to the motorway E18 (national road 1) between Helsinki (120 km) and Turku (50 km), by the former main road (national road 110) and at the ancient Great Coastal Road, the "King's road" between the cities.
The
King's Road
(Kuninkaantie, Kungsvägen) mostly follows what now are village roads. It is marked as a historic road. Unless in a hurry you might want to take this route to better see the countryside and visit some of the sights.
Get around
Information about local buses can be found
here
. You can use
route planner
to seek local bus routes between given locations and addresses.
See
phone: +358 2 778 4892

address: Mariankatu 14

Rikala fortress hillRuins of a fortified hill from the Iron Age. Situated in the former municipality of Halikko.
Do
Visit Teijo National Park and the historic iron works in Kirjakkala, Teijo and Mathildedal in Perniö, some 20 km south-west from Salo centre.
Festivals
Sleep
phone: +358 2 211 4500

address: Länsiranta 10