Salt Lake City
Salt Lake City
is the capital of, and largest city in, the U.S. state of
Utah
. It is a destination for outdoor recreation, with nearby mountains full of hiking trails and ski resorts made famous by the 2002 Winter Olympics. It is also well known as the headquarters of the Church of Jesus Christ of Latter-day Saints (LDS or Mormon church).
Salt Lake City has about 190,000 residents within the city limits, and is the downtown hub for a metro area of over a million people. It sits on the border between the
Rocky Mountains
and the
Great Basin
, lying in the Salt Lake Valley along the
Wasatch Range
urban corridor, sandwiched between the Wasatch Mountains to the east and the Oquirrh Mountains and the Great Salt Lake to the west.
Understand
Districts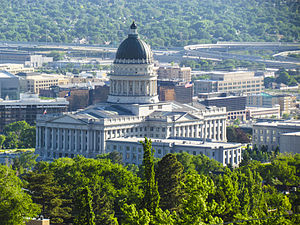 Notable neighborhoods in Salt Lake City include:
Downtown, the financial core and home to Temple Square (a two-block complex that includes the LDS church headquarters, the Salt Lake Temple, and various other sites related to Mormon history and culture)
Central City, a mostly residential area from approximately 400 South to 900 South
Sugar House, a commercial/residential district in the southeastern corner of the city, known for its funky shops
The Avenues, a historical neighborhood with many old buildings, northeast of downtown
University, the area around the sprawling University of Utah campus and the adjacent Research Park, VA Medical Center, and Fort Douglas
Federal Heights, a small, affluent neighborhood in the hills east of The Avenues and north of the University
East Bench or Foothill, a residential neighborhood between 900 South and I-80, bisected by the major arterial road Foothill Boulevard
Capitol Hill, an affluent sloping district north of downtown, topped by the Utah State Capitol building
the Marmalade District, a quirky area immediately west of Capitol Hill with some unusual architecture and decor
Rose Park, a residential neighborhood northwest of downtown, near the airport
Glendale, a heavily Hispanic residential district and home to the International Peace Gardens, at the southern end of the westside
The benches refer to a handful of residential, upper-class communities along the slopes of the Wasatch Mountains on the east side of the valley, and to a lesser extent on the Traverse Mountains at the southern end of the valley and the Oquirrh Mountains on the western side.
The predominant economic divide in the Salt Lake Valley is between the eastern and western halves, with the east side traditionally being more affluent and conservative.
The
Wasatch Front
is the urban strip along the western edge of the Wasatch Mountain Range. It comprises everything from approximately
Brigham City
in the north to Santaquin in the south, anchored by the cities of
Ogden
in the northern half,
Provo
-
Orem
in the south, and the Salt Lake Valley dividing the two. The vast majority of Utah's population lives in this region. Significant suburbs of Salt Lake City include
Sandy
in the southern Salt Lake Valley, Murray and Midvale in the center of the valley, and South Salt Lake and Millcreek on the southern border of Salt Lake City proper. The western portion of the valley has some very large suburbs such as
West Valley City
, West Jordan, and South Jordan. Holladay and Cottonwood Heights are smaller towns in the east benches.
Salt Lake City is not particularly close to the national parks and rugged terrain in the southern part of the state that draws many visitors to Utah. They are about a five-hour drive away, closer to
Las Vegas
.
History
Salt Lake City was settled in 1847 by Mormon pioneers who, led by Brigham Young, migrated a thousand miles west to escape the violent conflicts they had encountered whenever they tried to set up their religious community alongside established populations in the East. The city quickly became a major transit point for folks moving westward in the midst of the California Gold Rush, and the Mormon church's extensive network of missionaries drew converts from Britain, Ireland, and Scandinavia to Salt Lake City throughout the 1850s and '60s in long "handcart treks", a tradition now deeply ingrained in Mormon culture. Pacific Islanders were heavily recruited as well, and Salt Lake City retains an unusually large Pacific Islander population to this day. The handcart tradition ended somewhat abruptly in 1869 with the arrival of the first transcontinental railroad, which, combined with the rise of mining and industry, brought the first major influx of non-Mormons moving into the city as permanent residents.
Although the majority of Utahns are still members of the LDS Church, Salt Lake City itself is less than 50% Mormon, with some areas, such as those dominated by ethnic minorities and artsy neighborhoods like Sugarhouse, bearing little resemblance to the Mormon-dominated culture in other parts of Utah.
Climate
The climate of Salt Lake City is extremely seasonal. Summers are long, hot, and dry; winters are cold and snowy; fall and spring are shorter and marked by annoyingly inconsistent temperatures. Precipitation is low, averaging about 14-20 inches (350–500 mm) a year measured as liquid water, though much of it falls as light, fluffy snow that can pile up several inches high. Total snowfall averages around 50-80 inches (125–200 cm) annually.
Winter (mid-November to early March):
Winter brings poor weather to Salt Lake City, and tourism this time of year is typically focused on using the city as a base for exploring ski resorts in the nearby mountains. Daytime temperatures run from 25°F to 50°F (-4-10°C). Overnight lows are below freezing more often than not, and on some occasions will even drop below 0°F (-18°C). Snow is common, but severe blizzards are almost non-existent, and it's rare for a storm to drop enough snow to shut down or cripple the city. Light snow is handled as a daily occurrence, with the city continuing to operate as normal. There is plenty of variation in snowfall between different parts of the city thanks to the mountainside topography, with higher elevations getting much more snow than lower neighborhoods. The difference is drastic enough that the local weather report will often include separate snow predictions for the benches and the valley floor.
While the snow can inconvenience travelers, the worst part of winter in the Salt Lake Valley is a phenomenon called an inversion, where cold, heavy air gets trapped between the mountains and stagnates, collecting more and more pollution for days or even weeks on end. This leads to some of the worst air quality conditions found in the United States, and is only cleared out when the next storm comes through.
Spring (early March to late May):
Spring in Salt Lake is mild overall, but it is also the windiest and rainiest time of year, and it can be tough to tell when the last snowstorm is behind you even after the ground accumulation has been melted away for weeks. High temperatures during spring range from around 45°F to 80°F (7-27°C). Low temperatures are generally cool, and may still drop below freezing once or twice in April. Although it's the rainiest time of year, spring in Salt Lake City is still dry compared to many cities in the
Midwest
,
Mid-Atlantic
, or
New England
regions. Rainstorms will mostly be light or moderate in severity and many of them will last just a few minutes. Sunny spring days, which are fairly common, bring some of the nicest weather you will encounter in Salt Lake City at any time of year. However, this mostly applies to the valley as the mountain snowpack won't recede until late May or June, leaving outdoor activities such as camping and hiking unavailable until summer. Ski resorts near Salt Lake City will remain open part way through spring, with most of them operating until mid-April and Snowbird staying open even later.
Summer (late May to mid-September):
Summers in Salt Lake City are long, hot, and dry. Maximum daily temperatures during this season range anywhere between 80°F and 105°F (27-41°C). Humidity is low and nights are warm, sometimes hot. Although summer is a very dry season here, powerful Pacific storms will sometimes impact the city as late as the beginning of June, prolonging the rainy season and keeping temperatures a bit cooler. In particular, mid-June through early July is clear, dry, and sun-baked. From mid-July through mid-September the monsoon affects northern Utah, bringing somewhat frequent evening thunderstorms to the Salt Lake area. These thunderstorms are usually short-lived, but can sometimes bring moderate hail to the valleys and much worse rain and hail to the mountains. If you avoid these thunderstorms, summer is a great time for outdoor recreation in the mountains. Temperatures are cooler in the mountains and can be comfortable even during the worst heat waves in the valleys.
Autumn (mid-September to mid-November):
Autumn is a nice time to visit Salt Lake City. It's warm and typically drier than spring, with temperatures ranging from 45°F to 80°F (7-27°C) during the daytime. Pacific storms begin impacting the area around mid-October, but aren't too frequent. While storms can start dropping snow in the mountains again, the snowpack generally doesn't begin building up until November or December. The first light snow and freezing overnight temperatures in the valley will sometimes occur before the beginning of November, and by mid-to-late November, snowfall and freezing temperatures must be prepared for. The leaves on the trees in the mountains reach their peak of brilliant color around mid-to-late September and a month or so afterwards in the valleys.
Visitor information
Get in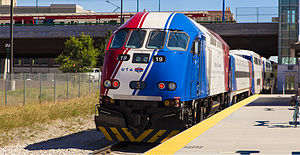 By plane
Salt Lake City International Airport
phone: +1 801-575-2400
address: 776 North Terminal Dr
Located on the western side of the city just off of I-80, Salt Lake serves as Delta Air Lines' mid-country hub, with over 120 daily departures for Delta alone. Hotel shuttles and taxis connect the airport with downtown. The
UTA
TRAX Green Line (see
below
) offers an inexpensive $2.50 ride from the airport to downtown. It has direct international flights to
Paris
and various cities in Mexico and Canada.
By car
Salt Lake City is served by two interstate freeways:
Interstate 80
connects to eastern and western destinations all the way from coast to coast, and
Interstate 15
, though viewed as a commuter freeway by locals, extends to both the Canadian and Mexican borders. Northern destinations accessible directly from I-15 consist mostly of small towns in eastern
Idaho
and western
Montana
. Southern destinations on I-15 include much larger cities such as
Las Vegas
and
San Diego
. I-80 provides a direct connection from Salt Lake to several major American cities, though all are hundreds of miles away. Across the 500-mile-wide Great Basin, I-80 serves
Reno
,
Sacramento
, and
San Francisco
. East of Salt Lake, I-80 connects to most of the larger towns in
Wyoming
and increasingly metropolitan cities further east, as far away as the greater
New York City
area. If coming from
Boise
,
Portland
,
Seattle
, or anywhere in between, take
Interstate 84
to
Ogden
, then take
Interstate 15 south
to Salt Lake.
By bus
phone: +1 801-355-9579

address: 300 S 600 W

Greyhound travels primarily on Interstate 15 (San Bernardino-Las Vegas-St George-Salt Lake City) some variations of the route continues to Los Angeles, San Diego or Long Beach from San Bernardino; 80 (Salt Lake City-Reno-San Francisco & Salt Lake City-Laramie-Cheyenne-Denver) on two separate routes; 84 (Portland-Boise-Salt Lake City) and US Hwy 40 (Salt Lake City-Denver). Passengers transfer in Boise, Denver, Las Vegas, Sacramento, Portland and San Bernardino to get to other destinations.

phone: +1 208 656-8824

address: Salt Lake City International Airport

Travels mainly along I-15 Corridor between Las Vegas, St George, Salt Lake City, Pocatello, Butte and Great Falls, Montana. They also have additional routes across Idaho between Boise and Pocatello. From Idaho Falls they go to West Yellowstone, Montana, and to Jackson, Wyoming, via Rexburg. From St George there is another route to Zion National Park and to Marble Canyon & Page in northern Arizona.

phone: +1 801-822-0844

address: 152 State St, Orem

Tufesa travels primarily on Interstate 10/15 (Los Angeles-Ontario, CA-Las Vegas-St George-Orem). Passengers transfer in Los Angeles, Las Vegas, or Ontario to continue to other cities in the U.S. or Mexico.

phone: +1 801-743-3882

Operates the local commuter buses, which can bring you into the city from anywhere on the Wasatch Front.
By train
address: 340 S 600 W

The only intercity passenger train to Salt Lake City is Amtrak's Chicago–San Francisco route, the California Zephyr. Service is once per day in each direction; westbound trains arrive at 11PM and depart at 11:30PM; eastbound trains arrive at 3:05AM and depart at 3:35AM.

FrontRunnerThe local commuter rail line runs between Ogden, Salt Lake, and Provo. The current schedule is every hour on weekdays (with more frequent service during rush hours) and every hour or two on Saturdays.
Get around
By car
Most of the Salt Lake Valley uses a consistent street grid radiating out from the southeast corner of Temple Square, downtown. Major streets run precisely east-to-west or north-to-south. Addresses are coordinates within the grid, and streets represent intervals of 100 in each direction. For example, the street five blocks east of the grid's center is called 500 East (commonly called '5th East' in spoken conversation) and 19 blocks south is 1900 South (or 19th South). This means that the cardinal directions mentioned in street names do not represent a direction you can drive on that street, and if the direction designation is the only difference between two street names, they are two completely different streets, unlike the common street naming system where North Main and South Main would be two halves of a contiguous road. Some streets will have both a name and a number designation; 300 South and Broadway are equally valid names for the same street, and the major thoroughfare of State Street is also 100 East. 100 North and 100 West are better known as North Temple and West Temple, as they border the northern and western edges of Temple Square. The only streets without number designations are the two streets that divide the quadrants of the grid: South Temple splits the northern and southern halves of the grid, while east and west addresses are measured from Main Street (formerly East Temple). Building addresses are numbered based on their position between the 100-interval streets at either end of the block: 629 South 1500 West would be between 6th South and 7th South on 15th West.
Streets are an eighth of a mile apart downtown, but become more irregularly spaced as you move farther from the city center. Suburbs outside of the Salt Lake Valley often have their own grid systems modeled after Salt Lake's, but don't expect them to be well integrated with neighboring towns – a road may change numbers without warning as you cross an invisible local boundary. The Avenues neighborhood in the northeast corner of Salt Lake City also has its own street grid independent of the rest of the valley. This grid consists of east/west avenues numbered 1 though 18 (1st Avenue is the farthest south) and north/south streets lettered A through U (A Street is the farthest west).
Salt Lake City is well served by
freeways
, with Interstate 15 running straight north-to-south through the city, right past downtown. I-80 shares a brief concurrency with I-15 in the southern half of the city, branching out westward across from downtown and eastward near the southern end of the city limits. The eastern portion serves the Sugarhouse neighborhood and residential areas, while the western portion passes near the airport. The I-215 belt route makes a three-quarters loop around Salt Lake City, skipping the northeastern quadrant due to mountains. It has a junction with I-80 just southeast of the airport. State Route 201 ("SR 201", the "21st South Freeway", the "201 freeway", or just "the 201"), heads west from I-15 into the suburbs of
West Valley City
and Magna. The eastern terminus of SR 201 meets the southern end of the I-15/I-80 concurrency in a massive interchange known as the "Spaghetti Bowl".
Local Utah drivers will generally know how to drive in snow, however, like anywhere, there are plenty of out-of-towners who don't. If you can afford to wait, the roads are almost always plowed within a matter of hours.
By bus
The
Utah Transit Authority (UTA)
, +1 801-743-3882, operates an extensive network of bus lines that collectively reach the entire Wasatch Front, with especially comprehensive service in and around Salt Lake City. Almost all light rail stations in the valley are connected to bus routes. Only a select handful of important routes operate at night or on Sundays and holidays, and even nighttime routes usually end service around midnight or 1AM. Extra bus lines run during the winter, serving four ski resorts in the canyons east of the city, in the Wasatch Mountains. One-way fares are $2.50, or a day pass, valid on both buses and light rail, is $6.25.
By train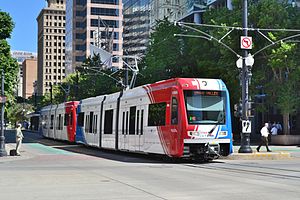 UTA's light rail system,
TRAX
, connects many of Salt Lake City's most popular tourist destinations, including Temple Square, Downtown, the University of Utah, and the airport. There are three lines, designated by the colors blue, red, and green. The
Blue Line begins in Downtown at the Salt Lake City Intermodal Hub (the bus and train station) and serves Vivint Smart Home Arena and Temple Square before turning onto Main Street, where it heads south through the City Creek shopping center, past the Gallivan Plaza, and eventually toward Murray, Sandy, and Draper. The Green Line begins at the airport, heads east down North Temple Street and meets up with the Blue Line at the Arena, then runs alongside the Blue Line until South Salt Lake, where it splits off and heads into West Valley City. The Red Line serves the University of Utah campus on the east bench, then heads west to Downtown where it shares a few transfer stations with both the Blue and Green lines. The Red Line shares track with the Blue Line as far south as Murray, then splits southwest into West Jordan and terminates in the Daybreak neighborhood of South Jordan. There is also a streetcar line, the S-Line , which connects the Central Pointe light rail station in South Salt Lake to the Sugar House neighborhood. Fares for TRAX are the same as for buses: $2.50 one-way, $5 round-trip, $6.25 for the intermodal day pass.
Most of downtown is in a free fare zone where you can use buses and light rail without a pass. (Full fare applies if you ride even one stop past the zone.)

By bicycle
Salt Lake City has routes and trails through and around the city for cyclists of any age. Riding on the sidewalk is legal everywhere but the central blocks of downtown; sidewalks are wide and pedestrians are sparse enough to navigate around. State law mandates that cyclists signal audibly when overtaking a pedestrian on the sidewalk. Quite a few of the city's major attractions are accessible via bicycle, and it is quick and easy to get out to the university or the zoo on a bike.
Many major streets have bicycle lanes and signs reminding motorists to share the road, but a lot of streets had these bike lanes added without widening the roadway, and thus leave cyclists without much buffer space between them and car traffic. It may be easiest to use residential side streets if one is available a block or two away. The wide streets in the city center don't help cyclists, as the extra lanes are all for cars and just make it trickier to cross the street on a bike.
There are a handful of off-road paths and mountain biking trails. The path following the banks of the Jordan River south of I-80 is well developed, but a bit desolate in some parts. City Creek Canyon is open to cyclists on select days.
Bicycles are allowed on UTA buses and trains, including both TRAX and FrontRunner. All bus lines have bike racks except para-transit and ski routes, and bike lockers can be rented from UTA at several FrontRunner stations. The Intermodal Hub downtown includes a Bike Transit Center with rental bicycles and a repair shop.

GREENbikeBike sharing program with stations throughout downtown.
See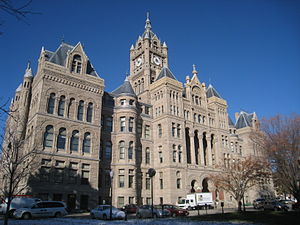 University of Utah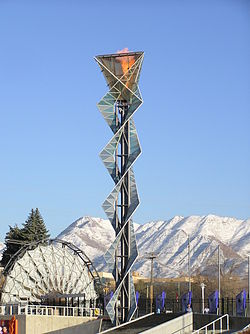 Temple Square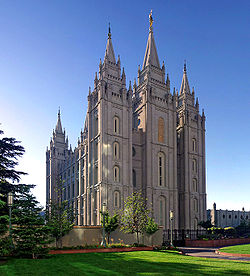 phone: +1 801-240-2534
Located on the north end of downtown, Temple Square is the most visited tourist site in Utah. Among its buildings are the LDS Church headquarters, a Church History Museum, a Family History Library, gardens, and restaurants. Entry to the temple requires church membership and a permit called a "temple recommend", but most other areas are open to anyone.
Temple Square is staffed with church missionaries to help show you around the grounds; languages from all over the world are represented. There are two visitor centers – one in the northwest corner and another near the middle of the south edge – both with several exhibits and video presentations introducing outsiders to the Mormon faith. Free tours are conducted from the airport for connecting passengers on at least a two-hour layover, once an hour every afternoon (weather permitting).
Just west of the temple is the
Tabernacle
, a domed, oval-shaped building that is home to the Mormon Tabernacle Choir. The tabernacle is open to the public for guided tours, organ recitals, Thursday rehearsals, and Sunday "Music and the Spoken Word" choir performances. On the southwest corner of Temple Square is a Gothic Revival building simply called the
Assembly Hall
. It is open to tourists for self-guided visits and hosts concerts on Friday and Saturday nights at 7:30PM. The
LDS Conference Center
, across the street on the northern side of the square, is an architectural point of interest with carefully-groomed roof gardens and a series of waterfalls on the exterior of the building. Tours are available. The majority of the
Church Office Building
is off-limits to tourists, but the 26th floor observation deck overlooking the city is open on weekdays.
The southeast corner of Temple Square is home to a handful of historic buildings, among them the
Beehive House
, a former residence of city founder Brigham Young (open for free guided tours 9AM–9PM daily), the
Lion House
, a restaurant that also at one point was a residence of Brigham Young, and the
Joseph Smith Memorial Building
, a former hotel which now holds a number of meeting and dining facilities, a theater showing free church-produced films, and public computers for genealogical research. The 10th floor has two observation areas overlooking the city, which are open to the public.
The busiest times at Temple Square are the first weekend of April and the first weekend of October, when thousands of visitors from all over the world attend the church's General Conference meetings. December is also a popular time to visit for the extravagant Christmas light set-up that covers the square every year.
Parks
Do
Outdoor recreation
Salt Lake City is a hub for an incredible variety of outdoor recreation. Summer activities available in the area include camping, hiking, rock-climbing, mountain biking, boating, and fishing. Popular trails within the city include
City Creek Canyon
and the walking paths at .
The main source of boating in the area is, of course, the
Great Salt Lake
immediately to the northwest of the city. The is on the south shore of the lake at I-80 Exit 104, about 15 miles west of downtown Salt Lake City. The marina has 300 slips and is open from sunrise to sunset every day of the year, including holidays and during the winter. (The high salinity of the lake keeps it from freezing over.) The Great Salt Lake is especially popular for sailing, with sailboat races throughout the summer months organized by the
Great Salt Lake Yacht Club
. The lake is also an important refuge for over a hundred species of birds, including a large pelican colony living on the cliffs of Antelope Island. The island, in the southeast part of the lake, has camping facilities and is home to one of the last wild herds of bison in the United States.
Several world class ski resorts are accessible within minutes of Salt Lake. Ski areas in both Big Cottonwood Canyon and Little Cottonwood Canyon are served by UTA bus lines.
Park City
, the main skiing and snowboarding venue for the 2002 Winter Olympics, is about a 40-minute drive up Parley's Canyon. Ski resorts in the Wasatch Mountains are famous for the type of light, powdery snow that creates ideal skiing conditions. One variant of the Utah state license plate even dubs it the "Greatest Snow on Earth".
The nearby town of
Alta
is built around a ski resort and three more can be found in
Park City
.
Sports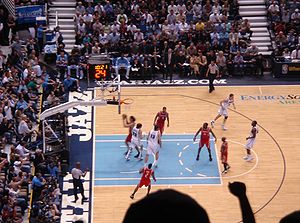 Two other area teams play in top-level leagues, though both have lower profiles than either the NBA or MLS:
Utah is represented in the minor leagues by three teams:
In college athletics, the University of Utah's sports teams compete as the
Utah Utes
in the NCAA's Pac-12 Conference. Sports represented include everything from major spectator sports like football and basketball to skiing and golf. Also notable is the women's gymnastics team, known as the "Red Rocks" instead of "Utes"—perennial national title contenders, they are one of the biggest crowd draws in all of U.S. women's sports. The football stadium has a TRAX station right next to it and the basketball arena (also home to gymnastics) isn't far from the South Campus station. The baseball team shares Smith's Ballpark with the Bees.
Arts and cinema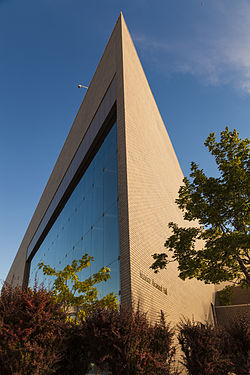 Live theater has long been a part of Salt Lake City's culture; several historic buildings remain that were playhouses in the 1930s. Two professional companies perform regularly: the
Salt Lake Acting Company
has a theater in the Marmalade District a few blocks west of the capitol building, and the
Pioneer Theatre Company
performs in the Pioneer Theatre at the University.
Kingsbury Hall
, also at the University of Utah, features musicals, touring national plays, and other special performances. The amphitheater at
Red Butte Gardens
hosts a popular summer concert series.
The
Utah Arts & Cultural Coalition
maintains an online calendar of upcoming performance events in the state.
Aside from the ubiquitous set of mainstream movie theaters showing Hollywood blockbusters, the film culture in Salt Lake includes a handful of film festivals – the best known being Sundance in nearby Park City – and two independent theaters, a pair of gems run by the
Salt Lake Film Society
. The near the corner of 9th East and 9th South dates back to 1921, making it the oldest theater in Salt Lake City that's still in open. The downtown (111 East 300 South) has many more screens and can show more films at once, but both theatres show the same types of independent and/or foreign films, plus some occasional one-time showings of old classics.
The comedy scene in Salt Lake City includes local comedians, touring professionals, and improv troupes. The
Wiseguys Comedy Club
chain is a common stop for national comedy tours. Current locations are in
Ogden
and
West Valley City
, with a downtown location scheduled to open in Fall of 2014. A local improv troupe called
Laughing Stock
does family-friendly shows Friday and Saturday Nights at the on Main Street near 300 South (Broadway).
Learn
Granite Peaks Lifelong Learning is an adult education program run by the Granite School District in Salt Lake City. They offer a variety of inexpensive courses, some for serious education and others just for fun. Take a GED Prep course or learn something more specific like a second language; in addition to Spanish classes for English speakers, Granite Peaks offers ESL (English as a Second Language) courses that may be helpful to foreign travelers. Classes oriented more towards fun and recreation include pottery, wine tasting, and even ghost hunting!
The University of Utah Continuing Education Department offers short-term, open-enrollment courses on finance, cooking, photography, foreign languages, and a handful of technology-related subjects such as web design.
The Family History Library (
see above
) can be an educational destination if you're looking to research your family tree and learn about your ancestry.
Work

Utah has traditionally had a low unemployment rate compared to the nation as a whole; unfortunately, wages are also below average and have not kept up well with the rising cost of living.
As in the rest of the United States, an assortment of national, state, and local anti-discrimination laws prohibit employers from firing employees based on factors like race, nationality, and religion. Protection on the basis of sexual orientation varies between municipalities, but discrimination of this type is no more common in Salt Lake County than anywhere else in the country.

Buy
phone: +1 801-531-8181

address: 1594 S State St

Salt Lake's record store dedicated to all things Hip Hop. Sells everything from vinyl records and CDs to apparel, smoking accessories, and spray paint with nozzle attachments. Sponsors MC and B-Boy Battles monthly, and sometimes concerts and other events.
Shopping areas
Main Street isn't one of the larger streets around as the name might suggest, but the downtown portion has a nice set of specialty shops, ethnic restaurants, and an overall pedestrian-friendly vibe. Toward the north end of Main Street, just south of Temple Square, is the newest of Salt Lake City's major outdoor malls: , complete with a skybridge over Main Street, more than 20 dining options, and anchor tenants Nordstrom and Macy's.
The on the west edge of downtown (90 South 400 West). M–Sa 10AM–9PM, Su Noon–6PM. Gateway Mall was built as part of the city's heavy development in the lead-up to the 2002 Winter Olympics. It sits on the old site of the Union and Rio Grande railway stations, with the Union building's facade still intact as part of the mall. A mix of national and local stores can be found here, including Barnes & Noble, Abercrombie & Fitch, Brookstone, PacSun, Victoria's Secret, etc. Restaurants include The DoDo, California Pizza Kitchen, and Thaifoon. The Gateway Mall has gained a bit of a reputation lately as a panhandler hotspot – mostly later in the day when the mall security is thinner – but this is more of a nuisance than a safety issue.
Historic , the block between 500 South and 600 South and between 600 East and 700 East. Over a century old, the former trolley car storage complex has been a mall since the 1970s and houses shops such as Pottery Barn, American Apparel, the local bookstore Weller Book Works, and organic grocer Whole Foods. Restaurants include a Rodizio Grill steakhouse and the Old Spaghetti Factory. Sweets are in no short supply with two chocolatiers and a taffy station.
Salt Lake's neighborhood takes its name from the intersection of 900 East and 900 South, and is sort of an unofficial outdoor mall frequented by university students and trendy locals. There are several coffee shops around, including the Coffee Garden, Cafe Expresso, and Starbucks. Restaurants tend to be small and specialized with a focus on atmosphere. There are national chains like Barbacoa and a Great Harvest bakery, along with a local Thai place, a deli, and even a lot that alternates between being an ice cream shop in the summer and a candy store for the holiday season. Check out the less-than-reverent Cahoots Cards and Gifts for gag gifts and fun novelties; Contender Bicycles for high-end bikes, parts, and accessories; or Western Rivers Flyfisher, which offers guided fly fishing expeditions in addition to selling the gear. The 9th & 9th neighborhood is a short walk from Liberty Park in the Central City area.
Eat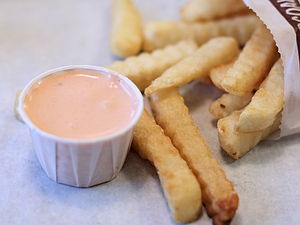 While not known as a hotbed of culinary innovation, there is one delicacy that originates from Utah:
fry sauce
, a condiment made by mixing ketchup and mayonnaise, sometimes with seasonings depending on the recipe, and eaten on French fries, onion rings, etc. Fry sauce was created decades ago by the local fast food chain
Arctic Circle
and can now be found in burger joints throughout Utah and in portions of neighboring states. The food processing giant Heinz has begun selling the condiment nationwide under the "Mayochup" brand name. Even national chain restaurants usually have fry sauce at their Utah locations, and many give it out as the default condiment at the drive-thru if you don't ask for something specific.
phone: +1 801-581-0888

address: 224 South 1300 East

Traditional and contemporary, farm-to-table Greek cuisine.

phone: +1 801-363-5454

address: 202 S Main St

Upscale dining in the New American style, with eclectic décor and top-notch service. Has gluten-free menus for lunch and dinner hours.

phone: +1 801-463-1151

address: 2041 S 2100 E

Funky décor and fixtures collected from historical restaurants whenever one closes in the neighborhood. Serves breakfast all day, and, unlike most diners, Blue Plate has plenty of vegetarian options. Expect crowds and noise on weekend mornings.

phone: +1 801-322-3891

address: 677 S 200 W

Cinema pub with two movie screens and a lineup of mostly recent releases. Menu consists of things like pizza, burgers, nachos, and chicken tenders; drinks are mostly beer, including many local brews. Food bought at Brewvies can be eaten in the theater areas.

phone: +1 801-419-0900

address: 1980 West 3500 South, Suite #104, West Valley City

Louisiana-inspired sauces with a West Coast Asian twist.

address: 680 S 900 E

Pizza, flatbread, paninis, and pastas with cocktails and wine.

phone: +1 801-355-8518

address: 204 E 500 S

Fine Italian dining in a cozy atmosphere. Offers a full bar with plenty of wines.

phone: +1 801-364-4096

address: 152 E 200 S

Serves Lebanese and Moroccan food; has belly dancers on Friday and Saturday nights.

phone: +1 801-359-2239

address: 1000 South Main St.

Delicious vegan bakery and cafe, with friendly staff.

phone: +1 801-355-3282

address: 111 E. Broadway, Suite 170

An American restaurant. Food sourcing is local and sustainable whenever possible.

phone: +1 801-746-4441

address: 370 E 900 S

phone: +1 801-708-7834

address: 454 East 300 South

Dinner consists of a multi-course tasting menu. Dinner generally lasts 2.5 hours.

Hong Kong Tea House and Restaurant

phone: +1 801-531-7010

address: 565 W 200 S

Serves excellent Chinese food. Instead of ordering individual meals, the entire party orders appetizers.

phone: +1 801-532-7522

address: 336 S 400 E

Sushi and tofu in a former Lutheran church.

phone: +1 801-582-0896

address: 230 South 1300 East

Vietnamese cuisine.

phone: +1 801-355-0454

address: 212 S. 700 E.

Nepali and Indian cuisine.

phone: +1 801-272-8255

address: 6451 E. Millcreek Canyon Rd

New American cuisine.

phone: +1 801-322-4668

address: 48 W Market Street (340 S)

Long menu with an emphasis on seafood, but plenty of options for all times of day.

MazzaMiddle Eastern and Mediterranean food with vegetarian, vegan, and gluten-free options.

phone: +1 801-596-1350

address: 232 E 800 S

Sandwich joint specializing in Philly cheesesteaks and meatball subs.

phone: +1 801-532-0777

address: 878 S. 900 E.

Fine eclectic dining built around a farm-to-table ethos. Make your reservation online.

The Paris — Bistro and Zinc Bar

phone: +1 801-486-5585

address: 1500 South (Emerson) 1500 East

French cuisine.

phone: +1 801-582-5700

address: 1320 E 200 S

Two locations around the corner from each other: one for take-out only and then a dine-in location in a dark but cozy basement with twenty years worth of graffiti covering the walls. Best known for their giant, thickly loaded pizzas, but they also serve salads, sub sandwiches, and beer.

phone: +1 801-322-1489

address: 736 W North Temple

Award-winning Mexican restaurant with a menu based on old family recipes. Popular and crowded enough that they have a second location less than two blocks away (866 W South Temple, +1 801-214-6050) and an express version called Taste of Red Iguana a mile east on the State Street side of the City Creek Center mall.

phone: +1 801-521-7446

address: 254 S 200 W

Downtown brewpub popular for their seafood dishes from Almond Crusted Trout to simple fish and chips. More focus on the food than you might expect from a place that calls itself a brewery.

phone: +1 801-220-0500

address: 600 South 700 East 2nd Floor

Brazilian churrascaria.

phone: +1 801-582-5807

address: 4160 Emigration Canyon Rd

Open since 1930, Ruth's features a unique mountain setting and creekside patio seating. The diner is famous for its large "mile high" biscuits. Sunday brunch tends to be very busy.

Siegfried's Delicatessen

phone: +1 801-355-3891

address: 20 W 200 S

Authentic German deli in the heart of downtown.

Spencer's for Steaks and Chops

phone: +1 801-238-4748

address: 255 S West Temple

Upscale steak restaurant. Voted "best steakhouse" by Salt Lake Magazine eight years in a row.

phone: +1 801-363-2739

address: 147 W Broadway

Tasty local brewpub with a nice patio.

Training TableSpecializing in gourmet hamburgers and sandwiches with several locations in the Salt Lake Valley. You place your order using a telephone at your table and they buzz you when your food is ready.

phone: +1 385-232-8070

address: 50 S. Main St. Suite 168

Brazilian churrascaria.
Himalayan kitchen, 360 S State St, Salt Lake City, UT 84111 Delicious Momos and Nepali/Indian curries.
Drink
Utah liquor laws
The state of Utah has a reputation for unusual and frustrating laws regulating the sale of alcoholic beverages. This reputation was well earned as recently as the late 2000s, but the state has made a series of reforms since then and the situation isn't as bad as you may have heard: you no longer have to sign up for a club membership just to enter a bar, for example. A few quirks remain that may catch tourists by surprise:
Beer sold in grocery stores and convenience stores is a bit weaker than in other states: 3.2% alcohol by weight (4% by volume). This is also the maximum alcohol content for bars with beer-only licenses, or "taverns"; stronger beer is regulated as if it were a hard liquor.
An establishment with a restaurant liquor license is not allowed to serve alcohol to you unless you signal an intention to order food as well. A special law had to be passed so patrons could order their drinks before they finish looking at the menu. Mixed drinks sold in restaurants are limited to 1.5 ounces of any one spirit plus up to one ounce of additional liquors (and any amount of non-alcoholic additions).
Bars and restaurants alike can only serve beer between 10AM and 1AM; wine and cocktails are limited to noon through 1AM.
Retail sales of wine, spirits, and "heavy beer" (over 3.2% alcohol by weight) are limited to dedicated liquor stores. In more populous areas, these are mostly a chain of government-owned outlets called the State Liquor and Wine Store. Locations downtown include one at 205 W 400 S (+1 801-533-5901) and one at 255 S 300 E (+1 801-533-6444). The wine prices vary significantly, but the store must sell the wine for at least 67% above cost (beer 75% above cost) plus state taxes. You cannot buy wine openers at the wine stores, so bring your own or be prepared to buy one somewhere else. The selection of wine is fairly large, but the selection of spirits is quite small and centered around "premium" spirits. There is also no case discount available.
Sleep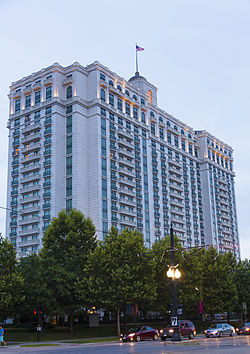 Hostels
phone: +1 801-359-3855

address: 107 North F St

phone: +1 801-688-6196

address: 165 W 800 S

18 or older, no convicted felons.

phone: +1 801-359-4525

address: 50 South 800 W
Stay safe
Crime
Crime in Salt Lake City tends to skew a bit more toward property crime than violent offenses, although, as with any city, the situation varies between neighborhoods. As a general rule, higher elevations like the east side and Capitol Hill are safer than lower-lying areas like Glendale and Rose Park, simply because affluent locals prefer the views from mountainside properties and the poorer neighborhoods are left for the valley. The vast majority of Salt Lake City is safe for tourists during daylight hours; some neighborhoods remain safe overnight, but there are certain areas to avoid after dark. Pioneer Park is near a busy homeless shelter and, despite crackdown efforts, has more than its share of drug transactions.
Violent crimes against random targets are rare. Among nearby suburbs, you're most likely to stumble across a sketchy neighborhood in South Salt Lake, West Valley City, or maybe Taylorsville.

Weather
The weather in the Salt Lake Valley presents few safety hazards – the heat of summer is always accompanied by low humidity, and winter snowstorms are usually calm. "Black ice" can make driving tricky: an invisibly thin layer can be enough to send your car skidding sideways out of your lane. The best defense against this is to simply drive slower and leave extra room for braking after a storm.
The winter temperature inversions are the biggest health hazard Salt Lake weather will throw at you. Inversions occur between snowstorms and trap dangerous levels of pollution in the lower atmosphere, affecting all low-lying areas in the Salt Lake Valley and other valleys nearby. Long-term exposure isn't considered safe for anyone, and even short-term exposure can seriously aggravate respiratory conditions such as asthma. If you can avoid the valleys, the air stays clean year-round at the ski resorts in the mountains.

Connect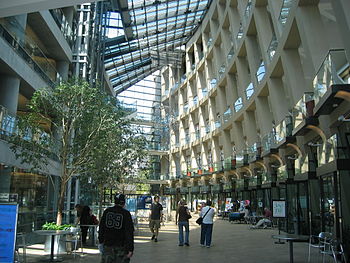 Downtown is pretty well covered by an assortment of free WiFi connections from local restaurants and hotels.
phone: +1 801-524-8200

address: 210 E 400 S

Several computers available for public use. The first floor has express computers for visitors without a library card, and the whole building has free WiFi for anyone with their own device. Branch locations around the city are starting to get wireless access as well, or you can register for an Internet Access Card with a photo ID.
Area codes
Salt Lake City and most of the surrounding urban region is in an area code overlay where the 385 and 801 area codes share the same boundaries. This means a minimum of ten digits must be dialed to place even a local call. Despite the switch to ten-digit dialing having occurred back in 2008, many businesses still advertise their phone numbers using only seven digits. In these cases, it's almost always the older 801 code that has been left off.
Cope
Newspapers
Consulates
Belgium (Honorary)

phone: +1 801-541-3885

address: 1861 Herbert Ave

phone: +1 801-531-7061

address: 524 S 600 E

Netherlands (Honorary)

phone: +1 801-364-1981

New Zealand (Honorary)

phone: +1 801-296-2494

address: 1655 Linden Ln, Bountiful

address: 1380 S. Main Street
Go next