Samal
Samal
, formally known as
Island Garden City of Samal
is a city in
Davao del Norte
, is made up of Samal Island and the smaller Talikud Island in the Davao Gulf, making it a part of Mindanao island group. It is part of the Metropolitan Davao area and is located two kilometers away from
Davao City
, the largest city and the primary economic center of
Mindanao
.
Get in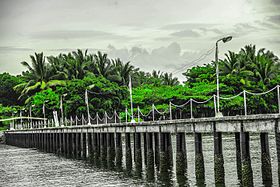 By plane
The nearest airport is in Davao.
By ferry
There are passenger ferries to or from
Davao City
through the Sasa Port (Port of Davao).
By bus
The nearest bus station is in Davao City, though it is possible to get down near Sasa Port to catch a ferry
Get around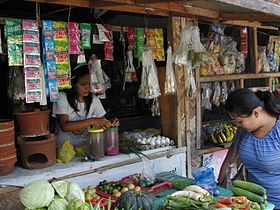 See
Most visited places include Maxima Aqua Fun, for their water giant slide, Hagimit Falls and Monfort Bat Sanctuary.
Montfort Bat Sanctuary has been the home of a large colony of 1.8 million Rousette fruit bats since recorded history. It covers 75% of the ceilings and walls of their 245 ft (75 m)-long cave. The Monfort Bat Sanctuary it is the largest single colony of this kind according to Guinness World Records.
The island city can really be enjoyed if you stay in the place for 2 to three days depending on your budget. It has many resorts to cater all type of tourists. Most notably, is the Pearl Farm Beach Resort, owned by Miss Universe 1973 Margie Moran-Floirendo.

Sleep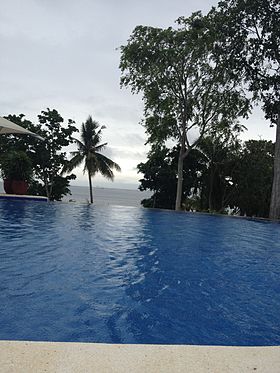 Pearl Farm Beach Resort

phone: +63 82 235-1234, +63 82 285-0601, +63 2 854-7892

address: Adecor, Kaputian

Bluejaz Beach Resort & Waterpark

phone: +63 82 301 5529, +63 82 305 6689, +1 727 498-0215 (USA)

address: P-2, Calilic, Babak

Bluewaters Village & Resort

phone: +63 82 303-2618, +63 82 302-2223

address: P5, Limao, Samal

Buenavista Island Resort

phone: +63 82 299 2992 (to 94)

address: Small Ligid

Captain Hook's Red Parrot Inn

phone: +63 82 286 1658, +63 907 122-2091 (mobile), +63 908 944 7805

address: P Solid, Kaputian, Kaputian

Chemas by the Sea Garden Resort

phone: +63 82 303-0235, +63 82 286-1352, +63 917 814-0814 (mobile)

address: Limao, Samal

Dayang Beach Resort

phone: +63 921 307-0367 (mobile)

address: Dadatan, Kaputian

El Magic Beach Resort

phone: +63 920 229-3318 (mobile), +63 919 236-0904

address: P-7, Caliclic, Babak

Fernandez Beach Resort

phone: +63 932 724-3091 (mobile), +63 82 286-0117

address: Penaplata, Samal

Hof Gorei Beach Resort

phone: +63 82 286-0238, +63 918 609-6966 (mobile)

address: Adecor, Kaputian

Holiday Oceanview Samal

phone: +63 82 224-1918, +63 923 932-385-0708 (mobile)

address: Ilihan, Babak

Ilihan Beach Resort

phone: +63 82 224-5345, +63 943 309-5228 (mobile)

address: Ilihan, San Isidro, Babak

La Familia Homestyle Beach Resort

phone: +63 917 620-9687 (mobile)

address: P5, Limao, Samal

Maxima the House Above the Sea

phone: +63 82 286-1054, +63 927 302-6054 (mobile)

address: San Jose, Penaplata

Mc Tell Private Inn

phone: +63 928 608-7255 (mobile), +63 910 736-6954

address: P1, Catagman, Samal

Paradise Island Beach Resort

phone: +63 82 233-0251, +63 82 234-1229, +63 920 954-6780 (mobile)

address: Caliclic, Babak

Playa Azalea

phone: +63 82 273-6166

address: Limao, Samal

Precious Garden of Samal

phone: +63 927 867-6023 (mobile), +63 919 978-9086

address: Sitio Libudan, Miranda, Babak

Punta del Sol Beach Resort

phone: +63 82 286-8621, +63 82 221-2121, +63 922 836-1092 (mobile)

address: P4, Catagman, Samal

Rocky Beach Resort

phone: +63 82 304-6758, +63 907 658-9570

address: P1, Catagman, Samal

Villa Amparo Beach Resort

phone: +63 82 284 0692, +63 922 880-6977 (mobile), +63 999 880-0225

address: Sitio Dasag, Camudmud, Babak

Hagimit Falls and Nature's Park

phone: +63 920 587-2430 (mobile), +63 920 854-9213 (for Eagle Nest Cottages), +63(910) 938-3837 (mobile for Datungganan Cottages)

address: Cawag-Penaplata, Samal

Hi-5 Princess Tropical Island Resort

phone: +63 919 811-6920 (mobile), +63 916 325-244, +63 910 558-4230

address: P-6, San Agustin, Babak

Hidden Paradise

phone: +63 910 296-0280 (mobile)

address: Aundanao, Samal

Hillside Beach Resort

phone: +63 907 616-7083 (mobile)

address: Aundanao, Samal

Club Asiano Beach Resort

phone: +63 920 315-4682 (mobile)

address: P-2, Camudmud, Babak

Coco Caliclic Beach Resort

phone: +63 916 391-2014 (mobile)

address: Caliclic, Samal

Coracay Baywalk Resort

phone: +63 919 771-3405 (mobile)

address: Limao, Samal

Coral Garden & Marine Park

phone: +63 915 698-7623

address: Talicud Island

Costa Marina Beach Resort

phone: +63 82 233-0229 (mobile)

address: P7, Limao, Samal

Crystal Peak Retreat Haven

phone: +63 921 682-9798 (mobile)

address: P5 Sweet Honey, Del Monte, Samal

Rainbow Breeze Beach Resort

phone: +63 82 302-3595, +63 916 797-7939 (mobile), +63 908 862-7249

address: Caliclic, Babak

RMPC XI Resort & Training Center

phone: +63 82 304-1942, +63 920 422-7455 (mobile)

address: Camudmud, Babak

Kalinawan Resort

phone: +63 082 286-2844, +63 082 298-5298, +63 917 700-7325 (mobile)

address: Aundanao, Samal

Kaputian Beach Park

phone: +63 82 275-4793

address: Poblacion, Kaputian

Kathleen's Place

phone: +63 918 468-8271 (mobile)

address: Aundanao, Samal

L'Amora Family Beach Resort

phone: +63 920 593-4805 (mobile)

address: Samal

La Vida Orchard

phone: +63 917 785-2562 (mobile)

address: Catagman, Samal

Llanos Beach Resort

phone: +63 927 992-3317 (mobile)

address: Talicud Island

Mayumi Sea Beach Resort

phone: +63 921 681-5812 (mobile)

address: P1, Catagman, Samal

Leticia By The Sea

phone: +63 82 224-0501, +63 917 702-5427 (mobile)

address: Cruz, Talicud Island, Kaputian

Mahan Garden Resort

phone: +63 82 271 5378, +63 927 775-7780 (mobile)

address: Caliclic, Babak

Mahal's Forest Resort

phone: +63 932 475-1894 (mobile)

address: Kawag, Hagimit Falls

Marex Beach Resort

phone: +63 82 302-1460, +63 917 701-1128 (mobile)

address: P-1 Sitio Dunggas, Tambo, Babak

Florenda Beach Resort

phone: +63 929 180-3175 (mobile)

address: P4, Catagman, Samal

Golden Bay Beach Resort and Spa

phone: +63 82 225-5110, +63 916 366-2737 (mobile)

address: P4, Limao, Samal

Green House Beach Resort

phone: +63 82 301-6766

address: Camudmud, Babak

Green Isle Beach Resort

phone: +63 82 221-5926

address: Camudmud, Babak

Alohamoana Resort

phone: +63 82 302-5426, +63 946 598-9923 (mobile)

address: P-7, Calilic, Babak

Anamarina Resort

phone: +63 82 299-2992, +63 82 299-0807 (mobile)

address: P 1-B, Balet, Babak

Babusanta Beach

phone: +63 918 726-1466 (mobile)

address: Talicud Island

Bali-Bali Beach Resort

phone: +63 82 234-6417

address: Catagman, Samal

Millennium Beach Resort

phone: +63 910 788-9991 (mobile),+63 919 771-3405

address: Samal

Monina Garden Resort

phone: +63 82 301-4068

address: Pichon, Babak

Pacific Little Secret

phone: +63 82 235-1325

address: Talicud Island

Camp Holiday Beach Resort

phone: +63 82 303-3294, +63 82 227-5055, +63 918 935-4278 (mobile)

address: P-3, Kinawitnon, Babak

Canibad Beach Resort

phone: +63 906 903-2749

address: Aundanao, Samal

Holy Cross Beach & Training Center

phone: +63 82 221-9071 (to 76)

address: Camudmud, Babak

Isla Beach Resort

phone: +63 927 504-9059 (mobile),+63 928 508-2525

address: Caliclic, Babak

Isla Betita Garden Beach Resort

phone: +63 82 286-7710, +63 922 840-6596

address: Purok Quidopong, Lidao, Kaputian

Island Garden Resort in Pangubatan

phone: +63 82 298-5582, + 63 905 528-0069 (mobile)

address: P4, Pangubatan, Kaputian

Isla Reta Beach Resort

phone: +63 917 622-3610 (mobile), +63 82 234-7903, +63 917 622-3610

address: Cruz, Talicud

Island Hills Beach Resort

phone: +63 917 716-9718 (mobile)

address: Sitio Tinangisan, Aundanao, Samal

Island Ridge Mountain Resort

phone: +63 82 305-2115 (mobile), +63 932 359-1755,+63 946 186-5682

address: Sitio Tugas, Tambo, Babak

Rosario Cottage

phone: +63 908 507-7681 (mobile)

address: Purok Solid, Poblacion, Kaputian

Samal Camp Park

phone: +63 927 778-1741 (mobile), +63 908 328-3610

address: Purok Pandan, San Remegio, Kaputian

Samal Island Beach Park

phone: +63 82 222-1585

address: Caliclic, Babak

Samal Seaside Resort

phone: +63 922 818-2323 (mobile), +1 301-926-7570, +1 6382-301-5971 (USA)

address: Tigpan, Balet Babak

Sea Grass Beach Resort

phone: +63 82 224-0116, +63 82 224-1392, +63 929 554-7071 (mobile)

address: P1, San Miguel, Samal

Seaside Camp Site

phone: +63 82 301-6282, +63 947 758-4576 (mobile)

address: P-7, Caliclic, Babak

Sonrisa de V Beach Resort

phone: +63 82 303-0709, +63 909 999-1000 (mobile), +63 922 800-1201

address: Caliclic, Babak

Sunset Beach Park

phone: +63 933 675-2054 (mobile), +63 922 896-4040, +63 922 820-8019

address: Kinawitnon, Babak
Go next